Now we're off to Texas, to the newest round of the AMA Toyota Motocross tour, Tony Miller's
Freestone
National. The race first ran last year on a mostly flat, sandy track, and an enthusiastic group of fans filled the spacious park up. They are all expected back (and then some), though a look at the Dallas weather shows 95 to 100 in the next three days. This one will be the first scorcher of summer.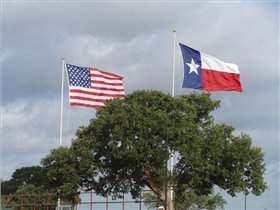 Time for another trip to the Lone Star State.
photo: Courtesy John Ayers
So far, Monster Energy Kawasaki's
James Stewart
has been easily in control of the 450 class, winning all four motos to date and leading every lap (62) in the two California races. That's a stark contrast to the competitive parity we're seeing over in Europe right now, where the first six GP races have been won by six different guys.
Stewart has never been to this track; he was out last summer after tearing up his knee at Washougal, so we don't know what to expect. But the layout and the soil kind of remind me of the old Bithlo track near Orlando, where James has put in a fast lap or two thousand, so he should be fine. If his teammate Tim Ferry, another Floridian, is going to pull off a big upset, this would be the place.
The Lites class saw slightly closer racing at the jam-packed Hangtown Classic, as Monster Energy/Pro Circuit Kawasaki's Ryan Villopoto reestablished himself as the frontrunner after that rare bad moto at Glen Helen. RV1 grabbed both BTOSports.com holeshot bonuses and just eased away from everyone. He's the points leader now, and he also rode really well at Freestone last year. He's got to be the favorite.
The Racer X Motocross Show will be on hand in Texas to try to really take things up another notch, starting with our new Pre-Race Show on Motocross.com presented by Toyota Trucks. We are trying to go with more of a Game Day feel like you see on ESPN for college football by setting up a stage at the Toyota All-Access Zone and inviting fans to stop by and enjoy the taping as riders like Ryan Dungey and Ben Townley stop by and say hello, We will also have a lot of giveaways from companies like Mechanix Wear, Makita, Scott, Moto Tees and more (and hopefully a pretty girl or two to help move things along, depending on when the Monster Girls show up). It's all going to start around 11 a.m. Saturday, and we will be going right up until practice, so please stop by and watch and get some free stickers and stuff.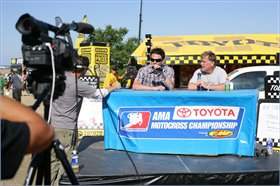 That's Beaucar and Holley working the desk on the Racer X Motocross Show, presented by Toyota.
photo: Simon Cudby
You can watch the show itself on Saturday evening on the revamped Motocross.com, which we promise will be much easier to navigate from here on out. And come Sunday, you can listen to the live audio webcast of the
Freestone
National beginning at 12:30 local time (Dallas is one hour behind the East Coast). And Monday morning will mean the
Racer X Post-Race Show on Motocross.com presented by Toyota Trucks
, with all of the highlights, interviews, race action and more. You don't want to miss any of it!
Last Sunday there were some cool new things that happened, but also some more of the same. GEICO Powersports Honda's Trey Canard got another miserable start, crashing twice on the first lap in the first moto before climbing from 39th to 11th to claim his second straight Ricky Carmichael Hard-Charger Award.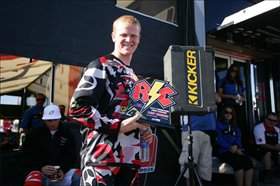 Trey will get another RC Hard Charger award at Sunday's riders meeting in Texas.
photo: Simon Cudby
Canard had some close competition here from JGRMX/Toyota Yamaha rider
Josh Summey
, who went from 35
th
to 12
th
in the first 450 moto, while
Josh Hill
had another lousy first moto, going from 28
th
to eleventh.
What is it with Hill? He looks like he's trying really hard, but he's making unfortunate mistakes, including lousy starts and then crashing all by himself at one point. Many expected much more from the Yamaha factory rider, and it seems like he's overdue for another run at the front.
More of the same came from
Brett Metcalfe
and his close nemesis
Austin Stroupe
, with younger Stroupe leading Brett across the line of both motos just like
Glen Helen
though Brett had in the bag before the checkered flah (again, just like one GH). I don't think I am alone in saying a lot folks in the pits want
Metty
to win one of these soon…
Actually, between RV1, Stroupe, Metcalfe and Canard, PC had four of their guys inside the top ten most of the day.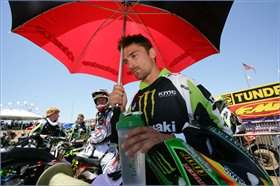 Brett has been top-five every moto, and he's due for something better.
photo: Simon Cudby
Team MB1/Solitaire/Brawndo had its problems. First, team owner
Ryan Clark
suffered through a rotten first moto, getting no points to go with the 0-0 he had at GH. But then in the second moto, Clarkstar finally got things sorted for 11
th
place.
His younger teammate Bob Kiniry (who is also somewhere on this plane that's taking us to Dallas right now) crashed in the first moto with Broc Tickle, I believe, and could not get his bike re-fired for some time. Then he went down very hard to start the second moto with Nico Izzi and didn't make it to the first turn before hitting the deck.
The cool thing about Kiniry is that after his bad second moto, he still walked down to the 450 class mechanics' area to cheer his teammate Clark on. That's a class act right there.
We spotted Bobby in the airport and he said he's expecting better things this weekend: "Paul Carpenter and I spent a lot of the winter in Texas, so this should be a good change for me. My two worse tracks are always Hangtown and Glen Helen, and the five points I got at Glen Helen were the best I've ever done there!'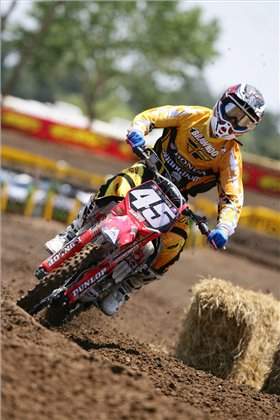 New York's Bob Kiniry does not have the Golden State figured out.
photo: Simon Cudby

Jake Weimer ran his streak of seventh-place finishes to three before slipping back a few spots in the second moto, yet the GEICO Powerssports Honda rider still managed seventh overall to stick with his lucky number.
But Jake's teammate Dan Reardon continues to have some issues finding and keeping the pace here, as the Australian's fine second-moto start was wasted when a line of riders went past. Not to be picking on the Ozzies, but neither Reardon nor Jake Moss let alone Andrew McFarlane have shown what we were expecting so far. All three are capable of much better results.
The Hangtown circuit was run backward for the first time siI can ever remember, and it didn't exactly thrill the riders or alter the racing, as the setup for lines and jumps seemed a little funky. But the place was packed, which is always a good sign.
The KTMs looked better this week, and even though my colleague Steve Matthes said they "sounded like blenders," I thought Ryan Sipes and Matt Goerke both looked fast and competitive on their orange bikes. If Sipes could ride a solid, mistake-free 35-minute moto, he could be on the podium.
But no matter how many people beat on me on the boards and in an emails, I still say Mike Alessi looks much better on his Rockstar/Makita Suzuki than he did on the #800 450 SX last year. Sunday's race was a bad one for him, especially the first moto. He's also clashing with Roger DeCoster now - especially following a defensive re-pass on Tim Ferry in the second moto, which led The Man to let The Kid has it after the race. Not to second guess a five-time 500cc World MX Champion, but I am sure Timmy would have done the exact same thing.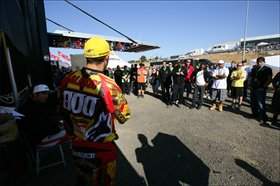 Mike Alessi picked up his holeshot check and then started a trend.
photo: Simon Cudby
Before the race, Alessi did something classy: He grabbed the $500 BTOSports.com Holeshot Check he picked up first his first moto start at
Glen Helen
and promptly grabbed the microphone from the AMA's
Jay Mitrowitz
and announced that he was giving the check up to Asterisk, who would in turn donate it to the hospitalized
Joe Bonello
(
www.helpjoeb.com
). He challenged the other three recipients to follow suit and they did, as Stewart,
J-Law
and Dungey all followed suit.
And don't look now, but the other Alessi is doing pretty darn good on his Moto XXX Hooters-backed Honda. Jeff Alessi ran seventh in the first moto, then had his should briefly pop out in the second while battling for a top-ten spot. Jeff's not doing bad: He's ninth in the rankings.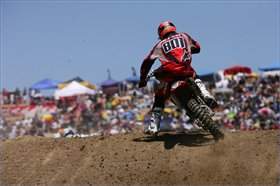 The younger Alessi is riding well
photo: Simon Cudby
But Jeff's ride was overshadowed by the privateer power of
Sean Collier
and
Steve Boniface
, who were both so impressive that
Andy Bowyer
dedicated
his Number Cruncher column
to the #207 and the #141, respectively.
Boniface is already on his way to France to race the MX1 Grand Prix back home next weekend. As for Collier, I got this note Rich Truchinski of Tru Technologies, Inc., his main sponsor:
Thanks for the plug regarding Sean Collier in "450 Words." I have been working with Sean in various capacities one of which includes team coordination. There seems to be a rumor going around that Sean quit racing last year to become an actor but this is untrue. There is another kid that lives in the same area of Sean's home town with the same name that is actually an actor. Sean has done a part in the movie Motocrossed but that was back in 2001 and is the only acting he has done thus far. He was racing for the Star Yamaha team in 2006 and 2007 and was injured several times at the beginning of 2007 and the final blow was a badly injured shoulder. This put him out for the remainder of the season. He's been riding since the latter part of 2007 and of course rode Hangtown 2008 with a great result in the first moto but a bit of bad luck in the second moto. We are building a team for the 2009 season working with sponsors and our objective is to compete in the WORCS and AMA outdoor. Sean loves the outdoor and off road disciplines and is having fun competing and learning this WORCS series. Thought I would clear up and dispel any myths." Thanks Richard, and well done again, Sean!
Okay, the strangest thing I've seen all week is the beating one or two folks on Motodrive are giving the AMA for not letting privateer Paul Lima enter his Husqvarna 450TC at Glen Helen. It began when the bike had not been homologated by the AMA because the paperwork had not been sent in, and there are less than the mandatory 400 units in the country to be able to race them right now in AMA Motocross. One critic called the AMA "retarded."
But the AMA was following the rules, as set by the association and in conjunction with ORM input, and it was no different than last year when Grant Langston could not ride the '08 Yamaha YZ450F until the proper number were in the States. "We were calling shops for a month, trying to see if Yamaha made their number before we let Grant start riding in," explained AMA Pro Racing's Ryan Holliday during a visit this week. "That's the rule and we would follow it if were Husky or Honda or anyone."
But things should be okay soon, because the bikes are available, just not enough of them…. But what if Kawasaki pulled out a handful of '09 bikes with a nuclear power plant, titanium frame, electric start, cup-holders, the works? Would the AMA have treated them any differently? No way.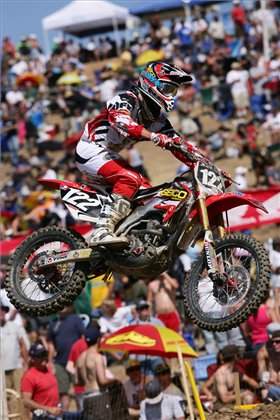 Dan Reardon needs a good moto to get on track.
photo: Simon Cudby
Holliday was in town because he's a Pittsburgh native and a graduate of West Virginia University. He was heading to
Steel City
for the big amateur regional there, but first he stopped by
High Point
Raceway, site of next week's fourth round of AMA Toyota Motocross, to check out all of the track changes we've made, with the help of track-building artiste
Marc Peters
and his top dozer operator
Chad
.
The first half of the track remains mostly the same, but once you clear the first tunnel jump down on the infield it gets very interesting. Peters designed and built several rolling rhythm combinations, added some hills and huge uphill stairstep jumps, and then put all of the old off-cambers back in where they used to be. The result will be a slower track with more pizzazz, and I think the riders next week are going to be super pumped.
Just got this note from Wes Williams: Check out the BTOSports.com Holeshot feature from Hangtown right here.
From the Racer X inbox - Racer X reader Troy Hales sent us this:
I wanted to say that I think it's really cool of Ryan and James to speak highly of their competition. It bothers me too when I hear people say stupid stuff "how easy it is for James to win" or "there's no one besides James and Reed." Why don't these folks show up at his house on Tuesday, or whenever he gets back to his work week (I'm assuming a 6 day work week right?) and go out and ride with him, or actually kick his ass since he has it so easy. Wait, don't those top ten guys in the 450 class take down about 300k to around 3m more than these guys that are talking garbage. I know that you guys and everyone that really rides mx knows this, I just wanted to vent about turds. We have the world's best riders in our series' and people are complaining that they are lucky enough to watch phenoms (RC, JS, RV) happen right in front of their face. Well, at least our moto heroes get to live with their familys and the fruits of their labor instead of sour grapes. All of my heroes ride dirt bikes!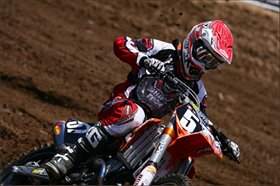 Ryan Sipes looks and sounds fast on his KTM
photo: Simon Cudby
Before we turn it over to
Steve Cox
, he and his friendly colleague
Steve Bauer
got into a little debate of sorts over what was or wasn't said at the press conference when Bauer asked a question of
James Stewart
that could have been misconstrued. Well, in the interest of fair play, both wanted to riff on the topic a little more, so here's a Racer X sidebar:
Point/Counterpoint, starring Bauer and Cox
.
Here's Steve Cox:
James Stewart has been through a lot in the years since he hit the circuit in 2002. I remember being pretty critical of him when he was doing the dances after winning 125cc supercrosses. The reason wasn't because I didn't like the dances; I thought they were funny. The reason was because he was dancing after absolutely trouncing guys that I thought he was heads and shoulders above. I saw it as watching the AFC All-Star team destroy a college team, and then rub it in at the end of the game.
However, I'd love to see him do a dance after winning 450cc supercrosses, Nationals or MXoN races. To me, that's perfectly acceptable, just like an end-zone celebration after a TD in football, which I love. Since then, though, it seemed like James sort of retreated into a protective shell after some backlash regarding that and some other things (like some racist people at some races causing trouble and things like that), and to be honest, I thought we had lost the real, genuine James Stewart for good. And that's not good.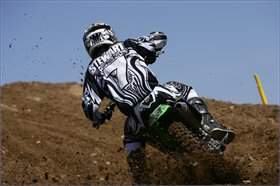 James needs to get his groove back on, says Mr. Cox.
photo: Simon Cudby
However, at Anaheim 1 this year, and then again at Phoenix, I spoke briefly with James, and there was just something different about him. He was back to being James again – albeit an older, more mature James, but James nonetheless. He looked me in the eye, and said things that seemed very genuine, and it was refreshing. If our sport is going to grow, I think it really needs genuine personalities of all types, and James could very well be our next protagonist.
If you missed Steve Matthes' Bottom Line on Motocross.com, you don't want to miss it this week. He tries to get Honda Red Bull Racing's Erik Kehoe to re-up Andrew Short (with a considerable raise), calls Larry Brooks on the phone, corners J-Bone on who all is talking to Joe Gibbs Racing MX/Toyota Yamaha - "everyone" - and stakes out James Stewart's motor coach. There's also the prerequisite WTFDRN moment - What's Tim Ferry Doing Right Now? - and it's just a funny piece all together.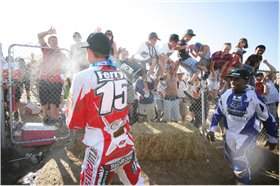 Tim Ferry rode come-from-behind in both motos for a Kawi sweep.
photo: Simon Cudby
Also, here's a link to his always hilarious
Observations
.
Speaking of Matthes (again … what, did he hire Cheryl Lynch as his publicist?), he thinks he's a photographer now. Hey, Matthes, now that you're "Better than Cudby," I'm sure you can find and input your own settings, eh?
Rumor has it that the 2008 Motocross of Nations may move a few miles up the road from Donington Park to Mallory Park. If it's true, it's not a major move, as Donington and Mallory are only 23 miles apart, with Mallory being almost directly south of Donington. However, this would be the third venue, as originally the MXoN was supposed to be in Ireland this year.
I don't think we can question Jason Lawrence's fitness anymore. At Glen Helen, he won the first moto, but then finished fifth in the second one and said he got tired, but also said that he wasn't really "tired" so much as he was sick from eating too much between motos. Still, he managed to re-pass Trey Canard at the end of the second moto. At Hangtown, it was hotter and he came from way back for fifth in the first moto, then finished a strong second in moto two. Sure, he didn't match Ryan Villopoto's pace, but then again, who did? If he keeps this up, we should expect a Jason Lawrence AMA National win some time this year.
Ashley Fiolek killed it at the WMA race at Hangtown. If she wouldn't have fallen in both motos, we might have seen a runaway. However, it's kind of a bummer that the girls were practically parked out on the highway. It was hard to find any of them for interviewing.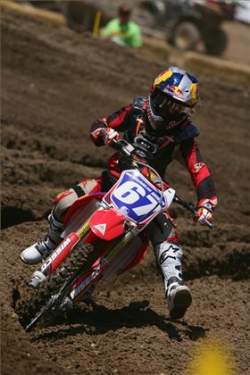 Fiolek earned her first WMA win in only her second attempt.
photo: Simon Cudby
On top of that, I think the program needs to be fixed a bit. On Saturday, the girls practiced right away (before anyone), then raced their first moto immediately after all four men's practices were done. As you can probably imagine, the track had changed almost completely by then. It was way rougher, the lines had changed, etc. Even with the two parade laps they got, that would be difficult. An easy fix might be to have the girls practice between the sets of men's practices, so that the track has lines and is close to what they would race on after the second set of practices. And on Sunday, where the girls only get a sighting lap yet are still expected to put in a hard moto after not racing or riding for like 20 hours. I don't really know the easy fix to that, but I think it's dangerous for the girls to be forced to go out cold like that and race. Certainly, if the guys were asked to do that, there would be hell to pay.
Now, with that out of the way, here comes the Texas National, Part II. And I can't wait. Sure, the racing's going to be awesome, and the track has likely seen changes over last year, but the big thing to me is this: The girls in Texas are very, very good looking, and it's supposed to be nearly 100 degrees! Bring out the bikinis, girls! I'll have my cameras waiting.
Weege added this:

In only his third full pro season, Ryan Villopoto has already taken wins at most of the tracks on the AMA National tour. He has now clicked off his first win ever at Hangtown, leaving just Southwick and his home-state race in Washougal as his the only missing wins on the schedule. Bad luck plays a roll there, as RV suffered mechanical troubles and DNFs at both of those races in 2006.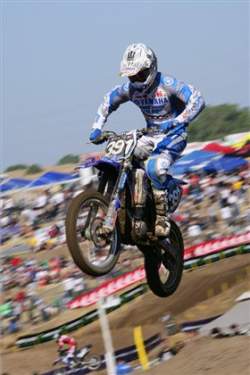 Tyler Bowers looks a little big for a 250F.
photo: Simon Cudby
Let's talk World Championship motocross.
Adam Wheeler
has been on the beat for Racer X Online over in Europe, and we asked him to give us an overview of last weekend's British Grand Prix at the new Mallory Park facility:
The British Grand Prix, along with maybe France, is routinely considered the biggest and best-attended event on the World Championship calendar. It can also be among the most polemic, especially in recent years, as the meeting bounced through promoters and venues faster than a golf ball on concrete. Mallory Park, historic mecca of road racing and stage to the likes of greats such as Barry Sheene, Giacomo Agostini, Mike Hailwood and Kenny Roberts, further stoked the fiery debate of "Circuit vs. Track/Tradition" argument that began with the ambitious (and ultimately fruitless) motivations behind the construction of Matterley Basin – host of the 2006 Motocross of Nations – and was firmly lit with the 2007 British GP at Donington Park (home of MotoGP and host of this year's Nations).

Those who believe that modern-day motocross needs the kind of permanent infrastructure that Mallory offered (paddock, parking, access, etc.) were no doubt satisfied with what they saw as the Grand Prix community spread out suitably across possibly one of the smallest motorsport facilities in the UK. The advocates of purism when it comes to their Grand Prix racing (who cares if you need to be towed out…as long as the track is good) will state that the jury is still deliberating on the course itself as the patchy soil was often stony, one-liney in places and with unnaturally large jumps.

Huge credit though to the organizers who listened to the criticisms tossed at Donington, with the crowd distant from the action and the layout more akin to supercross, and addressed them.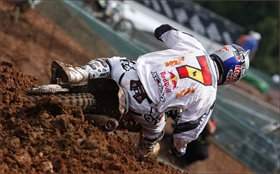 Jonathan Barragan became the sixth MX1 winner in six races.
photo: Adam Wheeler
Few Grand Prix tingle the skin quite like an atmosphere at the British. You will see more flags, costumes, colors and hear more air horns and cheers that at perhaps any other round. The track boasted an old-fashioned bomb hole and got the public as close as safely possible to the passing bikes. Overall, it worked, and a generous crowd turned up and picked at the positive elements of a promoter who did not neglect the hardcore while appeasing the selective who can't tolerate hours of queues and demand a degree of presentation and status of a world championship "happening" in return for their cash. At least the reliable English rain tossed its cards and stayed away, thankfully preventing the mud bath that would have been the spectator zones.
Extra touches increased the sense of occasion. Dave Thorpe could only take second place in the second round of the veteran's cup (a thrilled Chuck Sun grabbed a top-ten for the first time in the second moto) but even he must have enjoyed the nostalgia of the classic parade lap that saw an array of machines from the '70s through to modern day just before the opening sprint on Sunday.
Tommy Searle – arguably the UK's most popular young racer, even if the humorous teenager still has some tricks to learn with regards to winning the hearts of the public and those around him – could not repeat his 2007 MX2 home victory and his spat with world champion Tony Cairoli, the Mallory winner, cranked up a notch from Ireland last year and Bulgaria this year with a fair collision in Moto 1 while jostling for second-place in which the Briton came off worse. Cairoli, as those who have seen the Sicilian will testify, was a sight to behold over some of the lengthy leaps. He won from Tyla Rattray and Searle.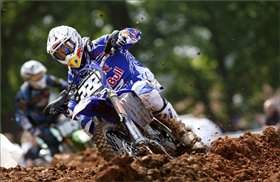 Tony Cairoli took the overall in England.
photo: Adam Wheeler

Ken de Dycker may have suddenly materialized from a results wilderness in which tumbleweeds would have even been scant, but his final-corners win from the mild Steve Ramon in Moto 1 was thrilling. The Belgian was not the main focus of that particular race, though, as the pace, verve and panache shown by factory Yamaha rider and MX1 series leader David Philippaerts was an absolute contender for Performance of the Season as the Italian scythed through from 19th on lap one to 2nd place before an untimely error dropped him out of the De Dycker/Ramon dynamic on the penultimate circulation.
Spain's Jonathan Barragan was the overall winner, despite repeating his Bulgarian mind-slip of crashing on the last lap while leading. One has to have sympathy for Josh Coppins who had won three Grand Prix by this stage in '07. First lap crashes in both motos (not his fault) means that the New Zealander is still scrambling to rid himself of the bad luck that struck at the Czech Grand Prix last August and stuck around at the start of the year with his foot injury.
The big question now involves the future of the Grand Prix, and most would instantly be forgiven for assuming that 2009 will bring a new project and backer. The onus is firmly on Gareth Hockey to build on these positive but rough foundations. Simon Swan, editor of UK's Moto X magazine, spoke to the Weston Beach Race maestro just after the culmination of his hard work and he rated the event as a "five out of ten. I think a lot of people on the outside would look at it and rate it higher, but myself and my staff have looked at it and we know it wasn't as good as we can do it."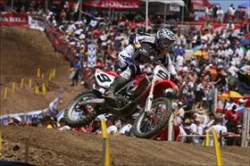 Ivan Tedesco had his best outdoor finish in quite a while.
photo: Simon Cudby
Thanks to Adam, and good luck to
Josh Coppins
— he could be the seventh winner in seven races next week in France.
A reader Down Under sent us a link to mainstream newspaper from Australia about Chad Reed, the recently crowned Monster Energy AMA Supercross Champion, and his plans for his Australian SX Series, which begins this fall. It also mentions some of his earnings and how he ranks with other elite Australian athletes, though Chad himself warns that sometimes those figures aren't always accurate.
Stefan Everts' MX Racing Techniques DVD is coming soon and it is being distributed here through www.Ignition3tv.com. Everts is easily one of the greatest motocross riders to ever throw a leg over the bike, and he has as many records in Europe as his friendly rival Ricky Carmichael has here in the U.S., and he can make a case as not only the best mud rider ever, but maybe the best sand rider as well. Here's a preview of Stefan's latest tutorial.
From
Bad Billy
:
Our friend Dustin Schuiling from Spearia sent us a note about his company's new website called Schwagon (www.schwagon.com). In a nutshell it's a website based upon online contests where you can win free schwag…hence the name Schwagon.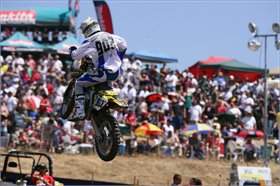 Cody Cooper had third in the bag in the first moto before a costly spill.
photo: Simon Cudby
Dustin said, "The whole site is based around the action sports lifestyle and withholds the competitive nature like that of our lovely sport. Our hopes are that it will eventually be a cool spot for people to check out and vote on sweet videos/pics and most importantly win some free stuff! Currently all contests are video and picture submissions only, but we have some big plans to expand on that very soon. Over the last month we've been testing the site and getting all the bugs out. Currently we are running a "Goon Riding" video and picture contest and are in need of some worthy competitors, so we're just trying to get the word out. We've only got a few contests up right now, but we urge people to check it out and let us know what they think!" Did you hear about The Rupert X Show?
TUESDAY NIGHT. 7 PM. WARM BEER AND COLD FOOD. 10 JUNE.
Yes – It's THE RUPERT X SHOW. With guests.
This will probably change our lives forever. So go ahead and dig it. Preview check here – www.therupertxshow.com.
You're invited. Bring chicks. Don't bring guys, don't make this into some medieval sword fight or corny German sausage-haus-fest. Dress to impress and depress.
*WOW, it's really goin' down. Schnizzle.
And speaking of parties, the annual Racer X
High Point
Party will take care next Friday night in downtown Morgantown at Chic 'N Bones, which is right across Willey Street from last year's party spot, Bent Willey's. We will have videos, beer, girls, a live karaoke band, more beer, girls, and everyone is invited. Starts at 9, ends whenever!
There will be a new team in the AMA paddock this weekend at Freestone. Well, not a new team, but this is the first round of the Nationals that the DNA Energy/ BTOSports.com/ BBMX team will be in full force. So that means Jason Thomas, Matt Boni, Kyle Keylon, Shaun Skinner, and Bryan Johnson will be joining teammate Kyle Cunningham outdoors. And speaking of Cunningham, he has been tearing it up in the Lites class, so here's hoping he can find some more support to do the entire series. Jason Thomas's expectations for this weekend? "16-12," he told us.
Check out this brief report about the Oakley Factory Pilot Tour that I attended last weekend in Colorado, and stay tuned for more info on that event!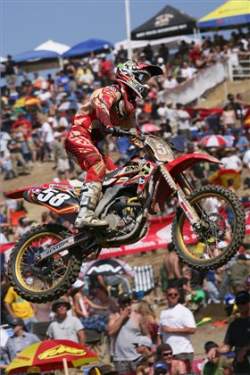 Kyle Cunningham is going to have a real team behind him this weekend.
photo: Simon Cudby
Here's
Ping
:
Last weekend I got to take part in an event that has become a staple on my calendar. Pat Schutte gathers a full gate of action sport stars for the annual Monster Energy MX Crossover Challenge and invites members of any media outlet for the Java Monster Media Throw Down. Action sports heroes like Shaun Palmer, Daron Rahlves, Ian Price, Aaron Cooke, Chava Greenlee and others get to race on the national track and find out who the best motocross rider is among them. Behind that group, members of the media got to put in some laps on the national track without having to race the national.
Two-time Olympian and the best U.S. downhill skier in history, Rahlves, pulled his first-ever holeshot in moto one. He was quickly passed by Palm who went on to win on his trusty 280cc two-stroke. Behind him was a battle for every position. Cooke and Price rounded out the top three in the crossover event. The second moto was more of the same except Palmer grabbed the holeshot and never looked back.
But the best part about this event for me isn't even the racing; I've done plenty of laps around the Hangtown track. The best part is seeing how stoked the action sports guys are to ride. Three-time defending Winter X Games gold medalist in Boarder X, Nate Holland, was attending not only his first Monster Energy MX Crossover event but his first motocross event! He had ridden some trails up in Truckee but never on a real MX track.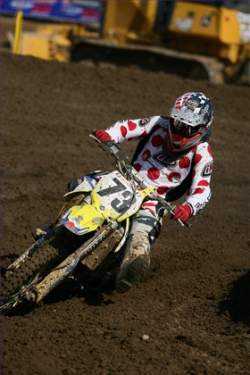 Ping at the Hangtown Crossover event

photo: Simon Cudby
"That was insane," said Holland of his very first motocross race ever. "I can tell this is definitely going to become an expensive hobby for me."
All of the guys had ear-to-ear smiles on their faces back in the pits and before their helmet and gloves had even hit the ground they were cracking cold-ones and starting to bench race. That kind of pure enthusiasm and appreciation for the sport are hard to find in the pro pits these days.