Number Cruncher: #141 and #207
Welcome to the Shift Number Cruncher. There is always a cool story surrounding a number at every race. That is what is so cool about motocross. There is so much more to the moto than just who won. And thank goodness for that because last weekend two riders led every lap of both motos! But I digress; the point I'm making is that each round of the 2008 AMA Toyota Motocross Championships will produce a story and a number that we can draw some cool comparisons to. In last weekend's running of the 40th Annual Hangtown Classic, there were two numbers. California's Sean Collier and France's Steve Boniface took #207 and #141 to the track for some amazing performances. Let's take a closer look at them both.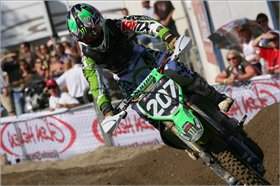 photo: Simon Cudby
Ryan Villopoto
left Loretta Lynn's in 2005 as the AMA Horizon Award Winner. Less than two months later he would arrive at the final round of the Outdoor Nationals at
Glen Helen
and put in 3-2 moto scores for the first podium of his career. His performance on the #207 Monster Energy/Pro Circuit Kawasaki had most of the industry standing on the sidelines with raised eye brows. RV was straight hauling the heat and left a few not-so-subtle hints that there was some serious pain on the horizon for the Lites class.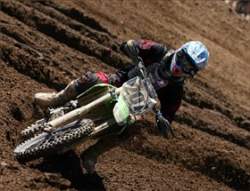 Sean Collier
photo: Simon Cudby
Like several riders, Saugus, California's
Sean Collier
flew into the pro ranks just below the great
James Stewart
hype of 2002. There was so much focus on the arrival of
Bubba
that some other incredibly talented guys got lost in the cut. Collier won the 125B Stock title in 2002 at Loretta Lynn's then jumped up to the pro ranks without so much as a press release. Sean has since put in some big performances during some West Coast supercross rounds and has been chipping away just under the radar.
Well, he showed up and blew up in that first moto last weekend at Hangtown. Hey, nobody backs into top-fives in the outdoor nationals, especially in the AMA Motocross class. Sean left it to the stops on the right-side controls and took the #207 on a ride for the Hangtown fans last Sunday afternoon. Keep an eye for that guy to make a few more solid runs as the summer wears on.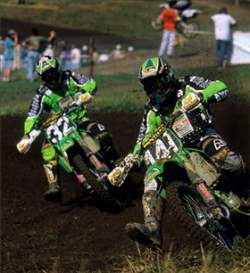 Craig Decker
photo: Racer X Archives
Yucca Valley, California's
Craig Decker
is a four-time Loretta Lynn's champion that made his mark in the professional ranks. Decker just never got the breaks he needed to make it all the way to the top. He had his most successful races aboard a #141 Pro Circuit Kawasaki in 1997 finishing fourth in the 1997 West Coast SX series. Decker was one of the first riders that began venturing up to Canada to compete in the Canadian Outdoor Nationals, then worked as a test rider for factory Kawasaki. Click
here
to see what Craig is up to today.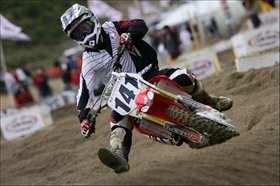 photo: Simon Cudby
It's been a long, strange trip for France's
Steve Boniface
. The man has ridden for almost every team you can think of in the past ten years. He is always an excellent fantasy pick, especially outdoors, as he has some amazing speed.
Sometimes having something to prove will knock off a few tenths a lap. Well, "Bonifast" reportedly went out and bought his own CRF450R, threw on #141, and parked in the back-40 at Hangtown. Then he came out and laid wood on his way to a 6-6 moto tally and fifth overall in the big boy class.
There was more than a handful of factory riders that pulled their share of tear-offs after eating Steve's roost.
OK, guys, short and sweet next week. Who knows what numbers and scenarios Texas will bring? If you have any additional #207s or #141s please send them to me at andy@racerxill.com.