For this week's edition of 3 on 3, we asked Racer X Online contributors Steve Matthes, Jason Thomas, and David Pingree just one question. With riders already testing for the upcoming outdoor season, we asked for early previews and predictions for the 2018 Lucas Oil AMA Pro Motocross Championship, which begins May 19 at Hangtown.
Jason Thomas: It's going to be hot, dirty, and rough. This is outdoor motocross! For all of the convenience and pageantry of supercross, nothing appeals to the core fan base of this sport like outdoor motocross racing does. The MXGP series is already in full swing and has helped me get pumped up for our Lucas Oil Pro Motocross Championship that kicks off in just over a month at Hangtown. The big draw for me in the 450 Class is that the points will get reset. So much of the life got sucked out of the premier supercross class when Eli [Tomac] and Marvin [Musquin] went down early with shoulder injuries. They rebounded, but the damage was done. After an incredible fight to the end last year, this year's series hasn't been the drama-filled spectacle we hoped for. Unless Jason Anderson makes a huge mistake, he will be content to manage this all the way to Vegas. Come May 19, however, it will all be back to zero. Eli Tomac will be looking to back up his first ever 450 title after a very up and down 2017 summer. He was able to make it happen in the end, but make no mistake that Musquin and [Blake] Baggett believe they can pick up where they left off. The unknown is what intrigues me the most about a new series, and after last season's unpredictability, I think we are in for a great battle.
The 250 Class is set to be a barn burner as well. If Zach Osborne stays down (it's a possibility), he will have his hands full to retain his crown. The Monster Pro Circuit Kawasaki group of [Austin] Forkner, [Adam] Cianciarulo, and [Joey] Savatgy will all be vowing to make this title theirs. Aaron Plessinger and Dylan Ferrandis both think they are the man to beat outside after being in the hunt for wins last year. Ferrandis will be working to get back from injury, but if he can get back to 100 percent, look for big things from the Frenchman. Don't forget about Jeremy Martin, either. The two-time champion of this very series is on a roll right now. He won races last year and should have won several more.
All of these guys have legitimate reasons to think they are "the man." As we know, only one can be left standing come August. I look for multiple winners and outright chaos at times. There isn't much love lost in this class, and bravado often gets the best of wisdom at this age. While the 450 Class may be the premier class of the sport, I think it will be tough to beat the war waged on 250s this summer.
Steve Matthes: Near the end of the outdoors, I yearn for big stadiums and indoor racing, and, consequently, near the end of supercross (moreso this year, as injuries have really taken the drama out of the series), I look forward to being trackside and seeing the riders grab fourth and fifth gear on 450 machines. If you win a Lucas Oil Pro Motocross Championship, you're a bad dude. It's that simple.
First up is the 250 Class, and if you look at last year's title, Zach Osborne won it by almost a hundred points. That's crazy to me because it's such a deep field of riders. We expect Osborne to be back in it to defend his #1 plate (he was slated to move to 450s, but they probably threw a chunk of money at him to stay down), so he's got to be the favorite. Let's see though what two-time 250 Class champion Jeremy Martin can do with a year with Eli Tomac in Colorado and more familiarity with the Honda. He's been on a roll lately here in SX. And, of course, Monster Energy/Pro Circuit Kawasaki kids Joey Savatgy, Austin Forkner and that Cianciarulo guy will have something to say about Wacko keeping his #1 plate. And, to me, Aaron Plessinger is capable of winning this title without a doubt. The biggest thing is mistakes, and in this class, these dudes still make some. Osborne was able to limit them, and that's why he won by such a huge margin. If there's a surprise to come, it will be Plessinger finally figuring it all out and winning the title, but if not, I'll take Martin to be closer to Osborne than last year. However, I'd like the #1 to keep the #1 and finally move to 450s in 2019.
In the big bike class, well, it's Eli Tomac's title to lose. Wait, where did I hear that before? Oh yeah, before supercross this year. We still had some weirdo moments last summer where we wondered what was happening with Eli, but by and large, he controlled the title pretty much all summer. Marvin Musquin and Jason Anderson will be right there for most motos, and I worry about Blake Baggett's hand/thumb issue that's been affecting him lately. Outdoors can be tough for an injury like that. And the huge question mark is Ken Roczen, who says he'll be ready for the outdoors, but man, I'm just not sure how up to speed he'll be when the series starts. Roczen could surprise with his old speed and be right there (remember, he's always been a better outdoor rider than indoor), or he might ease into things and be his usual self later on.
This class is more predictable than the 250s, in my opinion, but either way, should be some great racing.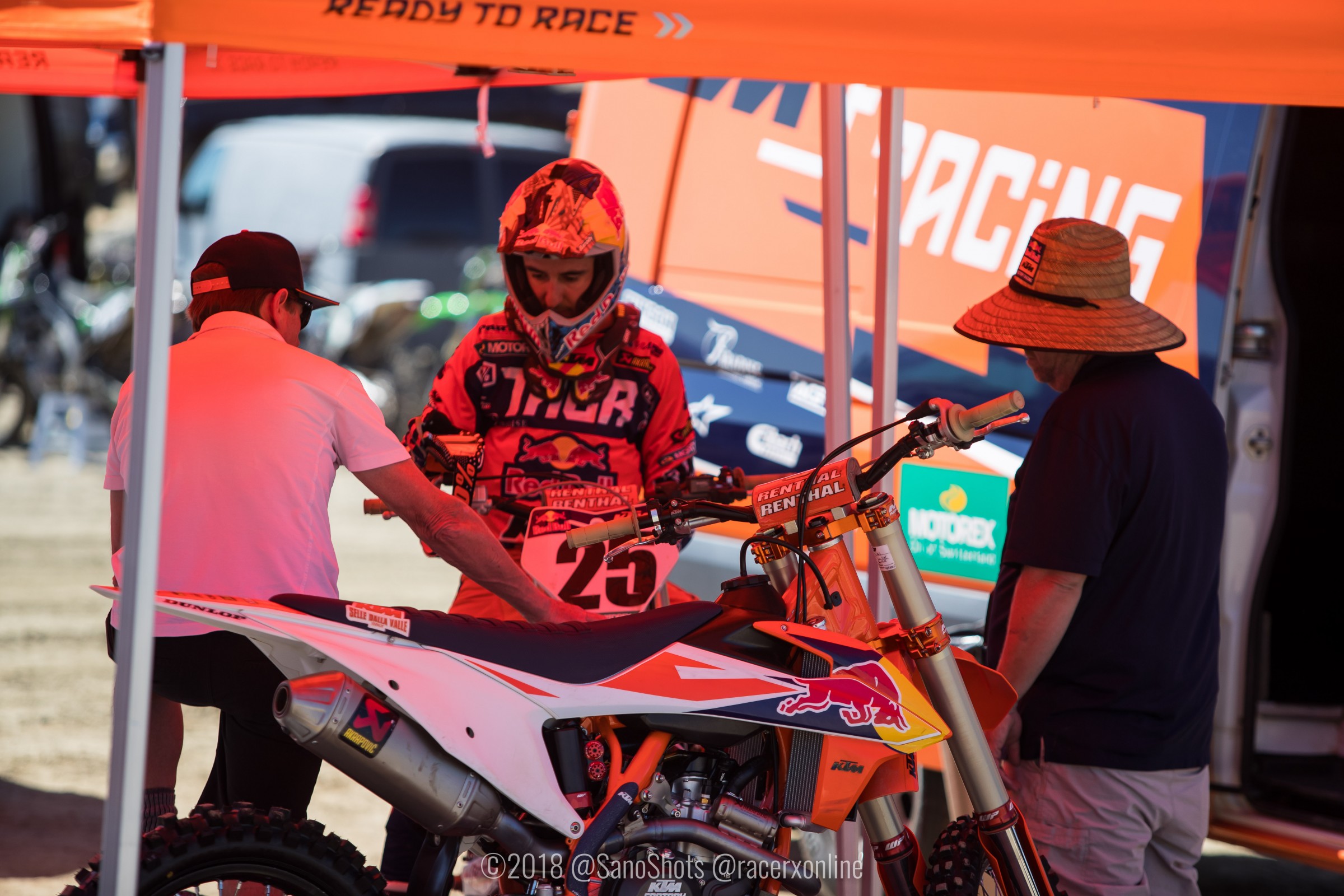 David Pingree: A fresh series is always fun, regardless of how good or bad the other racing discipline is going. Though we've had some good supercross races this year, I certainly wouldn't list 2018 among the better series in terms of drama and excitement. So, as Hangtown nears, there are plenty of questions to ask. Will Eli Tomac steamroll the 450 Class? Can he remain consistent enough to win it again? How will Marv fit in? Can Roczen come back again and be competitive? Will Cole Seely return to racing this summer—or ever, after his pelvis-shattering endo? What about Blake Baggett? Blake has had his best indoor series by far and he's a stronger outdoor rider. It wouldn't surprise me to see him winning races this summer if his thumb holds out. Jason Anderson is likely razor-focused on closing out this supercross series, so I wonder how underprepared he will be for motocross racing. Will Zach Osborne move up? If so, where will he fit in? Like I said, there is a long list of unanswered questions and that makes the start of a new series fun.
The 250 Class is always great, and with the talent on both coasts coming together for the summer, I wouldn't even try to pick a favorite going in. I'll tell you what...I'll take the guy with the energy drink sponsor. Easy pick. Okay, fine, if you're going to press me, I'd say Aaron Plessinger will be looking good as things kick off, but he too is likely spending most of his time at the supercross track to close out his first championship run. Adam Cianciarulo and Joey Savatgy have proven to be fast outside and they are hungry for a title. The entire GEICO Honda team is fast, as is the Troy Lee Designs/Red Bull KTM crew. Feel free to pick your favorite Martin brother and place a wager on which one will finish higher. I had high expectations for Dylan Ferrandis going in to 2018, and it will be interesting to see how he rebounds from his horrific injury earlier this year. Another rider I thought was going to turn heads was Mitchell Oldenburg. Mitchell has slowly worked his way towards the front over the years, and he was poised to win races this year until a broken collarbone set him back on the couch for a while. There are plenty of options as the weather warms up and we head outside.
And what about the halftime entertainment in 2018? With the success of last year's FMF Triple Crown, it sounds like 125 racing is coming back with more rounds. There are some motocross legends who have shown interest in racing some of the events this summer, so keep an eye out for that. I've had my name on the pre-entry list before there was even a pre-entry list, so I just need to find a way to get my bike to the races now. These are going to be fun.