In 2014, fans and viewers of Monster Energy Supercross were introduced to a fresh face as Jenny Taft joined the Fox Sports 1 broadcast team as the new pit/track reporter during the races on Saturday nights. Whether you're a diehard fan or just a casual viewer, odds are you're familiar with seeing Jenny on your television set on the weekends. What you may not be familiar with, however, is what goes on off-camera and how she came to be involved with the sport. Now entering her fifth season covering supercross, I decided to spend some time in Indianapolis shadowing Taft to get more of an idea of what a day at the races is like in her world.
Here's what I learned:
IN THE BEGINNING
Jenny's arrival into the sport of supercross is actually a bit comedic, yet simple. "One of the talent VPs at Fox had called me into his office and he said, 'What do you know about motorcycles?' I said, 'I know Ricky Carmichael. He was really good!'" Being impressed with the fact that she had any knowledge of motorcycles at all, she was given the go-ahead to take on the role she possesses today.
Where did this knowledge of the sport come from? Her brother. Jenny told me that her brother had always wanted a dirt bike growing up, but their mother never allowed him to have one, so they focused on hockey and other sports instead. She also mentioned that prior to Anaheim 1 in 2014, she had never been to a supercross before. Imagine the very first time you attended an event, you would be put on live television and expected to conduct interviews and trackside reports in front of thousands of viewers at home. Sounds terrifying, if you ask me.
It's not a secret that our sport is a pretty tight-knit community and there can often be some resistance upon introducing someone new—whether it be from the fans or athletes. While the riders were generally receptive of her new role, she admits there was a bit of a process. "It was definitely a learning curve, but I think once people saw that I was willing to put in the work and that I really wanted to get to know the guys, I think that's kind of where the fans jumped on board." I spoke with a Fox Sports 1 producer and he said that after just a few shows, people were already taking notice of Jenny's professionalism and ability to quickly adapt.
AT THE RACES
Her weekend begins relatively similar to many people found in the paddock—on Friday. On Friday afternoon, Jenny attends a production meeting with Jeff Emig, Ralph Sheheen, producers, and anyone else who is involved with making the television show happen the next day. I was invited to sit in on this meeting and listened as "Bondo" and "Producer Pete" ran through the show in its entirety. During this meeting, Jenny pulled out one of the most impressive notebooks I have ever seen. She keeps a journal of notes on every rider who competes in Monster Energy Supercross—and while her notes are not immaculately detailed, her ability to quickly glance at them and then conduct an interview is absolutely stellar; more on this later.
On Saturday, a lot of her day is spent migrating through the stadium tunnels and mingling with riders. Having the idea that her job at the races is to know facts and report on what's happening, I had this preconceived thought that the majority of our time together would be spent inside a room or TV truck, watching film and studying her impressive book of notes. That wasn't the case, however. As previously mentioned, a lot of her intel comes from chatting with riders as they wait to go out for practice or in the hallways. The thing I found the most impressive is how she approaches riders and how willing they are to chat. She explains to me that it's like chatting with anyone—you just have to pick the right moment and feel it out.
Have you ever been inside a stadium and felt lost, turned around, and unsure of where you're going? You're not alone—this happens to Jenny Taft A LOT! On more than one occasion, I had to remind her where we were going, how to get there, or how we got where we were. In her defense, she has a lot of riders to try and keep track of and these stadiums sometimes feel like a maze, though it does keep the day interesting and fun.
After free practice and the first set of qualifying is over, this is when she visits the TV truck to watch film and make or study her notes. This also allows her to prepare for the second set of qualifying practice where Jenny, Ralph, and Jeff cover the 250SX and 450SX group A sessions. Their coverage of qualifying not only gives the fans a different view of what's happening on the track, but it also serves as a practice for the entire TV crew to dial everything in for the evening's live broadcast. During this time, Jenny has an earpiece in her ear and is being fed a number of stats from her producers as she conducts on-air interviews with riders.
Remember that impressive notebook I mentioned? When she's ready to chat with a rider, she will glance at her notes and then begin talking—all while hearing chatter in her ear from the producers. I know that this is how it happens because I was also wearing an earpiece and could hear everything that Jenny was hearing. The way that information and stats are relayed to whoever is speaking on-air—be it Jeff Emig, Jenny Taft, or Ralph Sheheen—is impressive, and to hear them speak it out loud is beyond skillful.
Another cool thing that takes place trackside, whether it be during qualifying or the night's racing, is how Jenny watches the races. When she is down on the track, there is a crew with her, and one of the crew members follows her around with a TV monitor. Yes, she is only feet away from the track, but is watching the action on TV and is hearing the exact same broadcast that you're hearing from the comfort of your living room.
As previously mentioned, the qualifying show acts as practice for what's to come during the evening, so this process is pretty much repeated—only more in depth—during the live broadcast on Fox Sports 1.
Jenny is on-air during supercross a lot more than during any other sport she covers. During an NCAA football game, for example, Taft may only be seen or heard from two or three times during the entire game. During a supercross broadcast, however, she's a significant piece to the television puzzle, as she conducts interviews and provides trackside reports. Jenny also credits supercross with helping her to cover other sports. This summer she will be covering the World Cup (soccer) and mentioned that her boss there actually noticed her in supercross and was impressed with how she can get to know riders and tell a relevant story quickly. An avid supercross fan may not correlate dirt bike racing with ball sports, but as someone who regularly covers both, Taft uses her now-five years of experience in racing to better herself in other parts of her career.
"My bosses at Fox Sports really noticed my growth from supercross. I wish I could count how many times you heard from me tonight, but it was probably 20," she says. "The reps here have made such an impact on me, at least proving to everyone at Fox that I can do those big events and it doesn't matter what I'm covering—if you can ask good questions, it goes a long way."
After spending time with Jenny in Indianapolis, I think one of the coolest things I discovered was just how casual her day is. What I mean by this is that while her job is absolutely taken seriously, it's also a fun day of conversations with people who happen to be incredibly talented at riding dirt bikes. The final thing I learned while shadowing her is that everyone in Monster Energy Supercross loves Jenny Taft! From the riders to her co-workers to other personnel at the races, everyone's eyes seem to get a little bit wider and a smile casually graces their cheeks whenever she converses with them. In a sport centered around speed, competition, grit, and dirt, Jenny seems to have a way of delivering a calming sense of happiness and positive energy to nearly everyone she encounters.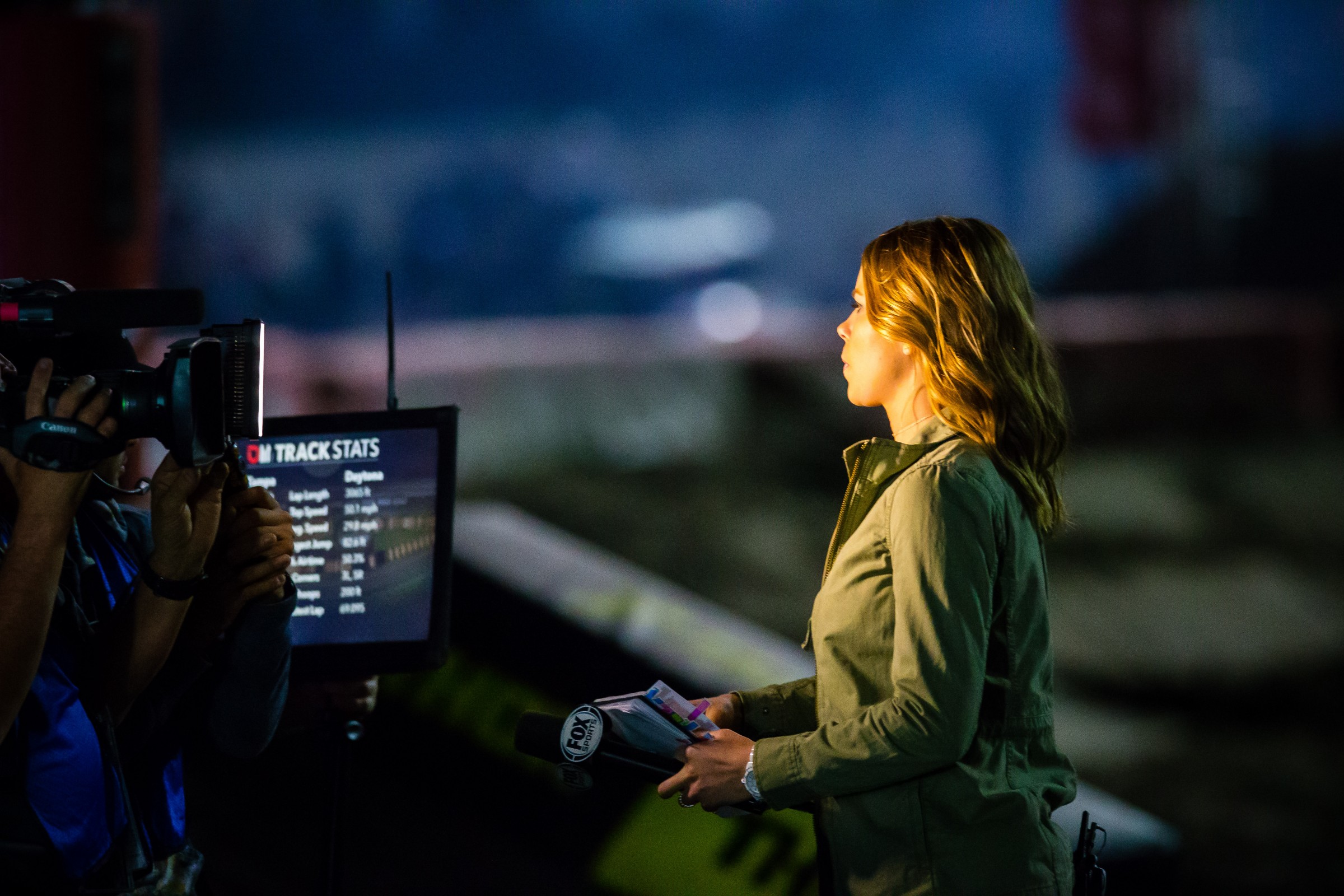 BONUS FACT
Jenny speaks French. Prior to the final 450 qualifying session in Indianapolis, there was a short delay as the track crew had to fix the netting that Michael Mosiman broke in the 250 session before. During this time, Jenny took the time to walk down the starting line and conduct rider interviews. When she reached Cedric Soubeyras, who hails from France, Jenny used this moment to practice her French, conducting a portion of her interview with Soubeyras in his native language. The producers on the other end of the earpiece and myself were thoroughly impressed. Kudos, Jenny—way to keep things fun and to bring some entertainment during the downtime.