After retiring from professional racing last year, Trey Canard launched Racing Standard, a company created in hopes of improving safety at the races. Unfortunately for Canard, he suffered a number of injuries during his career, including a career-threatening injury at the 2012 Los Angeles Supercross, when he clipped a Tuff Block cover on the first lap and was unable to clear the big triple.
Canard worked with Feld Motor Sports at the 2018 Monster Energy AMA Supercross season opener in Anaheim and one of his goals for the project is to bridge the gap between riders, track builders, and the promoters. We caught up with Canard at Glendale last weekend to see how everything is going.
Racer X: Hey, Trey, good to see you here in Glendale. How's everything going for you as a retired racer?
Trey Canard: Good, man. Kind of fun to see it from a different side up here in the press box. It's been fun.
Is it weird for you? Is it weird not getting ready for racing on Saturday anymore?
Yeah, that's probably been the hardest part for me, is just to be at home. I'm so used to a schedule, routine, doing the same things, looking forward to those things, and preparing for something. It's been the hardest part probably is not having that. I do miss it. It is really weird.
Have you been riding at all?
No. With my project, I've wanted to keep it really unbiased as far as what brand motorcycle I'd be on and that type of thing. I got people that I've worked with in the past that I can maybe get motorcycles from, so I've kind of strayed away from it, just getting a bike. But I think I'm going to buy one soon just from the local dealer, because I miss it.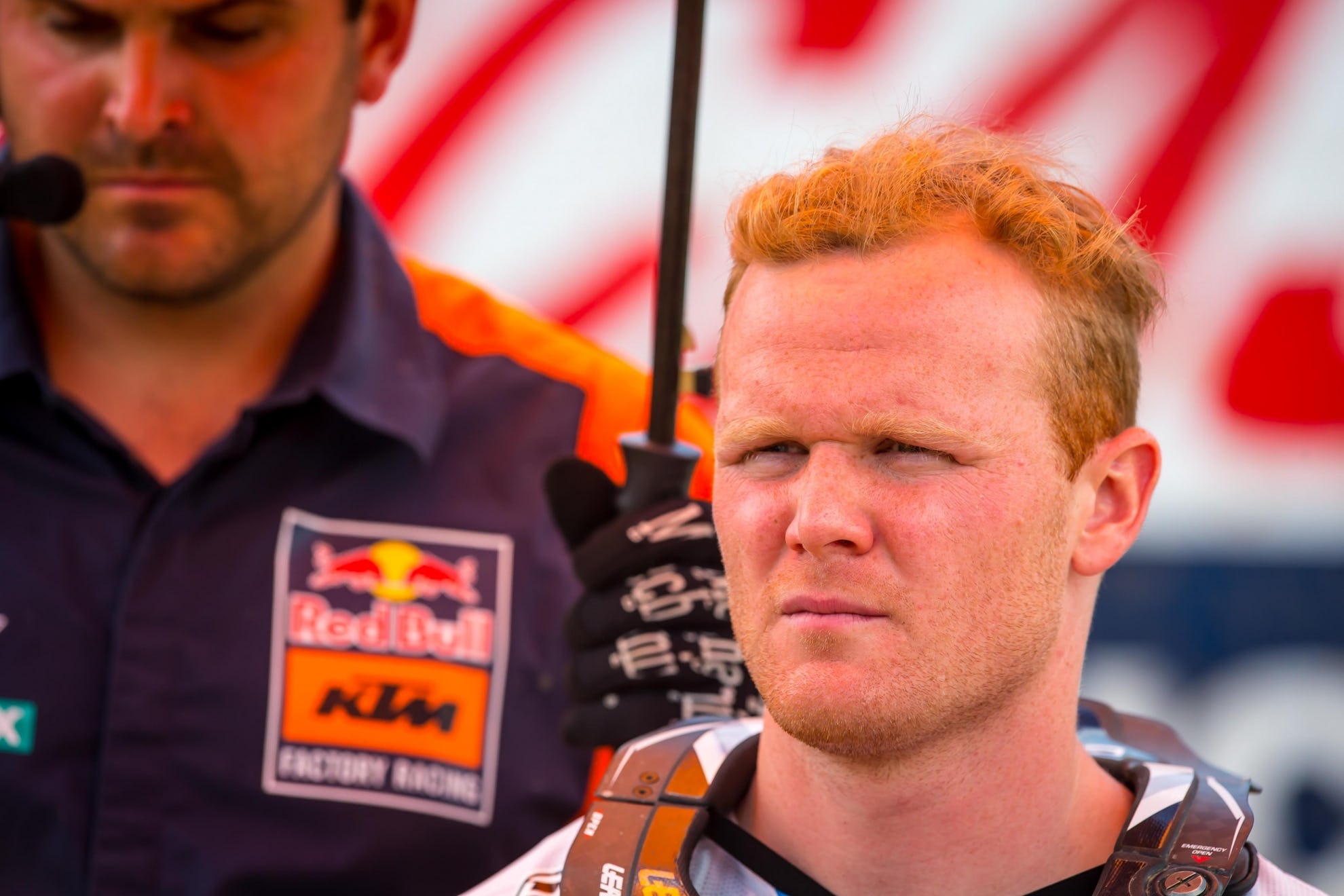 What bike do you have your eye on?
I don't know. The local Honda dealership I've got a really good relationship with. We'll see.
You were at the first round of supercross in Anaheim launching Racing Standard. How did that all go?
Yeah, I thought it was a great experience. I was there all week. Got there Monday and saw the whole process, the way that the guys worked and the effort they put in and the why for most of it. It was really good for me to see that. All in all, I thought it went really well. I think good feedback from the riders and the teams. Everyone seemed happy. Just going to be a matter now of if it's going to be a consistent, formal position.
I don't know if this had anything to do with you being there or not, or if it was just A1 so things were extra polished, but one thing I noticed at Anaheim 1 was it seemed like every side of every jump was polished and almost felt like it was part of the track. Was that any part of what you were doing? If you see over here, the side of the jump, the dirt is soft. Did you have any input on that kind of stuff?
No. I was mostly just kind of taking notes and adding any feedback. Any time Randy and those guys would have questions, they'd pull me over. I'd give my two cents. I was there as they built the whoops, that type of thing, and tried to help them understand what the riders' perspective might be. But no, they did a great job, I think, as far as doing those small things. Those are super important for me, just the compaction of the side of the jumps is really important in case you actually end up there. But to answer your question, no, I didn't have anything to do with that.
To me, it just kind of almost looked like the whole track as a whole was cleaned up all around. It kind of almost looked like Red Bull Straight Rhythm in a way, where it was real clean. It worked out in one example where Alex Martin jumped off the track and he was able to use the side of the tabletop part of the step-on-step-off to jump back on the track.
It's an important concept, though, because just the compaction. Even if you land close to the side of the track, you want to see if the compaction's not there. I do think it's important. Is it doable every time? I don't know if that's going to be available, but I do think it's important.
What were some specific things that you offered guidance on or some changes you suggested that were or were not taken into consideration?
I think a little bit had to do with structure placement. That was one area that I did offer my help and really try to push for certain things. A lot of the way that the track was put together as far as the obstacle placement. There were a couple sections we went back and forth on what needed to be a certain way. There were a couple different rhythm lanes and I did add some input. I think the biggest thing that I want to do, and one thing that I'm trying to consistently convey, is that I don't have the answers. My project is to help find those answers. So, I don't want to ever go into something thinking that I know what needs to happen. I obviously have my opinions and my convictions and what I think things should look like, but the process I want to go about is learning from the people building the track and learning from what the riders think of that, and then trying to come up with the right mixture of that that makes for the best racing surface.
In a way, you were like a liaison between the riders and the track builders.
Yeah, kind of. Like, if there's three or four pillars of what Racing Standard is, liaison is one of them. I want to increase the communication. Right now, there's not that person to go to. I would really like to be that guy, being that I've been there. There's a certain language that you speak. Hopefully I can discern and decipher what is a valid concern and what's preference. So that definitely is a huge part of it.
Have you been communicating with the riders? What has that been looking like for you?
At Anaheim, that was the main focus. I was there every time the guys came off the track. So, if they needed someone to go to, I was right there. I think I got valuable feedback. The two comments that came up mostly were transitions-related. There was quite a bit of feedback for the whoops. I did my best to put a race report together for Dirt Wurx for all the teams and for Feld to see that feedback. Hopefully it can move into the tracks as we move forward. So, the response from the riders has been really good. I think still some are still a little bit unaware of what I'm doing. Hopefully that can change. But the ones that I was involved with were all really happy.
Other than just you being on the track, what's a good way to present that feedback? I don't know if this is true or not, but I've heard plans of a potential app that riders can log into and point out certain things on the track.
It's probably a big ask right away, but…
Is this something you're looking to do?
Yeah, absolutely. Part of the mission is data. The way that I gathered it at Anaheim was we divided the track into twelve sections, and then we numbered each obstacle. So, for instance, say you had the first left after Anaheim. That was section 7, and there were eight obstacles in section 7. So, when there was an incident, the rider landed on obstacle 7.3, which would be section 7, obstacle number three. So, that was what we did to collect the data, but what I would really love to have is an app to where we can really gather that live feedback so we can pinpoint what the hot spots are as far as what's dangerous or what people feel need to be changed. So, they can select a certain area that might need to be different. A good way to gather the information.
This could be an example: at Anaheim 2 in the back in deep right field, there was a raised corner where a Tuff Block kept coming out at every race. There was a guy standing basically all night babysitting the Tuff Block that kept getting clipped and knocked into the lane and causing problems for riders throughout the night. So, ideally, you'd be able to point out that section of the track as causing problems?
Yeah. It would be great if you could just click on the track map and add your input. I'm only one person and people are busy, so if you could just log onto some type of device and add your feedback, it would be great. But that's a big ask. It's expensive. It would have to be really neat, asked for by everyone.
What other things are you working on? What's the status right now? You did the first round as kind of a trial run and now you're here as a fan. Where are you at with everything and Racing Standard?
Everything went well, and then the next step for me was, I said from the beginning I wanted to compile data. I did that and came up with a race report. Sent that to all the teams—all the teams I have contact for, anyway, and all the manufacturers, the promoter, the track builder. That was kind of step one. Came here this weekend and sat down with Dave Prater and asked his feedback on the race report and what he thought of my time at Anaheim. I think it's all been positive. They've been receptive to it. I think the next step, really, is if they see that it added value to their event and do they feel that it can be something that we can continue to work with. There's positives there. I think that at this point it's going to have to be wanted from the riders and the teams and they're going to have to voice that for it to be legitimate. But it's not out at this point, and I'm optimistic that it could be something that could happen in the future.
So, it's not a no?
Definitely not a no. I think it's a little bit a matter of logistics. Obviously, I'm not going to do it for free. I think I've got a decent structure in place to where we would seek to have our funding from the manufacturers, the OEM's, and Feld itself. That way we could keep it as unbiased as possible and as light of a burden on anyone as we can. I think it's a doable ask from where I sit, but money is tight for everyone. I do think it adds value to Feld's event. I think it adds value to the teams' participation. I think it's doable. It's just going to have to be up to the voice of the riders and the teams and everyone else's acceptance of it.
Basically you're on hold, waiting for someone to step up and say, "This is what we need to do." What would be the next step for you to take?
Yeah, at this point its kind of a holding pattern, really. I'm going to be at a few events just as a fan. Going to present some of my ideas at the next U.S. Motorcycles Coaches Association before San Diego. So, I'll be there. I'm working with USMCA a little bit on kind of their next steps and how that whole process looks. I think that our projects really align in a lot of ways, working there and doing that. But really at this point, I've done all I can do as far as presenting this, making the concept a reality. At this point it's going to be up to the powers that be to allow it and the teams and riders to want it.