Shaun Simpson's first ever Grand Prix win was dramatic, unexpected and exhilarating. The perfect way to end an FIM Motocross World Championship that had been so by-the-book that new records were being set rather than fresh stars and heroes created. That the Scot's back story – full Grand Prix adolescence, an ever present racing father/mechanic/companion, factory stardom shattered by a broken leg, muted movements in MX1, top ten fringe obscurity and being one of the wave of dependable riders scrabbling for remotely satisfactory deals in a shrinking paddock – accompanies a character and intelligence that marks the 25 year old as one of the good guys. Make no mistake this 1-3 performance was widely received. That Simpson used his confidence and skills on the vicious Lierop sand against masters like Tony Cairoli, Kevin Strijbos and Ken De Dycker steering a mostly-stock Yamaha against the factory bikes was another element of the fairy tale. Riders aren't supposed to win races from the JK Racing set-up – a shoestring but passionate crew that last enjoyed success thanks to erratic Frenchman Luigi Seguy at the turn of the century. As one hardened paddock veteran commented during the melee around Simpson after round seventeen in Holland for the Grand Prix of Benelux, this was a victory for motocross as much as it was for the Briton who registered the UK's first triumph in the premier class since 2007 (only the second) and earned a small place in world championship trivia history by owning the last ever MX1 race as the category switches to 'MXGP' in 2014. There was a feeling that the underdog had won through. That the man is really still more important that the machine in these days where factory teams and contracts are seen as hallowed ground in a decreasing circle of possibilities for motocross athletes.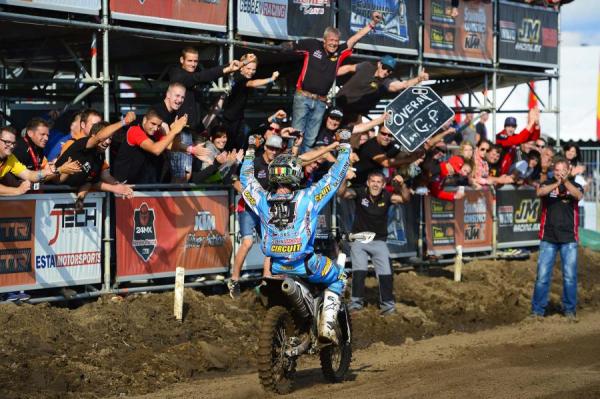 Shaun Simpson celebrates his first career MX1 Grand Prix victory.
Zanzani photo
At a basic level the Grand Prix captured imagination simply through the novelty of a fresh face sticking his wheels in between the likes of Cairoli, Evgeny Bobyshev and Clement Desalle. Somebody else actually rose to the challenge in a campaign where there have been just three winners in sixteen events. True, Cairoli was riding a slightly unfamiliar 450SX-F compared to his usual 350 (in the name of development for KTM and after having rejected the possibility of a 250cc two-stroke during the week on the grounds of a perceived lack of competitiveness … that didn't stop young Dutch wild-card Rick Satink from barrelling close to the top ten however). The Sicilian had a problem with his rear wheel in the first moto, which he believes led to the crash while trying to overtake Simpson for the lead with two laps to go. As if to show that Simpson could not feel too cocky with his historic first race triumph the world champion proceeded to push to the maximum in the second moto and at one stage held a lead of almost half a lap.
Simpson was a new and surprising protagonist after only having briefly touched the top three the previous season (he fell from third place in Sweden on a factory Yamaha) but he played his part in the entertainment in the second moto when he was joined by Strijbos (inconsistent with rhythm and ultimately frustrated by his riding as he lost the GP by one point and gave up a Moto1 lead too easily), Desalle (struggling with the bumpy and soft track and crashed twice in Moto1), De Dycker (still not 100 percent with an ankle injury), Bobryshev (also insecure with the sand in the second moto) in what was a five rider flurry for second position. It was a tense match-up with Simpson needing to secure third place to make sure of the spoils. An immense manoeuvre from fourth to second in one section somehow exemplified the 'other plane' that the Yamaha rider was operating from on Sunday.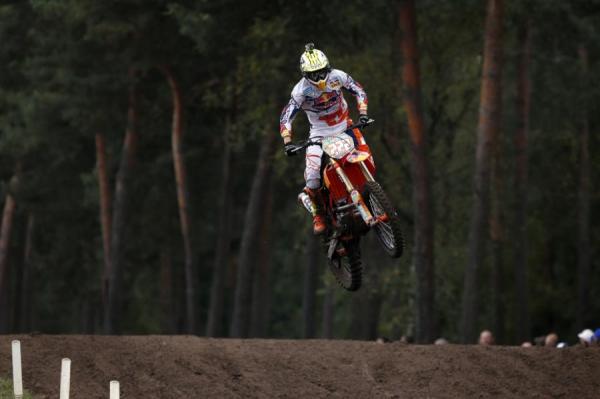 Cairoli captured the moto 2 win by a wide margin.
Ray Archer photo
Lierop had been copiously soaked by rain for a period of five hours on Sunday morning, creating a sandy-mud swell on the track. Simpson admitted that he rubbed his hands as he set the fastest time in warm-up but as the course dried and became tough to deal with it still limited the possibilities for fast athletes like Paulin, Searle, Roelants, Van Horebeek and Philippaerts to make any impression. There were no lines, just bumps, and also no room for the slightest error.
"I think with it being sand and being deeper today because of the rain," offered Simpson in attempted explanation of his accomplishment at a venue where he had previously broken a leg and then a collarbone in 2006 and 2007. "With the long ruts it reminds me of one of the tracks I practice on back in Scotland actually. I woke up the morning and thought that this was nothing new for me. Other than that I can't really explain how I've come from eighth to tenth to winning the GP and a moto!"
"This is definitely the best day of my career so far," he added. "I have won a race in MX2 and had podiums but I've never been on the top step. I couldn't believe it actually. There was a lot going on in that second race; I crashed on the first lap, went down to eighth got back and passed Desalle for second and then Ken came back at me. It was an exciting race. When I came over the finish line I still didn't know if I had won the GP because my dad hadn't put the pit board out for two laps. I was thinking 'Come on! Get with the programme here!' It was a hectic second moto and I still cannot really express what I'm feeling."
Cairoli stretched his podium tally to fifteen from seventeen for 2013 before heading off to his hometown of Lommel, just over the border in Belgium for a now-routine championship party. 222 did admit that he will be testing the 450 further for possible usage at the Nations.
"I'm not so happy," remarked Strijbos. "I came here with two goals; to get fourth in the championship and to win the GP and only managed one. My riding wasn't very good, especially in the second race. I was just one point from the win and I'm sad about that. Shaun was riding really well, so I will have to take second place today."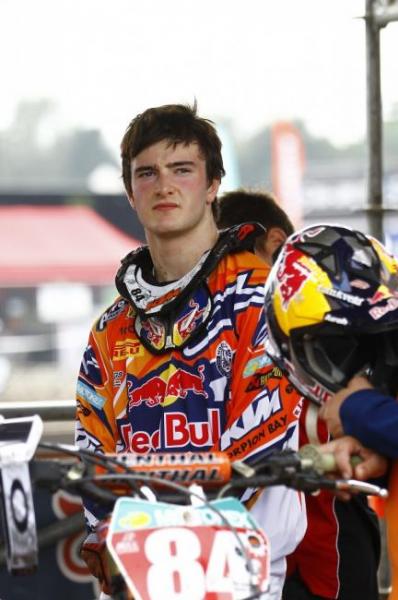 Herlings returned for his home Grand Prix and captured the MX2 overall.
Ray Archer photo
On Friday the 'will-he-wont-he?' speculation surrounding the surprise presence of MX2 world champion Jeffrey Herlings was actually beginning to grate. The teenager was clearly going against the advice and wishes of team manager Stefan Everts by attempting his home Grand Prix just three weeks after breaking his shoulder blade but took the decision only on Friday morning to sustain his unmovable streak in the sand. Herlings did crash while leading in the second moto and that gave impetus to countryman and winner of the previous round in Great Britain Glenn Coldenhoff but the latter had mechanical gremlins in both sprint – his last on a KTM before switching to a factory Suzuki for 2014. The champion was clearly not at full blast and had lapped everybody up to second and third positions one year earlier but his technique, corner speed and fearlessness in the sand was again nearing a level that nobody on a dirtbike on this planet can match. Herlings won both affairs at Lierop without challenge and claimed that his fitness was less than 60 percent on Saturday. If Simpson's glory carried resonance then Herlings' was another entry to his impressive canon for 2013.
"I felt every single bump and every single kicker each lap over and over again," recalled Herlings. "It was hard to keep focused and not make stupid and painful mistakes. I lapped almost everybody last year but this was definitely not the case this time. I really wanted to do good for my fans. I was worried; I even said to Jordi [Tixier] 'look how fat I am getting from three weeks of nothing.' It was cool and fun and I like these unexpected things."
"He hasn't been in a good mood all weekend," he added on Everts' initial disapproval. "Pit [Beirer, KTM Motorsports director] texted me before and said "are you gonna ride?" and I replied 'yes'. He asked "how was the riding?" and I said 'shit, but good enough to win'. When I race I do it to win and I told Stefan that on Friday."
Backing up the Red Bull KTM man was teammate Jordi Tixer and the faultless Dylan Ferrandis – CLS Pro Circuit bound next year and one to watch if he can avoid injury and sample a clear winter of prep.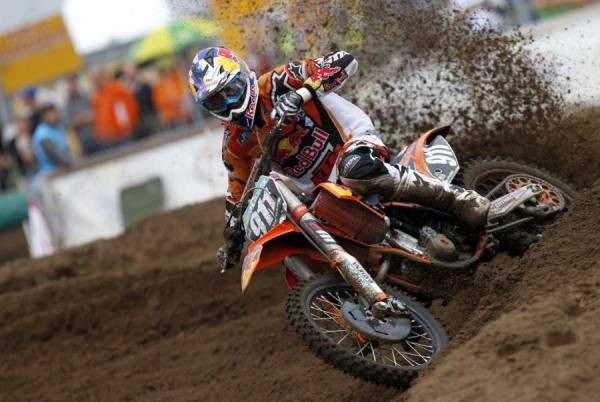 Herlings' teammate, Jordi Tixier, wrapped up second overall in the MX2 championship.
Ray Archer photo
Spaniard Jose Butron had a nervy Grand Prix using one of Herlings' factory engines that didn't quite suit his style but with Yamaha's Christophe Charlier also off the boil Butron became his country's best performing racer since Javier Garcia Vico in 2002 by confirming third position in the MX2 table.
Elsewhere Valentin Guillod rounded off an authoritative campaign in the European EMX250 series to stand alongside Pauls Jonass (125 champ and a decent fourth on the 250 in his first go at Lierop) as the two outstanding athletes from the euro scene in 2013. Over in Slovakia and Kiara Fontanesi stamped her position as one of the fastest female racers on the motocross scene by confirming a second world title despite a painful ankle injury and Klemen Gercar was the last ever MX3 number one with the division disappearing for 2014.
So now onto the Nations and just two and a half weeks of build-up and preparation for the 67th edition and for Team USA to anticipate the start of another run if they can overhaul a strong Belgian team and conquer the individual threats from France, Holland and Italy.
MX1 Moto1
1. Shaun Simpson (GBR, Yamaha), 41:15.958;
2. Kevin Strijbos (BEL, Suzuki), +0:21.348;
3. Evgeny Bobryshev (RUS, Honda), +0:41.170;
4. Antonio Cairoli (ITA, KTM), +0:58.008;
5. Ken de Dycker (BEL, KTM), +1:12.295;
6. Jeremy van Horebeek (BEL, Kawasaki), +2:00.071;
7. Tommy Searle (GBR, Kawasaki), +2:10.185;
8. Joel Roelants (BEL, Yamaha), +2:18.160;
9. Gautier Paulin (FRA, Kawasaki), +3:12.542;
10. Marc de Reuver (NED, Honda), -1 lap(s);
MX1 Moto2
1. Antonio Cairoli (ITA, KTM), 41:26.990;
2. Kevin Strijbos (BEL, Suzuki), +0:53.200;
3. Shaun Simpson (GBR, Yamaha), +1:00.939;
4. Ken de Dycker (BEL, KTM), +1:12.036;
5. Evgeny Bobryshev (RUS, Honda), +1:13.573;
6. Clement Desalle (BEL, Suzuki), +1:18.145;
7. Gautier Paulin (FRA, Kawasaki), +1:30.775;
8. Tommy Searle (GBR, Kawasaki), +1:41.253;
9. Tanel Leok (EST, TM), +1:55.460;
10. Jeremy van Horebeek (BEL, Kawasaki), -1 lap(s);
MX1 Overall
1. Shaun Simpson (GBR, YAM), 45 points;
2. Kevin Strijbos (BEL, SUZ), 44 p.;
3. Antonio Cairoli (ITA, KTM), 43 p.;
4. Evgeny Bobryshev (RUS, HON), 36 p.;
5. Ken de Dycker (BEL, KTM), 34 p.;
6. Tommy Searle (GBR, KAW), 27 p.;
7. Gautier Paulin (FRA, KAW), 26 p.;
8. Jeremy van Horebeek (BEL, KAW), 26 p.;
9. Clement Desalle (BEL, SUZ), 24 p.;
10. Rick Satink (NED, YAM), 18 p.;
Final MX1 Championship standings
1. Antonio Cairoli (ITA, KTM), 761 points;
2. Clement Desalle (BEL, SUZ), 671 p.;
3. Ken de Dycker (BEL, KTM), 607 p.;
4. Kevin Strijbos (BEL, SUZ), 553 p.;
5. Gautier Paulin (FRA, KAW), 539 p.;
6. Tommy Searle (GBR, KAW), 487 p.;
7. Jeremy van Horebeek (BEL, KAW), 431 p.;
8. Evgeny Bobryshev (RUS, HON), 348 p.;
9. Shaun Simpson (GBR, YAM), 316 p.;
10. Maximilian Nagl (GER, HON), 314 p.;
MX2 Moto1
1. Jeffrey Herlings (NED, KTM), 41:24.973;
2. Dylan Ferrandis (FRA, Kawasaki), +0:24.222;
3. Jordi Tixier (FRA, KTM), +0:32.428;
4. Petar Petrov (BUL, Yamaha), +1:00.651;
5. Dean Ferris (AUS, Yamaha), +1:06.498;
6. Romain Febvre (FRA, KTM), +1:21.561;
7. Aleksandr Tonkov (RUS, Honda), +1:30.868;
8. Christophe Charlier (FRA, Yamaha), +2:22.185;
9. Kevin Fors (BEL, Yamaha), -1 lap(s);
10. Pascal Rauchenecker (AUT, KTM), -1 lap(s);
MX2 Moto2
1. Jeffrey Herlings (NED, KTM), 41:23.154;
2. Glenn Coldenhoff (NED, KTM), +0:07.674;
3. Dylan Ferrandis (FRA, Kawasaki), +1:14.662;
4. Jordi Tixier (FRA, KTM), +1:20.629;
5. Petar Petrov (BUL, Yamaha), +1:26.798;
6. Arnaud Tonus (SUI, Kawasaki), +1:30.189;
7. Romain Febvre (FRA, KTM), +1:39.988;
8. Dean Ferris (AUS, Yamaha), +1:42.255;
9. Maxime Desprey (FRA, Yamaha), +1:49.656;
10. Alessandro Lupino (ITA, Kawasaki), +1:56.247;
26. Max Anstie (GBR, Suzuki), -10 lap(s);
MX2 Overall
1. Jeffrey Herlings (NED, KTM), 50 points;
2. Dylan Ferrandis (FRA, KAW), 42 p.;
3. Jordi Tixier (FRA, KTM), 38 p.;
4. Petar Petrov (BUL, YAM), 34 p.;
5. Romain Febvre (FRA, KTM), 29 p.;
6. Dean Ferris (AUS, YAM), 29 p.;
7. Christophe Charlier (FRA, YAM), 23 p.;
8. Aleksandr Tonkov (RUS, HON), 23 p.;
9. Glenn Coldenhoff (NED, KTM), 22 p.;
10. Jake Nicholls (GBR, KTM), 17 p.;
27. Max Anstie (GBR, SUZ), 0 p.;
MX2 Final World Championship standings
1. Jeffrey Herlings (NED, KTM), 742 points;
2. Jordi Tixier (FRA, KTM), 607 p.;
3. Jose Butron (ESP, KTM), 518 p.;
4. Christophe Charlier (FRA, YAM), 490 p.;
5. Glenn Coldenhoff (NED, KTM), 472 p.;
6. Dean Ferris (AUS, YAM), 463 p.;
7. Jake Nicholls (GBR, KTM), 424 p.;
8. Alessandro Lupino (ITA, KAW), 330 p.;
9. Dylan Ferrandis (FRA, KAW), 329 p.;
10. Max Anstie (GBR, SUZ), 320 p.;