High Point Raceway
Mt. Morris

,

PA
High Point
Lucas Oil AMA Pro Motocross Championship
It was nearly two hours after the final 450 Class moto of the day at the first annual Built Ford Tough Tennessee National at Muddy Creek and privateer Fredrik Noren was underneath the Team Gus tent with a t-handle in hand, still making adjustments to his bike.
"I haven't had a mechanic the whole season," Noren said, flashing his cheerful smile. "The first race at Hangtown my girlfriend was my mechanic. Then Bryan [Oliphant, co-owner of Novik Gloves] at Novik Gloves helped me out in Colorado."
"I'm the biggest moto nerd, I think my hair stood up for like a half hour after that," Oliphant said of standing on the line with Noren.
Before the first 450 moto of the day at Tennessee, word spread throughout the paddock that Noren was without a mechanic for the day. That's not exactly the type of thing you expect to hear regarding a rider twenty-first in points and ahead of names like Michael Byrne, Vince Friese, Nick Wey, Les Smith and Chris Blose.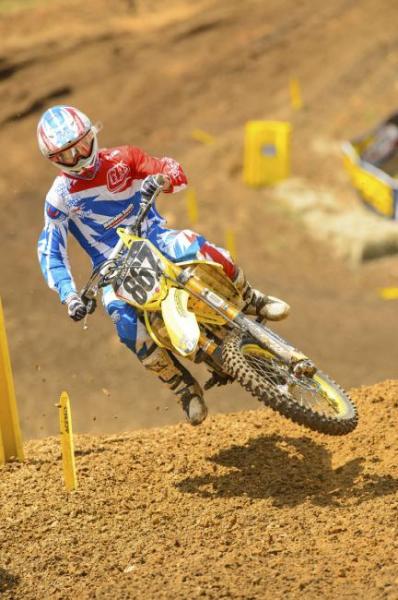 Noren is currently 21st in points.
Simon Cudby photo
"Actually I had a mechanic for the motos," Noren said after the race. "A guy came up after practice and asked me if I needed some help and I was like, 'Sure, if you want to help out, it's all good.' His rider didn't qualify, so it was nice of him to help. But I didn't have one for practice, so I had to stop like two laps in and check on my time."
Yup, he had to stop and check his time because no one was there to pit board for him.
The two-time Swedish Champion arrived in the United States in 2011 to chase a dream. With the help of Stefan Elvin, owner of MX Heaven training academy, Noren made his American motocross debut at Hangtown in 2011.
"I won the Swedish Championship in 2010 and the coach that I had, he asked me if I was interested in coming here [U.S.] to race instead for 2011," Noren said of his decision to come to the U.S. in an interview with Racer X conducted last year. "And watching on TV it seemed a lot cooler over here than in Europe so I decided to come over here and race."
A few top 15 moto finishes followed in his first season, but his breakout came a season ago at Washougal. In his third race back from a broken wrist, Noren finished eighth in the second moto. His name was now on the map; he just needed to keep it there. He did so two rounds later at Steel City with a thirteen in moto two, following with a ninth in the first moto at Lake Elsinore.
During each off-season Noren returns home to Sweden, but he doesn't ride much. He works, trying to save money for his next season of racing. But without much support from sponsors, even that money doesn't go far.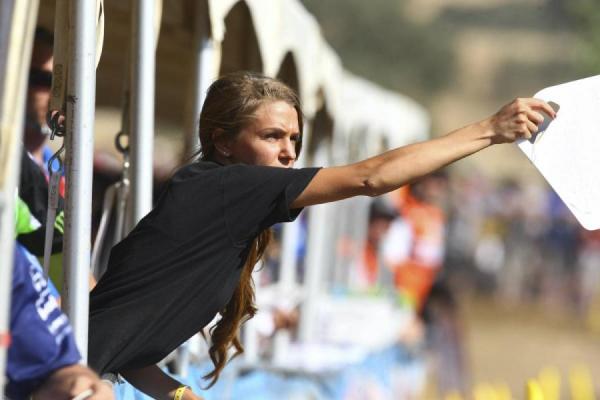 Noren's girlfriend, who is a photographer for Allisports, was his mechanic at Hangtown.
BrownDogWilson photo
"He can't really afford unbreakable levers at the moment," Oliphant says. "He is running stock levers at the moment and his brake lever broke at both Thunder Valley and Muddy Creek."
And how did that go at Muddy Creek? "I actually went down in both motos and broke my front brake lever," Noren told us after the race. "But I was able to work my way up to 22nd with just my rear brake."
Noren's troubles through the first three rounds of the series have not been limited to brake problems, though, as Oliphant explained: "When I was working for him last weekend a gasket was falling apart and I asked him if he need some help and he was like, "Yeah, just do what you need to do because this gasket has to last me the rest of the season." He's down to like dollars and cents, but he would never complain, because that's just the kind of person he is."
Privateers will always be at a disadvantage to the factory heavyweights. It may not be fair, but it's the lay of the land. The millions of dollars factory teams receive in support and spend in R&D cannot be matched. But the backbone of the sport lies within the privateers that make the sacrifice to chase their dreams. But for Noren his dream as already come true—he's racing in America.
If you have interest in helping Fredrick you can email him at NorenMXRacing@gmail.com.