Ryan Villopoto won the race in St. Louis—the results say so. But not everyone agrees, as some teams say video footage proves he passed James Stewart for the lead under a red cross flag situation—which is grounds for penalty. Kawasaki people say their video footage showed he was in the right. Regardless of which video showed what, the AMA's Kevin Crowther, after reviewing it all, decided to leave the results as they were, with Villopoto as the race winner. Be sure to check it all out on CBS tomorrow to make your own take.
Not arguable is that Villopoto was the man in the main event. He started around fifth, got to third, and was then penalized for jumping past Mike Alessi under a yellow flag. The race was then red flagged and restarted, and the penalty pushed RV from third to sixth. He still managed to come back through to at least catch and challenge Stewart for the lead. And once he had the lead, he pulled away. No doubt the tackier St. Louis dirt seemed to work well for Ryan's style.
The 450 SX red flag and restart was a reaction to Kyle Chisholm's big crash. Reports say that Jake Weimer couldn't clear a triple, and that left Chisholm and Matt Goerke scrambling and then colliding in mid air. Both crashed, Chisholm got the worst of the deal. According to his JGR Toyota MX Team, Chizz most likely has a broken ankle and a possible knee injury. Big bummer for Chisholm, who was in his first main event with JGR.
Bobby Kiniry was in his first race with N-Fab TiLube Yamaha and got a good start in the 450 main. BK was running third early and hanging as tough as he could before crashing on a triple. The red cross flags for him are what caused all the "Did Villopoto jump under he flag" controversy. Kiniry, by the way, got up and resumed riding.
The top five riders were so close. Okay, Villopoto stretched it once he had the lead, but he, Stewart, Chad Reed, Justin Barcia and Ryan Dungey all had their runs where they looked ready to make something special happen. Is this a great season or what?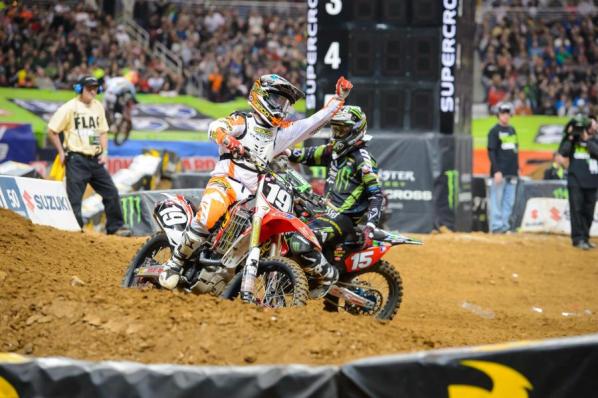 Great racing in the 250s between Wil Hahn and Dean Wilson, and they have been very respectful to each other through it all.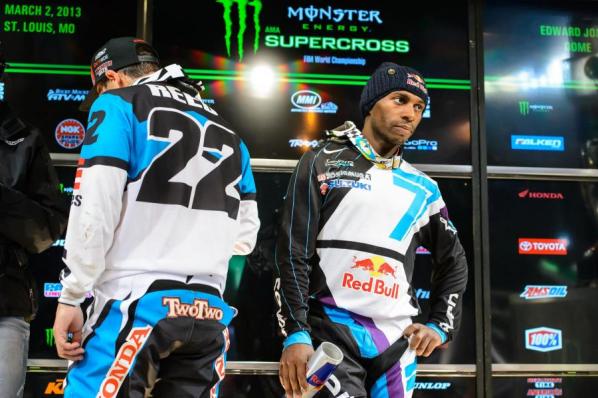 Meanwhile, these two dudes on the 450 podium. Nothing but love, baby.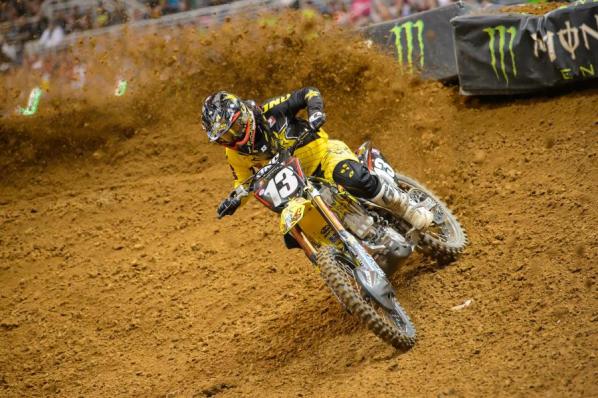 Blake Wharton rode well in 250s, but not as well as Wilson and Hahn.
Cudby Photos
Davi Millsaps got his first bad start of the year, but his result was really set back when he was smashed by Trey Canard, who Millsaps said was crashing and ran into him—a complete accident. Millsaps got tagged in the arm, and he said it basically made it feel like he had arm pump.
Not the race Eli Tomac was hoping for. "I've had speed the first two rounds," Tomac said. "This week, I just struggled with in the main, energy-wise. I was sick earlier this week. I don't want to make excuses, but things like that can definitely catch up to you. I just had no energy for the main."
Holeshot, led a bit, finished seventh. This was the best riding Mike Alessi has done this year.
Perhaps you've heard rumors that the Dodge/Sycuan RCH team is looking into signing Christophe Pourcel for this summer's Lucas Oil Pro Motocross Championship? Everything we heard from the team indicates that's not true.
RCH's Broc Tickle was decent against this deep field, taking 11th. Josh Hill, though, had two bad starts and didn't make the main.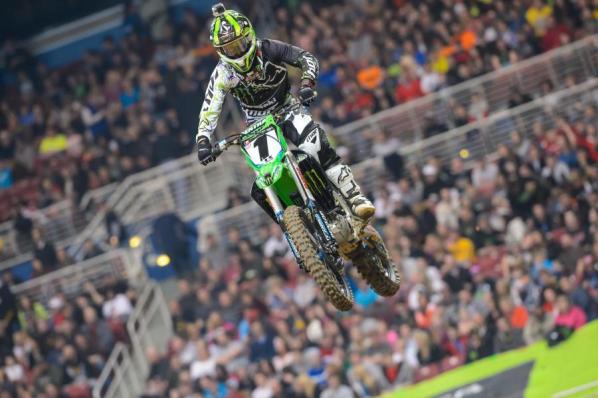 Look out. Only 12 points down.
Cudby photo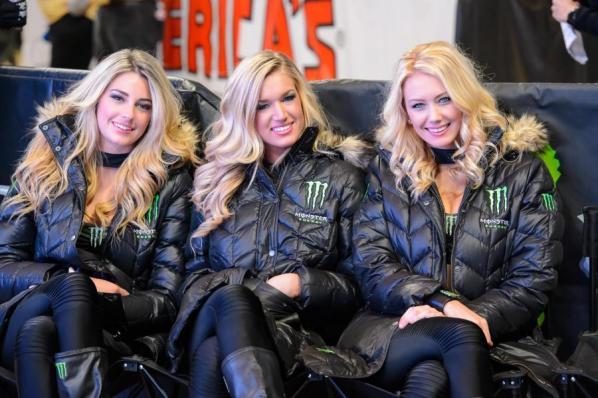 Much to smile about in St. Louis.
Cudby photo
Obviously, the track led to good racing. The tacky soil helped big. Still, there were complaints about the tracks being too easy, technically. And the whoops were short in height, which made them easy. Not much you could do differently, although Villopoto's sixth to first charge was definitely something different.
Blake Wharton looked racy all day and night in St. Louis, and he won his heat. Also started well in the main, but wasn't quite able to maintain the pace of Wil Hahn or Dean Wilson.
Wilson was very, very bummed after the race for getting such a bad start. He rode well and came through traffic better than anyone, but is not happy about losing the points lead.