Houston, TX
Houston
Monster Energy AMA Supercross Championship
The 2012 Monster Energy Supercross series is winding down, and this past weekend, round thirteen took place in Houston, TX, where men are men, the belt buckles are big and the sheep are scared. Houston is a cool city and I always like going to it, whether the race was in the old Houston Astrodome or now, Reliant Stadium. I used to like going to the first dome built in America back in the Astrodome days, but Reliant Stadium is approximately 347 percent better in every way. Except for the walk to the track from the pits, which is over a bridge and is quite a ways away.
Speaking of the track, I thought it was pretty cool, although you knew it was going to be fast because of the absence of a couple of turns. There was a section where it just bent to the right and the guys could pin it. The speeds at Houston were pretty high and even though there was two sections of whoops, one of them became so hammered the guys just grabbed another gear and flew through it. And whatever happened to the traditional Houston big tabletop or step-up thingy or whatever it was that we used to see every year in honor of CE Altman? I always liked that thing.
Regardless of track design, Kawasaki's Ryan Villopoto is your 2012 Supercross Champion and really, that shouldn't come as a surprise to anyone that's been following his destruction of the series. As much as last year's series was a nail biter, this year has been a foregone conclusion. One by one the contenders have crashed themselves out of contention until there was just the Ginger Warrior standing to make a mockery of the class.
He won Houston pretty easily, and although JGR Yamaha's Davi Millsaps rode great and kept RV honest, not at any point did I feel that RV couldn't have picked it up and motored away from Millsaps if need be. And with a few more injuries taking place in Houston, he's going to win the rest of these things methinks.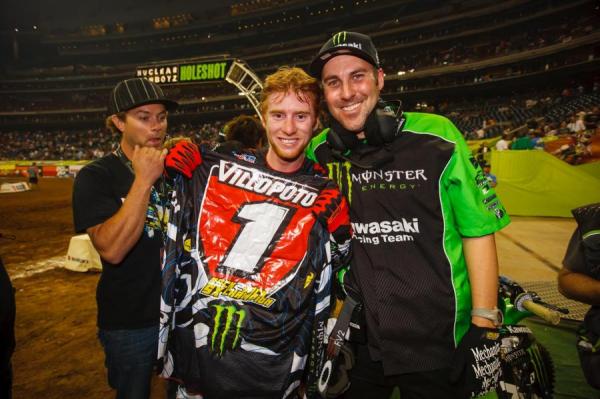 We are the champions!
Cudby photo
You won't hear any talk from me about Villopoto only winning the title because he was fortunate enough to stay away from injury. I just won't have it. When everyone was on the gate, he was consistently the fastest rider week in and week out and if anything, he deserves more props for being able to go the speed while the others could not. He's now a two-time supercross champion, and at this point in his career, is equal to Chad Reed and James Stewart, who have each won a pair of titles, and not as quickly as Villopoto.  When it's all said and done, he's on pace to be right with those guys in many other benchmarks by the time his career ends.
Now that the championship is decided, the battle for second in the series is something that we should all be watching. Millsaps rode a great race to get second, and Justin Brayton was also pushing hard. Brayton actually seemed like he was going to be the guy to beat in Houston, but he ended up being off, while Millsaps was on. I think you'd have to say that Millsaps has exceeded expectations in almost every way as of late. He was one of the only guys to nail this triple/bounce thing out of the first turn that was very fast, and to me, that indicated that he can still hang it out when needed.
Stay tuned to this battle for second in the series, because it's going to come down to the wire between Millsaps, Brayton and Jake Weimer. Millsaps told me in Toronto that he doesn't have a series-ending bonus for second place, and I find that amazing. A top three bonus in the points for Millsaps isn't exactly a "clincher" if you know what I mean, and his great rides should reward him with some cash. Who's his agent, Daffy Duck?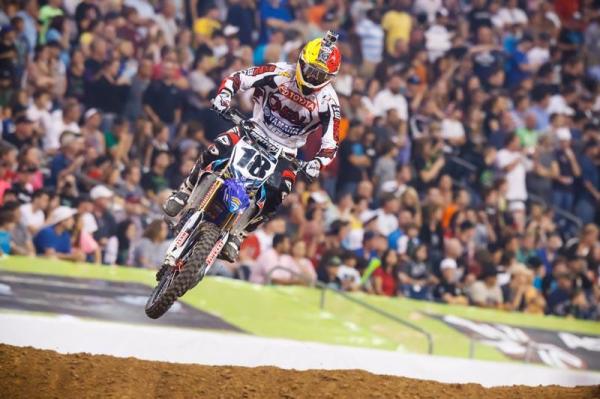 Millsaps has been riding great lately, and that trend continued in Houston.
Cudby photo
As my esteemed colleague Jason Weigandt pointed out a couple of weeks ago, when it comes to Jake Weimer, it's feast or famine. When something goes wrong with him, he doesn't just tip over. He has a disastrous night and finishes well back of the leaders. On the flip side, he'll have nights like he had in Houston, where he stays strong, shows great speed and gets on the box. Remember with Weimer, he was on the podium and riding strong when the field was full, so if anything, it's been weirder that he hasn't been inside the top five each and every race in a depleted field of riders.
At this point, I'm not sure what to say about James Stewart. It's almost at the point where, in my opinion, something has to give. He's banged up and is crashing regularly. He was pretty good in Houston, but in no way was he a threat to win. It's just all so hard to take for a guy that usually has it come so easy. I'm not sure what's going to happen, but if I had to bet, I don't think we'll see him again as he lets his battered body heal. Let's keep an eye on this situation from here on out.
On to the Lites. Ken Roczen won his first race of the year in Houston, but the win was somewhat overshadowed when Justin Barcia lost his marbles after the race. As most of you have seen, Barcia tangled with Lance Vincent while he was lapping him and went down pretty hard. In the process he lost his lead and Roczen went by Barcia while he was laying on the track. It was a bad deal for Barcia, and at the time I thought it was a racing incident, but after seeing it a few times and talking to a neutral third-party 250 team manager, it seems that Vincent had been holding up Barcia while being lapped.  There were only three corners to go on the final lap, and Vincent should have backed it down, although Barcia did cut over on Vincent.
Regardless, Barcia roosting winner Ken Roczen afterwards was not cool, nor was him going over and giving Vincent the business while he was getting attended to by the medical crew. And then, just to top off the non-coolness on this non-cool sundae, Barcia roosted Vincent and the medics. I've never seen a crazy person go nuts on society before, but I've got to think it looks something like what I saw on Saturday night. In the end, Barcia still got second, actually built a larger points lead, and it just wasn't that bad. It wasn't Eli Tomac blowing a 22-point lead with one crash or anything like that. Justin wants to win badly and I get that, but a lot of people want to win badly and they don't go bonkers when they don't.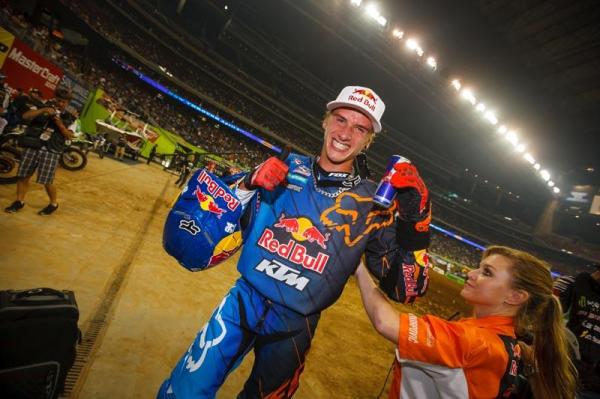 A win is a win for Roczen. Here he is after getting podium primped by KTM PR gal Steph Nutt.
Cudby photo
Anyways, Barcia's been fined five grand for his actions, his team owners and managers were not happy with him, and he himself has apologized on camera (Transworld Motocross), on a, internet radio show (Pulpmx Show) and in print (Racer X  Online interview). I think he genuinely feels bad for what he did and in the end, everyone makes mistakes. He's been hit hard by his actions, both in the pocketbook, but mostly in the court of public opinion.
Honestly, I think I was more offended by his teammate Justin Bogle's actions in practice. Seriously, at least Barcia's actions were in the heat of the moment when he lost the main event in a manner that could be seen as someone else's fault. Bogle's deal took place in practice, and he had nobody to blame but himself! I didn't see what made him crash, but I saw the end of it where Justin just left his bike laying on the track, threw his goggles on the ground, dropped his helmet and just walked off into the tunnel. I assumed that his bike had broken because really, that's the only reason why he should have reacted like that. And even, that's not a good enough reason to do what he did, although it's a little understandable.
As a former mechanic I have been down in the trenches. I know what goes on, and I know what these guys go through. To crash on your own, leave your bike on the ground, throw your helmet and goggles, and stomp off is inexcusable behavior. That's a big, "Eff you" to the mechanic, to the team and to the sponsors. Like I said, it was so unbelievable that I tweeted that his bike was broken, because after seeing his reaction, I was sure it had. That's the ONLY reason I could possibly see a rider just walking away from his machine, and I have witnessed that a few times over the years (see Reed, Chad, on a Yamaha), but it turns out his bike did not break.
Justin's a great kid, I've interviewed him a few times, I follow him on Twitter and have had Trey Canard (someone who I respect a ton) tell me that he's a cool kid. I'm not bros with him but I've made a judgment that he's cool. But lately, he's been showing emotion out there on the track that has not been conducive to someone thinking he was a great kid.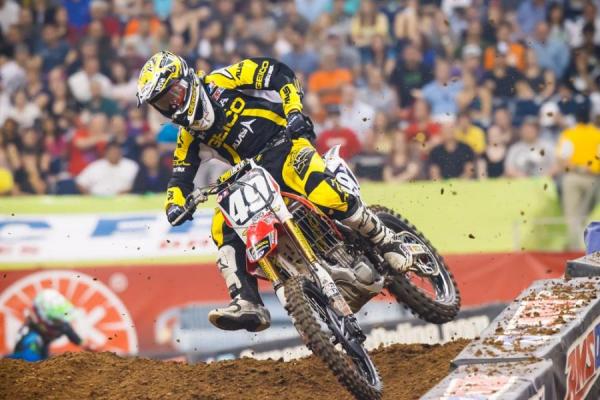 Ex-mechanic Matthes had a flash back to the old days when Bogle walked away from his bike in practice. But it wasn't broken!
Cudby photo
I've spoken to the guys at GEICO and they've let it be known that they're not happy with the B&B boys (Bogle and Barcia). They've both been told to figure things out, and that these actions won't be allowed anymore. Good for the GEICO guys for putting their feet down on this behavior, because if I know one thing, it's that these types of actions would never be tolerated over at that green team,who happens to be their main competitor.
Want to see the results?
Eastern Regional Supercross Lites
1. Ken Roczen KTM
2. Justin Barcia Hon
3. Blake Baggett Kaw
4. Blake Wharton Suz - Wharton didn't stick out one way or another, but a solid fourth is something he and his team will take.
5. Phil Nicoletti Hon - "Filthy" Phil Nicoletti returns to the land of top fives. It's been since the first round for Nicoletti, and it's nice to see him get off that horrible streak he's been on. Basically, Phil's got the weirdest stat line ever, where he's got two fifths and then all crappy finishes.
6. Alex Martin Hon- This is Nicoletti's teammate (on the team that is named Eleven 10 Mods, but perhaps should be renamed to, "The Little Black Box Van That Could"), Martin started rough but the last two races he's ridden great.
7. Jake Canada Hon – This is what Jake Canada does, he gets good results all the time.
8. Justin Bogle Hon
9. Kyle Cunningham Yam - Come Hangtown, Kyle's got to be able to hit the reset button and forget about supercross this year.
10. Matt Lemoine Kaw
11. Kyle Peters Yam - Hey, don't look now but Peters' late start in supercross is no longer hurting him and he's getting better at it.
12. Austin Politelli Hon
13. Les Smith KTM - Smith rode well, he's hard to miss with the radioactive flame paint out there. I feel like Langston's guys should be wearing yellow hazmat suits at the races.
14. Shane Sewell KTM - A main event without a Sewell brother is not a main event that I want to watch.
15. Tommy Weeck Hon
16. Malcolm Stewart KTM - My Mookie Fever is almost completely cured right now. I haven't felt symptoms for weeks now. They flared up in Toronto while watching practice, but other than that, nothing at all. This makes me sad.
17. Darryn Durham Kaw - Heartbreak of the night was Durham falling in the first turn, ripping through the pack to make a move on Martin for sixth, and then going down. He basically passed the whole field and was the promptly passed back by the whole field. Dropped him from second to fourth in points.
18. Zack Freeberg Hon - If Zack doesn't have, "Skynyrd" on the back of his pants, he's missing a massive marketing opportunity.
19.  Daniel Herrlein Hon
20. Lance Vincent KTM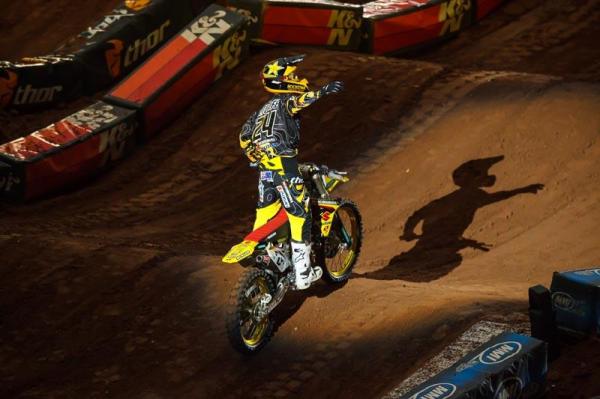 Matthes thinks Metty could use a break, but in typical workhorse fashion the Suzuki man is pounding outdoor motos.
Cudby photo
Supercross
1. Ryan Villopoto Kaw
2. Davi Millsaps Yam
3. Jake Weimer Kaw
4. Mike Alessi Suz - Great ride for Alessi who maybe, just maybe, could get a podium before this thing is over. He's had a couple of good rides ruined by bike problems so it's nice to see him get rewarded this week. He even got this finish despite having to go through the LCQ.
5. Justin Brayton Hon - Brayton was off this week.
6. Bobbie Kiniry Yam - Yeah! Bobby Kiniry! Sixth! Yeah!
7. Broc Tickle Kaw - This was Tickle's best race of the year, and he even came from a ways back and was still moving forward when the checkered flag flew.
8. Nico Izzi Yam
9. Weston Peick Kaw - Good ride for Peick, who is not on a Kawi like the results say, but back on the Star Valli Motorsports Yamaha ride for the rest of supercross. Did you know that team manager Doug Schopinsky felt so bad for the Peick getting one race on the Star Valli bike and then getting turfed that he bought Weston a ticket to Indy (to race his privateer Kawasaki) out of his own pocket? Now you do.
10. Josh Grant Kaw - Perfect race for Josh Grant. I didn't see him crash or get squirrelly, and he ended up with a solid top ten. He's just got to get back into racing shape and get ready for Hangtown.
11. Kyle Chisholm Kaw - Chiz went backwards and that was definitely out of character for him. I found out later that he cased the triple on the first or second lap, sprained his ankles, hurt his neck, got concussed and wasn't doing so hot out there.
12. Brett Metcalfe Suz - Man, Bretty has got to be kicking himself for not being able to be one of the guys that gets on the podium. He's been crashing himself into oblivion lately, but there's no doubt in my mind that he can be on the box. When I think of guys that need a week off, (and hopefully he doesn't even look at a dirt bike) it's Metcalfe. But he'll probably start doing outdoor testing because the dude likes to work.
13. Wil Hahn Hon
14. Kyle Regal Kaw - Regal got tuned up by Stewart out there with a classic supercross block pass that had a light dusting of "eff you" attached to it. Not super dirty, but Stew wasn't happy with Regal's move a few turns before and subtly let Kyle know that he wasn't going to take it. Regal's had a rough adoption to the H&H Kawasaki team.
15. Matt Goerke Suz - I didn't notice Goerke all the much, at least not as much as I had at earlier races. Then he went down via Stewart's bike.
16. Jeff Alessi Suz - I've given Jeff a hard time on the Pulpmx Show and podcasts for just rolling around after he makes the main, but I have noticed more effort lately. He's at least trying out there.
17. Preston Mull Hon - Congrats to Mull on what I believe is his first 450 main event ever.
18. Daniel Blair Suz - Blair made his first 450 main and according to Facebook, immediately announced his retirement from supercross the day after. Nice way to go out I suppose.
19. Josh Hansen Kaw - Hanny's ankle/foot is jacked up and maybe the pain of that caused him to do that unthinkable thing to his hair. I'm just not sure.
20. James Stewart Yam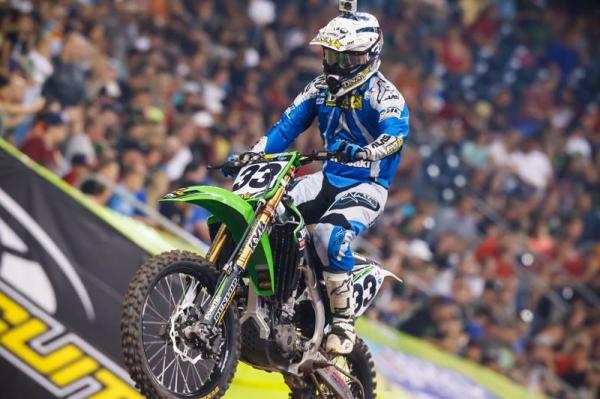 Josh Grant stayed off the ground, rode solid, and helped rebuild his program.
Cudby photo
Some of you loyal readers may remember last week me complaining about Kyle Chisholm's opening ceremonies music that was supposed to be Van Halen with Sammy Hagar (per my request because, thank God, Chiz doesn't seem to care about music), but ended up being Halen with DLR and well, frankly, it wasn't that good. Luke, the guy who does the music for Feld, found me on track walk (or track socializing as I like to call it), and apologized for the mix-up last week.  We went over the song selection once again to make sure it was set, and like a ray of sunshine coming in through a domed stadium (it really happened, look it up), Chiz was brought out to the sweet sounds of VH songs, "5150" and "Dreams". I just wanted to thank Feld and Chiz for letting my dreams come true.
We media types were trying to find out the status of Stewart all week because there were reports that he wasn't going to line up for Houston due to his injuries in Indianapolis. And the Kawasaki guys were also very concerned because they had to decide how much beer to buy at the grocery store. If Stewart wasn't going to line up, they were going to go hog wild and buy enough to celebrate a hard-earned supercross title, and if JS7 was racing, maybe the beer purchases were going to be held off because with the week off after Houston, no one wanted to leave the beer to go bad in the truck. Well, they went ahead with the purchase and it paid off when RV clinched the title. These are things you're just not going to read anywhere else but right here in, Observations, folks.
A few trucks (including Kawasaki) pulled out of the Houston pits and went over to the Holiday Inn parking lot nearby to continue on with the celebration. Think of it as a post-post-race party I suppose. Anyways, the lights stayed on and some teams and riders hung out for a while sipping cocktails and having a good time 'till the wee hours of the morning. Parts Unlimited even bought pizzas!
I hung out for a while and when I got back to my room around 3:30 a.m., it was time to hit the sack. Only thing was, my hotel was reported to be haunted! Those that follow me on Twitter will sort of know this story, but for those that don't, here's a quick summary of what happened. I do a Priceline thing where I name the star level and location area where I want to stay, a price I want to pay, and I'm awarded a hotel within my criteria. I can't pick the place, but the bonus is that I save some serious coin each weekend. So anyways, I ended up in Hotel Icon in downtown Houston, and when working the Google to find out more info, it came up a few times that the place was haunted, and is even on the "Houston Haunted Tour," whatever that is.
Built in 1911, the place was a bank for 40 years and is super creepy. I expected little twin girls to be floating down the hallway at any moment (Check my Twitter, @pulpmx for photos). When I checked in, I asked the guy at the front desk about it and he said that while he'd never personally seen anything, he has checked out plenty of guests in the middle of the night that say they can't stay there anymore. Great. Awesome. I was thinking that the ghosts of all the riders that I left stuff loose on their bikes when I was a mechanic were going to get me.
I walked into my room and the alarm clock was beeping which again, set me off on my trip down the road known as weirdness. I ordered a pizza for dinner and the guy on the line asked, "Is that the place that's haunted?" and chuckled to himself. Jerk. So I left the TV on and nothing happened. I left for the track at 9:15 Saturday morning, like usual, and as I said, got back around 3:30 the following morning. The alarm on my phone woke me up at 7:00 a.m., I got dressed, packed and headed out to catch my flight home. Except for the moment, and I mean the moment, I opened my door to leave the room, the alarm clock started beeping again. Just like it was when I got to the room on Friday evening. So you would think it's set to go off every morning and I just hit it off right?
Well then, why didn't it go off on Saturday morning? What kind of alarm is set to go off Friday morning (I assume) and then again on Sunday? I don't know if it's some sort of signal by the ghosts telling me goodbye but I'm telling you, the moment I cracked the door open to leave it started to go off. I wasn't sticking around there to go back and shut it off, I will tell you that. I just left and hoped that blood didn't start pouring out any of the elevators. Oh, and thank you Justin Brayton for telling me your ghost story right before we left the track on Saturday night to just freak me out even more.
And that's it people, I've finally resorted to telling ghost stories instead of talking about the races. We always have the Western Regional Supercross Lites series I suppose. Send me an email with thoughts on the race or your ghost stories at matthes@racerxonline.com.