RECENTLY UPDATED
Davi Millsaps – Knee
Comment: Out for Pala. Les Smith will fill in again aboard the Muscle Milk/JGR Yamaha.
Ricky Renner – Foot
Comment: Broken foot. Out for remainder of season.
LAST UPDATED SEPTEMBER 2
Jeff Alessi – Foot
Comment: Jeff's foot injuries are healed and he starts riding next week. His goal is to be ready for the Monster Energy Cup in October.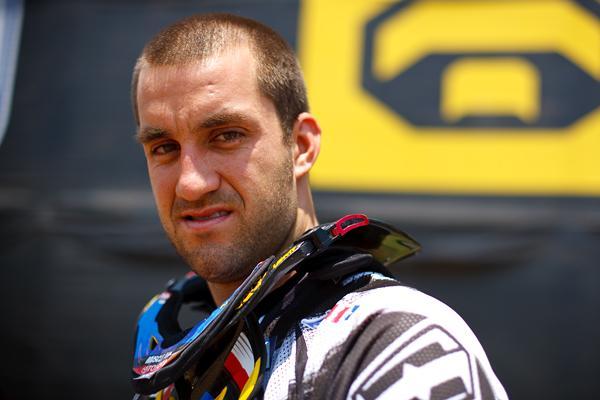 Millsaps will miss the season finale at Pala.
Photo: Simon Cudby
Travis Baker – Clavicle
Comment: Broke his clavicle at Southwick and is already looking ahead to 2012.
Matt Boni – Tib/Fib
Comment: Compound leg fracture at the Dallas SX, but he's almost fully recovered. Says Matt: "I am going to be 100 percent released to ride the first week of September and I am planning on racing the Monster Energy Cup. Thanks to all my sponsors for their continued support." You can check out a video of his recovery
right here.
Trey Canard – Femur
Comment: Cracked his left femur in a second moto crash at Washougal. Out till SX 2012.
Scott Champion – ACL surgery
Comment: Had surgery to repair his ACL earlier this week, and according to his Twitter, he's shooting to be ready for East Coast SX Lites.
Christian Craig – Wrist
Comment: Per his team press release, "On the third lap of the opening practice
Christian Craig
crashed on the finish line jump and the subsequent contact with the sand would mark the end of Christian's summer. He suffered a fractured scaphoid bone (navicular) in the crash and he will likely undergo surgery this week to repair it."
Cody Gilmore – Shoulder
Comment: Dislocated his shoulder in his heat race in Seattle and suffered a slight tear in his labrum. The healing process stalled so he had surgery recently to have his labrum fixed, so he'll be out all summer.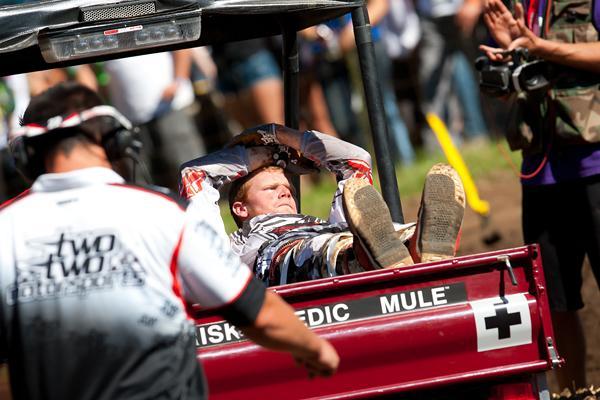 Canard is still recovering from a broken femur suffered at Washougal.
Photo: Andrew Fredrickson
Gavin Gracyk – Knee
Comment: Had a full ACL repair. "In a few weeks I will be at the three-month mark and will then be able to start doing much more intense training on the knee," Gavin told us recently. "Looks like I will be able to begin riding in mid- to late-August."
Josh Grant – Knee
Comment: In last week's Racer X Notebook on Racer X Online, Matthes reported that Honda Team Manager Erik Kehoe confirmed that Josh Grant did have ACL reconstruction on his other knee (opposite of what he tore in supercross) and will be out for at least four months. When Grant first went out with the injury, he considered continuing to tough it out.
Tommy Hahn - Shoulder
Comment: Says team manager, David Vuillemin: "Shoulder pops in and out from an old injury several years ago and he will be out for the rest of the season."
Wil Hahn – Collarbone
Comment: Suffered a concussion and small crack in his collarbone at Unadilla. He said that he'll more than likely miss the rest of the outdoors.
Jared Hicks – Arm
Comment: The Rock River Powersports rider broke his arm in qualifying at Budds Creek and will be out for the rest of the season.
Josh Hill – Various
Comment: Josh Hill is still laid up from his injury last year while he was practicing for the X Games. Hill underwent another surgery recently and is hoping to get back on the bike in the next month or two with an eye to come back for the 2012 supercross series.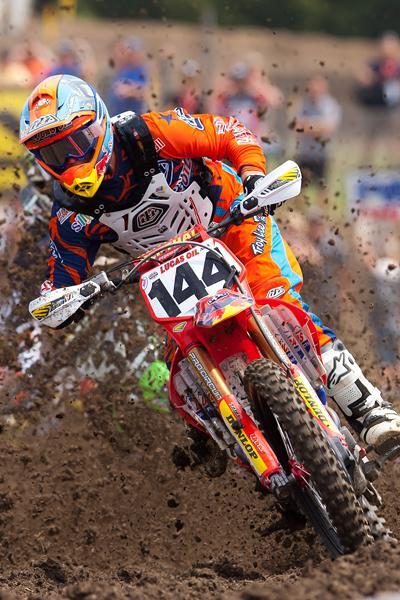 Craig will miss the final round at Pala.
Photo: Andrew Fredrickson
PJ Larsen – Neck
Comment: Cracked his C-4, C-5 and C-6 vertebrae in his neck in a practice crash prior to Unadilla. His doctor advised to take a minimum of six weeks off from riding and he said he's just looking forward to being 100 percent for 2012. Chris Plouffe will fill in for him this weekend at Pala.

Andrew Short - Arms
Comment: Andrew Short broke both elbows and a wrist while testing in California on August 16. Here's the official KTM Press Release.
Austin Stroupe – Shoulder
Comment: Broke his back riding at Pala on July 13. Out for the season.
Ivan Tedesco – Hip/Knee
Comment: Underwent hip and knee surgery. Off the bike till September.
Jason Thomas - Knee
Comment: Had ACL surgery earlier this year after injuring it in supercross, and after taking the summer off it looks like he's now back on the bike and preparing for the Monster Energy Cup.
Blake Wharton – Shoulder
Comment: Underwent surgery and will be sidelined for the remainder of the summer.
Did we miss someone? Email us at letters@racerxonline.com.