Loretta Lynn Ranch
Hurricane Mills

,

TN
AMA Amateur National Motocross Championship (Loretta Lynn's)
Amateur National Motocross Championship
North Carolina's Kyle Peters came into his final run at the Red Bull AMA Amateur National Motocross Championship at Loretta Lynn Ranch ready to win. But he would have to go through the favorite, Justin Bogle, to do it. A crash while leading his first moto, Open A Pro Sport, ended his bid for a title in that class, but in 250 A, he and Bogle came into the third and final moto tied up with 2-1 and 1-2 scores.
Then they produced the race of the week. Peters grabbed the start and logged super fast early laps, and then Bogle picked up the pace in the second half and tried to make a move. They raced nearly side-by-side through the final two laps, but Peters hung on to win the moto and his first title at the Ranch. We talked to him right after his big win.
Racer X: First talk about your week in general. What was the goal? Two titles? One title? Just ride well?
Kyle Peters: The goal coming into this week was two titles. For sure. I knew I had the speed coming in, and the first moto of the week, I got a good start and started pulling away. I was feeling good, but then I crashed in the sweeper and ended up eating it pretty hard. I tore my back up a little bit, but you know, I just had to ride through some pain. I got through the first moto in this class and won it. I got good starts—I think I got all three holeshots in this class—but Bogle got by me in that second moto. I had to settle for second. So this third moto, I knew it was going to come down to giving it everything I had. It was just….this is awesome.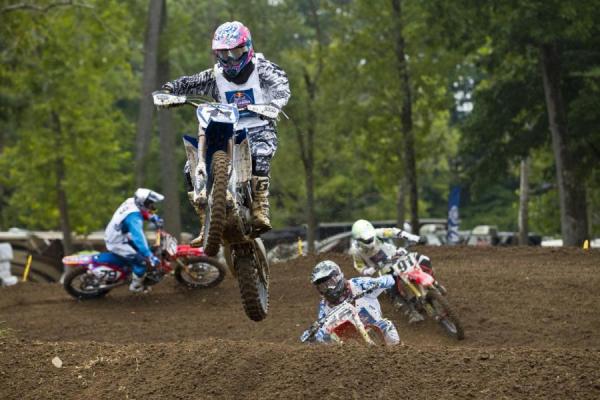 Peters outlasted Bogle to take home the 250 A title at Loretta's.
Photo: Garth Milan
When you're preparing for this race, do you look at the entry list for the class and really focus on who you have to race? Or do you just do your own thing?
I really just focus on doing my own thing. I knew if I trained as hard as a could coming up to this race, I'd be ready. Coleen Millsaps at MTF, she really pushed me, and got me really ready to go. I can't thank that whole crew enough, also Big Brian Johnson and little Brian. They're great. But that first moto of the week, when I crashed, it really hurt me and I thought I had thrown it all away. I'm so happy right now.
You mentioned how good your starts where. How did you make that happen?
Everyone over at Yamaha, those guys, like Donnie Luce, my bike was perfect all week. I just jumped out of the hole and rocketed past everyone.
Have you been battling Bogle all year?
You know, this year, for me, has not been the greatest. I've been battling injuries and just not riding like I know I can. I knew I was an underdog coming in, but I knew I had the speed coming in. I knew I could do it, I just needed to put it all together.
Okay so this final moto, you led the whole way but Bogle was chasing, lapped traffic slowed you up, and you had to deal with major pressure from behind. How did you handle that?
Well, at MTF I ride with Gavin Faith and Joey Savatgy every day, and we're pushing each other all the time, putting in the motos. They help me so much. So you really learn to breathe and focus on what you need to do. Bogle was definitely going fast, and then when I got into the lappers I lost some time and I knew he was right there. I just tried to keep calm.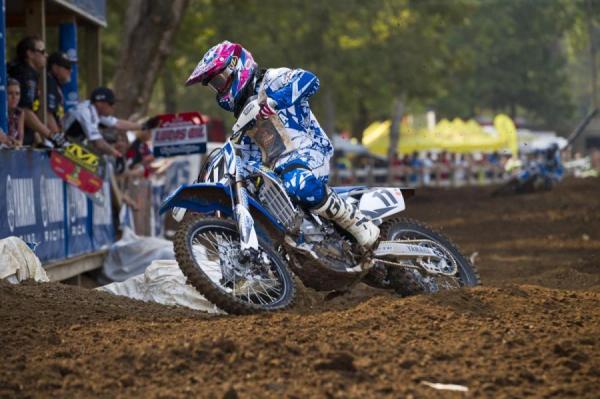 Peters will make his pro debut at Unadilla.
Photo: Garth Milan
So what's next? Unadilla?
Yup. I'm riding for Star Racing.
Is this a deal for next year?
No, it's just for the last four nationals. Hopefully I'll do good and they'll sign me for next year, but I don't know about that yet. I just need to go there and do good and see what happens.