Hurricane Mills, TN
AMA Amateur National Motocross Championship (Loretta Lynn's)
Amateur National Motocross Championship
The never-ending search for the next big thing means that the young riders get most of the attention from Loretta Lynn Ranch. The older riders? They get the attention from themselves.
Peer pressure often dictates who runs up front at the ranch in the 25 Plus, 35 Plus, 40 Plus, 45 Plus and 50 Plus classes at the Red Bull AMA Amateur National Championships. Since the event's inception, many of the age classes have been taken by ex-professionals—Gary Bailey came down to win a 50 Plus title in 1994. Keith Bowen, once of the original stars of this event 30 years ago, came back long after his pro career to lock down four Vet titles.
A real tipping point came in 2002, when Jeff Emig headed back to the Ranch. To test himself, he entered one age class, and the 250 A Pro Sport class each time he showed up. He won the A class in 2002 and 2003, and provided a real test for the fast amateur kids of the time (he beat Josh Hansen in 2002, and Brian Gray in 2003). But Emig also notched a pair of age-class championships, in 2003 and 2006, and made coming back to the Ranch the cool thing to do.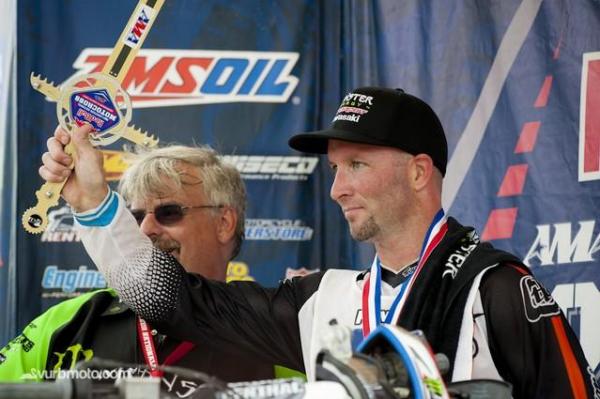 Keith Johnson celebrating his 35 Plus title.
Photo: Ryne Swanberg / Vurbmoto
Eventually, MX Sports turned the 30 Plus class into a B/C designation, to allow riders who had never raced as pros to fight for a title. Right now, some of you are probably saying ex-professionals shouldn't be allowed to race in any classes at Loretta's, but keep in mind that these classes are no different than an A class at your local track, and former professionals aren't banned from those races.
Anyway, this year's crop featured riders like Clark Stiles, James Povolny, Keith S. Johnson, Robbie Reynard and Scott Sheak. Povolny said he saw Stiles racing the event last year and figured he should go mix it up with a rider he used to battle for top privateer status. Johnson once set his sights on the all-time King of Titles at the Ranch, Kevin Walker, and over the last few years has really overtaken Kevin as the measuring stick in these classes. Walker didn't qualify this year due to injuries, and is dealing with some off-track issues (an arrest) that you've probably heard about. And Doug Dubach, who has crushed it here for the last few years, didn't race this year. But there was some new life in the form of Sheak. He's only been back on a bike for a few months after hitting the bottom of a downward spiral. For him, returning to Loretta's was about much more than championships.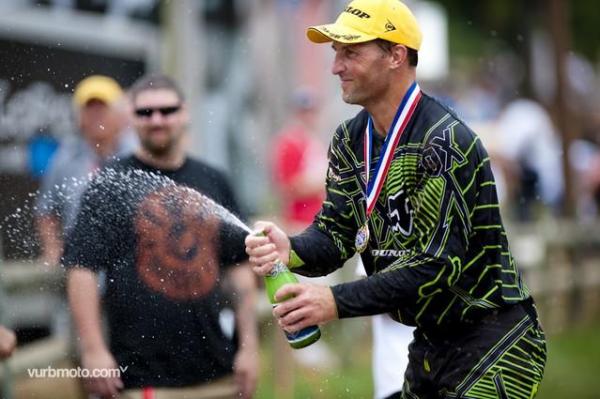 Stiles took home the 25 Plus and the 35 Plus titles at Loretta's.
Photo: Ryne Swanberg / Vurbmoto
The winners? Stiles won the 25 Plus and 35 Plus crowns, and took the AMA Vet Rider of the Year Award for his efforts. Clark is now a test rider for Dunlop, and very rarely races anymore—his Area and Regional qualifiers and Loretta's are usually about it each year. This year he faced stiff 25 Plus comp in Reynard, but Robbie crashed out of a moto and busted his bike, ending his title hopes. In 25 Plus, KTM test rider Michael Sleeter and two-time Loretta's Champ Jimmy Evans were also in the mix, but Stiles was able to fend off their challenges. In 35 Plus, he just edged Johnson, Polvolny and Sheak.
Johnson took 40 Plus, but the 45 Plus and Master's 50 Plus titles went to first-time champions in David Moegle and Scottie Shipley. Those two swept all three of their motos to leave no doubt. And Chris Brice won 30 Plus B/C class. All in all, the older crowd provided some great racing and great memories. They didn't get the attention of the next gen, but to them, these races mean just as much.