Daytona International Speedway
Daytona

,

FL
Daytona
Monster Energy AMA Supercross Championship
Hello, everyone, and welcome to the Rev Up. For the second week in a row the title for this week's column needs no marinating. The charge is going Daytona, and well...that's what's on the board.
Before we get into the mayhem that is leaving footprints in the pavement this weekend, I want to take a step back and rap about the experience I was so fortunate to partake in at the Georgia Dome last Saturday night. Wow. I can still close my eyes and hear the cacophony of 65,000 strong letting their lungs stretch. In what was a fairly mundane evening of heat races, the main events brought the noise. The noise I tell you. The Supercross Lites main was fever pitched, then the big boys pretty much sent it off the frame.
Chad Reed rides with heart. He hasn't ridden like that, with passion and verve, for at least two seasons. What's so grand is that James Stewart was riding with the same juice. It was two of the best supercross racers to ever live riding in the zone and leaving it all on the track.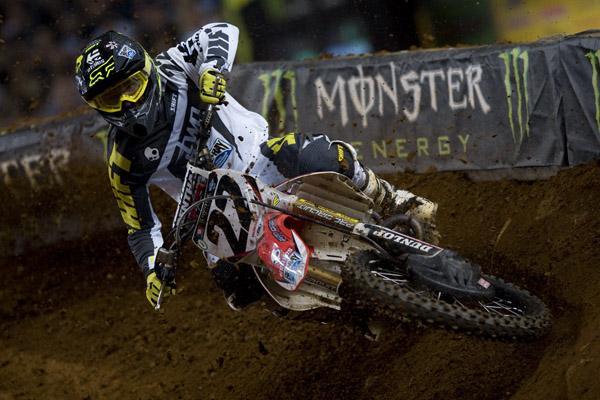 Reed brought "The Thunder" to Atlanta.
Photo: Matt Pavelek
The sound that damn dome made when "The Thunder" dove for the "pick up pass" was absolutely chest crushing. No whimsical words, no flair with the keyboard. It was 100 percent straight bad ass supercross.
And now we turn our focus to the storied Daytona Supercross.
Lites
As I mentioned last week, it will be a trade off who puts on their boots and has the flow between Justin Barcia and Dean Wilson. Last weekend, Wilson had the juice, and he showed it. On a track, where...well, you couldn't really do much, Dean "The Steam" was making up time in the little places where he could. Would Blake Wharton have held him off? Doesn't matter. He didn't, and Wilson came from behind and won with dirt on his number plate.
Baggett was mega fast, and Barcia looked tight.
What's going to go down at Daytona? Dude, it's going to be seriously on. I may be going out on a limb, but I'm saying that Blake Baggett goes out and lays wood. I like that guy. Wharton, Sipes, Barcia, and Bad Blake are going to put on a show.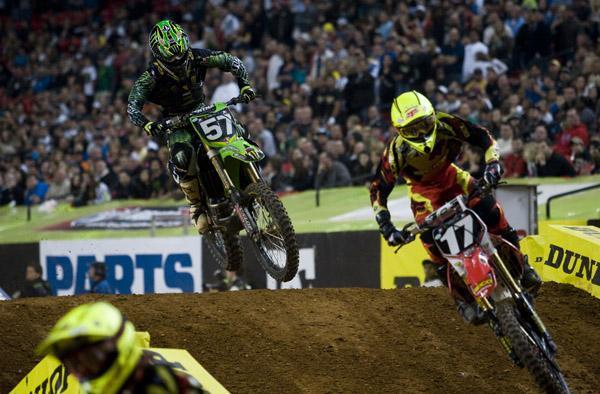 Will Baggett be next to stand atop the box in the Lites class?
Photo: Matt Pavelek
Supercross
Wow. Damn. It's finally gotten nasty, folks. In my memory I can't recall a time like this since the mid '90s. What we have here is no fewer than five riders that can win the 2011 Daytona Supercross. Who do you love, folks? Who ya got?
First and foremost, James Stewart is pissed. Whether he has a right to be, or if you think he should be, rest assured that man is staring a hole in the mirror as he prepares for the main event this weekend. I saw him last weekend. I saw him slide out, then watched Reed hit some of the most incredible corners I've ever seen anyone hit, then I saw #7 hit the same corners somehow faster. He got the lead and then Reed cleaned him on the last lap.
Now it's on.
And what makes this whole scenario so out of hand is that neither one of them is going to win this weekend. Oh, they'll go to town. Yes, sir, James Stewart and Chad Reed will be heard at Daytona, but it's this writer's opinion that one of the two Ryan's will wear Daytona glory when the dust settles. Their outdoor credentials cement my prediction.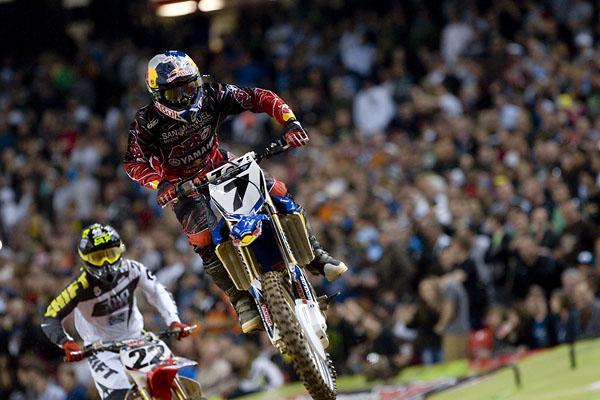 Will Stewart get his first win since A2 at Daytona?
Photo: Matt Pavelek
It truly is a great time to be a fan of stadium motocross. All I have with me are the reverberations of that soul-punching sound I heard last Saturday night. We have the momentum now. The power and the energy of our sport is spiking the mercury clear through the top of the glass.
She is firing on all eight cylinders, my friends. The 2011 Monster Energy AMA Supercross Championship is up to full song and may just puke out the biggest barnburner we have seen to date. Time for the Daytona Supercross by Honda. Time for revenge and redemption, and there will only be two winners.
Who among you is ready? You kidding me? The gloves are off and it's time to run, boys. Time to run.
Thanks for reading, see you next week.