Kawasaki/Racer X Race Report
September 9, 2007 11:23pm
What a fitting end to a great season. The loyal fans of the 2007 AMA Toyota Motocross Championship presented by FMF were treated to something they haven't seen in a long time, as the championships came down to the last lap of the last moto in each class today at San Bernardino, CA's
Glen Helen
Raceway.
All season long in the Lites class we were entranced by the battles between the Monster Energy/Pro Circuit duo of defending champion Ryan Villopoto and former World Champion Ben Townley, and it wouldn't stop today as the pair again traded moto wins. And although the championship did come down to the 24th and final moto of the season, it was going to take something drastic for Ben Townley to make up the 19-point deficit he had going into the first moto.
Much to the delight of the many New Zealanders in attendance, Ben Townley started off his final AMA Lites class race with a Racer X holeshot, leading almost till the halfway mark. The two then battled briefly before Villopoto would take the lead for good. And as we've seen so many times this season, both Townley and Villopoto rode off as if they were from another planet—stretching an enormous lead out over third place, which in the early stage of the race was Josh Grant, who then suffered a crash which would force him to call it a day. Australian Brett Metcalfe then inherited the final podium position. Out front Villopoto was able to maintain about a five-second cushion over his teammate, and he held on to the end, adding three more points to his lead. Rounding out the top five was Trey Canard in fourth, and Yamaha's Broc Hepler in fifth.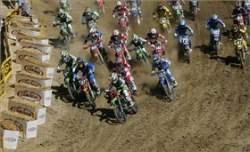 Moto 1 start of the Lites class
photo: Steve Bruhn
In the second moto Townley again pulled the holeshot, with
Trey Canard
and Villopoto running second and third. By the time Villy got around Canard and into second, Townley already built up a sizeable lead. From then on Townley put his head down and let his riding make a statement—setting a blistering pace and gapping his teammate. But Townley could've lapped the entire field and it wasn't going to change the outcome of the championship at this point, as RV rode consistent and cautious laps, cruising home to a second-place moto finish, and second overall. Although he would lose the battle today—
Ryan Villopoto
won the war and is now a two-time AMA Motocross Lites champion. It was yet another Monster Energy/Pro Circuit Kawasaki sweep of the podium with
Brett Metcalfe
going 3-3 for third overall.
Broc Hepler
finished fourth overall with a 5-5, and
Austin Stroupe
was fifth with a 10-4.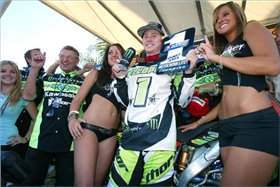 Ryan Villopoto sealed his second AMA Motocross Lites championship with a 1-2 ride.
photo: Steve Bruhn
In the AMA Motocross class, there was a much more interesting championship scenario on the line, as the top four riders--Yamaha's
Grant Langston
, Honda's
Andrew Short
, Kawasaki's
Tim Ferry
and KTM's
Mike Alessi
—were all separated by a mere 17 points with two motos remaining. Langston was the rider on top going into this final round, but as we've seen in the past, that doesn't guarantee a championship.
"I didn't get the best jump, but everyone got jammed up in the second turn and I came out in the lead," said Red Bull KTM's Mike Alessi of the first moto start. Alessi came out firing on all cylinders, and the Apple Valley resident charged the Glen Helen course lap after lap, leading Kevin Windham, Short, Ferry and Langston. The top five stayed that way for about half the race, and it looked like Langston was riding tight. But then at the bottom of one of the enormous downhills, Ferry suffered the first miscue, high-siding his Monster Energy KX450F, dropping him to fifth, moving Langston up to fourth.

For the next few laps Windham closed up to rear wheel of Alessi and looked to be making a charge, but then he hit the dirt in the very same corner as Ferry. All of a sudden Langston found himself in third, not too far behind Short and Alessi. The next few laps Langston put on a charge, catching and passing the two frontrunners, holding on for the moto win. It was an inspired ride by the South African native, who had the weight of the world on his shoulders today. "After taking the first moto win, it just really took a lot of pressure off," Langston said. But there was still 30-minutes-plus-two-laps of racing remaining before a champion would be named.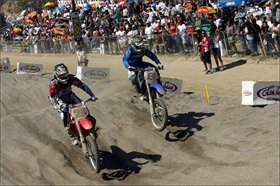 Grant Langston made up a lot of time in the whoops after the finish line.
photo: Steve Bruhn
It was another Alessi holeshot in the second moto, with Windham, Short and Langston in tow. Alessi went down, and Windham put his SoBe No Fear/Samsung Mobile Honda into the lead, which he would not relinquish. Langston rode in second with Alessi third. Ferry suffered a mediocre start and tried to recover the entire moto. As the laps wound down, Alessi mounted a charge on Langston, and Grant let him go. "I did the math in my head and knew I would get the overall even if Mike passed me, so that was an added bonus," Langston said. So with an AMA Motocross championship hanging in the balance, Langston guided his 2008 YZ450F home to a third-place in the final moto of the season, winning the premier motocross championship in the world. "It's a long series," Grant said in the press conference, "and anything can happen." In addition to his world, national and regional (125cc/Lites) championships,
Grant Langston
now has an AMA Motocross championship. What's left? Well, there's the Red Bull Motocross of Nations in two weeks, and then the AMA Supercross Championship.
AMA Motocross
1. Grant Langston (Yam) 1-3
2. Mike Alessi (KTM) 2-2
3. Kevin Windham (Hon) 5-1
4. Timmy Ferry (Kaw) 4-4
5. Andrew Short (Hon) 3-6
6. Josh Hill (Yam) 8-5
7. Mike Brown (Hon) 6-7
8. Gavin Gracyk (Hon) 9-11
9. Kyle Mace (Kaw) 13-12
10. Ryan Clark (Hon) 10-15
AMA Motocross Lites
1. Ben Townley (Kaw) 2-1
2. Ryan Villopoto (Kaw) 1-2
3. Brett Metcalfe (Kaw) 3-3
4. Broc Hepler (Yam) 4-4
5. Austin Stroupe (Kaw) 10-4
6. Martin Davalos (KTM) 7-6
7. Jake Weimer (Hon) 6-7
8. Trey Canard (Hon) 4-12
9. Nico Izzi (Suz) 8-11
10. Kyle Chisholm (Kaw) 14-8