Welcome to the Shift Number Cruncher. We're back with another good one after a one-week hiatus at Loretta Lynn's. While there was a mountain of stories that manifested from the results of the 2007 AMA Air Nautiques Amateur National Motocross Championships, there was a number that emerged above all. After some investigation we discovered some pretty cool ties to the number that was worn by the baddest man at the ranch. Here's a hint: Avril Lavigne is married to the front man of this Canadian punk band. Still don't get it? If Baskin Robbins had ten more flavors it would be called this number. Alright, enough of that. Trey Canard took this number around the track to two championships in what was billed as one of the most competitive A classes in recent history. So without further ado, we dedicate this week's column to the soft spoken and mega talented Mr. Canard and his historic #41.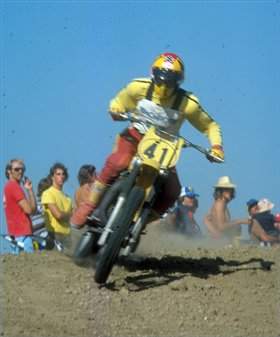 Jeff Jennings
photo: Dick Miller Archives
Let's kick it off with a little old school. This is
Jeff Jennings
, racing Grand Prix motocross in the 1970s. That's all we really know about the guy!
If that didn't satisfy your old-school pallet, this surely ought to. Florida's
Kenny Keylon
shocked the world by winning the 1982 250 National at St. Petersburg, FL wearing #41 on a factory Honda he was loaned for the race. It was the only major victory of his career, but it was loud enough to ring through history to this day.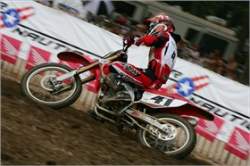 Kyle Keylon
photo: Simon Cudby
A chip off the old block,
Kyle Keylon
has been cleaning up Florida tracks for the past decade and rolled into Loretta Lynn's as a championship A-class contender. He threw a nod to the old man and brought out the #41 for a little extra luck and rode to a solid 6th overall in the Motocross A class.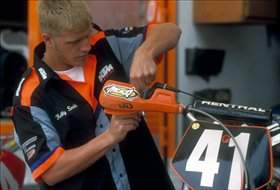 Kelly Smith
photo: Coraggio
The #41 was really, really good to Michigan's
Kelly Smith
who took the digit to his and KTM's first AMA Motocross victory at the muddy 2000
High Point
National in the 125 class. Who was it that sat in victory circle with Smith that wet weekend as the 250 National winner? Le Cobra.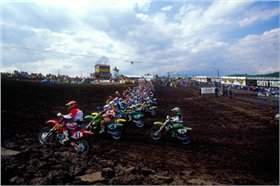 Jean-Sebastian Roy
photo: Simon Cudby
Canada's
Jean-Sebastian Roy
wore the #41 in 2001 and remains one of the fastest Canadian riders of all-time. He was a consistent top-ten guy in the States and was/is virtually unbeatable up North.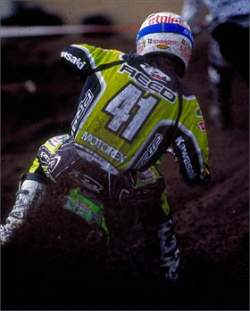 photo: Max Ludwig
The same year that JSR was the Canadian wearing #41 in the U.S., there was an Australian who wore #41 in Europe. Jan de Groot Kawasaki rider
Chad Reed
was working on a day to move to America while also trying to make a name for himself on the GP scene. Reed won just one GP in his time over there—a number he would match in his five-year AMA Motocross career. But in supercross, he's already one of the best of all time, and he's got years to go.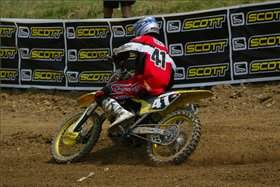 Brian Gray
photo: Steve Bruhn
Brian Gray
earned AMA #41 in 2004 and was one of those kids that came out of Loretta Lynn's with a ton of potential and talent that just couldn't quite break through. He came out firing with a bunch of top tens, then had a knee injury that set him back far enough for the next crop of talent to catch him and pass him up. He shares a pretty cool coincidence with another member of the 41 club as his rookie number was #338 who is of course…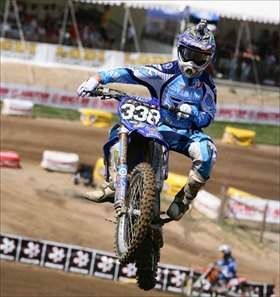 photo: Simon Cudby
Interestingly enough,
Jason Lawrence
has earned AMA national number 41 for the past two seasons but has chosen to stick with his favorite #338.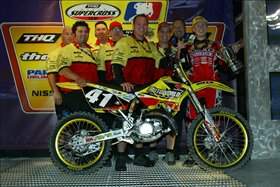 photo: Steve Bruhn
The #41 was huge for Colorado's
Andrew Short
. 2003 was a breakout year for Short, as he earned top tens in the 250cc SX class and ended up finishing out the 2003 SX season with a huge win at the Dave Coombs Sr. East/West Shootout after
James Stewart
crashed out spectacularly and broke his collarbone. How ironic that he is now a longshot for the 2007 AMA Toyota Motocross title after another unfortunate Stewart injury.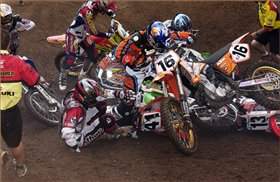 photo: Steve Bruhn
Minnesota's
Heath Voss
began making some serious noise on the pro tour in 2002 wearing the #41. Heath actually finished 10th overall in SX this year and escaped this gnarly first turn pile up to become a factory Yamaha rider.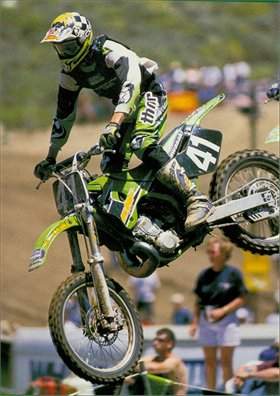 Ben Riddle
photo: Kinney Jones
Number 41 was also the amateur number of Kentucky's
Ben Riddle
who amassed an impressive tally of five Loretta Lynn victories. Ben had everyone looking at him as he made the transition to the pro class, but simply lost the drive and was unable to capitalize on his opportunity. His demise was faster than his rise.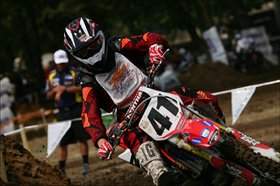 photo: Simon Cudby
Hailing from Elk City, Oklahoma, I've known
Trey
since he was a 60cc rider at the famed 59th & Douglas. He used to be a short chubby little guy they called, "Big Daddy." Suffice to say that Trey has grown up to become quite the incredible young man. Polite, professional, and silky smooth on the track, Canard graduates from Loretta's with two more titles, a factory ride, and the prestigious AMA Horizon award. Trey lost his father a few years ago in a freak accident while working on his practice track. Well, I guarantee you Mr. Canard wasn't too far away and was very proud when Trey hugged his mom on the podium last week. Keep on eye on this kid. He is the real deal.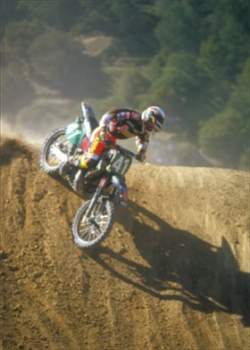 Bob Moore
photo: Davey Coombs
One of the all-time journeymen of American motocross, this is Bob Moore at the 1995 Spanish 250GP at Talavera. He was riding for Chesterfield Yamaha, and this has to be one of the all-time cool gear outfits we've seem from Europe. This is one year away from Moore's FIM World Championship season.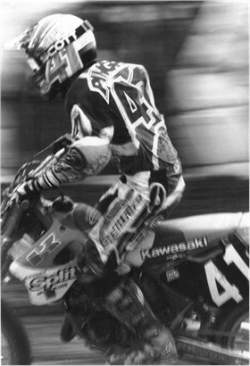 David Pingree
photo: Andy Trecki
Finally, we have to give a mention to our co-worker,
David "Bronze" Pingree
, who is coming off of an impressive run at X Games 13 in Supermoto. Ping wore #41 in 1995 riding for Mitch Payton and the Pro Circuit Kawasaki team, and he won the 125cc San Jose supercross that season.
41
Number 41 has an incredible amount of ties to Loretta Lynn's champions. Some turned out better than others. Texas' Jeff Dement wore the digit in 1994 after earning four LL titles. Washington's Jason McCormick was AMA Pro #41 in 1996 and has two Loretta's titles. California's Shaun Perolio earned the number in 1998 and boasts three victories at the ranch. Florida's Vince DeVane was AMA #41 in 1988 and came home 5th last week in the +35 class. Factory Honda team manager Erik Kehoe was AMA #41 in 1984.

Okay, that's all we have for you this week. If you can think of any current associations with #41 please send them to me at andy@racerxill.com.