When the GEICO/Factory Connection Honda team closed its doors at the end of Lucas Oil AMA Pro Motocross Championship in 2020, rising amateur star Hunter Yoder was left without a ride in the amateur ranks. After a brief stint with Phoenix Honda at the beginning of 2021, Yoder is back doing it alone again. This past Friday saw him take on other top amateur riders in the West edition of the Scouting Moto Combine at Fox Raceway. Yoder ended up third overall behind Team Green riders Ryder DiFrancesco and Chance Hymas as he looks to build towards his next career steps. We caught up with him at the end of the day to talk about the racing, his program, and more.
Racer X: You went 5-3 for third overall today. Maybe not the first moto you wanted but second moto was a lot better. Just kind of sum it up for me.
Hunter Yoder: Yeah, my first moto wasn't that great. I think I just got caught sleeping. I started off not that great. I got buried mid-pack and went off the track in the second corner. After that, I made a couple of moves, but not enough to put me up near the front. Fifth is pretty good, but not exactly where I want to be. So, I went back to the truck, turned on some old RC [Ricky Carmichael] Glen Helen footage, I think it was 2003, and studied that for a little bit. If anyone knows how to go through a corner, it's that guy. I tried to channel that into my own riding, and I'd say it worked out pretty good.
Is that something your regularly do where you go back and study old film like that?
Yeah, I like to watch The Great Outdoors. Obviously, everyone loves those. And even like Bar to Bar, I think you can always learn more. On a race day, I wouldn't say it's something normal, but it's kind of a distraction I would say. You know, you come back from a not-so-great moto, and you're not pumped so it's a little bit of a distraction and you can kind of see like, "Hey, my bikes not working that great, RC's bike wasn't working that great, so there's no reason why I can't be a little mentally stronger and push through it." You know, just try to pick up speed in the little spots. It's all about tenths of a second, especially at this level.
Speaking of pushing through it, what is 25 minutes like at race pace?
It's pretty heavy, honestly. I think you can practice, you can build your endurance, but racing is a lot different. You take a breath while you're in a battle and all the sudden you're back to where you were just at, and probably haven't taken a breath still. So, you're holding it in the whole time, and I think that's something I just have to work on is just staying a little bit looser and not being so worried about the outcome of not doing good. But overall, it's pretty difficult. A lot of people that race would understand, but it's definitely a pretty heavy task. But I had a great experience today. I'm glad they're starting to do things like this. It definitely shows, not necessarily who's strong or weak because we're all super-fast, but it shows who's been putting in the work and shows what you need to work on. The 10 lap races are gnarly but once you've got to race for 25 plus two, it's a bigger task. It definitely shows your flaws and what you're doing good at, so I like it.
What's your biggest takeaway from this whole experience with the coaching and training and all these different things they have you do?
I'd say that if you're not having a good day, maybe just take your mind off of it. Take a breath, don't worry about it so much, because at the end of the day, no one knows how you're going to do. If you're having a bad day, you're having a bad day and sometimes that's hard to flip around. I'd definitely say, when you're having a bad day, focus on the little things. I went out there in the second moto and my corners weren't really that great, so I pretty much just treated it like a practice. I just rode my laps and if I got passed, I got passed. If I was passing, then I was passing. I wasn't too worried about results. The trainers, they've all been around forever. I like that aspect too. They can kind of point out what you're doing wrong or what you're doing good. Overall, it's a great experience. I really dig this setup.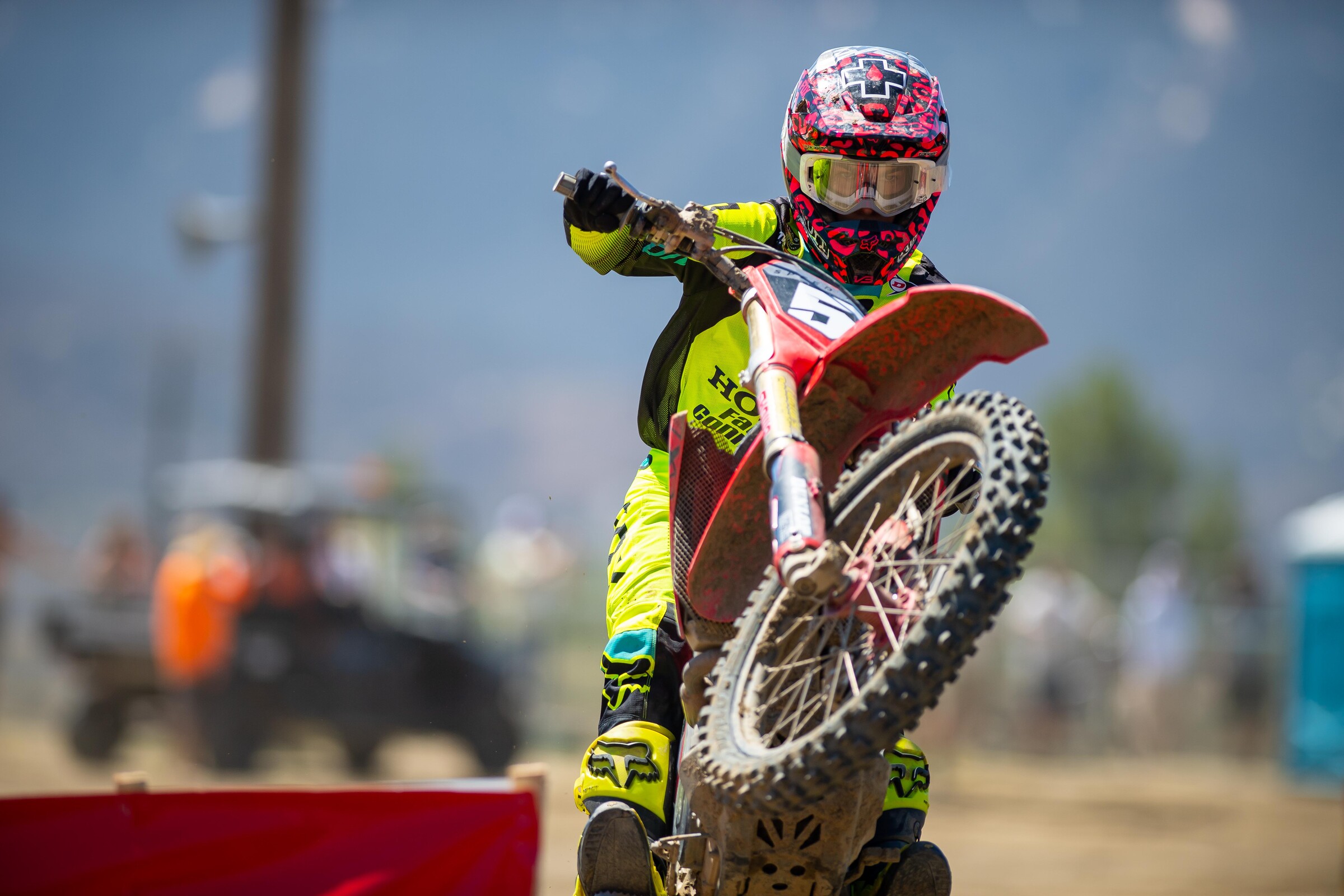 Tell me a little about your program, because I know you were with Factory Connection Honda and now you're kind of privateering it a little bit. What's the whole deal?
Yeah, pretty much exactly that. I am good friends with Jamie Ellis from Twisted Development. I've known him since I was three years old. He worked on my first-ever dirt bike, we lived in the same apartment complex, and he's pretty much like my second dad. And another guy helping me out is Atlas Speed Factory, his name's Brian [Garner], between him and Jamie they are helping fund my racing career for now. I know everyone says, "Oh without sponsors, I wouldn't be able to do it," but I'm not in the position to go out and buy five or six bikes and pay for everything that needs to be done to compete at the top level. So, without them I wouldn't be here and I'm really grateful for everything they've done for me these past couple months and I can't thank them enough.
So, what's next for you? What are you doing for the rest of the year?
I'm not quite sure, honestly. I have a couple bikes that are mine and for now, Jamie and Brian are going to keep helping me out. I have a couple of offers to go race supercross next year so that's something that I could definitely be interested in. It's every kid's dream to go race supercross under the big lights and I'm grateful for that. I'm just thankful I get to ride my dirt bike for my job. So, nothing set in stone yet, but I'm just happy that I can get these calls to go race and hopefully I can provide some good results and have fun while I'm doing it.