Shane McElrath made a big move to Monster Energy/Star Racing Yamaha for 2020 in hopes of finally collecting that elusive 250SX Championship. He won races (including his first on the Star bike) and led the points for a bit, but Chase Sexton showed his championship mettle by winning races down the stretch and pulling out the 250SX East Region Championship for the second-straight year.
McElrath finished second, pointing out of the 250SX class, then third in the 250 Class of the Lucas Oil AMA Pro Motocross Championship and went about searching for a 450 ride. They're not easy to find, especially in 2020. In part one of our interview with Shane, he gets into his journey to signing with SmarTop/Bullfrog Spas/MotoConcepts Honda. In part two, we'll talk about what he's learned working with the team so far, and his expectations for 2021.
Racer X: So you're out in California grinding right now?
Shane McElrath: Yeah, I'm out in California, and we're just now starting to ramp up. It's easy to peak before the season, and I feel like I've done that every year. That's not necessarily a bad thing. It's hard not to with the schedule we're normally on. I'm excited about it because I'm having to take on a lot of learning from now and through supercross. Everything is a little unknown, I don't know how things are going to play out, and I'm in this building phase. We're just getting started, sort of, and we have some time. I think it's going to work out perfectly. I'm not going to be burned out by the time we go racing.
Is this all because the outdoor season ended late, or was this a schedule you decided to have?
It was all because of the way the outdoor scheduled ended. That's pushed everything back. Tony [Alessi] and MotoConcepts, they wanted to sign people by November 1, and have people hit the track and get to work. After the last outdoor, I was testing bikes from other teams for maybe two weeks. I spent a week off doing a men's retreat in North Carolina. I guess that was my entire off-season! We never really got time off with how late the season went, and then trying to find a ride. We got on the bike November 1, but we didn't get into training hard until this week. I think it will be a lot better starting a little bit later this year. Holidays will be a lot more enjoyable.
Now you have an extra 10 days or so before round one. I've always wondered. The week between Christmas and New Years is usually the last full week you get before Anaheim 1, so you guys are probably going out of your mind. Can't really enjoy or relax around Christmas!
It's super hard to do. New Year's isn't a holiday for athletes. Christmas, we don't ride on Christmas but we still do some cardio, and that's the only day we don't ride. This year we can maybe slow down a bit and enjoy time with the family and stuff.
I feel like the search for a 450 ride was haunting you all year. Every week in the press conference you were answering the question about looking for a ride. Did that creep into your mind? Did that add pressure this year?
I would say I was able to put it aside. Really, even when I was on TLD KTM, I knew if I was going to go to the KTM 450 team, I had to win a championship. It was pretty much the same at Star Yamaha. It wasn't guaranteed that I would get a 450 ride if I won a title, but that was kind of the thing. I needed to do good. I needed to get out of my comfort zone. My mentality was do the best we can, do good. It was the best year I've ever had. I learned so much. To get second wasn't really a failure, but to win a championship would probably have been that guaranteed spot somewhere. I feel like we did pretty good, but as far as getting that full factory ride, I guess we were one position away. I couldn't really sit there thinking about getting a ride, I needed to just focus on being the best rider I could. I think all the things I learned are going to help me in the 450 class.
Yeah this was the best year you've ever had. But it was kind of a championship or bust year. So how do you look at it?
I really wanted to leave the 250 class with a championship. I feel like I did good. There were races where I beat Chase [Sexton] pretty good and races where he beat me pretty good. It was competitive. Looking back on it, he was the defending champion, and his prior year was kind of like my year this year. He's younger than me, but he kind of had more championship experience than me because of the scenario he was in the year before. I don't think he won the title only because of that—Chase is a great rider—but I had a lot to learn this year, and I didn't know that until I got into those scenarios.
But you had won races and led the points before. What was different?
It was more of a mentality thing. I had always been like, "I'm just happy to be here." With the move to Star, it was like, "We need to get it in gear and take chances we don't normally take." That was big for me.
Well, we all know you come from humble roots compared to a lot of your competitors. So was it a long process to get to the point where you could roll to the gate saying, "I should beat all these guys."
Yeah. And I was really excited going to Indy. We were making so much progress. We crashed at Daytona but I was so happy with the bike and my riding. I was really looking forward to the next race, then it got cancelled and it was kind of deflating. We didn't know we'd get back to supercross at all. So once they announced we'd be racing supercross again in Utah, it was like a mid-season reset. Coming into Salt Lake, I don't think I'd ever been that confident or focused in my career. I won all my heat races and I got two firsts and three seconds, and I led some of every race. It was tough racing that much in a short time. You didn't have time to break it down and reflect on each race as much. Overall it was a big mental barrier that I broke through, and the people around me helped. It was such a good year of growth that, yeah, I didn't win the championship, but it set me up on that next step I will have to take in the 450 class. Winning is cool, but there's stuff you learn when you lose, and I'm glad I get to take that with me.
How did it end with Star?
Timing was not on anyone's side in the industry this year. I actually got a call from Brad [Hoffman] at Star when I was on my way to North Carolina to meet JGR. I had already ridden the HEP Suzuki, and I was planning on riding the MotoConcepts bike. Brad called me, he worked some numbers and said, "I want to be honest with you. This is what we can do for you, but Malcolm [Stewart] has the exact same offer, and it may come down to whoever signs first. I just want you to know that." Up until that point, we knew there wasn't much they could do. Yamaha was paying the salaries of two 450 guys. If they had a third guy, the salary would have to come from the team and the sponsors. Especially after we got second in Salt Lake, I knew I couldn't count on anything. All year during outdoors, though, Brad would tell me, "Before you sign with someone else, come talk to me." So when they made me that offer, I appreciated it, but I told them I had made some promises to these other teams, and I wanted to fulfill them. I at least had to check out some of these other teams. Once it came down to it, it didn't work out. The timing thing didn't work. Malcolm was pretty much ready, and we had a lot more things we had to figure out. It ended good. Around the last day of my contract, I did get to go down there to the [Star] shop, I shook everyone's hands. I still train with Swanny [Gareth Swanepoel, who also works with Star Yamaha riders], he gives me a program. They haven't told me not to come around, and I think they would tell me that if they didn't want me around anymore!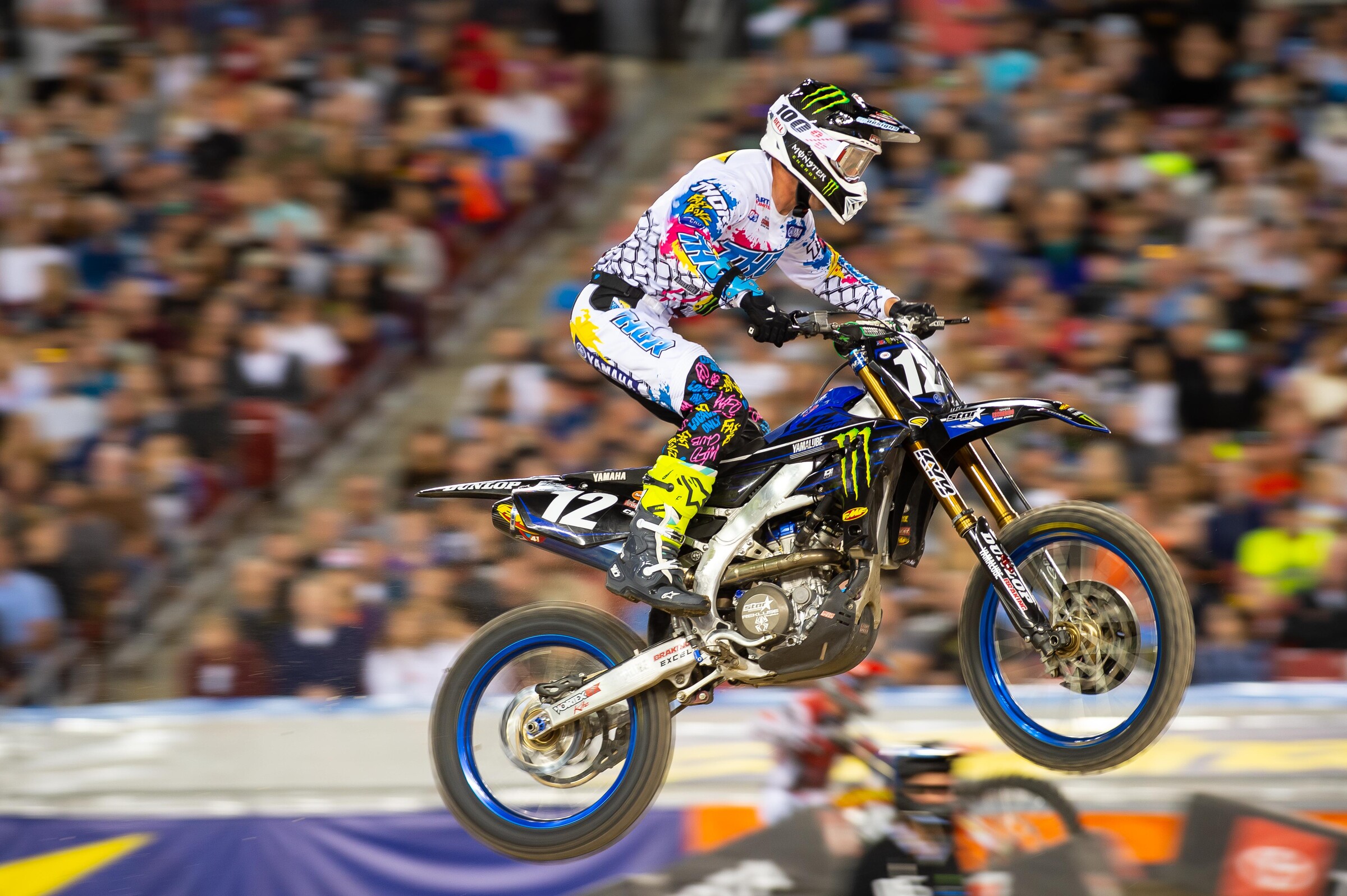 You were talking to JGR?
We didn't have an offer from JGR, just because they were up front with not knowing what they were going to have to offer. We just wanted to see what it was like. I mean, I'm moving to the 450s. This is my shot. I had to look at all the options I had.
Well, you end up on MotoConcepts. It's not full factory, but when you look at the results that team has had, it's not a step down.
Yeah, I'm super happy. It's funny, Tony talked to me all the way back in 2019 and said, "Hey, whenever you're ready to move to the 450 class come talk to me." Just the thought of racing for a supercross-only team was never on my radar. My whole career, I got paid all year to race. So this was pretty foreign territory, and I told them this is a big deal, I'm not sure if supercross only is big for my career. So that's what I was pushing them for more time so I could figure it out. Their bike was the last bike I tested. I went out to State Fair and tested their bike—oddly, this is a supercross only team and I rode their bike on outdoors—and I was like, "Dude, that is one of the best-handling bikes I've ever ridden." I could not believe how good it was! I left the track that day and said to my wife, "That just made this decision very hard. I can't let that bike go." They had given us an offer before that. If we were doing supercross only, we just wouldn't have been able to do that. So we started talking with them and talking with my agent, we negotiated a decent deal, and I was like, "This is pretty good." I had talked to [Justin] Brayton about it. I told him what my options were and that I needed some help. He told me how great the team is, that Mike Genova [team owner] is a great guy. It's definitely a smaller team than probably any other team I've been on, but they're as professional than any other team I've been on. They enjoy what they do but they just love to learn, grow, and get better. I think this is, by far, the best opportunity I could have going into the 450 class.
Read the rest of the interview and/or listen to the full interview with McElrath on episode #137 on the Racer X Exhaust Podcast below.