Last week we spoke to Shane McElrath about finding a ride in the 450 class for 2021, which included talks with the JGRMX and HEP Motorsport Suzuki teams and Monster Energy/Star Racing Yamaha. He landed at the SmarTop/Bullfrog Spas/MotoConcepts Honda squad. This week we ask him about riding and racing for his new team.
Racer X: I know that team [Bullfrog Spas/SmarTop MotoConcepts] is very heavy on bonus pay. So you need to go out there and get results if you want to make money this year?
Shane McElrath: Yeah and that's what they told me up front. I found out about their program through people like Malcolm [Stewart]. Once I got something on paper from them I was able to figure out some numbers. They were up front, they don't pay big salaries but they pay good bonuses. But the bonuses, they're not saying you have to go out there and win. They just want you to do your best and reach your potential. If it's eight, sweet, you get paid for eighth, if it's fifth, you get paid for fifth.
Yes factory bonuses, it's often win, podium, or nothing, right?
Yup. So this is a really good incentive, and that's what I'm really excited about. Potentially, I could make good money on supercross only, but I've got to do good! You look at the 450 class, you've got champions filling the entire top 15. I'll have top ten bonuses. Tenth place is pretty good, I think I can finish better than that at times, but it's my rookie year and it's reasonable that I'm learning, I have a lot to learn, and there are so many good guys out there. These are realistic goals and incentives and a way to work each week to get better. Just finish one position better the next week and you'll make more money. That's the thing about the normal deals—outside of third place, fourth place and back, it's like there is no incentive beyond that. In the 250 class, I expected myself to win. You can bet I have high expectations in the 450 class, but I don't know exactly where I should expect to be. So now I'm just going to try to get a little better every week. I think throughout the season that's going to add up. I don't think I'm going to set the world on fire, but I think I can do good! I'm excited to see how it goes.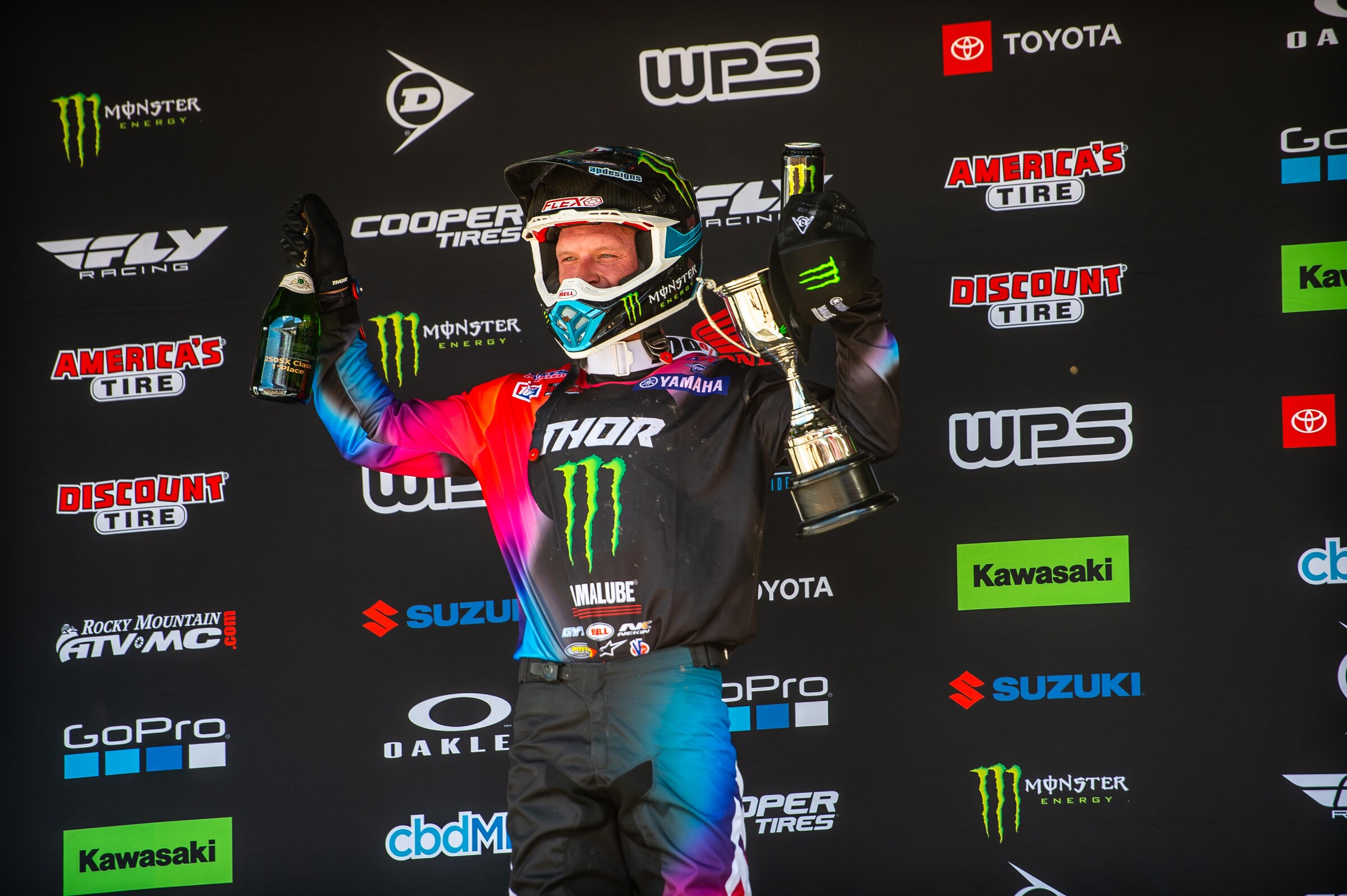 I wonder for a rookie if this is better. Most guys coming into the 450 class have won titles or at least a lot of races in the 250s. That's how they got the factory ride. Maybe the team is saying, "Hey, rookie year, no pressure," but these guys were all raised winning races. They get a seventh and they're not going to be happy! Or maybe they get 12th! That has to be really hard to deal with. Maybe your situation takes pressure off. If you get eight you leave the track feeling good.
Yeah and that's my goal. How can I be consistently better every week? In the 250 class, I needed to be on the podium every weekend. In the 450 class, let's just try to be as consistent as we can, whatever that number is. We have so many guys that are insanely fast. I'm trying not to compare myself because, as far as titles and accolades, I'm behind everybody. As far as talent and speed, I feel like I'm right there. I'm trying not to be star struck, because I dealt with that in the 250 class for a long time. I want to get good starts and mix it up.
Yes you were always hard to classify. It's not like you were struggling to get a ride. You could win races and podium. But we also never went into a season saying, "Oh, McElrath is the next big thing and he will win the title for sure." You were kind of in between those spots. Have you had to deal with that yourself, mentally?
Yeah, I dealt with that a lot my first few years of the 250 class. I got stuck in that rut for a little while. I lost sight of things at one point. When I won the first two races in 2017, I was like "Dude I can't believe I just did that!" There was a mind shift of going from offense to defense, and I was stuck in that mindset for a long time. I feel like I finally broke out of that this year. That's why I was happy this year. I had to get out of my comfort zone, I had to push it. It showed me that my mind can be weak if I let it be. This year taught me a lot. I know the guys I'm racing are fast, I know they've won a lot, but that doesn't mean they can't be beat.
I talk about this with all riders. You get the dream job, essentially, which is getting paid good money to race factory motorcycles. But you can't get there without an extreme level of ambition, and that means unless you win the race, you're probably not happy. So you end up being unhappy a lot of the time when you actually are in this dream scenario! It has to be hard to balance it.
I think a lot of riders struggle with that. You have a lot of older guys in the class now, and I think that's what they've done. They've accepted it—they can settle just a little bit, so they can prolong things, and now they enjoy it. I get it. I spent seven years in the 250 class, and every year was not good enough. The ambition is there, and it can be draining on you when it doesn't go your way. It's hard to ever be satisfied, even when you get a second place. At times maybe we're too hard on ourselves and it will weigh us down, for sure.
So [Team Manager] Tony Alessi. Have you had moments where he picked up on something and you realized what a great eye he has?
I have, but not any one thing. It's just consistent, "Dude, Tony knows what he's talking about." He's also steady in the way he talks. I've heard he's good at setting the bike up and picking things out. Being alongside him now, that's just so normal for him. He's aware, he pays attention, he doesn't miss anything. The guy is really smart.
It always sounds funny to hear, "Tony Alessi is so steady in the way he talks." But we've heard that from so many riders over there on that team. The Tony Alessi minibike dad days are so far in the rearview. If it's not Mike of Jeff Alessi that he's dealing with, everyone says he's totally calm!
Yeah. I didn't know Tony at all. Even when we were doing the negotiations, even if things were getting heated and stuff, Tony always made sure he was saying things clearly, and even if he needed to raise his voice a bit, it wasn't like "Oh crap I didn't know you had that side to you!" It's always the same realm of his personality. It's pretty cool. Obviously, I watched Mike and Jeff Alessi race since I was on 50s. I never knew Tony, I just saw him from the outside. He's just a great guy, honestly.
Sounds like you're in a good place. You didn't win the title, you didn't get a regular 450 factory ride, but it sounds like you're happy the way it worked out. You're not hanging your head.
Not, not at all. I don't look at this year as a failure. I learned a lot and that's what I needed going to the 450 class. It's a big step and a transition that a lot of people haven't been able to make. I feel like I'm able to take on that task, because I feel like I'm prepared for it with everything I learned through seven years in the 250 class. So, yeah, I'm pretty excited with where we're at right now.
Listen to the full interview with McElrath on episode #137 on the Racer X Exhaust Podcast below.