Holidays are supposed to mean family time, and family time is supposed to mean love and laughter, but we all know family drama is the hottest of all. Almost everyone might act cordial, but when the whole gang gets back together it takes just one family member to make a snide remark dripping with criticism, and it's on. Someone will respond with fully-unfiltered pent-up anger, and the argument will rage. When it's a family argument, no one holds back!
We may be more than a month away from racing action, but our memories are long. We know the racing family is the same way. Almost everyone is cordial and puts in the laps, but occasionally things get heated and nothing is held back.
We've collected some classic smash ups from the past right here. Some of this stuff is unforgettable, even if you needed a quick YouTube hit to bring those memories flooding right back. Enjoy the stuffing for this week's version of The List!
Ferrandis vs. Craig
I mean, you just knew this hit had to be on The List, right?
It even landed on the cover of the April 2020 Racer X magazine!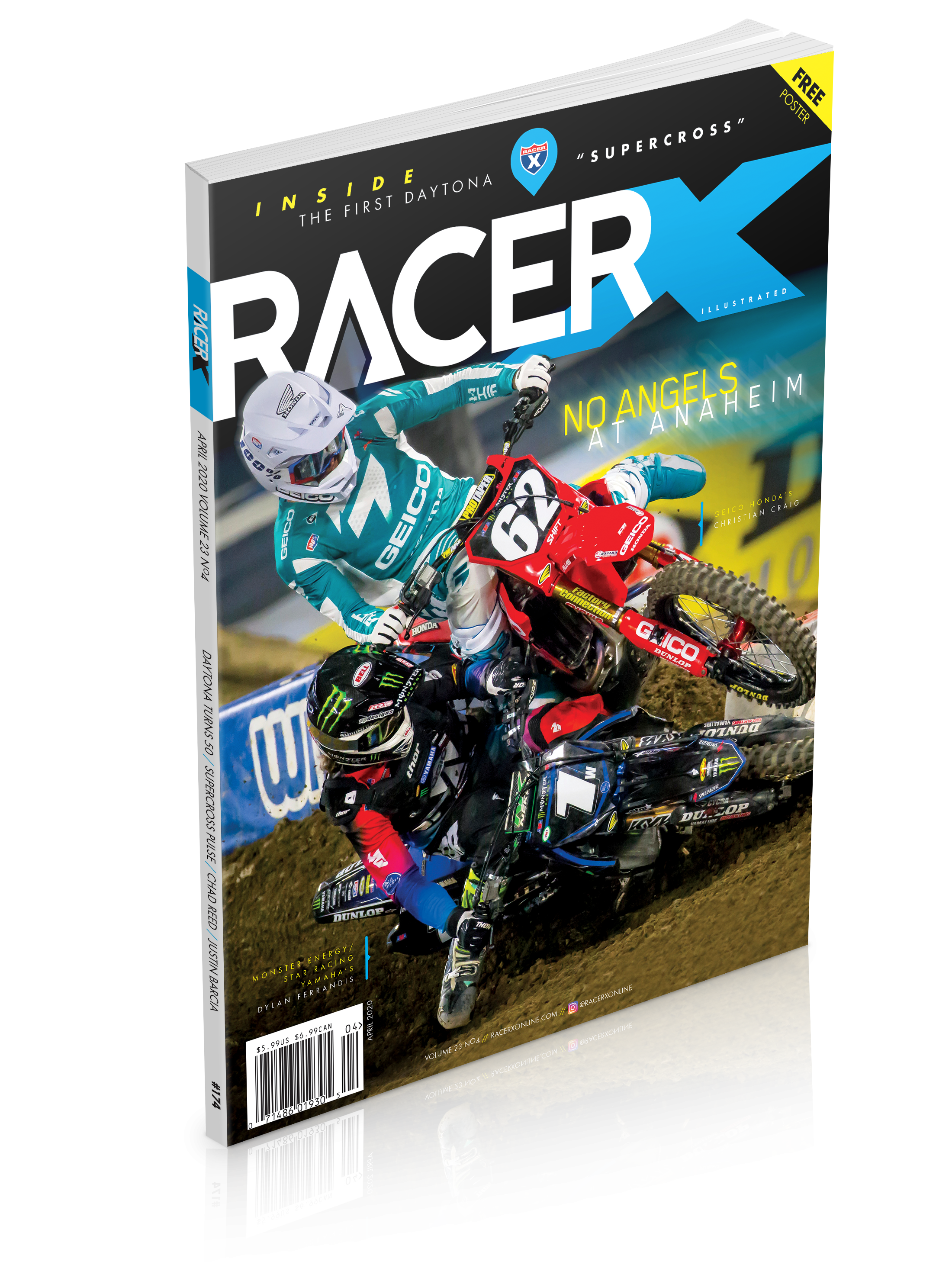 Racer X Illustrated Supercross Magazine
The April 2020 Issue
Davey Coombs explains the first Daytona Supercross in 1971, the first few rounds of 2020 Monster Energy Supercross, and how some of the sport's biggest superstars have taken different approaches to announcing retirement.
Read the Issue Now
Preview the Issue Now
Anderson vs. Seely
Jason Anderson abused Cole Seely quite a bit in both the 250 and 450 class, but the move that got the most buzz was a last-lap mega block pass for the 250 win at Anaheim 1 in 2014.
Musquin vs. Tomac
Nice guy Marvin Musquin showed some serious claws in Foxboro in 2018. When Eli Tomac passed him for the lead just before the final lap, Marvin knew a 450SX win was getting away, so he turned the aggression level up to 10, knocked Eli down, and took off with the victory.
Dungey vs. Weimer
The Dunge was never known as an aggressive rider, in fact Ryan Dungey fans probably remember far too many races where he sat behind someone and waited too long for an opening. It was different with Jake Weimer for some reason. Dungey put Weimer on the ground a few times, including this hit right here.
JLaw vs. Villopoto
Kids these days have no idea. Jason Lawrence was the absolute master at getting under his competitors' skin, and since Ryan Villopoto and Ryan Dungey were often the front runners in the 250 class, he made The Ryans his prime targets. RV finally had enough one year at the Hangtown opener for AMA National Motocross, resulting in a full-on brawl on the race track in practice!
Can't have a block pass list without Justin Barcia on it, right? Here's one of many bams from BamBam. In this episode, Malcolm Stewart jumped on a 450 for the Daytona Supercross, Barcia wanted to make a pass, and it ended in chaos.
Apparently these two had been bashing for awhile. Something set Malcolm off in Utah, and soon Barcia was off the track!
Peick vs. Friese
The gold standard in on-track attacks.
Windham vs. Friese
Remember what we said in the intro about pent-up unfiltered anger? Well, that was Peick with Friese above, and here's Kevin Windham, not known as a dirty rider, going over his limit with Friese at the Monster Energy Cup.
Canard vs. Reed
This wasn't a block pass attempt by Trey Canard as much as it was a rushed attempt to make a pass, putting both Chad Reed and himself on the ground. Reed struck revenge immediately and was soon greeted by a FIM black flag and pulled from the race. This elevated the incident into high controversy as #blackflaggate was a big thing in 2015!