Jacksonville, FL
WW Ranch (Florida)
Lucas Oil AMA Pro Motocross Championship
Monster Energy/Star Racing Yamaha's Justin Cooper and GEICO Honda's Jeremy Martin landed themselves on the overall podium at the 2020 WW Ranch National in Jacksonville, Florida. With Cooper hitting a good late season stride and Martin doing everything he can to claim his third 250 Class Lucas Oil AMA Pro Motocross Championship, both riders had plenty to say when the spoke with the media following the race.
Racer X: Justin, I know one of your goals was to put together two consistent motos, which you were finally able to do today. You got your best overall finish of the season. How was the day for you? Do you feel like you're in a good spot heading into the final two rounds?
Justin Cooper: Yeah, for sure. It was a lot better day. I really didn't ride that well in the first moto. So that's the only really thing I've been missing which has kind of been my strong point last year. I would be good in the first motos and then I'd be worse in the second moto. But this year all seven rounds have been my better finish has come from the second moto. So, I don't know if that's a good or a bad thing, but definitely physically feeling good. It was definitely hot and tough late in the second moto, but I was able to ride a lot better and I was pretty happy with how I rode. So that was a plus. Just got to work on… Those guys are pretty intense in the first couple laps for the first moto. Just got to either get a better start or fight those guys a lot harder, because they're definitely willing to do that. But good to get back on the podium and really looking to finish the year out strong.
Jeremy, you had to come through the pack a little bit in both of the motos. Thirteen points down with two rounds remaining. How was your day for you? What do you need to do heading into these final two rounds?
Jeremy Martin: So, the first time I've ever been to WW Ranch and the track was pretty fun. I knew it was going to be high-speed, but dang it, man. I didn't realize it would be that high-speed. Just a 3-3 day for me for third overall, so nothing fancy. Definitely Dylan was riding really well today. He got really good starts both motos. He was out of the gate better than me. So, I did what I could. I was kind of fighting it all day today, but I did everything that I could. We have two rounds left, so we'll hopefully fight it into the end here and see what happens.
Justin, you guys only have an hour in-between motos and with it being so hot, what does your recovery look like? You just sit in water? How do you cool yourself off? What do you do to get yourself back in the game mentally and physically?
Cooper: To be honest, the way I rode the first moto I was more than willing to get back out there for the second moto, which is not a good thing. That's kind of how I felt the whole season. I feel like I've left a little bit out there in the first moto. I just need to be more aggressive when it comes to that. It was like a freight train in the first moto, so I don't know. It was hard to definitely pass out there, but you got to make it happen in that situation. So, it was pretty easy for me. I was ready to go for the second moto. I didn't really use much energy in the first one. Otherwise, if I rode like I should have, definitely would have been a little bit harder to turn it around like that. It was pretty easy for me, to be honest. Hopefully, it's a little bit harder in Colorado. Hopefully, I give it a little bit more effort in the first moto.
Jeremy, I know the commentators hinted at a little bit of team orders. Do you think that the Yamaha boys might have any sort of team orders to make life hard on you, just because we're winding down here?
Martin: I don't know about that. Obviously, Dylan went 1-1 last weekend at Millville, and then he went 1-1 this weekend. So, there's no team orders on my side. Obviously, I was on Jett [Lawrence] in the first moto and then I couldn't get around him and my brother. I think it was my brother. I couldn't get around Jett, and then Jett just got away. He got second and I got third. So, I don't think there's really any team orders from GEICO or there's any team orders from Star.
Justin, I want to touch on the theory of maybe having team orders. You got a pit board come out that says, "Let Dylan by," or "Hold up J-Mart." Is that something that you would even really… How would you react to something like that?
Cooper: I don't think I would ever get that pit board, honestly. Maybe if it was like a championship last moto of the year. They're not looking at it like that. They want Dylan to win the championship, obviously, but it's really let the best man win. Jeremy and Dylan, they're going to do their thing. I'm going to be trying to do my own thing and try to get on the podium or even go for race wins. That's my goal. Whether I gain points on Dylan, I'm out there to do my best. So, I wouldn't really roll over for Dylan, and I wouldn't roll over for Jeremy. They're going to duke it out on their own. What happened today actually in the second moto, I got the holeshot and Dylan just went right by me. I tried to stay in front of him for as long as I could and that was like a half lap. He went right by me in the rollers and that was that. If it was up to me, I'd try to win the race. Not much to say about that. If it comes down to the last moto, it's just going to come down to the better guy. Nothing really I do is going to really affect anything, I feel.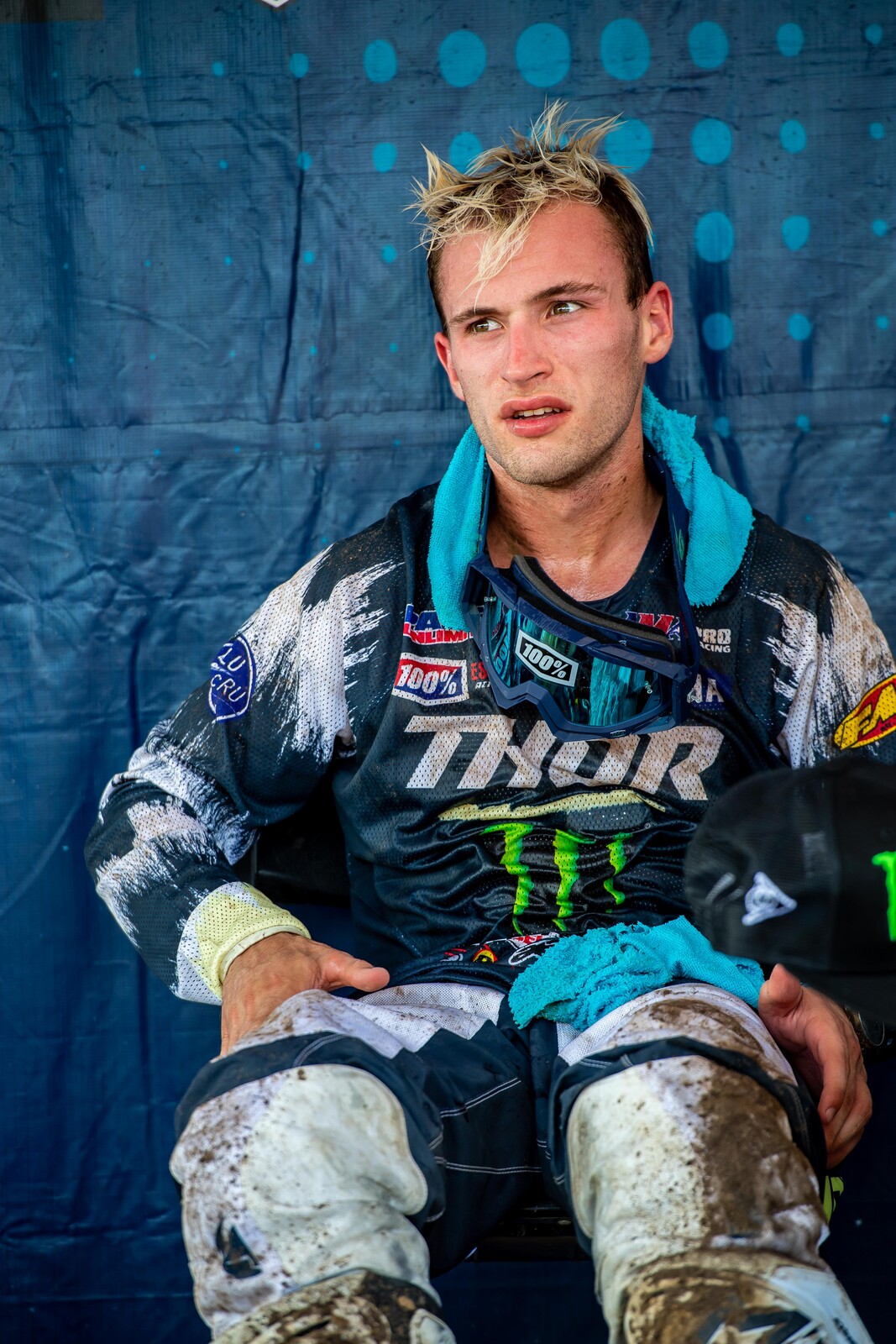 J-Mart, obviously I think you're 15 down. What's something that you're going to work on this week? What do you need to improve? Or do you change anything going into the last two?
Martin: For sure. I'm trying to improve the bike a little bit right now. I felt pretty good, but today I struggled a little bit with getting my rear into the ground to drive forward in the rollers and stuff today. I'll talk with the team this week and I debriefed with them actually after I got done racing today. So, we're going to try to take a little stab at this new shock to see if we can help close that gap a little bit on Dylan. So that's it. I said it earlier this year, I can't control what he's going to do. I think Dylan respects me. Obviously, he knows I respect him. We race each other hard. May the best man win. It's been a fun series so far and hopefully we can make it a barn burner here down to the end.
Jeremy, Loretta's 1 I think was probably one of the gnarlier races of the year that we've had so far just because the track was so technical, the weather was hot. That was a really gnarly first race of the season. Today was super-hot too. Near triple-digit heat index. Did you feel like maybe the tracks were more demanding how technical Loretta's was, or whereas the sand track is so brutal and rough that it beats you up a different way? What day was harder?
Martin: That's honestly a good question. I kind of feel like Loretta's was pretty techy as far as with all the rain that we got, as far as balance and just being able to stay in the rut because the ruts were so long, and they were so deep. Where today was more of like a high-speed, kind of choppy but kind of some rollers rough. So, I would say it beat me up differently than Loretta's. I was probably more sore from today's effort than I probably was from honestly Loretta Lynn's.
Justin, you kind of raced your way back into shape after a rough start to the season and the injury. How close to 100 percent do you feel right now? Is there still some issues you're trying to get figured out with your hand, or are you all the way past it?
Cooper: I would say the first two rounds at Loretta's I rode with a little bit of pain, but I would say right now nothing is holding me back. Nothing is hindering my performance. It's all on me now. We're just working hard with the team to put me in a position where I'm comfortable on the bike and to go after the podiums and stuff like that. The season is already almost over, which is crazy. It's been a struggle. I certainly expected to do better than I have, so it's good I got this one under my belt and just looking to do more of the same for the last two and just fight for the top spot. That's kind of what I want to go out doing. These guys got a championship battle going on, but I'm looking to mix things up a little bit.
Jeremy, it looked tough to pass out there today. You hit with your brother. Did you guys talk after the race or anything like that?
Martin: Yeah. I actually just had dinner with Alex tonight and his wife Kelsey and stuff. We were talking about it at dinner. I was like, dang it, man. I was trying to get you. He had the inside and he was bull dogging it. I just sent it in there. I was like, "I didn't think you were going to give it to me." So, I came in and I still went for it and I high-sided. He was like, "Yeah, dude, you took me out." I was like, you weren't making it easy. That's for dang sure. So, he went down and we kind of just laughed about it. He was like, "I got back up," and he goes, "It was just gnarly in the back of the pack back there." He was like, "It took me a full lap just to recover." When it's hot like that, I feel like if you do go down, you're like, oh man. You take a little bit of a break and then you got to get back into that mode. He was like, "It took me like a full lap."
Justin, these last few tracks are both good tracks for you. I think you were second at both or second and third at both last year. Are you looking forward to these last two and maybe keeping this momentum going and maybe grabbing a win before the end?
Cooper: Yeah. These last three, I was alright at Millville in the past, but these last three… I won here last year, and I got second at the other two coming up. So basically, if I'm going to be on the podium it's going to be these rounds. If I'm not, there's something up. It's good to be competitive today a little bit. Looking forward to the next two. I like Colorado a lot. I felt like I threw the overall there away last year. I remember I side-saddled the bike in moto two. I really do good there and I don't really know why but I enjoy that track. I enjoy that whole event. Really looking forward to Colorado. I think Pala is going to be… We ride there a lot and train there a lot, but it's been closed for the last three weeks because they're just going to redo probably the whole entire track. So, it's going to be a new racetrack for everyone. There's not really going to be an advantage there, but I do gel with the track and the dirt, I think. So, looking forward to the last two and finishing on a high note.
Jeremy, with two rounds remaining how important is it for you to put yourself in a position after Colorado that's going to maintain the pressure on Dylan in terms of the championship? I think the next one is going to be really important to just narrow that gap just a little bit.
Martin: Yeah, for sure. That's a good question. Every race is important to put myself in a good position. Obviously, I had a nine-point swing over Dylan at Millville, and he brought it back. So, anything can happen in a weekend. The 250 class is very competitive. Some guys are finding more speed here later in the season, including my teammate Jett. Justin Cooper is getting a little faster and sharper too. Just try to do what I can and get better starts than what I've been getting and fight for it.
You can watch the 250 Class WW Ranch National post-race press conference archive or listen to the audio from the post-race press conference.