Jacksonville, FL
WW Ranch (Florida)
Lucas Oil AMA Pro Motocross Championship
At last weekend's Spring Creek National, Monster Energy/Star Racing Yamaha's Dylan Ferrandis retook the 250 Class points lead from Jeremy Martin by a slim margin. Over the weekend at the WW Ranch National in Jacksonville, Florida, Ferrandis recorded his second consecutive 1-1 day to open his lead up to 13 points over Martin with only two rounds remaining. Following the racing, Ferrandis spoke to the media in the post-race press conference via Zoom.
Dylan Ferrandis: It was a really hard day, but we all knew that before coming to Florida round. I felt good all day. I gave everything I had.
Racer X: Dylan, I had a couple of the privateers message me and say that the track was really slippery. Did you guys change the ignition mapping at all to kind of retard the motor to make it easier to ride?
Dylan Ferrandis: No, we don't do that. I think 450 you can do it maybe, but in 250 when you start to do stuff like that you always lose a little bit on power. So no, we haven't done anything like that. We changed the front tire. We rode with a front tire that we never used, even that's the only place where we used it. It works well, but other than that, no. I think when it's slippery you have to just try to find a solution on the bike and be nice on the throttle and stuff like that. It was slippery, but it was not that bad. Some places in Millville last weekend were more slippery than today, for example. So, nothing crazy on the bike today.
We're about to head back to a couple tracks that in theory probably favor you. Going to elevation at Lakewood where the Yamaha is very strong, and then going to Pala where you put in a fair share of laps. Are you more confident going into these last two rounds now that maybe there's somewhat of a slight advantage? Or do you think there's an advantage?
No. Like I said, I think last weekend I had kind of a similar question. I did well last year on some tracks and this year I did not, and opposite I did bad the last three years and did well at Millville. So, I think it's just on the race day. It's about feeling good on the race day and getting a good start and see how the other riders perform. Thunder Valley, the altitude can help with the bike, but everybody has a good bike. Our bike maybe is slightly more powerful, but at the end we saw J-Mart won RedBud with his bike. I just think the difference is not there. I think the difference is on the race day how you feel and the start you get or the speed you are. It's more that. And Pala, that is not my favorite track. Even if I train there every week on this track, on the race day the conditions are really, really different. So not really advantage. I think it's like J-Mart said last week. Millville is his home track but on the race day it's so much difference than what you practice on. We'll see. I'm just going to ride like every other track.
You had some passing and stuff to do today. That track had a lot of different elements built into it, some split lanes and things like that. The faster guys, you guys used different lines than maybe tenth place back. Do you feel like those options are helpful for you, or does it all pretty much file into one, single lane no matter what?
Yeah, it was helpful. I think some places of the track were good to pass, some not. It's always like this. I think they could improve if I can say that. They could improve on some places on the track to open some lines. But we see in both 250 and 450 that it was possible to make passes. But the double line, I liked it actually. I liked it a lot.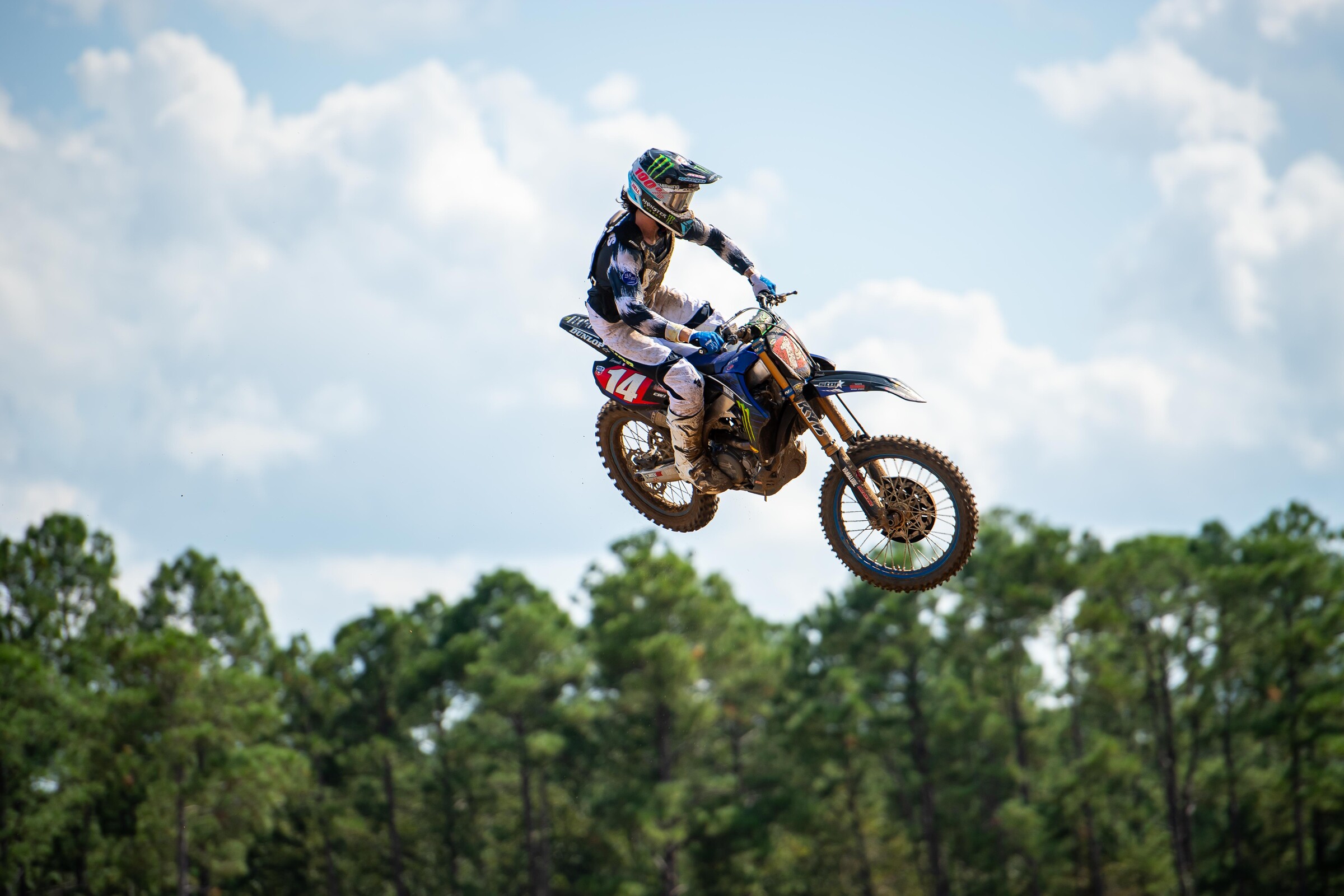 Going into today three-point difference, you come out, you're fastest in qualifying, fastest in the first moto by two seconds, maybe more, fastest in the second moto by almost a second. Just a perfect day. Was this a day where you came into the day like, I have to make a statement? I have to throw it down today and take advantage?
Yes, of course. Every race. Every race I show up with that mindset. For sure at this point of the season, before today we were really close with Jeremy and it was him or me. So lucky I did. I build this gap so it's very good. There's two more rounds, two times 50 points to get, so a lot can happen. For sure, I'd rather have a 13-point lead than 13 points behind.
Do you look at stats like that after the race or is that just left for us?
No, I look. Just curiosity. From my riding, I felt that I was on it today. I felt that I could push more if I needed. When I have this feeling, I feel like I'm faster. So, I saw the lap times and everything and good, it's very good. I'm very happy.
How much tougher was the track in moto two? I think the pace was four seconds a lap slower. Was it that much tougher?
Yeah. This track, the layout is really difficult physically. It's the hardest waves section, that killed the legs. It's killer. You had the heat and the humidity that makes it a really, really hard place to ride. I don't know why we were so much slower compared to moto one. It's often like this. I tried to remember why, but I think it's just the bumps and the ruts and the track getting more bumpy so that makes us slower, probably. I don't remember why we were so slower. It's weird. Anyway, the track was really, really demanding physically today.
As a former grand prix rider, still on the 250 obviously at the moment, how much would you say you've progressed as a rider over the past few years being in the U.S., especially outdoors?
A lot. I think I progressed a lot. I think I would progress the same if I did stay in Europe because of just the experience, the learning and everything. But it's more the people that I met in the U.S., the people I work with and what they helped me to achieve. It's more this that I think I was really lucky to find the right person. I guess it would be the same in Europe. But today my experience in Europe riding sand tracks was definitely a big help today because even if the track was not that much sand, the technique was pretty similar. I think it helped me a lot today.
You can watch the 250 Class WW Ranch National post-race press conference archive or listen to the audio from the post-race press conference.