In our conversation with Cooper Webbon Monday morning, the defending champion of Monster Energy AMA Supercross explained his take on getting the races going again (he really wants to get going). In part two of our interview with the Red Bull KTM rider, we take a variety of questions from fans.
Racer X: I've got a couple of questions here from fans. What is your favorite all-time track? Your all-time favorite racetrack? You got one?
Cooper Webb: That's a tough one. Honestly I think all-time racetrack, I know we all say it, but RedBud is hard to beat. Even practice tracks in America everywhere, I like a lot of them. I always really enjoyed riding at South of the Border and then ClubMX. They're two really cool tracks. RedBud, the track alone is amazing and then just that race environment too is incredible. The soil is awesome. The way the track flows is awesome. Pretty cool.
Here's another from a fan, and somebody must be a James Stewart fan. Does Aldon Baker ever give you old school James Stewart training stories? We want the inside gossip. Does he talk about any of the old guys? Does he do this?
Yeah, when we ask. He doesn't just sit there and say, "Hey, this is what this guy did," because we're all different. But I like to ask stories. He handles every guy different and stuff. So there's some pretty funny Villo stories, Stew stories, RC stories. He was telling one the other day when him and RV actually wrestled on the side of a jump one day. It was pretty funny! He had the photo of RV in a headlock with the bike just running, idling on its side. I've never gotten to that extreme with Aldon, but I guess you got to do what you got to do to keep the guys on it!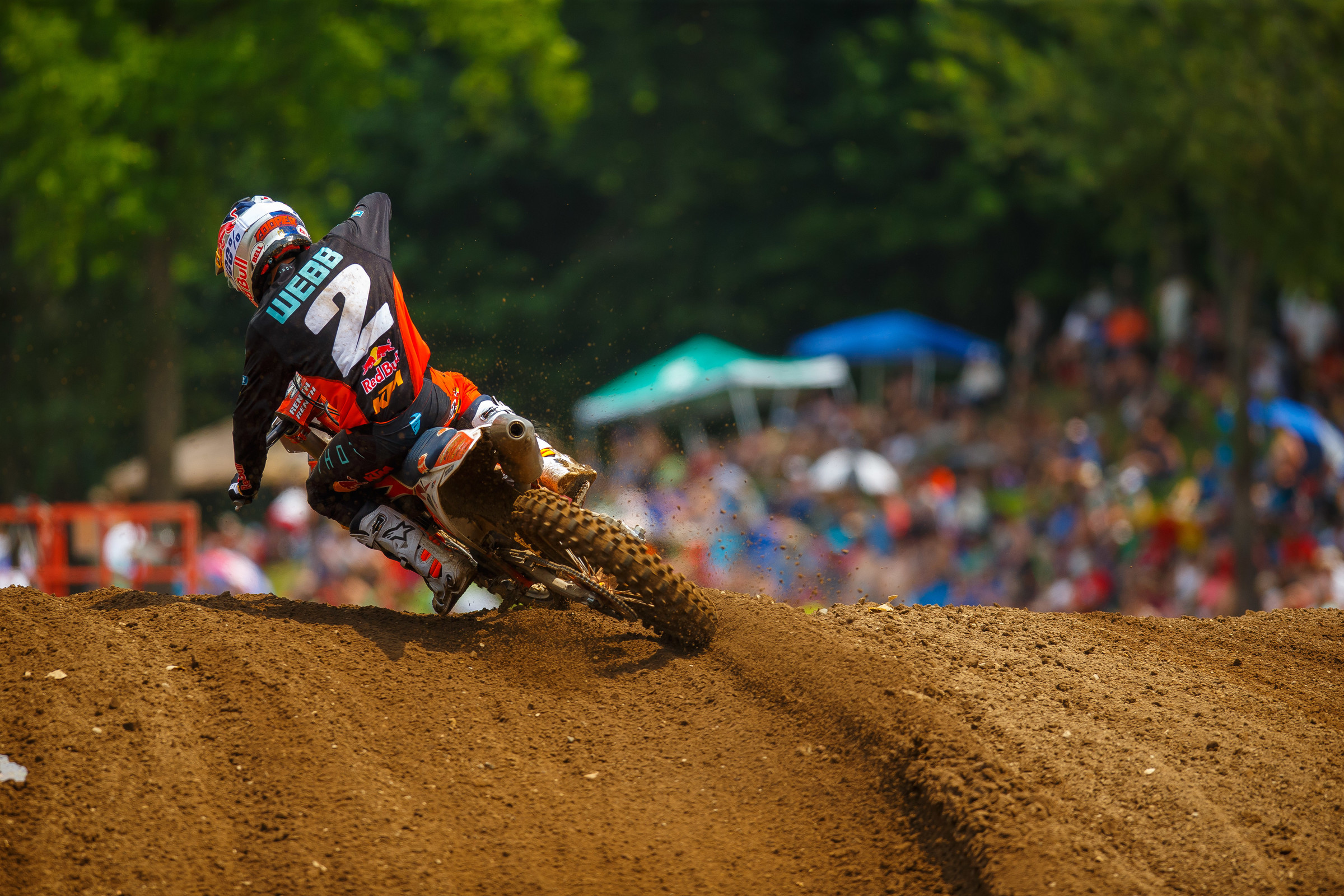 This wasn't as a joke like, "I'll bet you 50 bucks I could take you down?" This was actual anger wrestling? Like, mad at each other wrestling?
[Laughs] I don't know. You'll have to ask those boys. I'm the story guy. I think he said that Villo when he came up, rode up to him, he tried to push him off the side of the jump and Aldon saw it coming and just grabbed him. They went rolling down the hill just wrestling.
I'm going to get RV's side of that story. He's good for telling stories these days. Another fan asked, how have you been able to master the mental game so well? We talked about it a little bit here that you can bring it on race day when it really matters and some guys are the opposite. Anything you can point to why you seem to excel the mental side of racing?
I don't know. I think it's something that comes natural to me, which is awesome. Something I was born with. I've always been able to kind of just focus when it really matters. I think one thing that helps me is not being so serious maybe or so hard on myself during the week and all that stuff. But I don't know. I think it's something that I try to pride myself on. It's something that in all sports it just seems that you have the guys that kind of can flip the switch. So I try to have that. It's not like I work on mental technique or anything like that. It's just honestly when the racing is going, it's just something in there saying, "Hey, whatever it takes to win, just go for it." Sometimes it bites you, as you saw in Dallas, and sometimes it works out great, like we see in the last corner sometimes.
In Dallas also!
Yeah, Dallas the year before.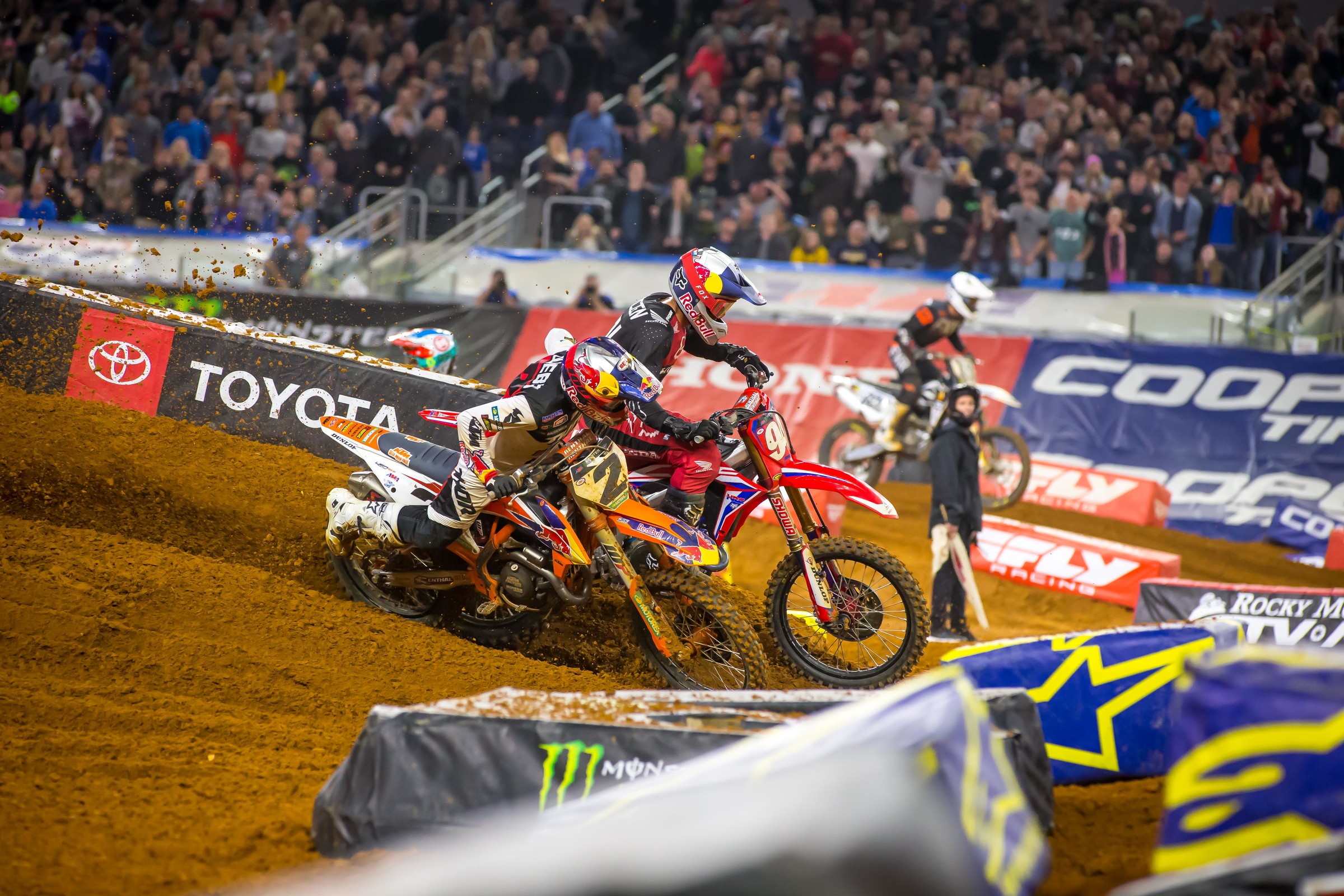 I always wonder this. You had a great battle in the race you won this year in San Diego with Adam Cianciarulo most of the way. You seem to be able to plan things laps in advance. How are you racing, riding the track, going fast, but also thinking three laps from now, or what if I try this line later? It's almost like you have two things that you're thinking about at the same time.
I think racing comes natural for me. That's one of the things, like I said, why I do struggle in practice because there isn't strategy. The strategy really keeps me in it. For me, I think nowadays we're all so close in speed and especially now that we do 20 minutes plus one it's honestly kind of to the point where it's about a start. Some nights you're just feeling it and you can go out there and dominate, but most of the time that isn't going to happen. So it is about putting yourself in a good position and then just reading kind of how the race is going to be, whether it's lines changing or longer lap times lead to shorter main event laps, meaning if a lap time is around a minute, you're only looking at 20 to 21 laps, opposed to if you're in the 50 seconds you're looking at 25 to 26. So the track is going to change more with 25, 26 laps. That comes into play. Like I said, I think with us all being so close, you saw it a lot back when Ricky and James and Chad used to battle. It was almost like they waited around until late in the main, after halfway, to really get after it. That typically decided the race. Like I said, every race is different. Sometimes you just holeshot and you check out and you're in your own space. Sometimes strategy does come into play. I think it's hard to lead. That's for sure. When you have someone right on you, that takes a lot more focus than when you're the person behind someone. As you said, I think for me that's typically maybe why I don't take the lead as early as I do sometimes because it's a lot harder to lead. That's what I enjoy is when you battle hard and not necessarily have a strategy, but just be patient and kind of see what happens.
You do get nervous going to the line, just like everybody else? Maybe not as much, but you do get the same old nerves as everybody else, as much as you enjoy it, right?
Yeah, absolutely. That's what keeps you going, man.
That always surprises me. You hear these guys like Zacho who is like, "I pretty much throw up all the time. I love it." Most people don't love that feeling!
That's for sure. As racers, some of us are different breeds, for sure. Zacho, his nervousness is a little extreme with the puking.
Here's the last question from a fan. It's the most random question ever. So be ready for this. Would you rather step in poop barefoot, or with new shoes on?
Barefoot.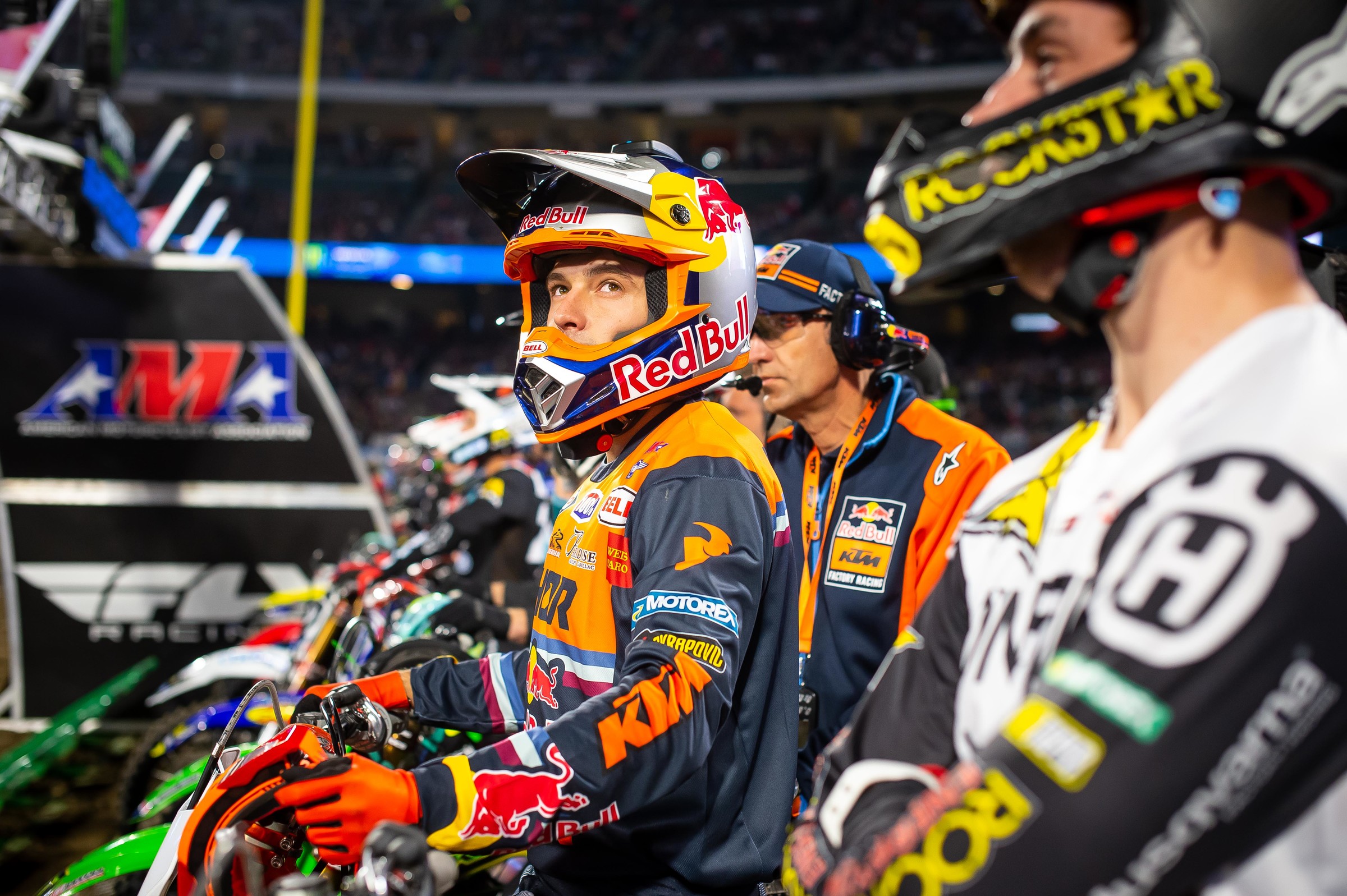 Okay! Save the shoes.
That's my one guilty pleasure. I'm a shoe guy. I have a lot more than I probably should. Just barefoot would have to take it. I probably do that once week anyway here in the backyard. We have two dogs. It's landmines out there until I go pick it up.
It's so weird. I'm assuming you live kind of where everybody else lives. Is everyone in the same five-mile radius? That's got to be so weird.
Yeah, it is. It's almost like California, though. Six years ago when I moved to California originally it was like that. We were all kind of there before Claremont became the place to be. It's crazy. A lot of us live within five miles on the same roads, all over. So it is cool, though, to see the level of guys we have here and know we're all in the same environment, the same training area and stuff like that. It makes it cool. We see each other quite a bit out and about at coffee or getting breakfast and stuff. Like I said, I think in California it's a bit like that as well.
No mean-mugging though when you see each other getting coffee?
No. During the week, we're mellow, man.
It's so different than what people would think. The race face Cooper Webb, anytime he sees somebody, he's out to get him.
No. I love everybody during the week, but once the gate drops…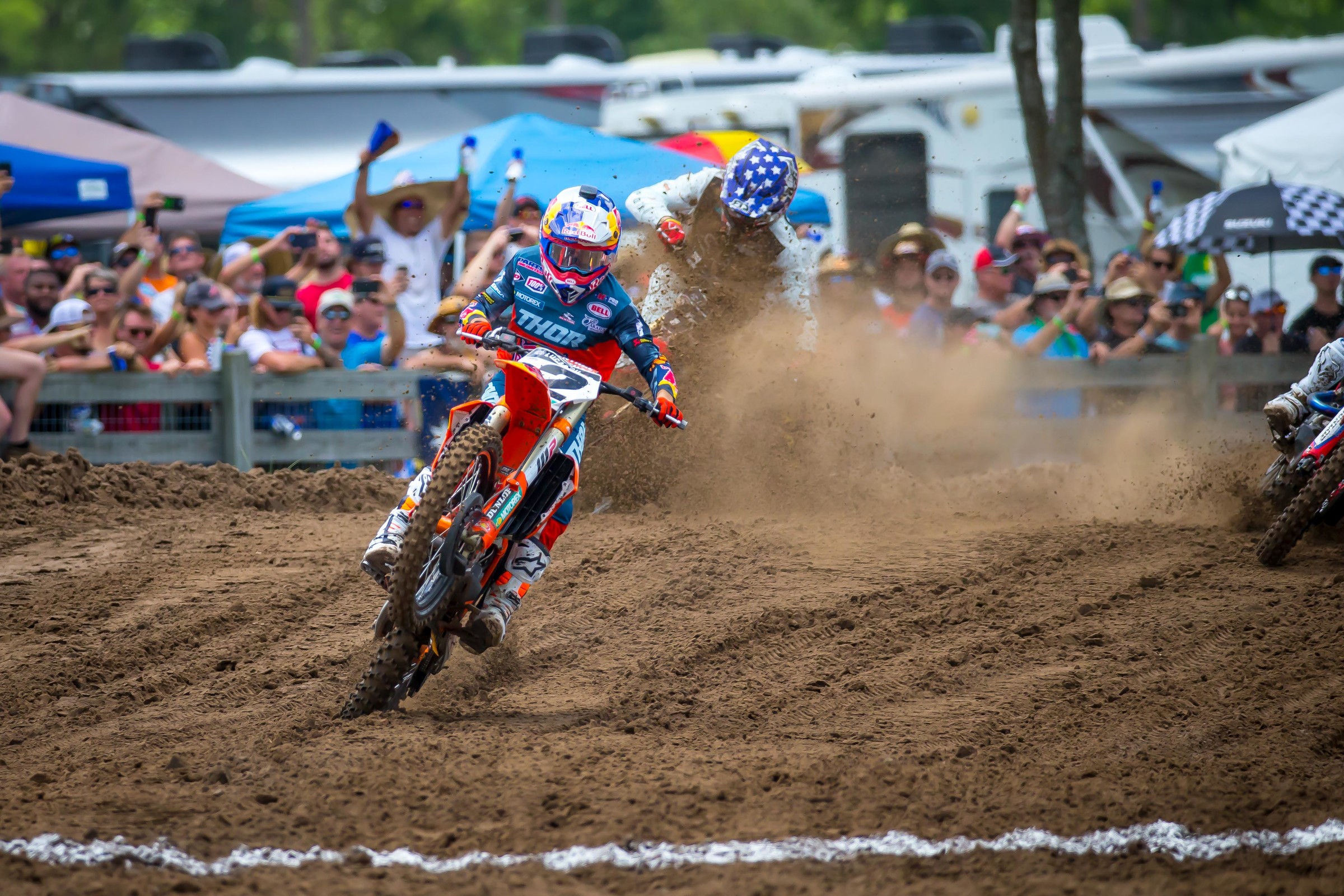 That's pretty good. I just want to ask about how this supercross season has gone for you. It was a tough slog. By the way, you had this illness at the beginning of the year. Have you thought about the symptoms and what that might have been? I remember you said you had breathing problems around Anaheim.
I know. I've been waiting to get tested. Everyone wants me to go get tested but I'm going to wait until everyone that has it isn't getting testing. I'll let you guys know. I'm definitely going to get tested and see. I think I had some of those symptoms, so we'll see. So far I think it's been pretty good. I feel like I've had a lot of challenges that I've had to overcome this year. Last year seemed to just click and seemed like there was really no problems until MetLife I was a little sick, but it wasn't that big a deal. So I get it. Everyone says the second year is a lot harder, and it was. Like you said, I think starting off sick was really tough as far as just getting the ball rolling. It took a little bit. It sucks, but I think about it every day. That crash in Dallas… I still feel like I'm in it. Anything can happen. There's a lot of racing left. I'm not going to give up until it's over. But I feel like Dallas was the one that really hurt the heart more than the body because it's easy to look back, but at that point I was 11 points down in the series. If I would have just stayed in fourth place I would have gone into the main event, tied for first for that third Triple Crown. If I would have made the pass on Justin like I was trying, I would have went into the last main event with a point to spare. That would have turned—anything can happen in the last main event. That's racing. But like I said, that would have put me right in the mix. Since then, I had went to Tampa, got a second, a third… Tampa was before Dallas, but anyway I was right in the mix. So I feel like it would be a totally different story where we're sitting right now. Like I said, anything's possible and I feel like I tried my heart out to stay in the fight with those two thirds at Atlanta and Daytona. It is cool though to look back and know I busted my balls and left it all out there and fought through some serious pain and some sickness and never gave up. Like I said, overall I'd love to be closer to the lead and have some more wins, but you got to do what you got to do sometimes and just deal with the cards you're dealt.
Does it light the fire a little bit more when it doesn't come easy? If you had had another season where everything just rolled your way—let's say you aren't sick, you win early, some big dudes that you got to battle get hurt, and it just starts rolling your way. That would have been easy. Does it light the fire a little bit that you've really had to battle for it this year?
Yeah, it definitely makes me appreciate those good days when you're just clicking. Obviously I'd love to not have had to deal with that. I'm not going to lie. I would have loved to have had some more wins and not had to deal with some adversity, but that's part of it. Like I said, I think that's why I try to always give it my all. Shit happens and it's how you rebound and may the best guy win.
They've been doing these watch parties on the Pro Motocross Facebook page. They take some cool, old races. We're going to run 2016 Southwick this weekend.
That was a good one for me.
It was. By the way, I remember our TV meetings leading up to that race. My guy Grant Langston is like, "I literally have no idea if Cooper Webb has ever ridden or raced in sand. I have no data on this at all." So we had no idea, and then you won.
I've always done well at Southwick. I like the sand. That day 2016, I can't remember the first moto. I think I crashed or had a bad start or something. I came from way back. I remember I got second in the first moto, but the last four or five laps I caught Jeremy [Martin] from pretty far back. He was probably just in cruise mode. I remember I was a good ways back. The second moto I got the holeshot. [Austin] Forkner was all over me at the beginning. I was just kind of in my comfort zone a little bit, and then he was all over me. I remember getting pissed off that he was just hounding me. I was like, alright. It's time to drop the hammer. Let's go. That second moto was really good.
It's funny. You obviously have stepped up the training and the program and the game and all that, but you do have a motocross championship to your name. How much was that the prep, or how much was that just Cooper Webb sacking up on race day for some of those events?
Honestly that year in 2016, I've talked about it a little bit before. Two thousand fourteen I had a great season. That was my second year racing outdoors. I tied for second in the series with [Blake] Baggett actually. So that was a good year. Then '15 I got hurt so I didn't get to race five races. But when I came back, I had won three races. So I felt like outdoors I was always there. '16 it just clicked. I was healthy. It was time to do it. I forgot, I did break my wrist leading up to it. But I think the biggest thing at that point was we went to South of the Border that summer. My wrist was healing, but we went from being in California to the East Coast and that was the first time I had been able to go east for a while, or ever in my pro career. I think it just clicked for me. It felt homey. During the week was really good practice and prep. We were riding a lot of different places. They made it real easy for the mechanics and for the trainers, Swanny [Gareth Swanepoel] and the riders accommodation-wise. They actually supplied us with houses nearby and stuff. It was cool. The bike was awesome. I almost think it was one of those things with me breaking my wrist, we had done so many motos before I broke my wrist that I had that bit of endurance. Then when everybody else was kind of starting to get over outdoors, I was excited still because I was riding new tracks and new places and I wasn't able to ride properly for like six weeks. So I was able to ride properly midway through the year. It was just a really good year and a fun year.
You got a 450 motocross overall win last year at Millville, but you won the supercross title. So is there 450 outdoors that I've already done indoors? That's got to be on your list.
Yeah, for sure. I feel great. We've been riding outdoors so far this year. I know what some of the things I did wrong last year and what I can be better at and stuff. A lot went into supercross last year. For me that was really the first time I did so much in such a short time as far as being on the podium to winning to being in the championship hunt to winning a championship that I didn't prep enough, that's for sure, for outdoors. It took a while. I was thinking about it the other day. We tested in that off-weekend before Millville. That setting at Millville was a new setting we came up with and I was stoked on. I had a great day there. Then the following race, Washougal, I did pretty good. I think I went 3-4 which was solid. Then I got hurt at Unadilla. I feel like that was a setting that right now I'm starting on that I'm pretty happy with. So it just takes time. The guys that are winning and even the top two in the series right now are bad dudes. For me, hopefully this second year with more time on the bike, more prep, another year with Aldon to kind of understand the body and how I react to things… I'm hoping to go be a contender and go try to win an outdoor title.