Atlanta, GA
Atlanta
Monster Energy AMA Supercross Championship
By The Numbers
Rockstar Energy Husqvarna's RJ Hampshire led the first eight laps of the 250SX main before GEICO Honda's Chase Sexton took over the lead and didn't look back. After leading the final 11 laps, Sexton stood atop the 250SX podium for the second time in as many weeks. It was Sexton's third 250SX main event win, which gave him sole possession of the 250SX East Region points lead. After three rounds of the 250SX East Region, Sexton (75 points) has a five-point lead over Shane McElrath (70).
Hampshire finished second, tying his career best supercross main event finish. This was his third time finishing in the runner-up position after he did so twice last year (at the 2019 Houston Supercross Triple Crown and at the 2019 Las Vegas Supercross).
Pierce Brown, Grant Harlan, and Lance Kobusch all made their first AMA Supercross main event in Atlanta. The rookies finished 17th, 18th, and 22nd, respectively. ClubMX's Enzo Lopes finished sixth in the 250SX main event—a career best for the Brazil native and 3D Racing Yamaha's Nick Gaines finished eighth to earn a new career-best finish, and Kevin Moranz earned a career best 14th, his first time inside the top-15.
Honda HRC's Ken Roczen led all 25 laps in the main event before taking his 14th premier class main event win—his fifth with Honda. Roczen took the 450SX main event by over 13 seconds—13.612 seconds to be exact—the largest main event gap in through the first nine rounds of the championship.
Taking both main events, Honda pulled off its first sweep since the 2015 Detroit Supercross when Justin Bogle won the 250SX main event and Eli Tomac won the 450SX main event on March 21, 2015—four years, 11 months, eight days prior to the 2020 Atlanta Supercross.
Martin Davalos ran in second place for 19 laps in the 450SX main event. Although Davalos was passed by Justin Barcia, Cooper Webb, and Eli Tomac before the end of the race, Davalos improved his season-best finish after crossing the checkered flag in fifth.
Prior to the Atlanta Supercross, the 250SX East Region points were tied with Sexton and McElrath but now following the championship's stop in Georgia, the 450SX will see two riders with red backgrounds as Roczen and Tomac now share the 450SX points lead at 200 points apiece. With his runner-up finish, Justin Barcia (177) moved into third in the standings as he has a one-point lead over Webb (176).
Quotes From Around The Paddock
"The main event didn't go as planned, but the good news is we live to fight another day and line back up next weekend at one of my favorite tracks, Daytona. There are still positives to take away from today; we were fastest qualifier, won our heat race, and we never gave up in the main event, and battled hard all the way to the very end to salvage as many points as possible. We are going to put this race behind us and be ready to rock next week in Daytona!"
"Atlanta was pretty good. It's the best race I've had so far this season and we keep making forward progress. The track was gnarly. It got really rough, really rutted and the whoops broke down a lot. It was a really high paced race to say the least. I felt really good, but got a little off rhythm for a couple laps but got it back and was able to finish seventh. I'm pretty happy with that. We'll go back to Florida and keep working, and head into to Daytona with high hopes."
"I'm a little bit disappointed with my night because I feel like I was in a really good position to get a top-five or even a podium. Unfortunately, a few things happened that kind of held me up and I ended up crashing but I feel like I rode really well and my fitness felt really good."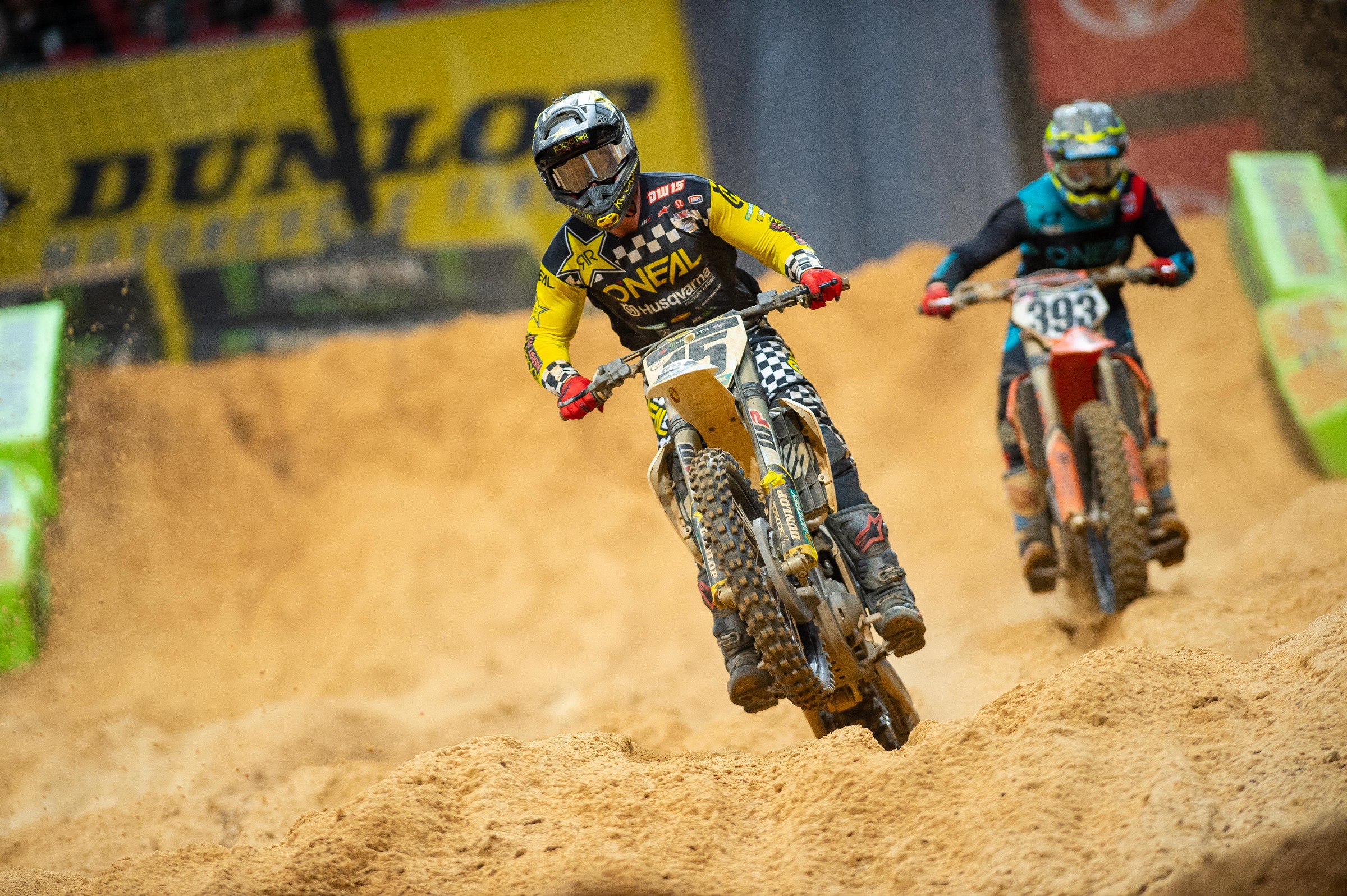 "The main event was just a battle out there and I didn't get the good end of the stick most of the time. I ended up finishing not as good as my riding was but we'll move onto next week."
"I'm pretty disappointed with tonight's result. It seems like I can't catch a break. Last weekend was really tough and I did everything I could this week to rest and recover my body. I felt good on press day, qualified okay, then got a good start in my heat race and finished third. I was hoping for a main event free from chaos, but unfortunately that wasn't the case. I didn't get the greatest start, then got hit by Cooper [Webb] and went down in the sand. My results haven't been reflecting my speed, so I just need to focus on getting better starts and staying out of the mess."
Said Honda HRC team manager Erik Kehoe:
"Unfortunately, Justin had a tip-over and some other things happen, making for a tough night. He's been showing a lot of speed but we just need to clean up a few things so he can get the result he deserves."
"Honestly, I am happy with today's performance. I would have liked to be closer to those front three guys battling for a podium position at the end, but after last week's rough ride I am just happy to be back up towards the front of the pack where I belong. I just need to work on cleaning up a few things and we'll be right where I expect us to be. The last time I raced Daytona was in 2018 and I won at the iconic track, so I am excited to get back down there and try to do it again."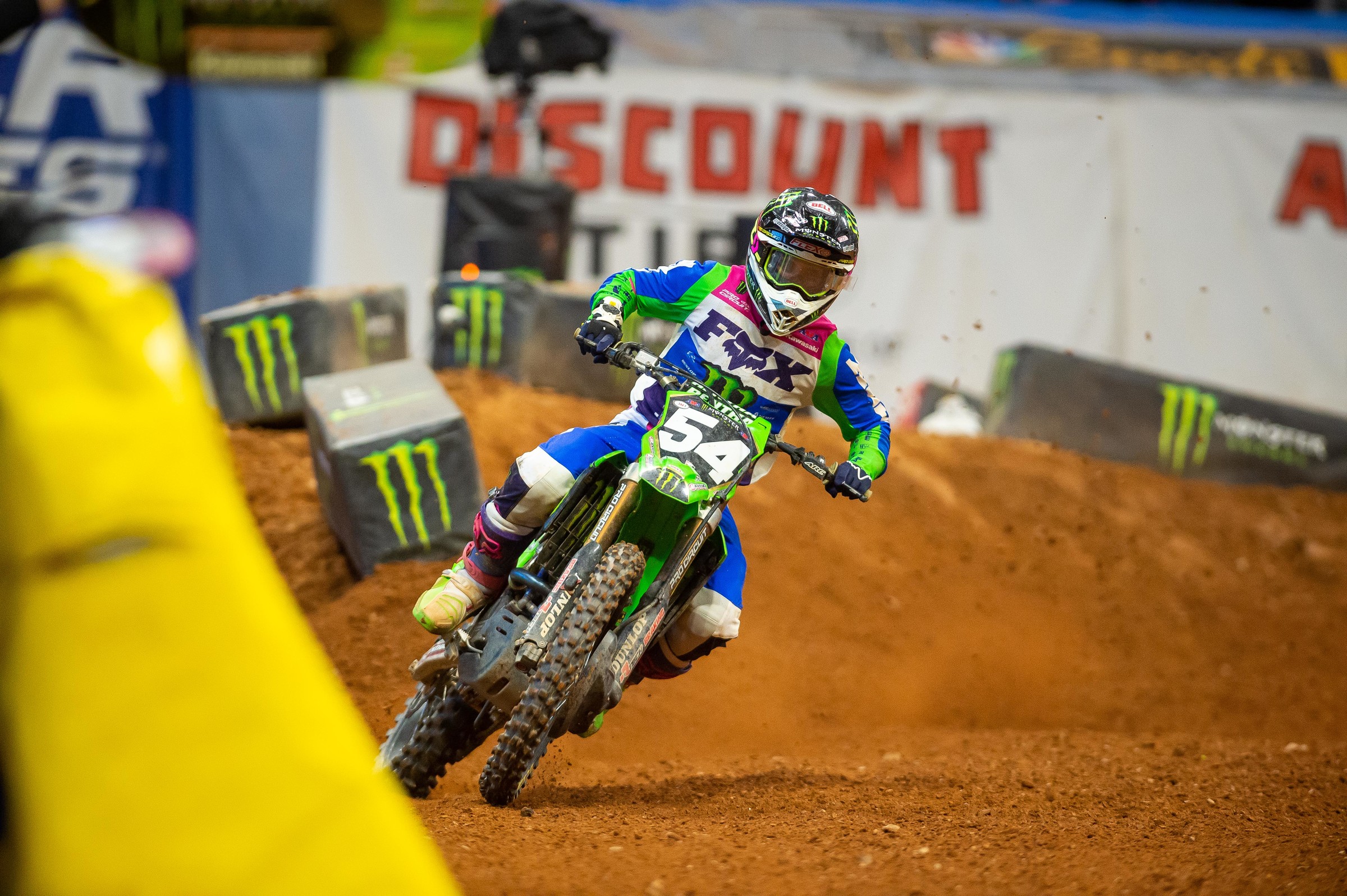 "Yeah I was feeling really good on my bike but in the time qualifying couldn't really put good lap in. But I had a good start in my heat and I was able to bump up to second, but then I hit a tough block after finish line which put me down to fifth. In the main event, bad start, but I was able to get to fifth from 13th. That's a big improvement for me. Main thing I have learned after the first two races was to be more aggressive at the beginning of the race. I made more moves early and that helped me move up."
"Today was not easy by any stretch of the imagination for me. I was satisfied with where we qualified in fourth, and in the heat race I didn't get the best start but was able to climb to fifth. In the main event tonight, I was feeling really good and somewhere around the halfway mark I went down and re-tweaked my ankle. I could barely make it through the whoops or put any pressure on my foot. We will rest up this week to be ready to go next weekend in Daytona."
"I got a good start from the outside but I got hung up in the second corner and came out sixth. Two ninth-place finishes in a row isn't too bad but I'm just missing a little bit of intensity in the beginning of the race. I feel like I can be a few spots higher but I need to get better starts."
"Atlanta is always a cool race for the JGR team as it's the closest to our home. The track was awesome and my bike was working great. I'm bummed on my finish as I haven't been riding much and it's showing on the weekends. I'm really proud of everyone at JGR for sticking with me and believing in me. It's an amazing feeling when a team supports you through your struggles. I'm looking forward to Daytona this weekend!"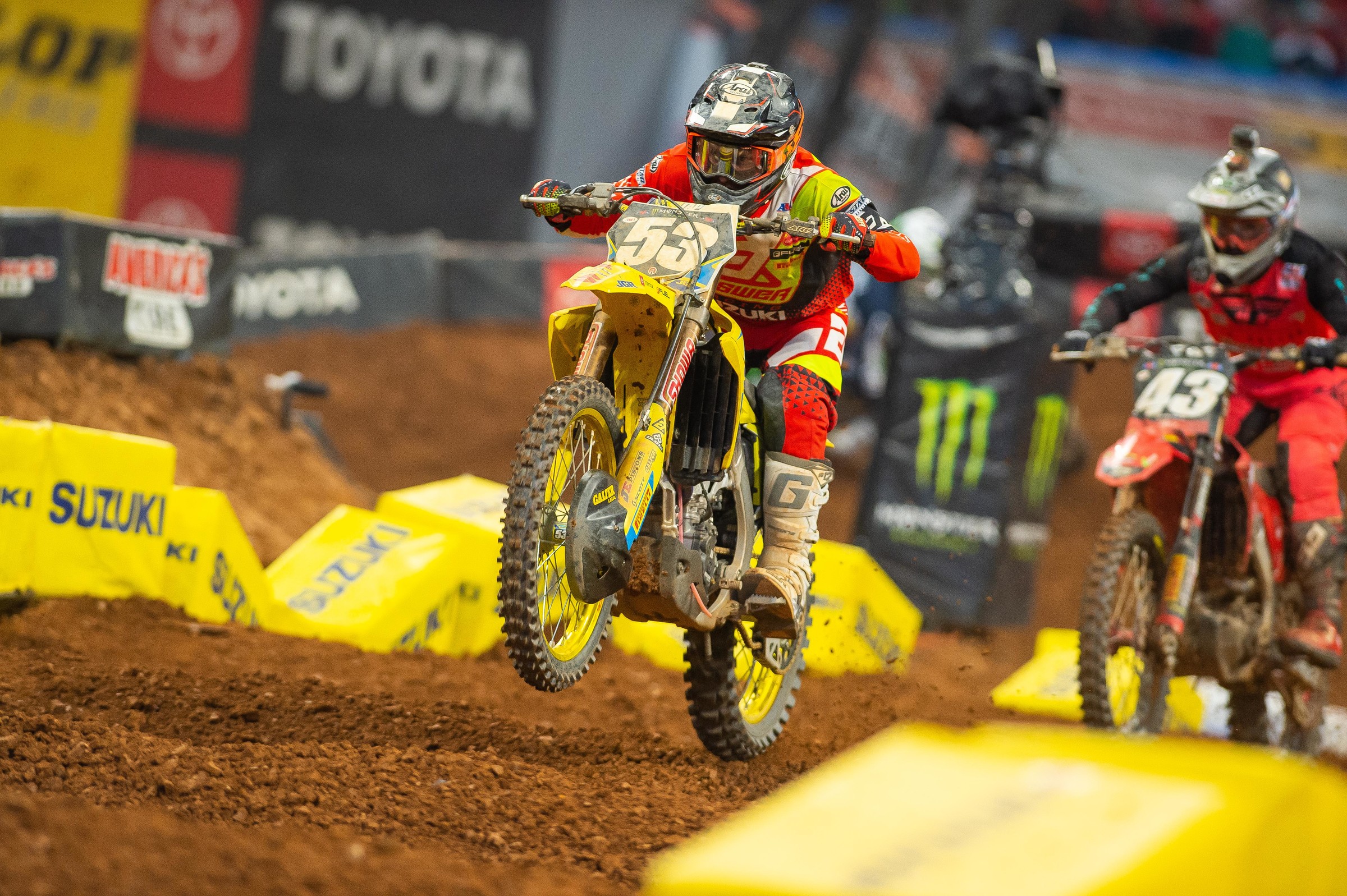 "It wasn't shaping up to be a pretty night of racing after practice in Atlanta but I definitely turned my day around by ripping a holeshot in the heat to race to bring it home for the win. I felt better, and I was excited for the main event and got off to a good start. Was patiently sitting behind Shane [McElrath, running in third] waiting to put in a late charge. Track was tricky so I knew you had to pick your spots. Then RJ [Hampshire] landed on a tough block and I unfortunately didn't see it and boom, race over. That was pretty disappointing but at least I'm okay. Looking forward to Daytona."
Injury Updates
Crown suffered a broken collarbone during press day and did not lineup Saturday. He will miss time with the injury.
Cunningham went down hard during the 450SX main event and posted on Instagram that he suffered an AC separation in his left shoulder. He said in the post: "it could've been worse but it is going to take some time to heal. Luckily no surgery is needed though."
Marquier posted on Instagram on race day that he we suffered a small fracture in his hand but is "going to do everything in my will to be on the line for Daytona next weekend though."
Teasdale posted on Instagram on Saturday that he suffered a torn MCL during the qualifying in Arlington, Texas. He tried to lineup for qualifying in the ATL but he wasn't able to push through the pain.
"I'm definitely bummed right now," he said in the post. "After doing all the rehab we could this past week, I tried riding this morning but it was a no go. I'll be out for a few weeks and we'll go from there"
Hot Lanta
After the 450SX main event, Barcia and Tomac had a few words together—again. Luckily, not only were the cameras rolling for this one, but the video was posted on the official Twitter and YouTube page of Monster Energy Supercross. Check it out:
Video courtesy of Monster Energy Supercross.
Gif of the Weekend
GIF OF THE WEEKEND, PT. II
GIF OF THE WEEKEND, PT. iiI