MXGP rushes to a conclusion in the next six weeks and one of the five remaining rounds of a long 19 round championship that begun in the Qatari night air in February will involve a landmark visit to WW Motocross Park in Jacksonville on September 2-3. The USGP has been a slippery chalice in terms of success and a stable footing, but as Grand Prix heads to the state of Florida (and a third unknown test for the vast majority of the paddock this season) curiosity and enthusiasm for the meeting and how MX Sports and Youthstream could possibly revive prospects around a trip that ranks as one of the most popular in MXGP is creeping upwards.
The few fans that travelled to Glen Helen for the four editions of the Grand Prix of USA greeted MXGP riders with fascination and appreciation—somehow European stars represented a different void of the sport. The Glen Helen event never drew a very big crowd, though. Last year MXGP got to play in the eastern half of the U.S. with the Charlotte MXGP of the Americas, and the results were promising as far as fan enthusiasm. It could continue through this venture south to Florida.
"I think we might find some different fans on the East Coast," opines MXGP series leader and eight-time world champion Antonio Cairoli. "We've gone to Glen Helen a few times now and there were never many fans who came out to watch the racing so maybe there is more interest on this side."
"I'm curious to see what kind of crowd will be there," says Wilvo Yamaha's Arnaud Tonus, who spent two interrupted seasons with Monster Energy/Pro Circuit Kawasaki before heading back to Grand Prix last winter. "I haven't spent much time on the East Coast to be able to say. For sure in Switzerland if you have a GP in the Geneva area or in the Frauenfeld—where it is now—you'll see a huge difference. I would say double or triple the amount of people. So I'm not sure. I have done a lot of East Coast races and seen a lot of people at RedBud, but then not so much at Muddy Creek. I hope a few American guys will ride as well."
"For me it depends on the state of the track and what we find, but the USA is so famous within the sport that I hope we go there and have a nice place to race," offered Monster Energy Kawasaki's Clement Desalle. "I like to go there and race because factors around the event are always stable. We know there will be a certain standard."
The USGP is the last overseas appointment for an MXGP trek that has already taken the paddock to Qatar, Indonesia, Argentina, Mexico, and Russia. It comes after a trip to Sweden and allows a week for the championship to freight and arrive to Florida. Some riders are taking the chance of the free weekend (the only one left this term) to head over and acclimate to what will undoubtedly be a draining and demanding two-day affair.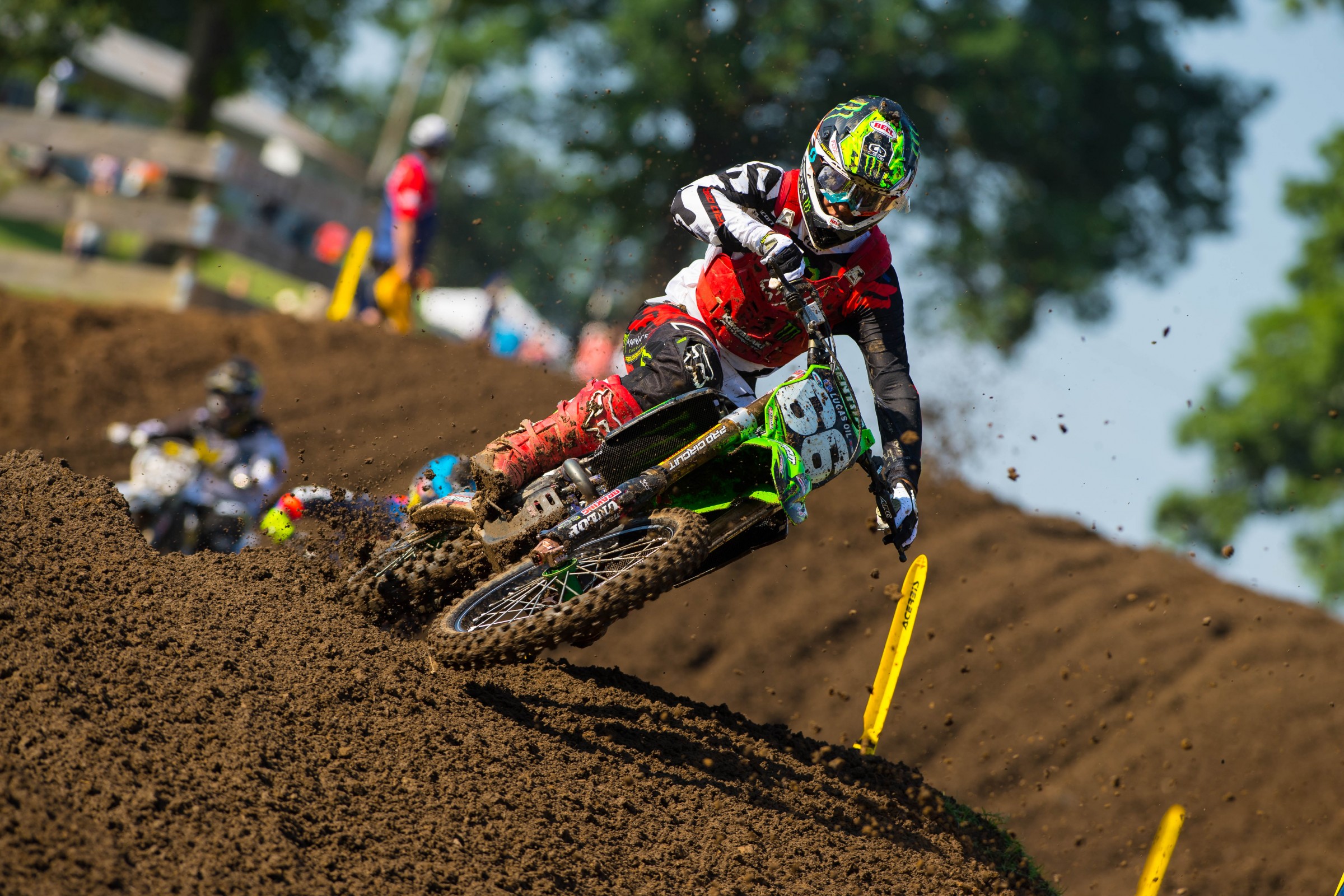 "It's gonna be hot!" asserts Tonus. "I think it will be a bit sandy and big jumps, so in terms of the track we won't see that much difference, but the hard part will be the humidity and heat. It can also rain a lot, so I think the weather conditions are something where we'll really have to adapt. I mean, look what's going on here! It's August and 15 degrees [Celsius/59 degrees Fahrenheit] and raining at Lommel! It feels like there hasn't been a summer here! Ottobiano and Portugal was pretty hot, but Florida will be a lot more."
"I'm going early," reveals Red Bull KTM's Jeffrey Herlings, winner of the Belgian GP last weekend at Lommel. "I'm going Tuesday after Sweden to get used to the heat. It is a brand new track for us and I think it will suit me well—the Americans too of course. They say it will be really hot, but I will work with Aldon Baker for a little bit for two weeks. I'm excited to see how that will be because he is a big name in the sport and one of the most famous trainers. I want to see how he works and KTM have given me the opportunity to combine that because he's also based in Florida."
"I'm going a week before because we have a shoot at the Carmichael Farm," says world champion Tim Gajser. "I've seen some videos of the track and it looks amazing. We'll see how the weather will be but for sure it'll be humid."
Gajser has a special synergy with the race. He won his 2015 MX2 title at Glen Helen and then scooped the MXGP crown at Charlotte last summer. The HRC man has little chance of catching Cairoli (he is 191 points adrift with just 250 left in play), but obviously has a history of being able to deliver on American soil. Gajser is also one athlete who is studying and using U.S. races with an eye on the future.
"It is nice to go there and be with the fans especially because my goal is to go eventually," the Slovenian says of his supercross ambitions. "I've won titles over there so the USGP is something nice for me—it will be almost impossible this year [to win a title again], but I'll still enjoy it."
The question of how many local or AMA Pros will fill the start gate is a valid one and was pondered by more than one GP rider we spoke to at Lommel last weekend. Monster Energy Kawasaki's Eli Tomac is assured of rolling that #3 machine into the paddock and with a goal to maintain his 100 percent record after winning in both Charlotte and Glen Helen last year. Monster Energy/Pro Circuit Kawasaki should also have representation while it's not clear what KTM and Husqvarna racers could make the bill.
A late venue change might have thrown some planning to the reeds, but there is hefty movement behind the USGP and intentions to begin a new era for MXGP's foray into United States territory. At the current rate Cairoli could be crowned overseas for the third time having partied in Brazil on two occasions previously (2010 and 2014). Americans could witness world championship celebrations for the third year in a row if the Sicilian continues to work on his margin of 99 points this weekend in Switzerland.
For WW Motocross Park and a new chapter of MXGP, the countdown continues.