Christophe Pourcel Wins Canadian Nationals Opener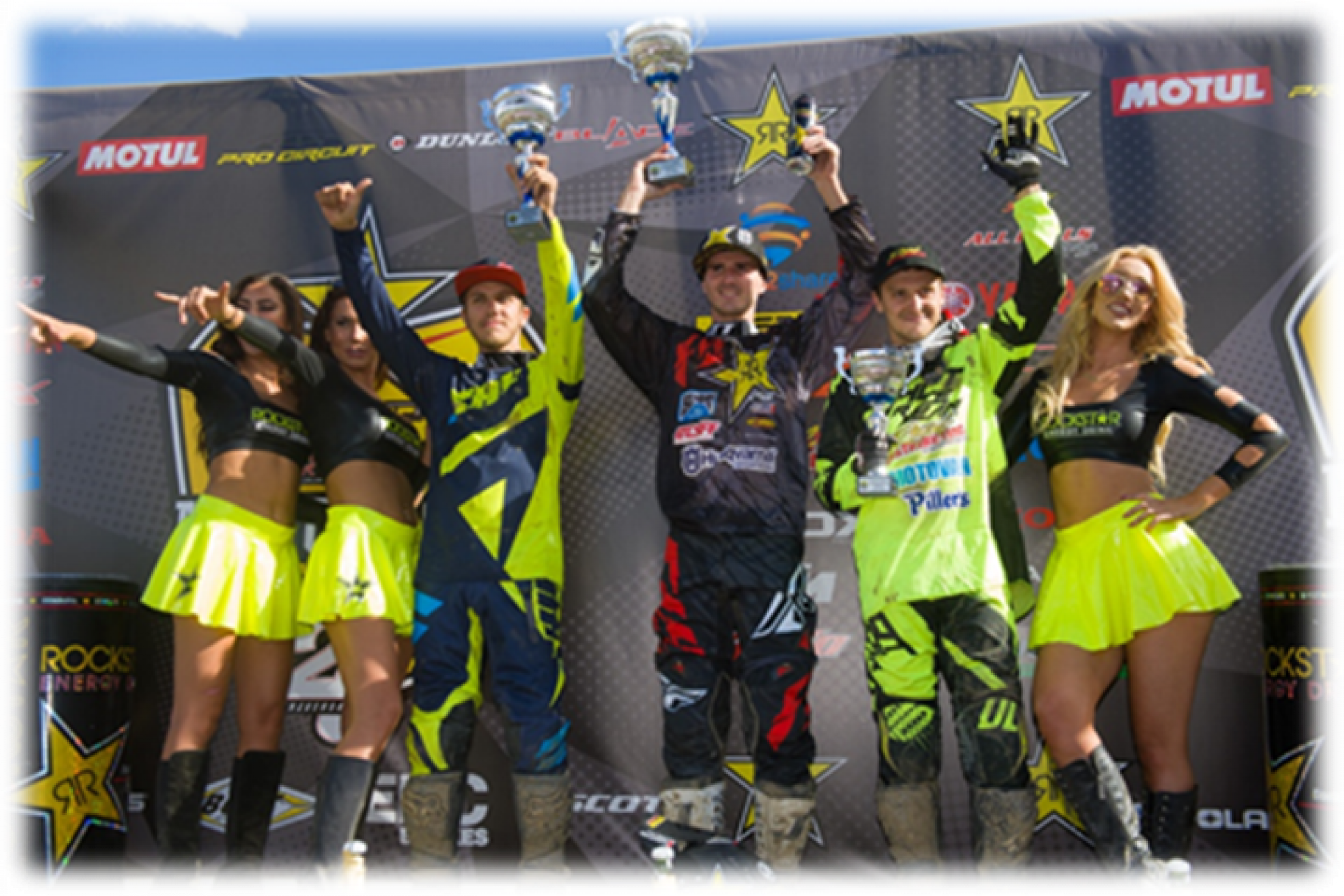 Recap provided by CMRC
After the extreme heat we saw last year, this year's opening round of the CMRC sanctioned 2017 Rockstar Energy Drink Motocross Nationals presented by Motovan took place under perfect weather. The Whispering Pines Raceway in Kamloops, British Columbia once again played host to the season opener, and after the long wait and all the anticipation, Round 1 didn't disappoint. The racetrack had a much better flow to it this year as the running direction was changed, and race fans saw some epic battles giving them just a small taste of what this season will have in store.
MX1
Rockstar Husqvarna's Christophe Pourcel of France is the latest of a long list of foreign riders to come to Canada, and the crafty Frenchman didn't take long to make an impact as he topped the podium at day's end with moto scores of 3-1. After logging the second fastest practice time in the morning, Pourcel got a top 10 start in Moto 1 and worked his way up to third, admitting to feeling a little rust and arm pump along the way. Christophe inherited the lead on the opening lap of Moto 2 after Colton Facciotti went down, and like in the first moto battled hard with Matt Goerke who took over the lead at the halfway point. Pourcel took advantage of some lappers and used an inside line to get back by Goerke on lap 10 and hung on for the win, his first on Canadian soil.
Canadian race fans might not have been familiar with American Dillan Epstein before Round 1. The Nut Up Industries Kawasaki rider topped the morning qualifying session and then went out and won the first moto, admitting on the podium that is was all a big shocker. In the first moto, Epstein worked his way into second after being scored in seventh place on the opening lap, and then took over the lead when Kaven Benoit went down. In Moto 2, Dillan laid it over after clipping the rear end of another rider's bike and fought back from outside the top 20 to a fifth place finish, earning him second overall on the day with 1-5 moto finishes.
Royal Distributing Motovan Pillers Race Team's Tyler Medaglia got great starts in both motos and finished with 2-4 moto scores to grab the last spot on the podium, in his first race with his new team. In Moto 1, Medaglia came under a lot of pressure from a number of riders but was up to the task and never flinched. On the podium after the second moto Tyler said, "It was a tough one, I had no energy in the second moto."
Coming into Round 1, Honda Canada Racing Fox GDR's Colton Facciotti hadn't raced in 10 months and race fans were not sure what to expect. In Moto 1 after not getting a good start, Facciotti finished the first lap in tenth and was able to move up to fifth by the end of the moto. In the second moto, Colton got a great start and took over the lead in turn 2 only to tip over a few corners later and fall outside the top 10. The four-time Canadian Champion then put on a charge that answered all the pre-season questions and fought all the way to a second place finish, passing Goerke with only a few laps left in dramatic fashion. Colton came close to catching Pourcel near the end of the race, posted the fastest lap of the second moto, and finished fourth overall on the day with 5-2 moto scores.
Rockstar Energy OTSFF Yamaha's Matt Goerke rounded out the top 5 with 4-3 moto scores but admitted after the race that this was not his best day. Goerke looked very fast at times while battling with Pourcel but after passing him in each moto couldn't hold the position. After the second moto Matt said, "I think I had the wrong setup for today. I got beat up out there and could barely hang on."
Another question mark coming into the day was KTM Canada Thor Racing Team's Kaven Benoit and the ankle he injured during the off-season. Benoit grabbed the holeshot in the first moto and built up a sizeable lead and looked like he was going to check out before washing out the front end and going down on lap 10. Kaven picked it up to finish sixth but still managed to post the fastest lap of the moto. He grabbed the holeshot again in Moto 2 but lost the lead by the second corner and hung on to finish seventh, happy to score points but knowing the ankle is still not fully healed.
Rounding out the top 10 were Royal Distributing Motovan Pillers Team Kyle Chisholm in seventh with 10-6 finishes, Monster Energy Alpinestars Kawasaki's Mike Alessi in eighth going 7-9, Redemption Racing's Cade Clason in ninth finishing 11-8, and RM Motorsport Yamaha's Keylan Meston in tenth after going 8-12.
MX2
The opening round could not have gone much better for MX101 FXR Yamaha team's Shawn Maffenbeier who swept both motos, and for the second year in a row will leave Kamloops with the red plate. Maffenbeier qualified second, posted the fastest lap time in both motos, and led all but 5 laps on the day. Shawn looked like he was in complete control in both motos and made a huge statement for the 2017 season. On the podium Maff said, "I'm happy to be back on the blue bikes. There are a bunch of us who think we can win so when you get up here first it's a great feeling."
KTM Canada Thor Racing's Cole Thompson qualified third, and finished 4-2 for second overall, but leaves Kamloops admitting that it's not going to be easy defending his title. Thompson's starts were decent but he couldn't match the speed of Maffenbeier on a track he described as very physical.
American Josh Osby riding a KTM for Redemption Racing in 2017 came into Round 1 under the radar, but will be leaving much better known after grabbing the last spot on the podium with 3-3 moto finishes. Osby qualified third and never ran worse than fourth all day. He fell late in Moto 1 and gave away a second place finish, then grabbed the holeshot in Moto 2 and led for a few laps. On the podium Josh said, "Coming from the east coast I'm not used to this kind of soft dirt."
MX101 FXR Yamaha Team's Jess Pettis started the day well after posting the fastest qualifying time and backing that up by finishing second in the first moto behind his MX101 teammate. In Moto 2, Pettis went down after passing his former teammate Dylan Wright then got up and passed him again for the second time in the moto. Jess looked fast all day but made a few mistakes, which probably cost him a podium finish. His 2-5 moto finishes put him fourth overall and he has to be feel good going into Round 2 next weekend in his home town of Prince George.
Last year, Monster Energy Alpinestars Kawasaki Team's Jacob Hayes' season came to an end after a crash during the first moto in Kamloops. Hayes rounds out the top 5 after going 6-4 on the day, and has to be happy with his result after last year.
American Ryan Surratt, riding for the Nut Up Industries Kawasaki Team, grabbed the holeshot in the first moto and led the first three laps before admitting to freezing up and finishing fifth. Surratt backed that up with a seventh in Moto 2 to finish sixth overall on the day.
In his first race for the Honda Canada Racing Fox GDR Team Dylan Wright crashed in the first turn of Moto 1 and had to fight back from last place, and finished tenth overall after posting 16-6 moto scores.
Round 2 of the 2017 CMRC sanctioned Rockstar Energy Drink Motocross Nationals presented by Motovan will take place next weekend at the Blackwater MX Track in Prince George, BC. If you haven't already purchased your tickets, you can buy them online easily at the mxnationals.ca website. If you are in another part of the country and are unable to attend the race you can see all the action live by downloading the free Conx2share app or logging on to www.conx2share.com and live stream every moto on either your mobile phone or computer.
Canadian Motocross Nationals
Round 1 - Whispering Pines – Kaamloops B.C.
MX1
| | | | | |
| --- | --- | --- | --- | --- |
| Overall Finish | Rider | Bike | Moto 1 | Moto 2 |
| 1st | Christophe Pourcel | Husqvarna | 3rd | 1st |
| 2nd | Dillan Epstein | Kawasaki | 1st | 5th |
| 3rd | Tyler Medaglia | Honda | 2nd | 4th |
| 4th | Colton Facciotti | Honda | 5th | 2nd |
| 5th | Matt Goerke | Yamaha | 4th | 3rd |
| 6th | Kaven Benoit | KTM | 6th | 7th |
| 7th | Kyle Chisolm | Yamaha | 10th | 6th |
| 8th | Mike Alessi | Kawasaki | 7th | 9th |
| 9th | Cade Clason | KTM | 11th | 8th |
| 10th | Keylan Meston | Yamaha | 8th | 12th |
MX2
| | | | | |
| --- | --- | --- | --- | --- |
| OVERALL FINISH | RIDER | BIKE | MOTO 1 | MOTO 2 |
| 1st | Shawn Maffenbeier | KTM | 1st | 1st |
| 2nd | Cole Thompson | KTM | 4th | 2nd |
| 3rd | Josh Osby | KTM | 3rd | 3rd |
| 4th | Jesse Pettis | Yamaha | 2nd | 5th |
| 5th | Jacob Hayes | Kawasaki | 6th | 4th |
| 6th | Ryan Surratt | Kawasaki | 5th | 7th |
| 7th | Taylor Arsenault | KTM | 9th | 9th |
| 8th | Tallon La Fountaine | KTM | 8th | 11th |
| 9th | Geran Stapleton | Honda | 7th | 12th |
| 10th | Dylan Wright | Yamaha | 16th | 6th |
MX1 Championship Standings
| | | |
| --- | --- | --- |
| Standing | RIDER | Points |
| 1st | Christophe Pourcel | 55 |
| 2nd | Dillan Epstein | 51 |
| 3rd | Tyler Medaglia | 50 |
| 4th | Colton Facciotti | 48 |
| 5th | Matt Goerke | 48 |
| 6th | Kaven Benoit | 39 |
| 7th | Kyle Chisolm | 36 |
| 8th | Mike Alessi | 36 |
| 9th | Cade Clason | 33 |
| 10th | Keylan Meston | 32 |
MX2 Championship Standings
| | | |
| --- | --- | --- |
| Standing | RIDER | Points |
| 1st | Shawn Maffenbeier | 60 |
| 2nd | Cole Thompson | 50 |
| 3rd | Josh Osby | 50 |
| 4th | Jesse Pettis | 48 |
| 5th | Jacob Hayes | 43 |
| 6th | Ryan Surratt | 40 |
| 7th | Taylor Arsenault | 34 |
| 8th | Tallon La Fountaine | 33 |
| 9th | Geran Stapleton | 33 |
| 10th | Dylan Wright | 30 |