Fuel-Injected KTM Two-Strokes Coming in '18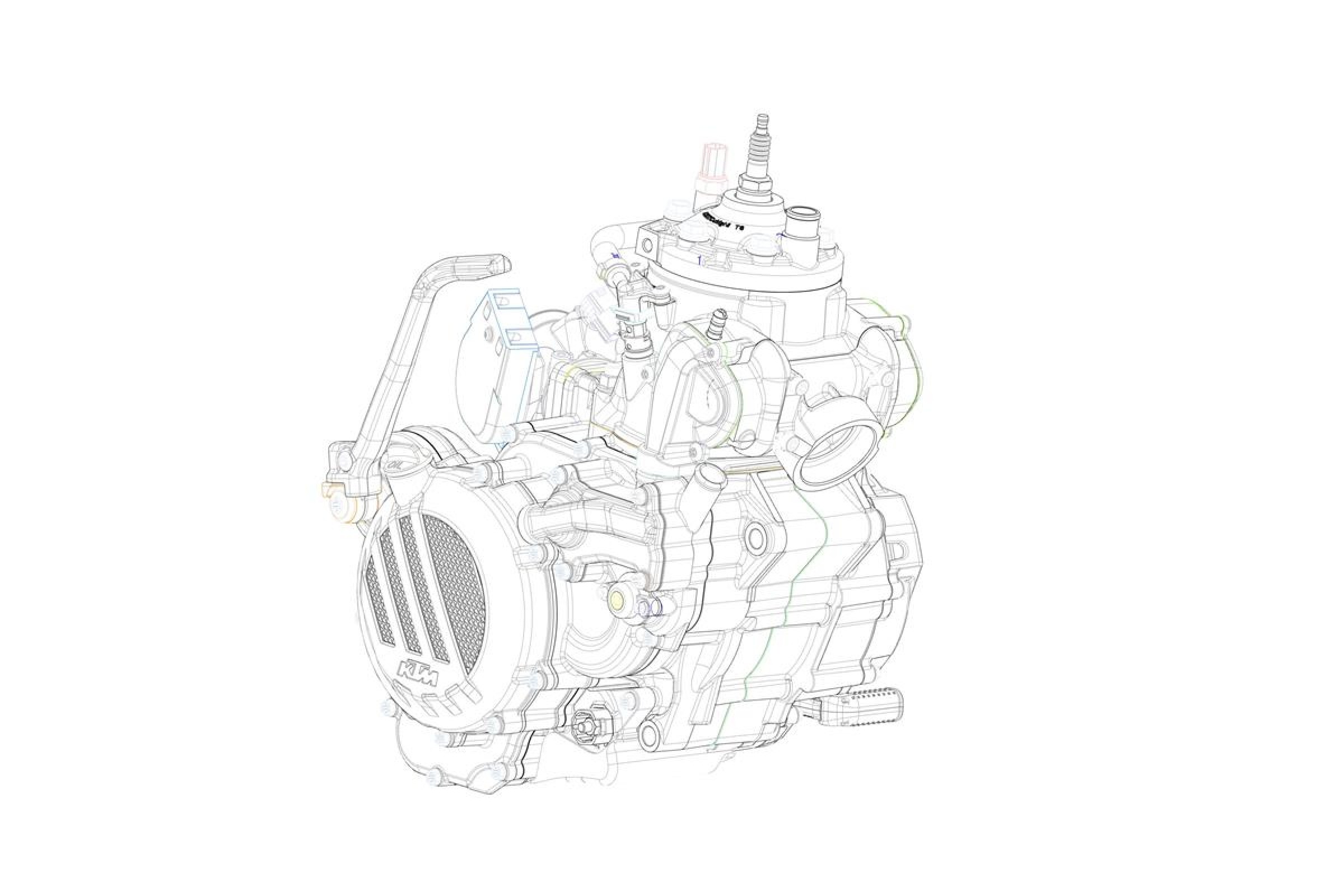 KTM just dropped an emissions-friendly bomb in a press release today, stating that fuel-injection technology is ready for two-strokes, and the 2018 250EXC and 300EXC bikes will come equipped with it. Yes, the EXC bikes represent KTM's enduro range, so no word yet on how this would impact the 250SX two-stroke motocross bike, but it still represents a major step forward for the pre-mix motors.
Well, actually, the new Transfer Port Injection (TPI) eliminates the need for pre-mixing of gas and oil altogether. More importantly, it drastically reduces emissions and fuel consumption. This is key because in some global markets, KTM still sells street-legal 250 and 300 two-stroke dual sports, and this new EFI unit allows those bikes to meet the very strict Euro 4 emission standards.
Over here, two-strokes don't qualify as road legal already, but some states, like California, do require emissions testing to be legal for use on public off-road land. That only impacts a select part of the U.S. dirt bike market, but we have to believe the technology holds major potential benefits in a wide variety of ways. Today's press release says more information will be available during the bike's worldwide launch on May 15.
In an recent interview with Europe's Enduro21.com magazine, Joachim Sauer, the KTM product marketing manager, says the bikes have been tuned to perform in a manner similar to a carbureted bike, but testing has confirmed that they respond crisply, without hesitation, and of course without any need for jetting changes.
You can read the full PR below:
KTM is pleased to mark a major global milestone by announcing that it will unveil the world's first serial production fuel injection 2-stroke Enduro machines at an official launch this coming May. The KTM 250 EXC TPI and KTM 300 EXC TPI models will be introduced to the global market as part of the model year 2018 lineup, while the 250 XC-W TPI model will be introduced to the U.S. and Canadian markets.
The Austrian manufacturer is well-known for its revolutionary advancements in technology and now the game-changer is finally here with 2-stroke fuel injection Enduro models being launched as part of the 2018 EXC range. With KTM's unwavering commitment to being at the very forefront of offroad motorcycle sport, in which the orange brand has achieved many championship wins over the years, the latest, exciting development in technology has come to fruition.
It has been no secret that KTM's Research and Development department in Mattighofen, Austria has been developing this technology, which offers considerable benefits over carbureted models including drastically reduced fuel consumption while also no-longer having the need to pre-mix fuel or alter the machines' jetting. Not only that, the new 2-stroke TPI models offer a completely new experience in terms of power delivery and rideability, which once again demonstrates KTM's commitment to its offroad roots, continuing on from the all-new generation of Enduro machines released last year. As market leaders in this segment, KTM believes the new 2-stroke fuel injection technology, known as TPI (Transfer Port Injection), is revolutionary. More information will be available during the international media launch, which begins on May 15, 2017.
"This is an incredibly exciting development for KTM. We have been developing 2-stroke fuel injection for some time, and our goal was to create competitive motorcycles with all the benefits of fuel injection, while fitting into our READY TO RACE mantra. There has been extensive testing and considerations for our Research and Development team to take into account during this process, so we are very motivated by this next step and world first in technology, as we take a major step forward in this segment. We are certainly looking forward to unveiling the new 2018 KTM 250 EXC TPI and KTM 300 EXC TPI machines in May. In Europe the bikes will arrive at the dealer floors in early summer. In the USA and Canada, the new 2018 KTM 250 XC-W TPI will be available in very limited quantities in late fall," said Joachim Sauer, KTM Product Marketing Manager.