While AMSOIL Arenacross and Monster Energy Supercross snapped up a lot of attention over the weekend in Las Vegas, Rockstar Energy Racing Husqvarna's Colton Haaker (Hay-ker) was busy winning in his own discipline, GEICO EnduroCross. That series also held a race on Friday night—the same time as arenacross—and also had two riders tied for the points lead, with Haaker locked at the top with RPM KTM's Cody Webb.
Haaker snagged the Vegas win to take sole possession of the lead. But he has much greater goals than just EnduroCross. We'll let him explain.
Racer X: You were leading. The track was difficult. Was the track the toughest of the year?
Colton Haaker: It was a legit EnduroCross. Last one was a motocross track. The time before that it was just weird potting soil. Then I was hurt the first two. So for me coming in, I knew that I could do it, but you had that pressure coming in that you're capable, so the pressure builds a little more.
You and I were talking about that. It was almost more pressure because you weren't hurt anymore.
The first two it was like, I'm going to be consistent and gain points. By being consistent and gaining points, I'm a good enough rider to get a consistent ride, a second, and get on a podium. But to win you need to have a little extra. And having the little extra comes mentally, physically, everything. That was key tonight.
You knew you had it because you've been able to get back to your program now? You're back on you regular deal?
Yeah, I've been able to ride for the last month. I kicked my ass for the last month, I'll tell you what. And I got into the lead, and once I was in the lead I knew it was going to be hard for me to get passed if I didn't give it up. That's what I tried doing was just staying upright. I had pressure. [Mike] Brown was on me. I think I went back and forth with Brown once. And then Cody [Webb] stuck with me until about mid-race. He made a pass on me in the firewood.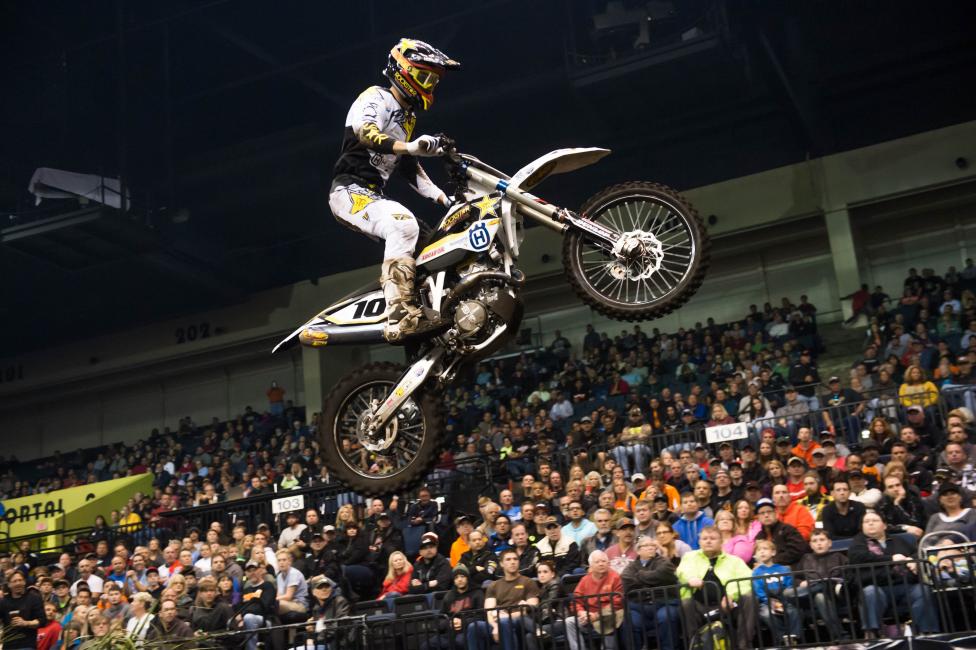 Did you go down, or he just got you?
A little bit of a lapper issue. And then I got hung up on a lapper. He went through, passed me, but then I made it a quick move right back and block-passed him. I was like, I need the lead. If he's in the lead, it's going to be hard for me to get around him. So that's how I felt on the track. So that's what I needed to control the race for me.
I heard them saying that the way the turns were set up, too, it wasn't easy to make passes. There were tight corners.
Yeah, it was tight. Tight corners and just a tight track. When I was in the heat race, I was battling with Geoff Aaron and Ty Tremaine, and I was in third. And I realized that it was going to be hard to pass from that. It was hard for me to get around Ty. I had to really force a line that I didn't want to take. It wasn't particularly great, but I made the pass. But I learned from the heat race and just put it forward towards the main.
There were three trials guys on the podium tonight. Is that the track thing, or does that just show how far you guys have advanced as far as being all-around riders?
I think this track wasn't a trials track… If Brown was in the lead, it would have been hard to get around him, too. If anyone was in the lead, it was going to be hard to get around them. And I knew that, so I knew I needed to get a hot lap, a good gate pick, and I knew I needed a start. I tried to get the hot lap, but Cody edged me out. So then I was like, well, I've got to do something to get in the lead. I made a good start, made some decisions over here, and made some changes to get a good start.
Bike changes for the start?
Yeah. And then from there just tried to control the race.
Now that Taddy's [Blazusiak] gone, you and Cody are the guys kind of battling. You battled last year; you're battling for the points lead this year. Is it kind of cool to be in that position—to be like, I'm one of the guys?
Yeah, it's great. It's disappointing Taddy's not here. He's an awesome competitor. Obviously five-time champion, and last year we had sweet battles. I believe when Taddy's here the racing is a little different. I think the level is a little different, just that one extra guy. And then with Cody and I, I think it's real even. He's better in certain things; I'm better in certain things. I think it's going to be a good year.
What's weird is you might have the trials background, but you're not trials-like in any other way. The way you look, your riding style… I know you do moto and you're good at that. You're like the least trials-like trials guy. I bet if you quizzed people in the stands they would think, this guy probably came from moto. That seems to be the way you ride.
Yeah, well, that was my dream growing up. I wanted to be a motocross/supercross guy. Fortunately, actually, I got to do other things and take a different path and make it work for myself. And then fortunately EnduroCross came out, and now I see my future and I see a growing career. I'm just trying to take full advantage of it while I can.
That's what I see with all you guys. Desire's not even an issue because you've been given this awesome opportunity and you're going to try to make the most of it.
Yeah, but for me it's not just EnduroCross, but with my new team with Husqvarna. It's a brand that wants to grow. I have a plan of me growing, and I can set that forth with them. I can be a world-class athlete for them and that's the goal.
Are you talking about doing other races or just blowing people's minds on Instagram?
Yeah, absolutely. Who knows what EnduroCross is going to do or where it will go, but I'm not going to be focused only on one race series. I'm a well-rounded rider, as you can see. I'm a trials rider, but like you said, I'm a moto guy. Just putting all that effort forth towards getting better in as many disciplines as possible.
What other stuff might we see you do? Can you say yet?
I can't say. It's all up in the air, but it's just me working. That's all it means.
It's good to work for a brand that's flexible like that.
Yeah, I can go to Europe and race. I can do lots of things. That's the beauty of it. And being an EnduroCross specialist is cool, but I think off-road riders, when Ty Davis was racing or some other stars, they went to East Coast and they raced. They went to GNCC. They went to Hare and Hound. If there was EnduroCross, they were going to race it. And they were awesome all around. Ty Davis won a supercross championship. He won everything that he entered. That's, I believe, what an off-road rider is at heart, and that's what I think a lot of us are achieving again. We're coming back full-circle. Went from a full specialist to now I think we're expanding. You've still got to win in a specialized sport, but you need to be able to go to the desert and win. You need to go to the GNCCs and do good. You need to be a well-rounded rider.
You're going to show up somewhere, anywhere, and try to be a contender anywhere you show up?
Yeah, I think you need to be, to be an off-road guy. To be an asset to a company, that's what you need to be.