Thunder Valley Motocross Park
Lakewood

,

CO
Thunder Valley
Lucas Oil AMA Pro Motocross Championship
Welcome to Racerhead. It's the Friday before a very big weekend for pros and amateurs alike, not to mention our GNCC friends in the woods, and even the X Games down in Austin, Texas (maybe my new favorite town in America after visiting for the MotoGP in April).
We'll get to all that in a few, but here's a reminder that it's also June 6, which makes this the 70th anniversary of one of the most important days in the history of the world, D-Day. That was the day of the Allies' Normandy Invasion, the beginning of the end of World War II in Europe. An invasion force made up on Americans, British, the Free French Army, Canadians, Aussies and more raced across the English Channel to take on Hitler's German Army. It was one of the most daring and complex attacks in military history, and if you've never been to Omaha Beach or Pont du Hoc to see what these men were up against, it would just blow your mind. So here's a salute to The Greatest Generation, their efforts and their sacrifices, and what they did for all of us. (If you're looking for an amazing World War II book for summer reading or listening, pick up Rick Atkinson's The Guns at Last Light, which begins with the invasion and goes through the last hours of the Third Reich. It will put these things into a whole new perspective.)
Let me make a risky leap here, from the end of that war to tomorrow's race, the Toyota Thunder Valley National at David Clabaugh's Lakewood, Colorado raceway. There Red Bull KTM's Ken Roczen will go to the starting gate as the points leader, something that no rider from Germany has managed since 1973 when Adolf Weil was leading the Trans-AMA Series. Roczen put on a superb show last Saturday at the GoPro Hangtown Motocross Classic, winning both motos over his teammate Ryan Dungey. Now he will wear the red plate tomorrow in Colorado, just like he did at Thunder Valley last year, only this time in the 450 Class.
In the 250 Class the red plate will be on the blue bike of Jeremy Martin, who's month of May was the best of any young rider I can ever remember. Martin won his first SX race in Las Vegas, then dominated the first four motos of Lucas Oil Pro Motocross, all firsts for him. And his Yamalube/Star Racing Yamaha teammate Cooper Webb has been right there with a 2nd in Vegas (albeit in the West Region finale) and four straight runner-up rides outdoors. He's also having quite a year, though I think he will not be satisfied until he's doing exactly what Martin is doing. Last year Webb ran third in the first moto at Thunder Valley, so he rides the track well. I really think he's the guy in the best spot to bring Martin's streak to and end.
You can watch all of the motos live and free on TV or online from Thunder Valley, including some practice and the new pre-show, just follow this link for all of the details.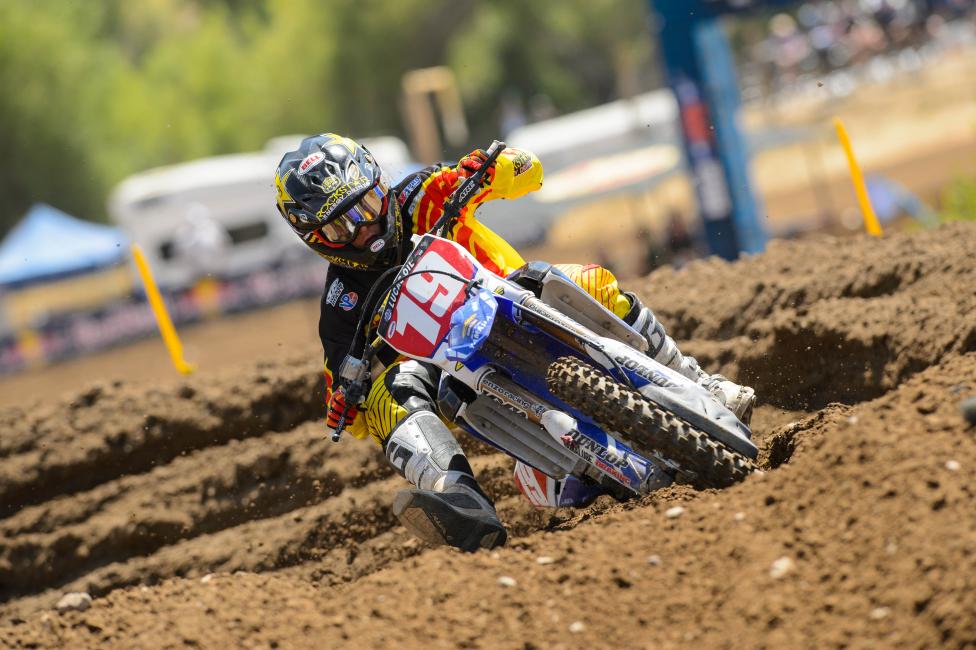 We will have more on Thunder Valley below. We have to talk about the first race at Ironman MX in Indiana, the new national track on the Lucas Oil Pro Motocross schedule. As I mentioned here last Friday I went out to help the crew and see how the track develops and just help out where I could. What I did not expect—what no one could expect—was the tragic crash of a young rider named Austin Mincey. Racing in the 250B class, Mincey crashed coming over the finish line jump on the white flag, landing on his head. He was immediately taken to the hospital by helicopter, and he fought bravely for nearly two days, but he never came to. It was a shocking, sad turn of events, not to mention a cruel reminder of what can happen when we race motorcycles at speed across rough terrain. Everyone at MX Sports and Ironman MX sends their condolences to the grieving family, who will bury Austin on Monday in Kentucky, and our thoughts and prayers are with the Minceys.
While it's too early to speculate on the crash, there was a lot of internet talk about the track being too difficult or technical for regional-level amateur racing. I respectfully disagree that it was too difficult, though it was obviously a new and challenging track that no one had raced upon before the event. It was choppy and rough and full of lines, and the recent weather made for some softer jump faces. We are taking all of the feedback into consideration and will do our best to present a better track the next time we are in Indiana, just as we do every year after Loretta Lynn's itself. There's nothing anyone can do to reverse the clock and change the course of Sunday afternoon, but we will do our best to prevent it from happening again. Godspeed, #173 Austin Mincey.
Sadly, Indiana wasn't the only motocross race on Sunday to understand the harsh realities of the danger inherent to our sport. Over in New Zealand Trent Haywood, an up-and-comer with a great racing future ahead or him, crashed hard at the Michael Godfrey Memorial Race near Christchurch and passed away. Godspeed, #323 Trent Haywood.
TURNOVER (Jason Weigandt)
As I jettison off to do the live race call for the Nationals (best job in the world, in my opinion) I realize that when I come back, things won't be quite the same. Filter Publications' President Bryan Stealey is leaving his post, which means Monday will be the first time in my 13 years at this company that Bryan hasn't been there. Bryan is the man I unquestionably owe my career to. He was the one that accepted my first writing samples for Racer X Illustrated, he was the one who gave me a magazine feature in the October '00 issue (complete with the Table of Contents descriptor "Who is Jason Weigandt?") and he's the one that encouraged me to keep writing and keep sending because someday there would be a spot for me. The funniest part is, all of the work was over email, so I had never even actually met him! Then one year, I went to the Racer X High Point party at Chick N' Bones in Morgantown and literally stood there by myself because I knew absolutely no one in the place. One guy recognized how sad that looked, so he walked over and said "Hey man, I'm Bryan."
That's the kind of guy Bryan is—the most straight-up dude in the world.
Let me illustrate that with one of my favorite stories. One month in the magazine, Ping wrote a column about a pizza restaurant near Brock Sellards' house in Ohio. He included graphic descriptions of the restaurant owner, poking fun at her appearance, weight, words and hygiene. It was hilarious! The only problem was that Sellards is a bit of a local celebrity, people in his town read Racer X, and the story got back to the pizza shop owner. She then called the office, demanding justice. "I've heard there's some sort of magazine story making fun of me," she said. "I want to know what it says."
That's where the straight-upness comes in. Bryan read the entire column to the woman over the phone. Verbatim! The rest of us were cowering in the corner, suppressing laughter and tears while offering to just cut the phone line or stab Bryan to put him out of his misery. But he kept talking, even adding emphasis to the bad parts to make sure the intentions were clear. The woman started crying, said thank you, and hung up.
Why did he do that? "Because you need to be straight up with people, man!" he explained. "If you're going to do something you need to hold yourself accountable and take responsibility. That's the only way to be fair." Bryan was straight up with her, which I think shocked her to the point where she didn't know what else to do or say. I don't think we ever heard from her again.
Straight up. Accountable. Responsible. Fair. That's the impact Bryan had on all of us, and even though we won't be working with him full-time any longer, we're not going to forget that. Thanks for the career, B. I'm glad you're going to stay connected to us as a consultant.
And by the way, this year's High Point Party takes place next Thursday night and will be at Jameson's on High Street in Morgantown, probably starting around 8 or 9 p.m. Everyone is invited, and it's a great way to kick off the big race weekend.
SOME NUMBERS (Andras Hegyi)
Our man in Hungary, Andras Hegyi, worked out some cool stats from Hangtown for some good bench racing ammo you can share with your friends. For instance, by scoring on the podium Saturday at Hangtown, Christophe Pourcel now has more podium finishes than any other foreign import in the history of the 125/250 Class. Hangtown marked Pourcel's 19th career podium in Lucas Oil Pro Motocross. So far in 250 National's history there are 23 non-American riders who have podiums. Until last Saturday there was a tie on the all-time podiums list among Ken Roczen, Dean Wilson, Tyla Rattray and Pourcel. They all had 18 podiums.
Non-American podium riders in 250 National races:
Christophe Pourcel (France) 19 podiums
Tyla Rattray (South Africa) 18
Ken Roczen (Germany) 18
Dean Wilson (Scotland) 18
Grant Langston (South Africa) 16
Stephane Roncada (France) 15
Ben Townley (New Zealand) 13
Brett Metcalfe (Australia) 10
Marvin Musquin (France) 9
Mickael Pichon (France) 7
Jean-Michel Bayle (France) 6
Chad Reed (Australia) 6
Ernesto Fonseca (Costa Rica) 5
Jeff Leisk (Australia) 5
This year is the 14th season where a rider was able to win the two initial races of a 250 season. Jeremy Martin is the 11th rider who was able to win the first two races of a 250 season. Only three riders weren't champions. Prior to Martin, James Stewart was the last one to open a season with two wins. Bubba did it in 2004.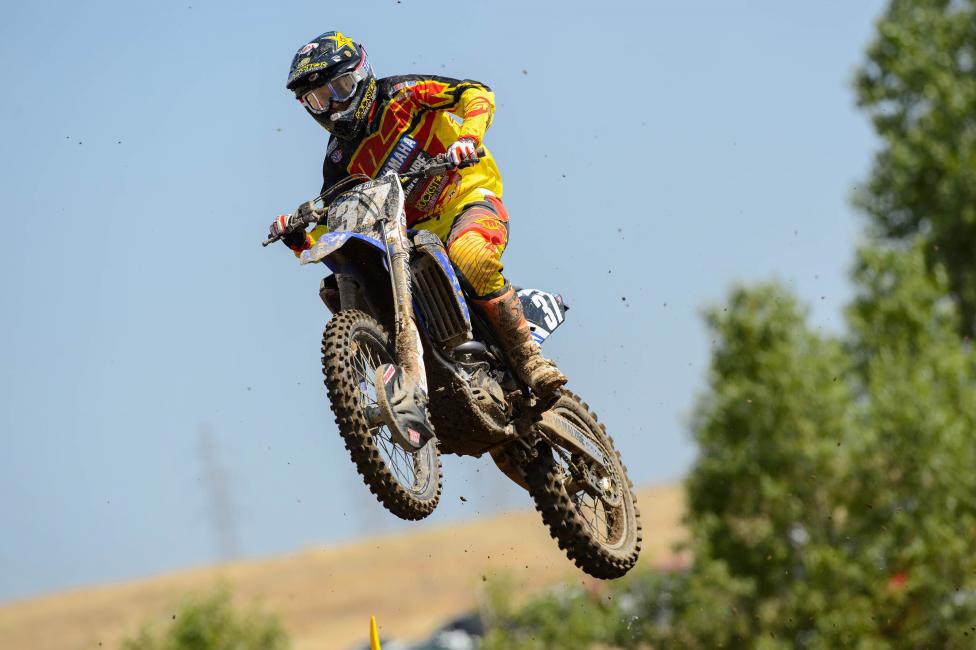 Riders who became champions after two initial wins:
1974 Marty Smith (opened with 2 wins)
1976 Bob Hannah (3)
1978 Broc Glover (2)
1981 Mark Barnett (7)
1982 Mark Barnett (2)
1996 Steve Lamson (2)
1997 Ricky Carmichael (3)
1999 Ricky Carmichael (4)
2002 James Stewart (2)
2004 James Stewart (4)
Riders who didn't become champions after 2 initial wins:
1987 George Holland (2)
1988 Eric Kehoe (2)
2001 Grant Langston (2)
PRO PERSPECTIVE – ALTITUDE (Jason Thomas)
The Lakewood National is one of my favorite races of the season. Having a national so close to a major metro area like Denver adds a bit of convenience and flair to the schedule. The track is about as picturesque as it gets with the Rocky Mountains looming in the backdrop. David Clabaugh does a great job with the track prep and pit setup as well. It really is a highlight on the 12-round tour.
More interesting for racers, though, is the unique challenge that Lakewood offers. Sitting at 6000 feet, the altitude wreaks havoc on both the rider and his motorcycle. Fuel injection has helped tremendously to alleviate the numerous issues that teams would have, but there is still a huge reduction in power to deal with. The first few laps of practice are a real eye opener for everyone, as adjustments have to be made in braking points and timing for jumps. Once everyone adapts, the only real difference is in the level of aggression. With less power, riders have to find ways to keep their momentum up instead of relying on a big torque boost exiting the corners.
I always felt that riding the 450 at Lakewood was comparable to a factory 250F at most other tracks. The bikes aren't necessarily slow but they are nowhere near the normal power. After a practice or two, riders with that much experience figure it out and its business as usual. Watch on the starts, however, as that long uphill in the altitude is a great indicator of who has the stronger engines throughout the field.
The other issue with the altitude is the tax that it puts on the body. High elevation means less oxygen in the air (same reason for slower bikes), which means with every breath, the body is working harder to maintain the necessary level of oxygen in your system. Simply walking around the track on Friday was my first indication that we weren't in Kansas anymore, as I would be huffing and puffing, wondering if I had mysteriously lost all of my cardio fitness overnight. It really is a noticeable difference in breathing efficiency when doing really anything that raises one's heart rate. This effort carries into everything during the day. Working harder to breathe wears the body down quicker and fatigue sets in sooner. Riders will have a tendency to "blow up" (heart rate spike) much easier when doing sprint laps. Concentrating on keeping a breathing rhythm plays a much bigger role than usual. Also, hydration is a huge factor with altitude but with temperatures topping out in the 60s on Saturday, it won't be an issue this year.
The issue that elevation brings probably won't be the difference between winning and losing but it certainly can cause a bit of variance on the results page. The riders are catching a break with the cooler temps this weekend as that will offset many of the unwanted dehydration and fatigue tendencies. Having Lakewood on the schedule is great not only because of the surrounding Denver activities but also from the unique variables that the track and altitude bring. I love the different aspects of each round of the series and this one forces riders to be on their game. Adapting to all conditions and circumstances is a crucial aspect of being a professional. Separating the men from the boys is what the Lucas Oil Pro Motocross Championship is all about and Lakewood is a prime example.
MORE NUMBERS (Andras Hegyi)
With his dominant win at Hangtown, Germany's Ken Roczen is now the 12th rider who won with a non-Japanese brand in the 450 Class. Riders who won with non-Japanese brands:
Ken Roczen (KTM)
Ryan Dungey (KTM)
Gunnar Lindström (Husqvarna)
Bob Grossi (Husqvarna)
Marty Tripes (Husqvarna)
Kent Howerton (Husqvarna)
Jim Pomeroy (Bultaco)
Gary Bailey (Bultaco)
Ken Zahrt (Bultaco)
Sonny DeFeo (CZ)
John DeSoto (CZ)
Jimmy Ellis (Can-Am)
If 500cc National were included, we could add Denny Swartz (Maico), Wyman Priddy (CZ), Mark Blackwell (Husqvarna), Mike Hartwig (Husqvarna), Tony DiStefano (CZ) and Steve Stackable (Maico).
And after three years it happened again, that the 450 National has a new winner. The last new winner was Brett Metcalfe in 2011.
WEATHER OR NOT (Steve Matthes)
Looking forward to Thunder Valley tomorrow for Round 3 of the Lucas Oil Pro Motocross Championship. As I've been saying for a while now, Lakewood is becoming a must-see, sneaky-good National. Great amenities close to the track, a nice view of the whole facility from basically any location and moved up in the schedule a bit, the weather is usually pretty good, although tomorrow has a chance of showers and only a high in the 60s. And when you say "only a high" and you're talking the state of Colorado, it sort of takes on a whole new meaning.
I'm calling Honda Muscle Milk's Justin Barcia for the win tomorrow, I really feel like the #51 could do it tomorrow…wait…breaking news, he's out with an ankle injury. Well, crap.
All the Chad Reed fans are wondering what's been going on with him through two rounds of the series but really, none of us inside thought he would get off to a strong start this summer. His shoulder injury from supercross left him behind the gun a bit in terms of getting ready. How bad was it? He actually hired Brett Metcalfe (before Metcalfe got the fill-in ride for Villopoto at Monster Energy Kawasaki) to try and shake down some settings for him. Of course Chad being Chad, he usually doesn't like the settings from other riders on his bike so I have to wonder if Metty was able to help all that much. Nevertheless, it's been a slow start for the two-two.
I'm not worried yet, as last year Reed went 23-21 at Lakewood and had only 11 points on the year. Right now he's got 42 points with a couple of tenth overalls so he's far ahead of the pace of last year when at times some of us wondered who was riding his bike out there. Reed will get better, there's no doubt.
Another rider hoping to get better is Yoshimura Suzuki's James Stewart, who you can tell in his interviews is not happy with his bike through two rounds. I know the guys over at Suzuki and at Showa are working hard to make the bike better for Stewart, and the second moto at Hangtown was the best we've seen from the #7 so far. I think a lot of problems the teams have been having will be eliminated, or changed, to a different set of problems with the series heading east. Lakewood isn't the same surface or develops the same bumps as the two California rounds. It does get rough, but not as rough or as square-edged as the first two rounds. We could be seeing a better James Stewart this weekend, and I hope so because the two Red Bull KTM riders are head and shoulders better than everyone as of now.
And now for some silly season stuff that we know to be true, and we think to be true:
- The BTOSports.com KTM team is looking at Justin Brayton to fill the spot beside Andrew Short and have not, contrary to other reports, signed Jake Weimer.
- Justin Hill's deal at Red Bull KTM seems to be done. The orange crew came in with a big-dollar amount that Kawasaki and GEICO weren't ready to do.
- The GEICO guys are on track to have standout amateur kids RJ Hampshire and Jordon Smith on the team for next year. And Zach Osborne looks to be leaving to head over to Rockstar Husqvarna from what I hear.
- JGRMX Yamaha has made no decisions on their second guy as of now. I'm sure Brayton and Wil Hahn have been considered (Brayton and Hahn are good friends and share the same agent in Steve Aldaco -- that has to be a bit weird, right?) and I would imagine Weimer's name has been thrown in there as well. Justin Barcia will be the main man.
- I'm hearing both Arnaud Tonus and Dylan Ferrandis (or is it Jordi Tixier?) are on Monster Energy/Pro Circuit Kawasaki's radar for a move over from Europe, and how cool would it be if Honda dropped a bomb on everyone and signed Jeffrey Herlings to race in the states?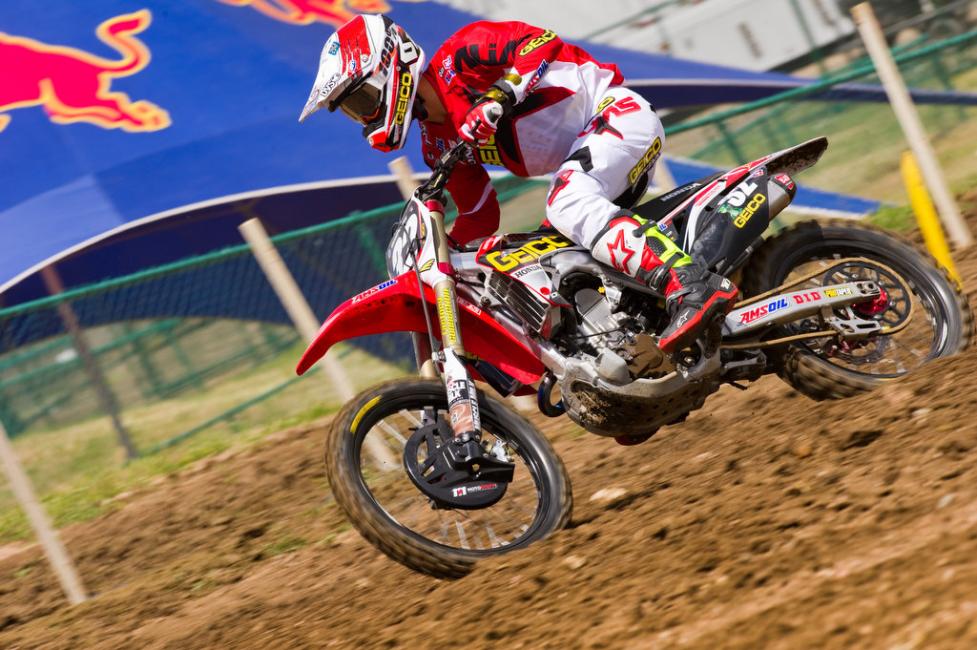 Ok now for some links:
Racer X's own David Pingree and Jason Thomas joined me to talk about the above stuff and more on the Fly Racing Moto:60 Show presented by N-Fab HERE.
The great Paul Buckley shot these photos of Rick Johnson and wrote a little about them for this week's Motocross Captured HERE.
JT, Swizcore and myself debated the second spot on RCH Racing HERE.
Want a look at some of Lissimore's best shots from the Canadian national opening round at The Wastelands? Go HERE.
David Vuillemin has been writing a column each week breaking down the races from the comfort of his couch right HERE.
INTO THE WOODS (Kayla Olliver)
The AMSOIL Grand National Cross Country Series presented by Maxxis returns to the John Penton GNCC this weekend in Millfield, OH. The John Penton GNCC serves as one of the longest running GNCC events. With its first event held in 1990, it has become a staple of the series. However, it hasn't always been known as The Penton. The first years of the event, it was known as the Burr Oaks GNCC named for Ohio's Burr Oak State Park, which is a popular state park located nearby. To read more about the historical John Penton GNCC, check out the latest Tuesday Toolbox written by Jared Bolton.
FMF/KTM's Kailub Russell comes fresh off a major win, and his closest competition and teammate, Charlie Mullins, is now sidelined with a wrist injury. Josh Strang and Jordan Ashburn hold down the three spots behind Russell and we're looking to keep an eye on them and see if any can battle with our defending champ.
Check out the Chapter 2: Episode 3 of Ryan Sipes' new series thanks to Rockstar Energy Drink.
Be sure to tune into RacerTV.com this Saturday and Sunday starting at 1 pm ET for #GNCCLIVE. ATV Racing starts Saturday at 1 pm ET followed by UTV Racing at 4:30 pm ET, and Bike Racing starts Sunday at 1 pm ET.
If you missed the #GNCCLIVE race from Steele Creek, Round 3, of the AMSOIL Grand National Cross Country Series presented by Maxxis catch the ATV and Bike highlight show this Sunday at 5 pm ET on NBC Sports Network.
And on Monday evening in Cleveland, the long-awaited documentary Penton: The John Penton Story, will have it's world premier near the Ohio home of the iconic off-road legend. Here's filmmaker Todd Huffman telling us all about the film, plus more info on the debut. Check it out here.
HERLINGS HERE? (DC)
Earlier today MX2 World Champ and current points leader Jeffrey Herlings hinted that he may have some big news coming up. Before anyone gets too freaked out, I am pretty sure it's just that he will be coming over for an National later this season, most likely Unadilla but possibly Spring Creek. Herlings is an incredibly talented rider and one worth the trip to see racing live. I hope this comes true and Jeffrey comes across to visit, but I would not expect him to stay longer than a race or two. Racing in America means racing supercross too, and I don't think that's Herlings' strong suit. But seeing him racing against Jeremy Martin on his home track at Millville would be incredible. Unadilla would be awesome too.
RIP Karl Harris 1979-2014 (David Langran)
Karl Harris used to race at the same schoolboy nationals as me when I was a kid back in England. He was a few years younger, so we never raced in the same class, but I can remember always trying to make a point to go and watch his motos. Karl was fearless and had no problem hanging it all out on the track—I really don't think I have ever seen anyone go so fast on a KX100. He was also a real character around the paddock and was liked by everyone.
Karl went on to have a successful road racing career which included three British Supersport Championships.
Sadly, Karl lost his life after a crash at this years Isle of Man TT road race. Our deepest sympathies go out to his family and friends.
Godspeed, Karl.
RANDOM NOTES
Southwick's Moto-X 338 moved a step closer to reopening when the local board approved a permit to allow the track to be run on four acres of land that's owned by the town and marked for school use. Here's the local news story with all of the details.
Take a lap around the Thunder Valley National courtesy of Andrew Short and Vital MX.
Do you plan on attending Thunder Valley this Saturday? Stop by the Racer X booth in Sponsor Village to sign up or renew your subscription for $20. You'll receive 12 issues in the mail in addition to an extra issue of Racer X and a six-pack cooler sleeve at the event with your purchase.
Would you like an all-day pit pass? Go HERE to preorder your Racer X All-Day Pit Pass with a year subscription before they sell out.
The Troy Lee Designs 2015 Moto Catalog is now available to browse and download online. View the flip book here.
For everything Canada, check out DMX Frid'Eh Update #24.
Looking at the current 250 Class point standings, is there anyone on the planet who might have guessed that they would look like this after two races?
1. Jeremy Martin (100 pts)
2. Cooper Webb (88)
3. Christophe Pourcel (63)
4. Jessy Nelson (51)
5. Marvin Musquin (50)
That's all we have for Racerhead today, thanks for stopping by, see you at the races.