Thunder Valley Motocross
Lakewood

,

CO
Thunder Valley
Lucas Oil AMA Pro Motocross Championship
Round three of the Lucas Oil Pro Motocross Championship has come and gone here at the Toyota Thunder Valley National, and while some things stayed the same, we also saw some new faces at the front of the pack. James Stewart finally got around to winning a moto, and the Yamalube Star Racing Yamaha power duo of Jeremy Martin and Cooper Webb finally showed some a hint of weakness. Read on to see how it all went down in Colorado.
250 Moto 1 Report
Jessy Nelson grabbed the early lead in this one followed by Justin Bogle, Cooper Webb, Jeremy Martin and Marvin Musquin. Nelson went to work right away and started building a gap, but when Martin and Webb got around Bogle, everyone figured it wouldn't be long before they freight trained past Nelson and disappeared. Only that didn't happen. In fact, Nelson continued to gap them, and at one point had about fifteen seconds on Martin, who had worked his way past Webb.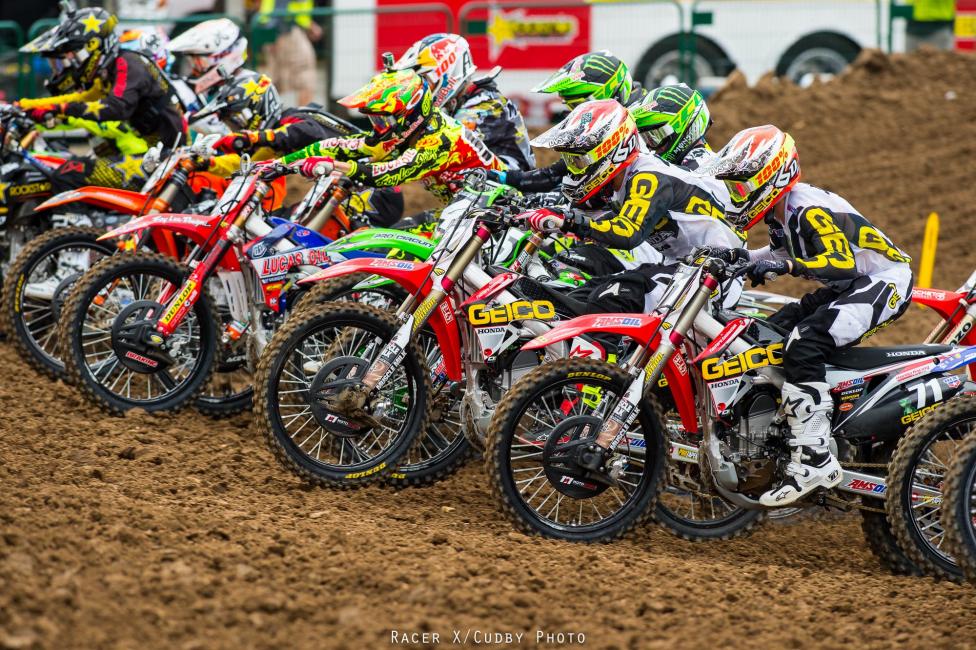 Then disaster struck for Nelson. He didn't crash, but he spun out in a corner and did a complete circle, nearly going down before getting going again. He still had the lead, but he lost about ten seconds and was now in Martin's sights. Martin lit the burners, caught Nelson, took the lead and that was that. Webb also got Nelson and looked like he was putting in a charge on Martin, but he crashed and lost several spots. He tried to come back through the pack, but had a hard time getting past Bell. He ended up going backward and ended up ninth.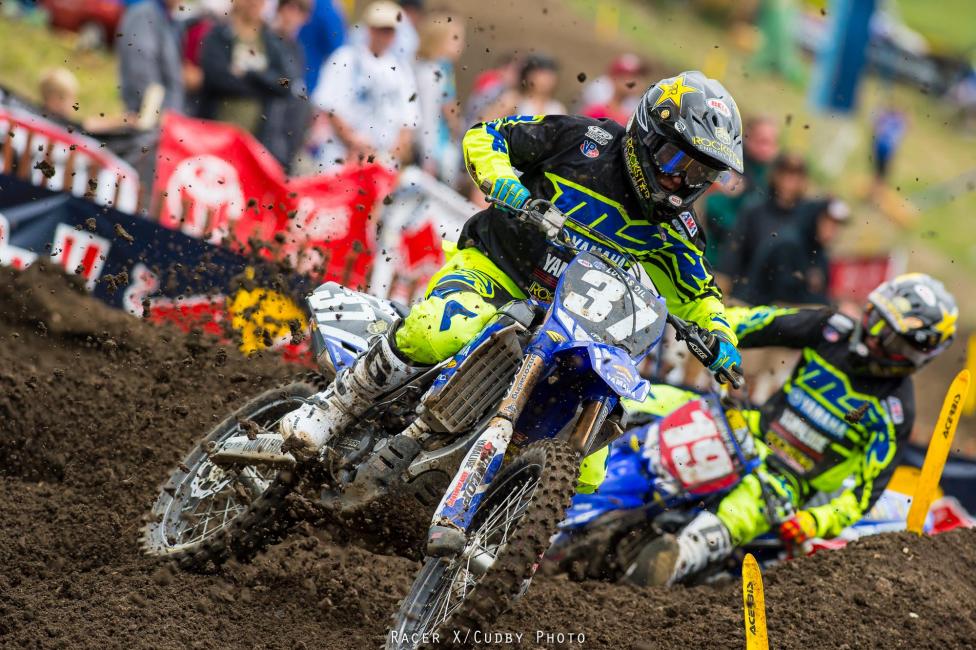 There was a big battle between Jason Anderson, Marvin Musquin, Cole Seely, Blake Baggett and Zach Bell for fifth. Anderson would move to the front of this battle and gap it, only to have Blake Baggett pick up the speed late in the moto and pass him for what was now fourth, due to Webb's misfortune.
Christophe Pourcel was never really a factor in this race. He started about seventh and slid backward from there after experiencing some temporary front brake problems.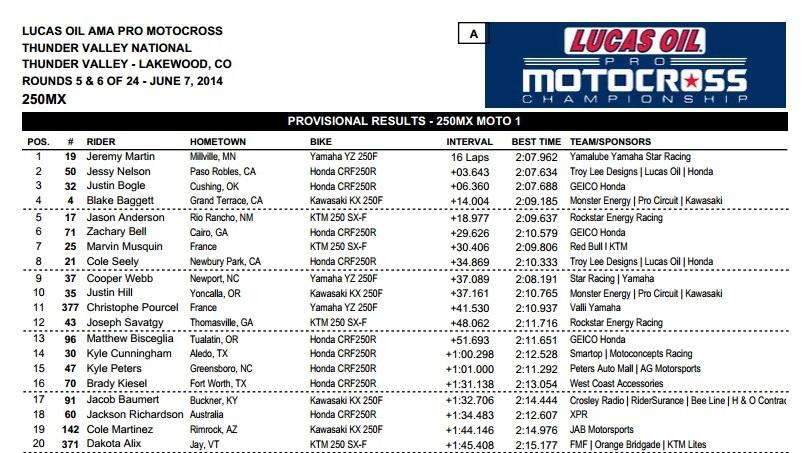 250 Moto 2 Report
Christophe Pourcel got a great start in this moto and quickly moved past Zach Bell into the lead. Jason Anderson followed suit, but wasn't able to put any kind of real pressure on Pourcel. That pressure would eventually come from Blake Baggett, who finally got a good start. He caught and passed Pourcel early, only to have Pourcel take it right back. The two went at it for a while but Baggett finally took command and disappeared, winning the moto by a huge margin.
Justin Bogle was next to apply pressure to Pourcel, and they also went back and forth. It looked like Pourcel was going to hang onto second, but he bobbled, which was all Bogle needed to take second for good. At this point Martin and Webb were running about sixth and seventh, but Martin started moving forward in a hurry and probably would have been a factor for the lead had he not gone down and dropped to eighth. He made up a few spots after that, but didn't seem to have the same speed he had in the first five motos of the season. He took sixth in this moto.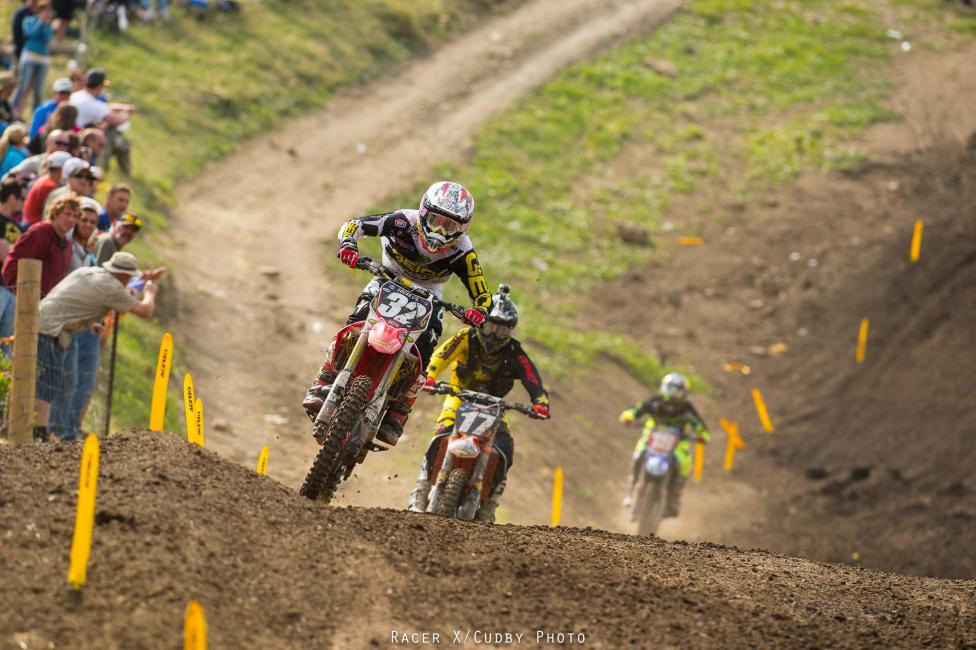 Great moto for Marvin Musquin, who started in around tenth. Musquin hasn't been 100 percent due to injuries, but in this moto he demonstrated some of the speed he had last year. By the end he had moved up to fourth and nearly got Pourcel for third at the checkers. If he'd of had just one more lap, he might have been able to get the job done.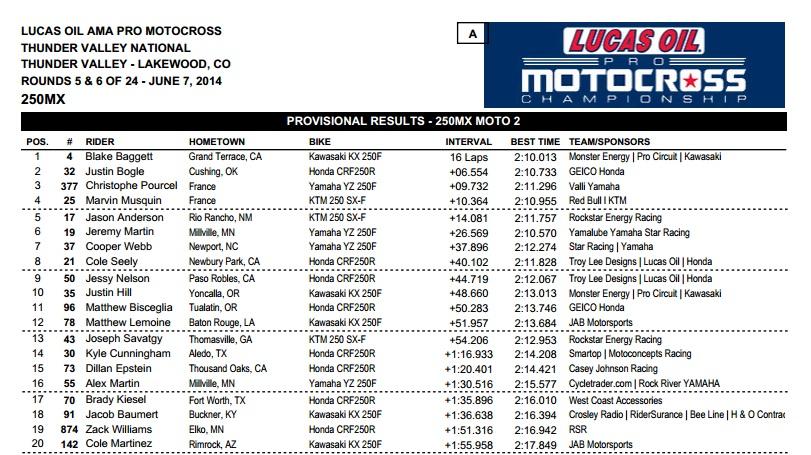 450 Moto 1 Report
When the gate dropped it was James Stewart who shot out into the early lead, with Josh Grant on his tail. Not far behind were Ryan Dungey, Andrew Short, Trey Canard and Ken Roczen. Stewart started to pull a lead, but wasn't completely checking out, and when Ryan Dungey got around Grant he closed on Stewart almost immediately. The two would go at it for a while, with Dungey unable to make anything stick on Stewart. Meanwhile, Canard and Roczen had caught up, making it a four-way battle for the lead.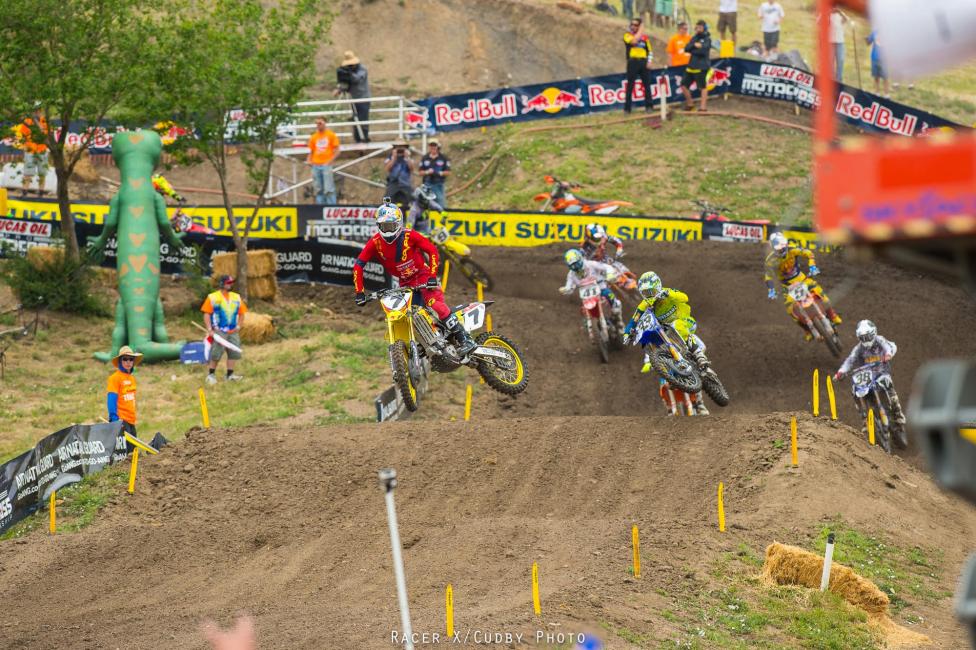 That's how it went for several laps, with nobody able to make a move on anyone. Then Canard started falling slightly off the pace, allowing the top three to make a break for it. Then Dungey went down late in the race and it became the Stewart Roczen show, with Roczen even pulling up alongside Stewart and making a few very serious challenges. Stewart, who looked the best he's looked all season by far, hung in there to take the moto win.
Behind them Josh Grant rode to a lonely fifth, Short took sixth all by himself and Malcolm Stewart held off a charging Jake Weimer and Brett Metcalfe to take seventh.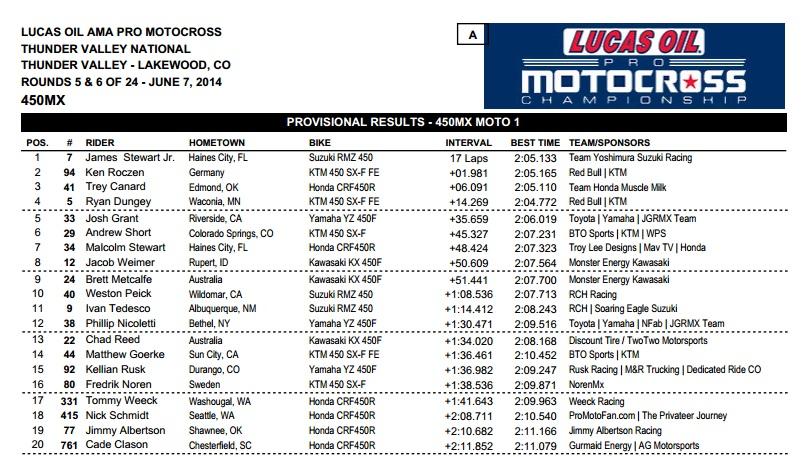 450 Moto 2 Report
Trey Canard blasted out of the gate and into the lead to kick off the second 450 moto and instantly came under heavy pressure from Ken Roczen. For a moment it looked like the two might even collide in the air as they both scrubbed extremely hard over a tabletop, but they both landed safely and Roczen went on to take the lead shortly thereafter. Several laps later Dungey followed suit and went after Roczen. He held the gap pretty steady but was unable to close and Roczen took the moto, and overall, win.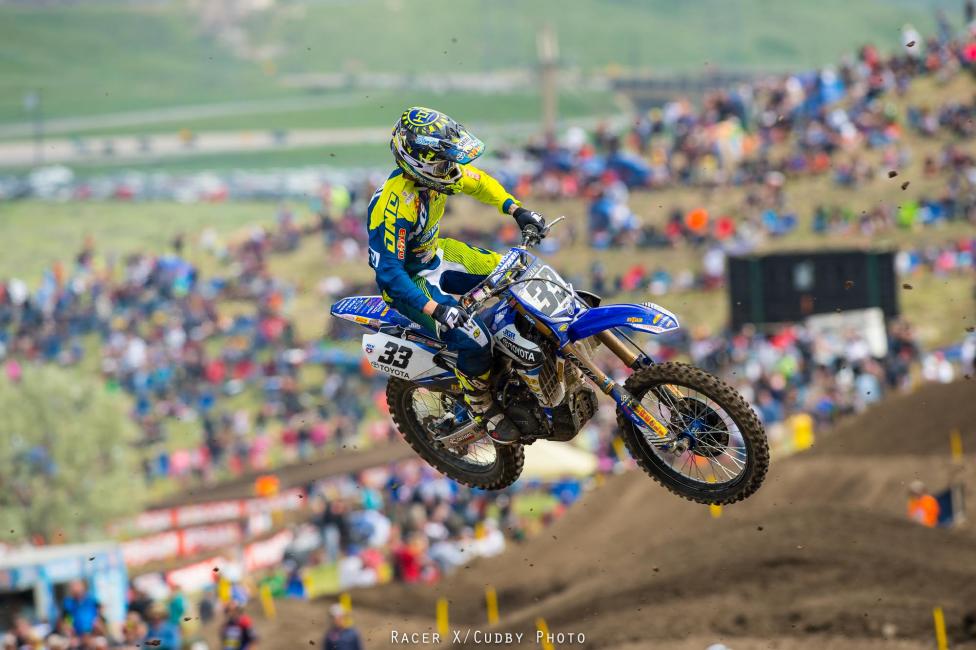 Stewart started in fifth place and after battling for a little while with Josh Grant, moved into fourth and eventually passed into third when Canard started falling off the pace slightly. Speaking of Grant, great ride for the #33, who has been sick all week. In fact, he didn't even ride the second practice in an effort to preserve energy for the motos. He hung tough in fifth for most of the moto, despite heavy pressure from Jake Weimer and Brett Metcalfe. Weimer crashed, but Metcalfe would eventually take the spot from Grant, who fought on to take sixth.
That was it for most of the battling, as the riders got pretty spread out in this one.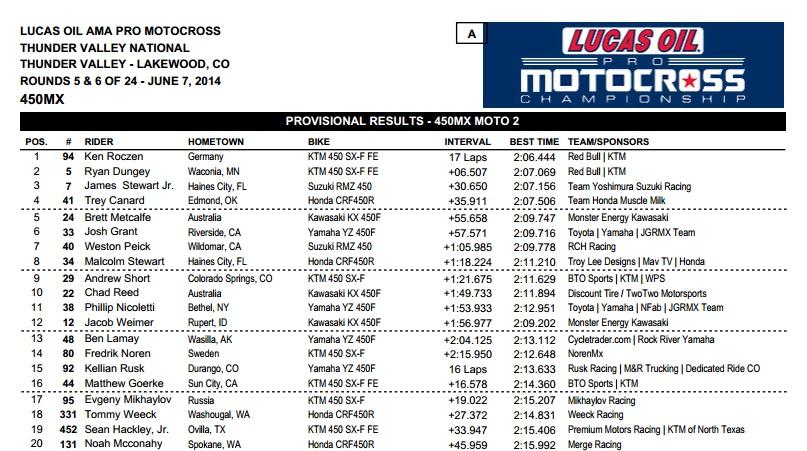 For complete results, go here.
Practice Report
Another weekend of racing here in Lakewood Colorado, and with a venue that offers several differences, as well as relief from the California heat, we could see a different kind of race here at round three.
Before we get into what happened in practice, a few words on the track. It's been said that Washougal is the most picturesque track on the circuit, but right now, even with the clouds rolling in, Thunder Valley is giving the Pacific Northwest venue a run for its aesthetic money. Carved into a towering mountainside at high elevation, the track winds up and down the hillside, with the dark-colored dirt contrasting sharply with the vibrant green grass. It's really quite breathtaking, so be sure to check out every Thunder Valley gallery you come across.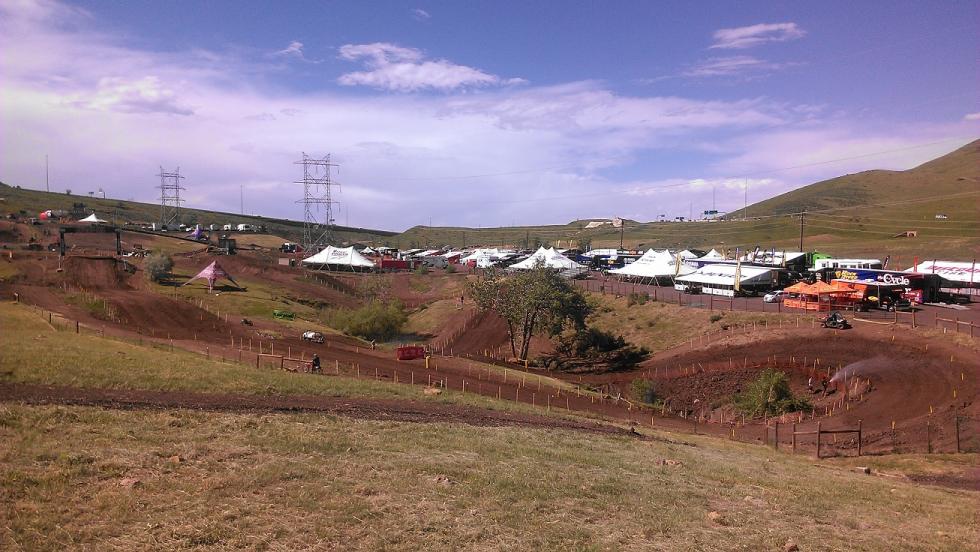 The course itself is peppered with very cool looking downhill jumps and drops, thanks to an abundance of up and downhill sections. Ruts have already started to develop, but so far it's looking like it's not going to be as rough as Glen Helen and Hangtown. The start is cool too. It's uphill, and while it won't look super steep on television, you can be sure that it's steeper than it looks. I walked up it yesterday afternoon and was breathing substantially harder by the time I reached the top. The high altitude no doubt played a part in that, and the racers will certainly be feeling the effects too as they go all out for thirty plus two. Add in the very serious threat of rain, and today's conditions could be wildly different than what we've seen so far.
On to qualifying. In the first 450 session it was Ken Roczen who was fastest. James Stewart looked like he was feeling more comfortable out there, even throwing out a few big whips, but was only fifth fastest with a 2:03.669. Josh Grant was second fastest with a 2:02.9387, but was sick all week and opted not to ride the second qualifier in order to save his energy for the motos. Chad Reed had a big crash in this session and was 28th.
When the 450s went out again it was a battle for the top spot, with Canard, Roczen, Dungey and Stewart all taking turns holding the fastest time. When it was all over though it was Trey Canard who held top honors. Surprisingly, his fastest time came from the second qualifier, a session in which most everyone else was slower.
Props to privateer Kellian Rusk, who posted the tenth fastest lap (2:05.800) of qualifying. Good job by Matt Goerke as well to nail down eleventh fastest in his first race back since getting injured early during supercross.
If you're wondering where Justin Barcia is, he's out for this weekend with an ankle injury. Not much known on the injury, but word is that it's a nagging problem that's actually been bothering him for some time.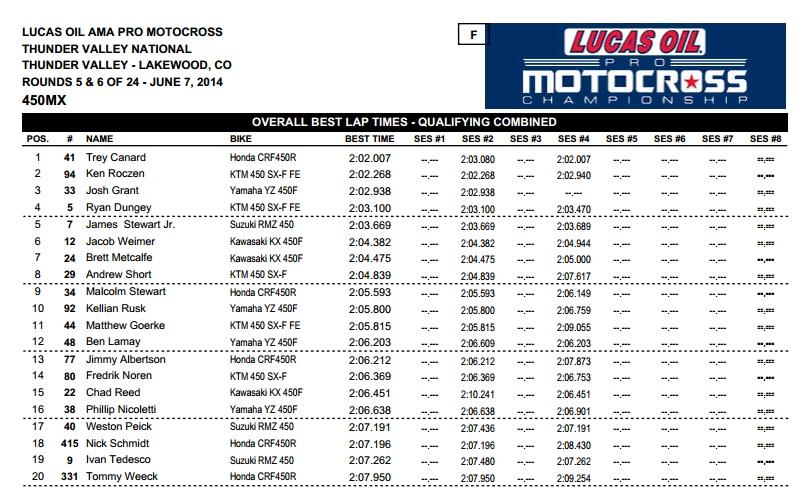 A few surprises in the first 250 qualifier. Christophe Pourcel cruised for most of the session only to top the field near the end, nothing new there, but what was surprising was Zach Bell's time. The GEICO Honda rider was extremely fast, and even took away Pourcel's fastest time by over half a second at the end. Another surprise was privateer Kyle Peters, who was fifth fastest in this session with a 2:07.00.
In the second 250 qualifier it looked like it was going to be all Martin. The winner of rounds one and two broke into the 2:05 range and with the session winding down it didn't look like anyone would be able to top it. But, in his typical sneaky fashion, Christophe Pourcel slid in a fast lap near the very end, over a second faster than Martin's, which was good enough for fastest overall. Like Canard, Pourcel had managed to top the entire field on a track that was running slower for most everyone else.