Sam Boyd Stadium
Las Vegas

,

NV
Las Vegas
Monster Energy AMA Supercross Championship
Only one title hung in the balance in Las Vegas for the Monster Energy Supercross finale: the 250SX West Region Championship. Rockstar Energy Racing's Jason Anderson made it happen with a sixth place finish to edge Lucas Oil/Troy Lee Designs Honda's Cole Seely by just a few points—it's the first pro title for Anderson and his team. We joined up with a few media members to log this interview in the pits.
Racer X: I'll start this with some old business because I'm not sure we got the real answer in the press conference the other day. There were rumors of you being hurt. What's the real deal?
Jason Anderson: I don't know if I should answer it or not answer it but I guess I will. I crashed and I basically collapsed my right lung. So then I ended up taking off that weekend. I couldn't fly to New York because I was supposed to go there just for press stuff. I actually thought I was going to be refreshed, but I kind of struggled out here a little bit, just breathing-wise and with the dry air. I don't think I was 100 percent but I think I could have done anything, like pulled it off, whatever I needed to do. If I had to push a little bit harder I could have. But it was definitely a long moto out there and it felt like ages!
I did notice the chest protector.
The roost hurts, that's why I wore it. I definitely think I had to protect that part of my body, so I guess that's why I wore the chest protector. I'll have to leave it on for outdoors, at Glen Helen.
Did you ride at all between the crash and here?
I did starts.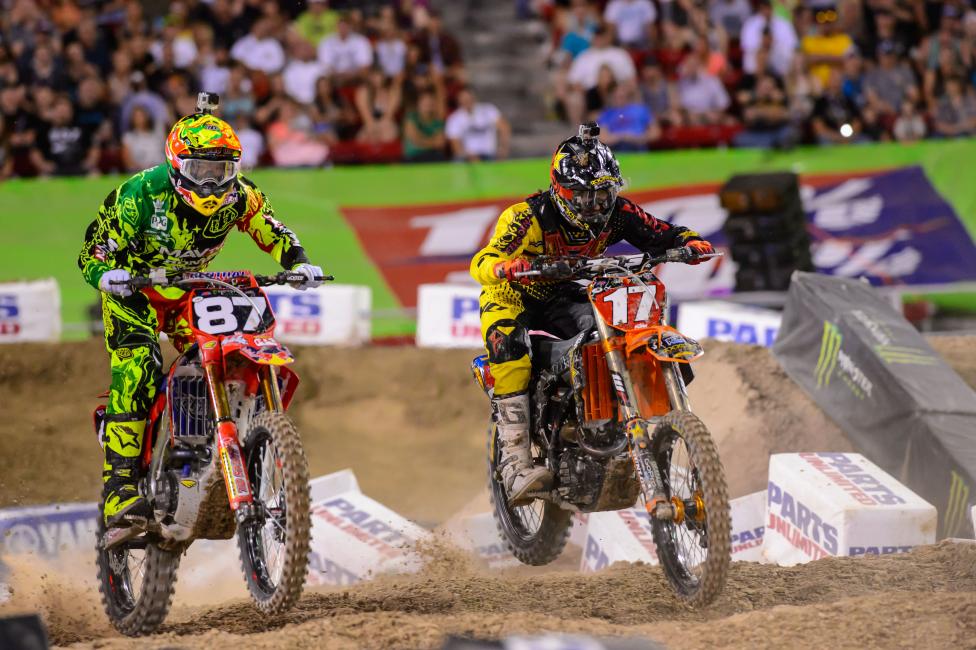 Did you know for sure you'd be okay?
I guess not, I don't know. I rode a little bit this week; but I've ridden and worked out seven days a week since like October 1. [I thought] Maybe that break could help me. So maybe you need that break, but definitely I had to keep my mind busy because you don't want to think about that championship day and night. But it ended up well.
The start was not the plan, I'm sure. Were you a little nervous over that?
I was a little nervous until I saw Cole [Seely] right next to me. Then I was like, right on! That's a perfect scenario. I knew even if he got second I only had to get sixth and I got sixth and I don't know what place he got. It worked out just to plan.
It was just a matter of kind of staying with him and seeing what he's up to, right?
Exactly. I just kind of had to watch his moves. I kind of let him go a little bit which is something that I shouldn't have done but I kind of was hoping, I guess it's kind of like a gamble, that he wasn't going to win.
That's the second time you let him go ahead. The other day in the press conference when they asked about where are you going to be on a 450 next year, you said, "You go first!" I think that might have been the only time ever that I've seen that happen.
[Laughs] I wanted to hear his answer! I want to see where he's going to be. I know where I'm going to be, and I know it's a good place. I think me and him are going to be a force to be reckoned with next year along with Deano [Wilson] moving up. I think me and Cole opened up a lot of eyes. We haven't been really "the guy" in previous years. Me and him being up front just shows the hard work me and him have put in and the teams that we're on, we've stuck with them and they've stuck with us. We've just progressed with the team too, both of our teams. So I think this is a big thing for my team. It's our first championship and my first championship and I look forward to many years with them and hopefully do that championship stuff on a 450.
I think we just found out for sure where you're going to ride next year.
You'll know in a week. You just don't know what color it is…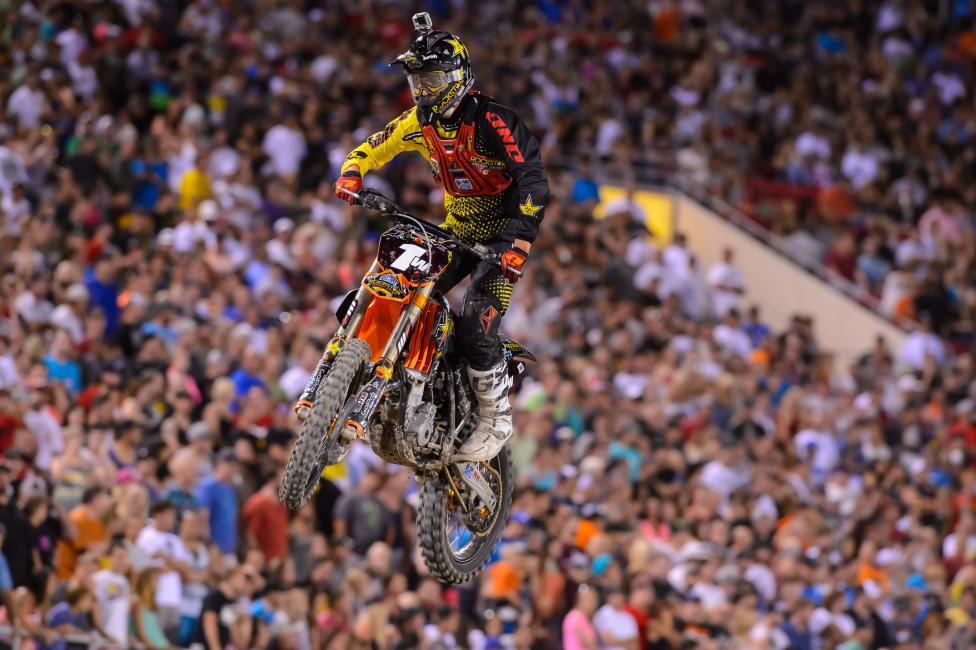 Seely had to pass you on the first lap, and to his credit he made it as clean as he could. He had you on the outside. He could have cleaned you.
He threw it in there, but I was patient. I was on that outside and I was about to just stop and put my kickstand out and just sit up there.
He could have been worse.
He definitely could have been worse, but he's been a clean guy all year and he hasn't done anything crazy. I respect him just for racing me the way he has and I feel like I've raced him pretty well too. Even though I hit him pretty hard in A1 but that's for the win. But I feel like between me and him we have a respect level that is something that you don't really see in championships a lot. We are going for a lot of money and our sponsors expect that. It could have been a lot more. But between me and Cole, I talked to him today before practice. It's not like we're butting heads or anything. It's been a pretty cool championship and I'm pretty stoked on how it turned out.
I think in the press conference the other day they said, I think even Villopoto or Dungey said it, you kind of learn it's not a sin to talk to your competition and everything else.
I mean, they are trying to take money from you. That's kind of the hard part. You're like, "Don't hurt my bank account." But you still want to beat them.
You and Cole went at it clean but were you worried about the team at all? I know you had the issue with Malcolm at one of the Anaheims.
Yeah but all the guys on their team are pretty respectable. I don't think they would do anything to me. I think that's how [Troy Lee Designs Team Manager] Tyler Keefe is too. Obviously I got into it with Malcolm, but Malcolm's an aggressive rider. I think that aggressiveness is something that you're going to get out of him no matter what. I think it's not too bad.
I did notice something in the East/West shootout where you had to wheelie over his legs?
I did! I did not want to do that but it was all I could do. I would either hit him directly with my front tire or just try and hop over.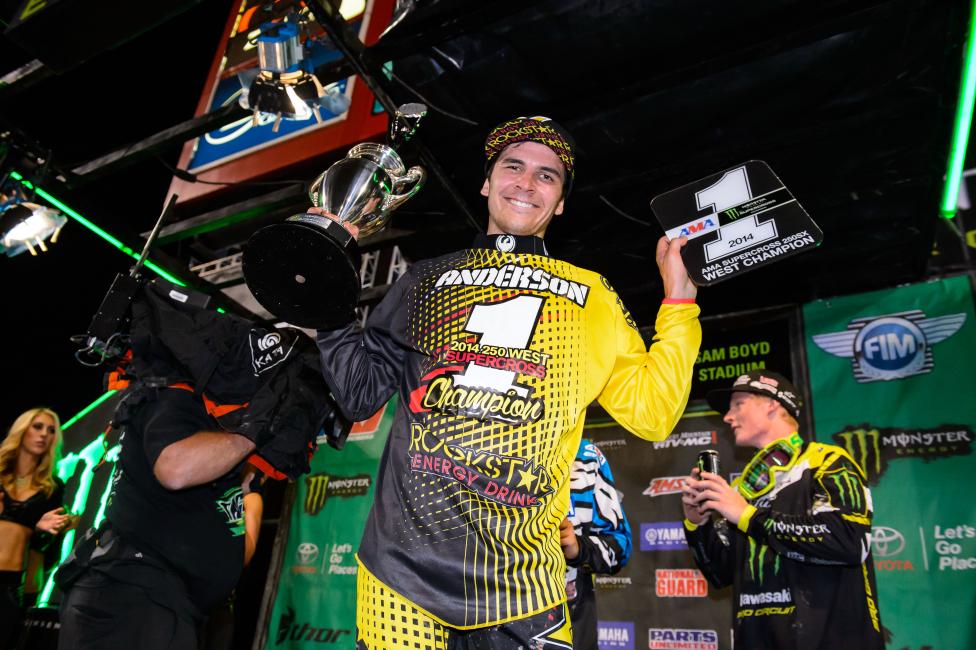 Because of the little injury, you didn't have to ride the shootout. Did you just want to get that 1W out there or were you not even hurt that bad?
I just wanted to chill. I didn't want to race and then we came to the decision if you get a good start just stay where you're at and hang out. I started third and Mookie passed me. He was trying to go for it and he ended up crashing, which is a bummer. But third was pretty cool. I didn't feel like I was pushing it too hard, just felt like I was just trying to get out there and put in laps and enjoy running that 1W.
You're moving up so that was your one chance ever to run that 1W.
Officially I'm pointed out of the class. So I guess I'm glad I signed a 450 deal!
Outdoors, you pumped? At one time I thought you were better outdoors than supercross.
I am good in outdoors, I just think it hasn't really come together the last few years but this year definitely I'm going to be a force to be reckoned with I think. So are the other guys. The other guys are going to be good, too.