By Chase Stallo and Steve Matthes
Ryan Dungey, Red Bull KTM, 1st in 450SX
Racer X: Was it important to get by Alessi quick?
Ryan Dungey: He goes out pretty good those first three laps. He did it in Atlanta too, and he's a good starter. I felt like I got off the gate tremendously good and here comes Alessi around the outside! He still got me there but I just tried to get by him and put down some good racing.
Talk about the pass for the lead.
Through these whoops right here I kind of got along side of him and we got to that wall, I just tried to get my rear down on the ground and I gave it everything she had and was able to just drive down it and squeeze out front before this little section right here.
I don't know if you think about points at all but obviously you made up a lot. Was that in your mind at all?
It's there. There's a lot of racing left with that deficit that we are in. We've just got to take it one race at a time and put ourselves in the position like we did tonight. Sometimes things don't go the way you want them to but tonight was good. So we'll just try to carry that forward, take this win and try to keep it going through the season. That's the way we're going to get points, and no big mistakes. The season's stacked; a lot of good guys. A lot of times it's anybody's game so you need to position yourself right off the start, we're going to have to do that a lot. – Chase Stallo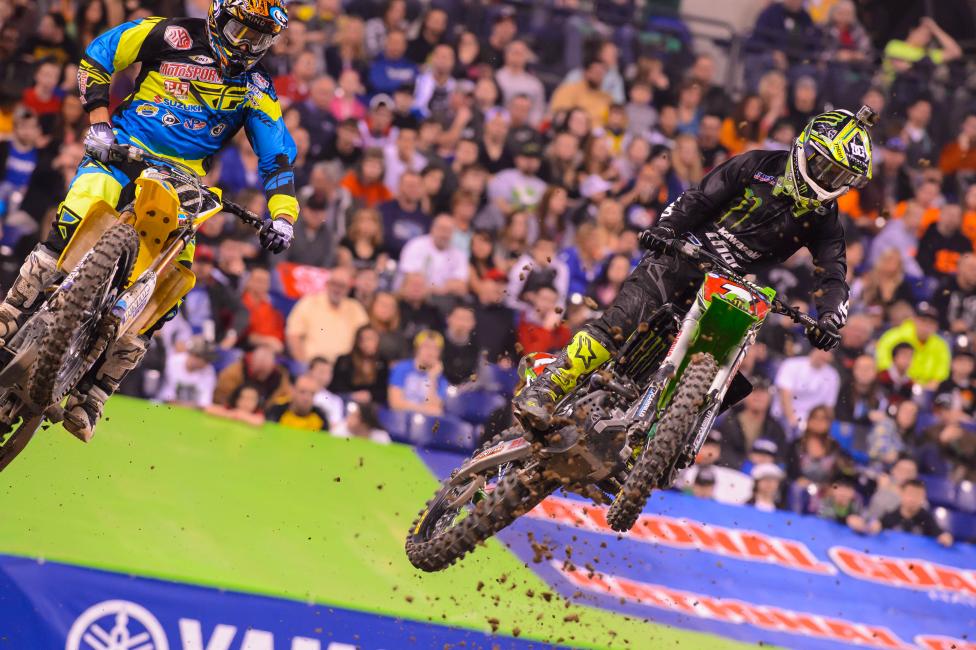 Ryan Villopoto, Monster Energy Kawasaki, 4th in 450SX
Racer X: That's the kind of rides that really mean something. Fell down the first turn, I don't know what happened, but that was good.
Ryan Villopot: Kenny flinched and then the guys on the inside beat him, kind of pinched him off. He came into me and then just laid me over. When I got up it was kind of, not nice, but nice to see that the guy in second [in points] was down with me. We worked our way up and then he went down again. The track was gnarly.
You've got to feel good about the ride. I'm sure you had some sketchy moments but…
I had some sketchy moments but I rode good so I'm happy with that and happy with the finish and where we're at.
What was the biggest factor of the track: the ruts, the whoops, the jumps?
Probably the ruts, the ruts in the whoops.
Practice today. Were you worried? What was going on? What was happening?
Go back and check the stats, Matthes. I was 8th last year in practice. So I bettered myself today with a 6th. [Laughs]
So no worries over here?
No. – Steve Matthes
Broc Tickle, Soaring Eagle Casino RCH Suzuki, 5th in 450SX
Broc Tickle: The day was rough, honestly.
Racer X: What do you mean? You were on the board at times!
I just didn't feel it! We made some changes and never got anywhere. I would feel better here and worse there. Never felt the flow in practice, and my heat race was terrible and my semi wasn't very good. But, best finish ever in the 450 class. I felt like I rode a solid 20 laps. I knew I'd be good in the main event because I was consistent. In these ruts, it's just about finding the flow.
We've seen you kill it in Seattle before, and other rutty tracks. This wasn't Seattle, but clearly you're good in this stuff.
I think that was my problem. I knew it was going to rutty, and we did good in the first practice and I think I thought we'd be good from there, so it set me back a little bit.
Sketchiest moment?
In the heat race I went on off there, where everyone else was landing from the double. I framed it and almost crashed.
Big controversy this week. You're a pretty mellow laid back guy, what was that like? Was it stupid?
Oh yeah, everyone in the pits all weekend was yelling this and yelling that. I'm not the guy that's going to egg it on. – Steve Matthes
Andrew Short, BTOSports.com KTM, 6th in 450SX
Racer X: New strategy for you. Suck during practice, have your mechanic change a bunch of things on your bike, and then go out and get your season's best finish.
Andrew Short: Yeah, usually I'm really good during the day and then I have a poor performance for the main. It was funny, I knew I was bad because Roger [DeCoster] came over, and I haven't seen him all year, and he was like, "Why are you so bad?" [Laughs] I changed a lot of stuff, clamps, a new front tire from Pirelli, more of an outdoor tire with a lot of air in it, and the air shock, it was the first time I've ridden with that in deep ruts, we were playing with the ride height. It was difficult, but we kind of nailed it as the night went on. I don't like to change things like that but what a night—it did turn out a lot better for me than the main events have all year.
How deep were the ruts in the whoops?
Well, for a Grampa [older rider], I was more scared of the finish. You take off in ruts, you land in ruts, so I was shifting off to the back of the bike. I had grampa style out there. The whoops are okay because you're on the ground! – Steve Matthes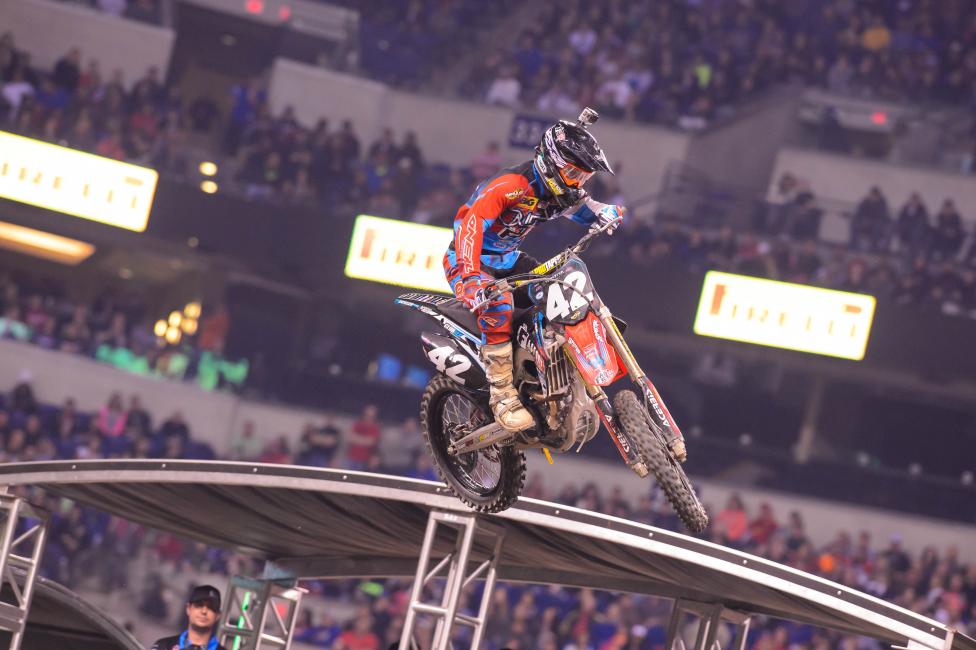 Nick Wey, MotoMafia Kawasaki, 13th in 450SX
I don't think anyone felt super comfortable out there. It was a tough night, obviously. We made a couple changes to the ECU situation that helped with the starts—and everyone is doing their best to help me, and I appreciate it. But 13th isn't too bad, it's definitely not what we're shooting for. I had a decent start in the heat race and rode with some guys I want to ride with in the main. Now I'm going to go to Florida and get ready for Daytona, and maybe work on some ruts in the sand whoops. – Steve Matthes
Vince Friese, Factory Metal Works/Club MX, 6th in 250SX
Racer X: Another holeshot. What's up with that this year?
Vince Friese: Just been working on my starts. I got a good engine guy, killer performance. Bike's solid.
Take us through the night. Fifth from first, probably not exactly what you wanted, but still a solid result.
Getting passed like that was not cool but those guys were just riding really good. I got passed I think going back to fourth right off the bat, within three or four turns. I just made a couple little mistakes there at the beginning but I rode decent. It wasn't my best ride ever but it wasn't terrible. Another sixth. I'm not stoked on it but I'll take it and move on. I'm looking forward to Daytona.
Take us through the Baggett pass. It looked like you had him and then you made that little mistake in the rhythm section. Was that where he got you?
Yeah, there were just a couple spots where he had me and a couple spots where I had him. Obviously he showed that he was just a little bit faster than me all the way around, putting together a complete lap. He got me. I got him kind of back in the whoops and after the wall but he just had a little better drive going into the next turn. Obviously he's a really good rider. He's a guy that's on a factory team and he's a podium guy. He's expected to be up there. I want to beat those guys and I want to get up in the mix but it's not all bad. As long as it's just those guys in front of me I'll take it.
Talk about the part of the track where Davalos went down. It looked like it was actually reaching the plywood.
There was a big piece of plywood sticking out there. That's where Jimmy Decotis messed up. He spun out on that plywood and that's how I got by him. He wasn't able to get off that dragon's back. It almost got me a couple times too. It was pretty sketchy.
And just the track in general, it looked a little better than practice but it still looked pretty tough out there.
It was one of the worst supercross tracks I've ridden definitely. It was hard to ride. The ruts were insane, the dirt… Everything about it was pretty crazy tonight. I was happy to make it through that main event and put in all 15 solid laps. – Chase Stallo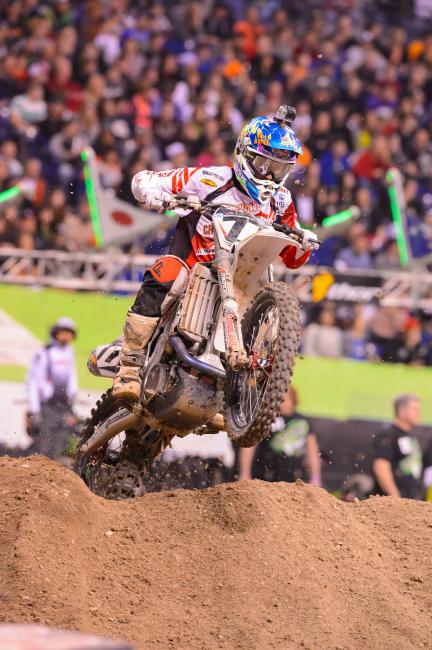 Jimmy Albertson, Crossland Racing Motosport.com, 17th in 450SX
Racer X: Take us through the night. Track was tough out there.
Jimmy Albertson: It was gnarly. I had a pretty big get-off in practice. I went over the bars in the whoops and then kind of collected myself. Had a decent practice. Practice was even way more gnarly than the race. Stuff got so rutted out. Ended up crashing in both my qualifier and my semi, and then LCQ ended up making it through. There's a couple good guys that didn't even make the main this weekend because it was just kind of chaos with all the ruts. And then the main event, I'm running okay for a while and then just had a few big mistakes, ended up dropping back. I ended up getting 17th though. It is what it is. I rode like pretty much a big girl out there. It's frustrating every weekend to come back and you feel like you're just cruising around but there's nothing left to give. I got a new program I'm going to start putting together, a new trainer as well. We're going to get to work, hard. I might be showing up a little bit beat up and wore out but at least I know I'm going to be working my ass off. I want to go out there mentally tough because I know I've been working hard. So that's what we're going to be looking for the rest of the season.
With such a tough track did it wear on you having to go to the heat, the semi, and the LCQ? Were you tired by the main?
Yeah I was tired but not any more than I would be if I didn't race the LCQ. When you're feeling it, you're feeling it, and when you're not, you're not. And I haven't felt it in a while. It's time to switch up the program. I'm definitely looking forward to kind of grinding it out. Sometimes going up a little bit wore out is not bad thing if you know you've been laying it down. You're kind of learning how to suffer a little more. I think I just need to do that. It's time to go back to kind of how I was training back when I was working with my old trainer before in 2008, 2009. Maybe I didn't show up rested but I was mentally tough because I did do a lot during the week, so that's kind of what we're looking for now.
Can you let us in on what's going to change?
Just during the week really making sure that I'm hitting my workouts and putting in the hard laps and doing that. Not that I haven't really been lately, I've just been kind of not able to throw down very much since San Diego since I crashed and hurt myself. Finally starting to be able to ride and train hard during the week.
Your brother Greg took the Top Tech Award tonight.
That was pretty cool. I was stoked for him. And an extra $500 really doesn't hurt anybody, so I was pumped for him. – Chase Stallo

Weston Peick, Motosport.com Suzuki, 22nd in 450SX
Weston Peick: Coming from southern California this [the track and ruts] was like riding death, every single lap out there, even practice.
Racer X: Big crash, bike was bent up, but still you were eighth when you went down.
Yeah for sure the speed is there, I'm feeling good every weekend. I've got to grow through the growing pains and pull my head out of my ass and learn when to push. I need to learn my boundaries out there.
After Atlanta you tweeted out a photo of a balloon that looked like your ankle. How were you feeling out there?
Yeah I just stretched out the ligaments on the outside of my ankle, underneath the ball. We tried to get the swelling down this week, it's still pretty tight so I try not to dab it or twist it. Tonight didn't help, getting stuck under the bike, but it was okay. – Steve Matthes