Thomas Covington was alone with the stars and stripes as the 2014 FIM Motocross World Championship slipped into gear at Losail in Qatar for the novel night race on the calendar. The teenager, originally from Alabama but now based in California, is expected to make his pro debut in the U.S. this May at Glen Helen for the Monster Energy/Pro Circuit Kawasaki team. But he's now already showed what he's capable of, going DNF-3rd in the MX2 class during a dramatic first ever Grand Prix. We spoke to him before and after the motos.
After practice, before the race….
Racer X: So, what are your first impressions?
Thomas Covington: They're good. I think it's awesome here and it's good to come to a different place like Qatar. It's cool to get to see different things. The track is definitely different and I haven't ridden any dirt quite like this. It's exciting. I'm really happy to get the opportunity to do this and thankful to the whole team for helping me do it. It was quite well planned out. I definitely thought about coming here after doing that European round in the UK last year. I thought it would be good to get some experience before I make my pro debut in the U.S. at Glen Helen. I wanted to see what the GPs were all about.
You got some plaudits already for trying the European series last year but doing the first four GPs is an unusual move for someone in your position, isn't it?
Yeah, not many people have come here recently except for people like [Zach] Osborne. But I like the GPs, I wouldn't mind coming over and doing a full season. I'd enjoy it. The racing is good, competition is good. These first four races are gonna be fun.
You had that "fish out of water" feeling a bit in the UK last year so can you imagine a whole season bouncing around continents and countries?
I definitely think I can do the full season. To travel the world pretty much at such a young age and seeing all these places … other than the jet lag it's been awesome. I've been like a tourist, and I also get to ride my dirt bike.
Some riders have come to Europe and haven't shone but that hasn't affected their careers too badly back home. So are results such a big thing for you? Especially as you are currently the only rider from the U.S. here…
For me there isn't that much pressure because the U.S. is really where I want to make my debut, but at the same time it is a really good opportunity for me to show everyone that I can run up at the front with the top guys. It's a good platform for me to show that I have what it takes.
So you're not worried about the fact that, if things didn't go well, people might say something like, "Covington cannot break into the top eight in GPs, so what is he going to do at the Nationals?"
Nah … I'm not worried about that at all and I don't think it is going to happen either, to tell you the truth. I'm just really excited to race today. Qualifying was a bit rough but my lap-times were awesome.
Zach Osborne has said repeatedly that the GP guys are underrated. Would you agree from your first sessions?
Oh, I would say the fields are pretty equal. I would think. The field is deep and the top ten/twelve are only a second apart. There are a lot of good guys here but I don't have the best comparison because I haven't raced in the U.S. [professionally] yet either so we'll find out when I go back.
Heading back to the Kawasaki Racing Team pits after the second moto….
Forgetting the first moto mishap and DNF, you really made a statement there…
[Laughs] Well this guy was interviewing me before the first moto and he was asking me if I was scared of what people might think if I was outside the top eight. What they might think of me when I went back to the U.S. That motivated me a little bit, so I have to thank that guy…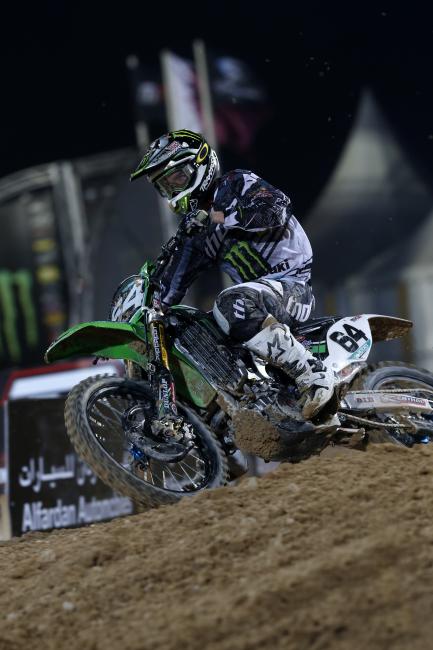 [Laughs] What an idiot…
[Laughs] Yeah, it was awesome. We got the bike there just in time so I have to thank the whole Monster Energy Kawasaki team. They did a great job to get it going. I took my time from fourth or fifth and got into third on the first lap. I was able to make a move on [Jose] Butron from the fourth lap. After that I focused on reeling in [Max] Anstie but he was riding really good. I couldn't get close enough to make a move on him. Toward the end I started to get a little tight and I didn't want to make any mistakes since I was in a good position. [Jeffrey] Herlings ended up getting me and then Anstie goes down. [Arnaud] Tonus came in hard at the end as well. It was a fun race and I'm really looking forward to next weekend.
Just how much confidence will a ride like that give you?
Maybe a little bit, but this is what the team expects of me and this is what I came here to do. It has definitely lifted some weight off my shoulders and helps me to do better next weekend.
Mitch [Payton, Pro Circuit overseer] always seems to like a Grand Prix winner, regardless of nationality, so will it be a feather in the cap to go back with some success here?
Mitch is definitely a fan of the GPs, which is cool. I got a text from him right after the race telling me "good job." It's always good to hear from those guys and I have to thank them a lot for helping me out so much this year.
Lastly, it's going to be hot and humid in Thailand next week. That should be right up your alley…
Yeah, everybody has been telling me about the heat in Thailand but I've been looking forward to it. I was born and raised down in Alabama so I was born in that stuff.