Sam Boyd Stadium
Las Vegas

,

NV
Las Vegas
Monster Energy AMA Supercross Championship
With the 450SX championship already wrapped up by Monster Energy Kawasaki's Ryan Villopoto, the real drama at the Monster Energy Supercross finale in Las Vegas was expected to play out in the Eastern and Western Regional 250SX classes. When the roost had settled inside Sam Boyd Stadium, those expectations had been exceeded.

Since there are no 250SX heat races in Las Vegas (racers qualify directly from timed practice sessions), the first gate that dropped got the Eastern Regional 250SX main event under way. Gavin Faith grabbed the holeshot in this one, but it wasn't long before Monster Energy Pro Circuit Kawasaki fill-in rider Tyler Bowers took the lead and started to check out. Wil Hahn, who was racing with a broken hand incurred in a crash in the whoops during practice, was in third, while title rival Marvin Musquin was back in about sixth. At first Musquin wasn't moving up, but then he started putting on a charge eventually led to him putting all kinds of pressure on Hahn, who had passed Faith for second place. The two battled briefly until Musquin cased a jump in a rhythm section and fell back momentarily. A few laps later Musquin had worked his way back up to Hahn, jumped next to him over a triple and put a firm, yet clean, block pass on him in the next corner.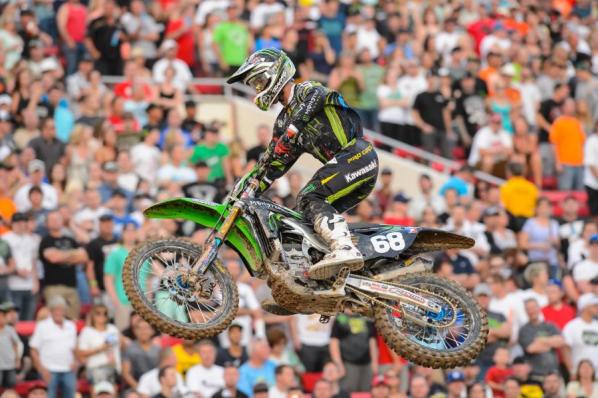 Tyler Bowers now has a 250SX win to go with his list of Arenacross accomplishments.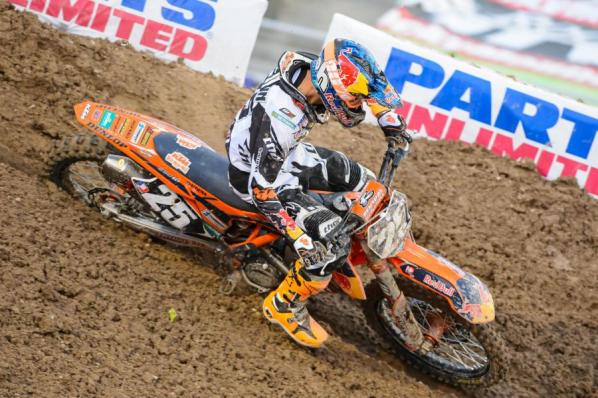 Marvin Musquin put in a spectacular charge, but came up just short.
Cudby photos

Bowers had managed to stretch his lead out up front, and with roughly five laps left, it didn't look like Musquin would be able to make catch him. But that didn't stop the Frenchman from trying, and by the time the white flag came out it looked like his tenacity just might pay off, as he had all but erased Bowers' big lead. As the final lap started winding down, every fan was either standing up or was on the edge of their seats. In the final corner, Musquin came flying in on Bowers, but it was too little too late. Had Musquin had another two feet on Bowers in that corner, there's a good chance he would have won the race, but Bowers hung on to take the win and ultimately preserve Hahn's lead in the points, making Hahn the 2013 Eastern Regional 250SX Champ. After Hahn crossed the finish line, he immediately rode over to Bowers and hugged him. We're not sure if it was a congratulatory hug or one of gratitude. We're guessing it was a bit of both.

As good as the action was in that race, one of the most jaw-dropping moments occurred when Blake Wharton, who was battling with Faith, got a little crazy in the whoops and hit the finish line jump way too fast. He skied it and completely overshot the landing, slamming back to Earth with a thud. Shockingly, he avoided crashing, regrouped and made the pass.

Hahn's 250 East Title is impressive, especially since he rode through the pain of a broken hand tonight to finish third and win it. Musquin's charge to try to win the race was impressive, too. And Bower's win was the first in his career in supercross, a landmark for the three-time Amsoil Arenacross Champion. In all, a great way to start the night.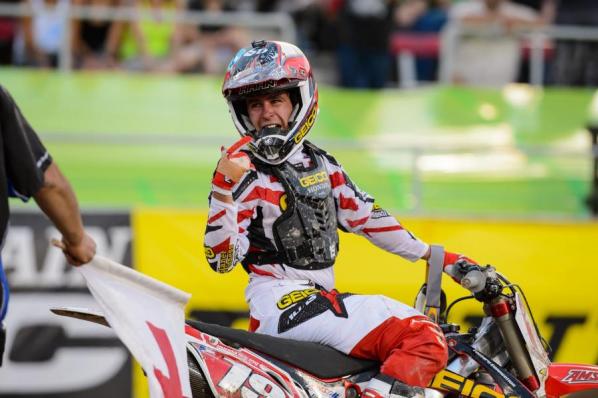 Check the tape on Wil Hahn's glove. He rode with a broken hand to wrap the title!
Cudby photo
In the Western Regional 250SX main, Zach Osborne nabbed the holeshot. Eli Tomac and Ken Roczen ran fifth and sixth right next to one another, but Roczen started making moves early, while Tomac took a few laps before he started dialing up the speed. Meanwhile, up front Martin Davalos had taken over the lead and appeared to be checking out. But Tomac wasn't about to give up easily, and after battling his way past Kyle Cunningham for third, he went to work on Roczen. The two went at it, but Tomac wouldn't be denied and eventually passed and gapped the German. With the race in its second half at this point, all eyes started monitoring the gap between Tomac and Davalos, which was beginning to shrink. If Tomac was able to pass Davalos, and Davalos could stay ahead of Roczen, the title would go to Tomac and the GEICO Honda squad for the second year in a row. Well, Tomac was able to make the move into the lead, but on the final, thrilling lap, Roczen also passed Davalos, gaining the necessary points to become the 2013 Western Regional 250SX Champion. It was a display of clutch riding from both Roczen and Tomac, but in the end Roczen is a very deserving first-time SX champion.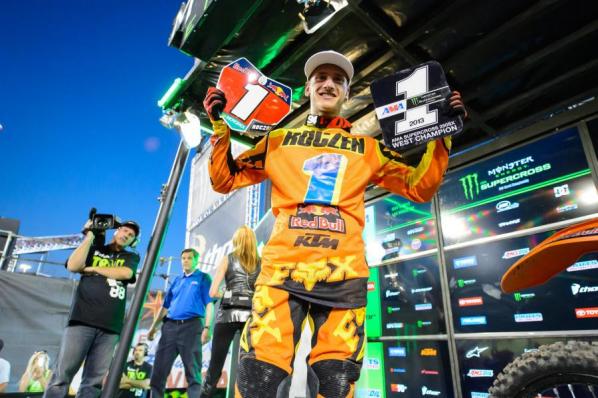 Roczen the war...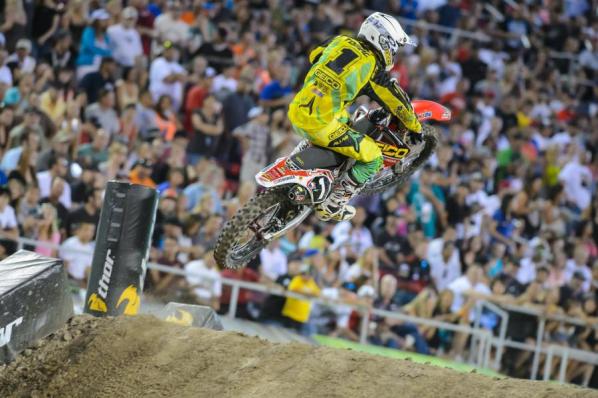 Tomac the battle in 250SX.
Cudby photos

When the Dave Coombs Sr. Memorial East/West Shootout got started, Roczen rocketed out of the gate to record his first holeshot of the year. Musquin was in second, and the two quickly started distancing themselves from the pack. They battled back and forth for a bit, but Roczen, no doubt still riding high on his first American Championship, was just too strong tonight and he motored away with the lead. Behind him, Kyle Cunningham, who always seems to go fast in Vegas, was closing on Musquin. After a brief battle, Musquin found himself dropping another spot, and Cunningham took off with second place. After that, the pack got pretty spaced out and there weren't really any battles going on, except for a back and forth between Jason Anderson and Ryan Sipes for sixth that saw Anderson come out on top. Despite the lack of battles, Bowers provided some excitement when he put a hard pass on Wharton that sent Wharton off the track. Several turns later though Bowers, who after the race admitted he was distracted by the move he put on Wharton, looped out over a jump and went down.

When the checkered flag came out, Roczen was in the lead and had the shootout win to match up with his 250 West Title. He was followed by Cunningham, Musquin and Wharton.

In the final race of the night, 450SX, Jake Weimer shot out to the lead, but Ryan Villopoto, who started outside the top five, had sliced into the lead before a single lap was even completed. A bobble that almost ended with Villopoto going down put him back in second momentarily behind Weimer, but he immediately recovered and checked out with the lead. Ryan Dungey got into second shortly after that, but wasn't able to catch Villopoto. The gap remained roughly four seconds for most of the race, until the very end when Dungey was able to close it up just a bit. But he was still far from striking distance, and Villopoto was able to cruise to his tenth win of the season.

Davi Millsaps took the final podium spot, which was enough to put him second in points for the year.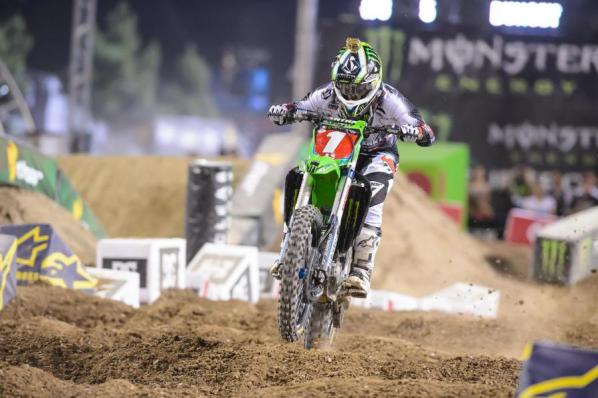 Remember this guy? He was on the gas again.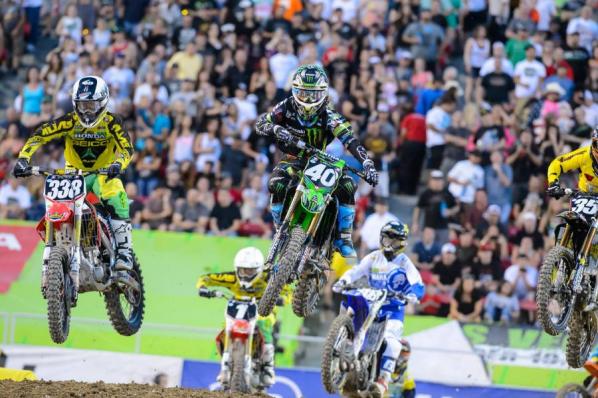 In a night of jam-packed 250 action, Martin Davalos was an X factor in the 250 West fight.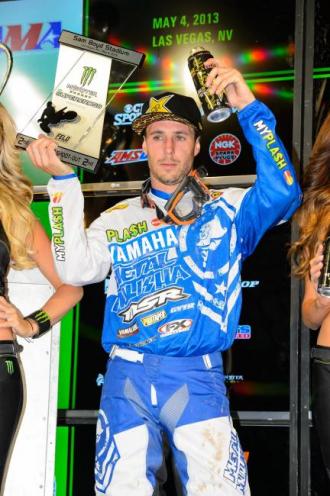 And Kyle Cunningham rode well for second in the East/West Shootout.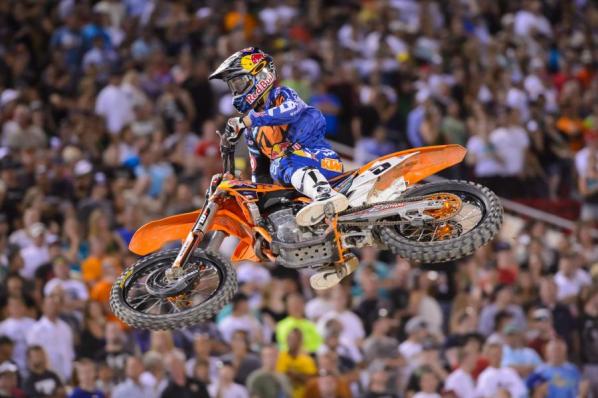 Ryan Dungey was second in 450SX.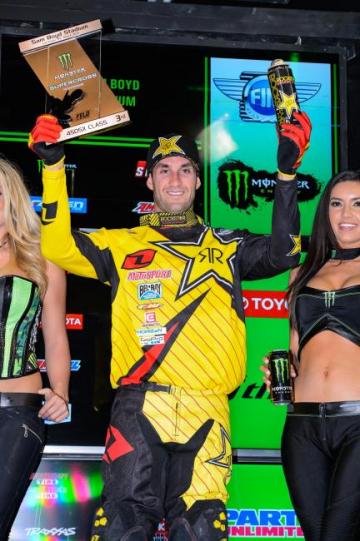 Millsaps' third was enough to lock up second in the series. No title, but certainly a great year for him.
Cudby photos
450SX Main Event
1. R. Villopoto
2. R. Dungey
3. D. Millsaps
4. J. Weimer
5. J. Barcia
6. C. Reed
7. W. Peick
8. J. Brayton
9. A. Short
10. B. Tickle
11. P. Nicoletti
12. R. Kiniry
13. K. Regal
14. J. Hill
15. C. Blose
16. C. Gilmore
17. K. Partridge
18.  N. Schmidt
19. T. Tapia
20. T. Canard

Heat 1
1. R. Dungey
2. J. Weimer
3. J. Brayton
4. J. Barcia
5. A. Short
6. B. Tickle
7.  C. Blose
8. C. Gilmore
9. T. Tapia
10. R. Stewart
11. C. Hinson
12. N. Schmidt
13. D. Meynet
14. J. Anstett
15. T. Sewell
16. J. O'Driscoll
17. J. Greco
18. A. Howell
19. D. Pipes
20. T. Parsons

Heat 2
1. R. Villopoto
2. D. Millsaps
3. T. Canard
4. W. Peick
5. C. Reed
6. J. Hill
7. K. Partridge
8. P. Nicoletti
9. K. Regal
10. B. Hall
11. J. Oswald
12. G. Crater
13. A. Enticknap
14. M. Akaydin
15. C. Howell
16. C. Jurin
17. S. Wennerstrom
18. R. Kiniry
19. J. Hicks
20. M. Alcorn

LCQ
1. R. Kiniry
2. N. Schmidt
3. R. Stewart
4. J. Oswald
5. A. Enticknap
6. D. Meynet
7. C. Hinson
8. C. Howell
9. G. Crater
10. D. Pipes
11. M. Akaydin
12. J. Anstett
13. J. O'Driscoll
14. S. Wennerstrom
15. C. Jurin
16. J. Greco
17. J. Hicks
18. T. Parsons
19. T. Sewell
20. B. Hall
21. M. Alcorn
22. A. Howell


Dave Coombs Sr. East/West Shootout
1. K. Roczen
2. K. Cunningham
3. M. Musquin
4. M. Davalos
5. B. Wharton
6. J. Anderson
7. R. Sipes
8. C. Seely
9. M. Stewart
10. T. Rattray
11. Z. Osborne
12. J. Savatgy
13. E. Tomac
14. T. Bowers
15. V. Friese
16. L. Vincent
17. C. Thompson
18. D. Herrlein
19. G. Faith
20. W. Hahn

East Main Event
1. T. Bowers
2. M. Musquin
3. W. Hahn
4. B. Wharton
5. G. Faith
6. V. Friese
7. L. Vincent
8. C. Thompson
9. D. Herrlein
10. A. Catanzaro
11. B. Kiesel
12. L. Kilbarger
13. P. Larsen
14. R. Zimmer
15. J. Starling
16. M. Oldenburg
17. A. Gulley
18. J. Richardson
19. L. Powell
20. S. Clarke

West Main Event
1. E. Tomac
2. K. Roczen
3. M. Davalos
4. K. Cunningham
5. R. Sipes
6. J. Anderson
7. M. Stewart
8. C. Seely
9. T. Rattray
10. J. Savatgy
11. T. Baker
12. T. Ingalls
13. G. Steinke
14. K. Rusk
15. D. Tedder
16. S. Champion
17. C. Plouffe
18. R. Johnson
19. A. Politelli
20. Z. Osborne

LCQ
1. J. Savatgy
2. Z. Osborne
3. T. Ingalls
4. A. Politelli
5. T. Baker
6. B. Kiesel
7. C. Plouffe
8. G. Steinke
9. D. Tedder
10. J. Starling
11. M. Oldenburg
12. K. Rusk
13. L. Powell
14. R. Johnson
15. S. Champion
16. A. Gulley
17. R. Zimmer
18. L. Kilbarger
19. P. Larsen
20. A. Catanzaro
21. J. Richardson
22. S. Clarke
450SX Class Season Standings
1.    Ryan Villopoto, Poulsbo, Wash., Kawasaki, 371
2.    Davi Millsaps, Murrieta, Calif., Suzuki, 338
3.    Ryan Dungey, Belle Plaine, Minn., KTM, 337
4.    Justin Barcia, Ochlocknee, Ga., Kawasaki, 277
5.    Chad Reed, Australia, Honda, 239
6.    Trey Canard, Shawnee, Okla., Honda, 221
7.    Andrew Short, Smithville, Texas, KTM, 214
8.    Justin Brayton, Fort Dodge, Iowa, Yamaha, 190
9.    Broc Tickle, Holly, Mich., Suzuki, 176
10.    James Stewart, Haines City, Fla., Suzuki, 174

Western Regional 250SX Class Points
1.    Ken Roczen, Germany, KTM, 185
2.    Eli Tomac, Cortez, Colo., Honda, 183
3.    Cole Seely, Murrieta, Calif., Honda, 148
4.    Jason Anderson, Edgewood, N.M., Suzuki, 139
5.    Martin Davalos, Ecuador, Kawasaki, 134
6.    Kyle Cunningham, Aledo, Texas, Yamaha, 114
7.    Zach Osborne, Lake Elsinore, Calif., Honda, 112
8.    Tyla Rattray, South Africa, Kawasaki, 99
9.    Joe Savatgy, Thomasville, Ga., KTM, 98
10.    Malcolm Stewart, Haines City, Fla., KTM, 88

Eastern Regional 250SX Class Season Standings
1.    Wil Hahn, Decatur, Texas, Honda, 198
2.    Marvin Musquin, France, KTM, 195
3.    Blake Wharton, Pilot Point, Texas, Suzuki, 171
4.    Vince Friese, Cape Girardeau, Mo., Honda, 118
5.    Gavin Faith, Fort Dodge, Iowa, Honda, 116
6.    Cole Thompson, Brigden, Canada, Honda, 96
7.    Dean Wilson, Sweden, Kawasaki, 87
8.    Lance Vincent, Youngsville, La., KTM, 80
9.    Kyle Peters, Greensboro, N.C., Honda, 78
10.    AJ Catanzaro, Portland, Conn., Kawasaki, 73