Edward Jones Dome
St. Louis

,

MO
St. Louis
Monster Energy AMA Supercross Championship
St. Louis is the secret little oasis for Monster Energy Supercross. Why? Well it's hard to figure out at first. No one comes here for the weather—it was 37 degrees outside the Edward Jones Dome this morning (luckily the pits are enclosed). And maybe St. Louis doesn't ring true for fun in the same way places like New Orleans or Las Vegas do. But the riders love it. Why? Because of the dirt.
St. Louis offers the best dirt on the tour. It's tacky, it forms up nicely and it just looks fun to ride on. The fans are hearty here, too, as this event routinely pulls a good crowd. So while St. Louis may not have he cachet of Anaheim or Vegas, or even the big rep Atlanta now has on this tour, it's still a pretty darned cool event.
The big buzz this morning centered around Ryan Dungey and the rumor that he had crashed this week and hurt his shoulder. The Red Bull KTM team was scheduled for press day on Thursday here, but Dungey didn't make it. However, we saw him down in the pits this morning and he looked fine, and he hopped on his bike to adjust the levers and bars, and run his shoulder through the full range of motion on the bike. Seemed fine riding in the first practice, too.
The second story here is the influx of riders from the Arenacross Series, which wrapped up last weekend in Minneapolis (hey, that was another underrated stop for the SX tour). Tonight's East Lites class will feature an influx of riders including AX Champ Tyler Bowers and runner-up Jeff Gibson. Bowers will stay with his Monster/Amsoil/Babbitt's Kawasaki AX team, Gibson is racing for Eleven10 Mods. Other AX riders here include Zach Ames, Dave Ginolfi, Cory Green and Matthes says he saw his old rider Kelly Smith in practice as well, but Matthes also claims podium speed if Tim Ferry showed up right now.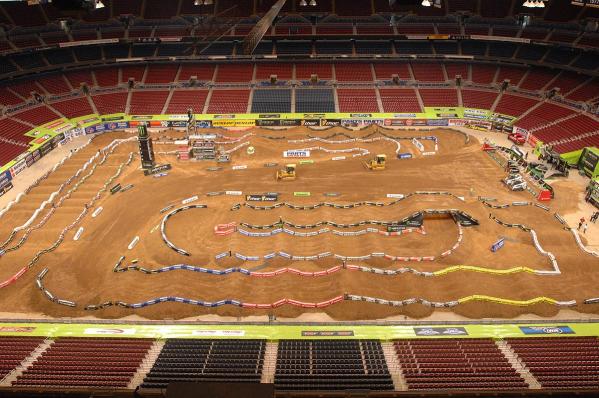 The St. Louis track.
Carl Stone photo.
The track offers a few cool sections, like the return of the over-under bridge, which riders are actually using as an on-off table top. Twenty years ago, the over-under was a huge obstacle. Now it's an on-off table.
The track features two whoop sections, one is pretty deep but the whoops are spaced closely together, so the riders can get on top without much trouble. The section section is short—so short that James Stewart and Kevin Windham bounced off the first whoop and jumped over the entire section! That's the fast line through there.
There is also a cool rhythm lane after the start. A few 450 riders were triple-tripling in, but Windham looked ready to experiment with something bigger. K-Dub is feeling it today!
Also, it's good to see Lites West rider Marvin Musquin out here on the KTM 350 in the SX class. We'll see how he does in his big-bike debut.
That's it—practice report later.