AT&T Stadium
Arlington

,

TX
Arlington (Dallas)
Monster Energy AMA Supercross Championship
Dean Wilson's mini slump is over. He followed his first career supercross win with two rough races out of the top five, and that's put him way back in the Lites East standings. But now the Monster Energy Pro Circuit Kawasaki rider is back up front, scoring his second-straight win in a row with another come-from-behind victory against his rival Justin Barcia.
After the race we talked to Dean about a variety of subjects. Some of them racing.
Racer X Online: Dean Wilson you've won again. Are you feeling the flow right now? What's going on with this?
Dean Wilson: Well right now I'm just chilling and enjoying it. It was a good race, it was definitely not an easy one on myself. It was aggressive it was exciting it was tiring, it was a lot of things so it was really good.
What changed these last two weeks?
I don't know. I just really want to win, and obviously I want to win this championship. It's still a long ways out but I'm going to just do my best and see what happens.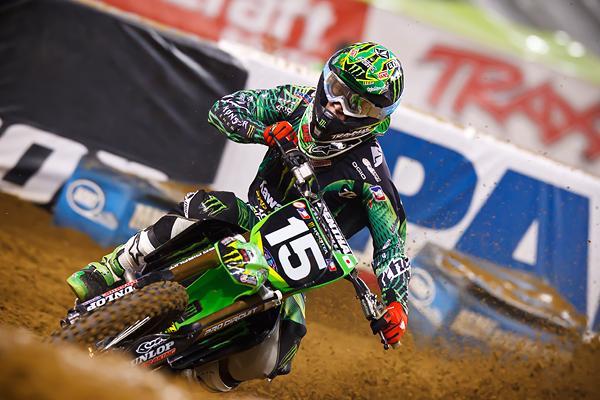 Wilson's victory in Dallas was his second in a row.
Photo: Simon Cudby
So honestly you didn't change anything specific after your little mini slump there?
No not really, and this week I didn't even really ride because I was sick. So tonight I just wanted to get a good start and stay up for the first few laps and then make it happen. I would have been pumped if I got the holeshot, but it didn't quite work out that way. But it was a good race and I'm happy.
Seemed like riders were making mistakes and going back and forth. What was the deal with that?
It was the track. Whoops were gnarly, and they definitely took a lot out of you. You're just holding on for dear life in those things. It took a toll for sure. It was a tricky track and it made for a tough race.
You had a pretty big gap to make up on Barcia. Did you feel you could do that?
I don't know. I had a really good line before the whoops, and I was making up a lot of time there. I was slowly picking away, I would make up some ground, then I would make a mistake and he would pull away a little bit. The last three laps I just really dug down deep and went for it.
Then we had a classic Barcia/Wilson battle out there. Little bit in the heat, little bit in the main. Are you cool with this?
Well, I always expect it from him. I'm not gonna' back down from it. Like I said, I'm not going to be Barcia's bitch anymore. If he stuffs me I'm gonna stuff him.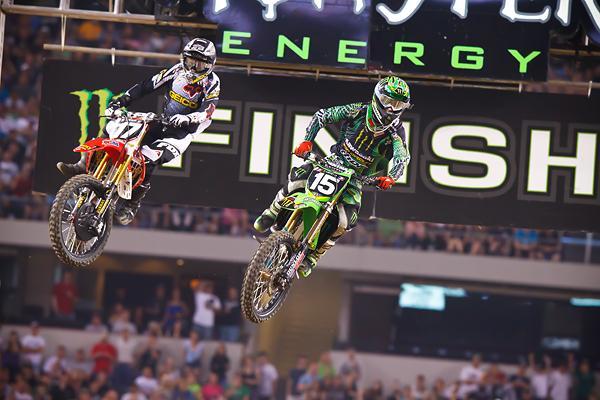 Another classic Wilson/Barcia battle took place in Dallas.
Photo: Simon Cudby
So it's not taking you out of your game.
Yeah it's not taking me out of my game. We got into it in the heat race and again in the main. And I won the main so I think that shows it doesn't change me.
And you were sick coming in here?
Yeah this week I caught the stomach bug or something. I just felt like I kinda' had to take a big poop. And, uh, so, I kind of felt terrible in practice, and then I actually took a poop, and I felt a lot better. I know no one wants to hear about poop, but I took one, and it helped. That's what I did.
(Laughs) Is this maybe the secret of champions?
Maybe!
Did you have passport problems again?
No. I was at the airport so early just in case I did have problems, I was bored so I told people I did have passport problems. I was just trying to keep it going and let everyone go crazy for a little bit. I was messing with people—I said I was riding on the back of a RCMP [Royal Canadian Mounted Police] horse. I was just having fun with it.
And one last thing. Your dad. Terrible driver?
Terrible driver. Terrible! I was driving to the airport and it's really hard being in the passenger seat with him. It's so bad. Really, you're better off just putting a blindfold on.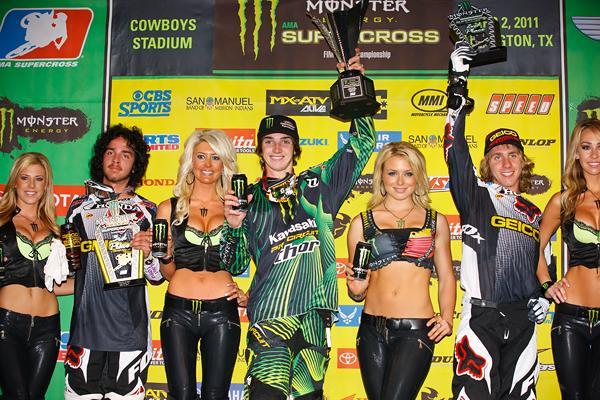 Wilson celebrates his second consecutive victory.
Photo: Simon Cudby