By Jim Kimball
Simply put, Tyler Bowers was the man to beat in 2010 AMA Arenacross. However with a severe practice crash late in the season resulting in two broken legs his season was finished.  While Tyler still finished a very credible third in points, his mind was already focused on the 2011 Championship.  Four races into the new season Bowers was already winning.  In fact, Tyler would soon win ten main events in a row! At the penultimate round in Rockford, Illinois, Bowers not only won Saturday night's main event, he clinched the championship he deserved last year.  After going through his autograph posters, we caught up with Tyler in the Team Babbitt's Monster Energy Kawasaki Ti_LUBE presented by Maxxis Tires semi to congratulate him.
Racer X: Tyler, congratulations, you're the new AMA Arenacross Champion!
Tyler Bowers:  Thanks very much, it's still sinking in.  You know, this whole year I worked hard. This championship has been about two years coming.  I worked my tail off last year, and it slipped right out of my hands. Then last summer I worked pretty hard just to get out of my wheelchair and get up and walk again.  I didn't get back on a bike until late last November, so I knew that I had a lot of catching up to do.  Coming into the series I started off a little slow, but I knew what I wanted to accomplish, and where I wanted to be.  It's been a long two years, and one heck of a learning experience.  I went through a lot to get here, so to get this championship, and to get as many wins that I have means a lot to me – I'm very happy right now!
As you mentioned, you did seem to start out the series a little behind the curve, but after about three rounds you were back where you were last season – winning!
Well last summer once I got out of the wheelchair, and off the crutches I started training pretty hard.  Then it was just about Thanksgiving Day when I first rode.  I knew that I wasn't going to be ready until about the third or fourth round – although I did think that I would do a little better than I did at the first couple races.  In those first couple rounds I was just making mistakes; in my head I was trying too hard, and getting ahead of myself - or trying to make things happen too quickly.  Later I learned to just be more patient, and after I got that first win, they started coming easier.  It went from me not being able to make a right decision on the track, to not making a wrong decision.  After I got that ball rolling, I just had the momentum.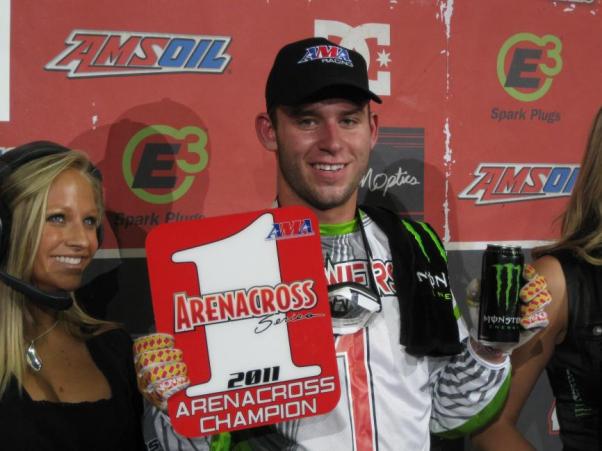 Bowers wrapped up the 2011 title over the weekend.
Photo: Jim Kimball
After you got into the points lead did that make things easier for you, or did it create more pressure?
No, it didn't create any more pressure. This year I just took it race by race.  If you win races there is no way to lose points – you always want to be the person that crosses the finish line first.  I actually put more pressure on myself when I wasn't leading the series, so a lot of pressure came off me when I took over the points lead.  I was able to build up a points lead so that even when I had some trouble late in the series I didn't hurt me that badly.  So I am very happy that I was able to build a point's cushion, and that thing's worked out well – that I could wrap up the championship early.
Does your championship now make up for the bad time you had last year?
It's bittersweet. Last year it really sucked to have the championship slip through my fingers, but its motocross racing - when you ride a dirt bike you have to expect to get hurt at some time. You cannot be scared of it because that's what we have to deal with day in and day out.  You cannot let the bad things that happen like me breaking both my legs last year, hold you back.  A lot of people have told me that "man that must be hard to come back from", but I just tell them that now my legs are filled with titanium and steel - so they should be good from here on out!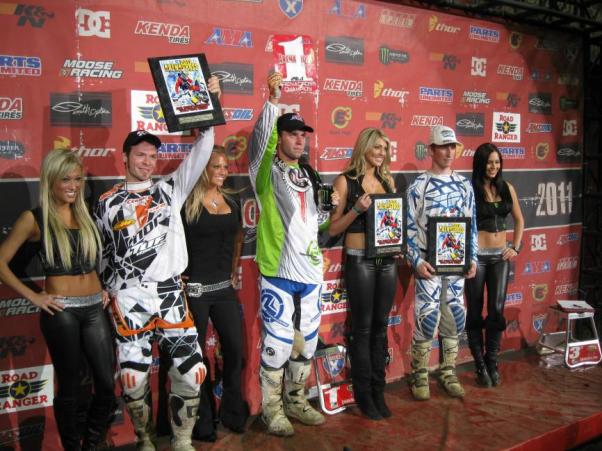 Expect to see Bowers (center) at the last three rounds of Moster Energy Supercross.
Photo: Jim Kimball
Speaking of "from here on out" will you be doing some Supercross racing?
I'm pretty excited to be racing the last three supercrosses this year.  Kawasaki is going to provide some added support, and the Babbitt's Team is really behind me.  I'm really pumped to get out there and race supercross again. It will be a lot of fun and I'm happy to extend my racing season!  After that I don't have any plans for the summer right now, I plan on enjoying some time off.  For the past two years I have taken things so serious, and still will in the future, but I just want to relax a bit now.  I grew up as a kid racing, and loving it; when I had so much time off last year I found that I really missed racing.
Tyler, that was a great way to wrap things up, do you want to add anything?
Of course I'd really like to thank the Babbitt's Monster Energy Kawasaki TiLUBE presented by Maxxis Tires Team, Denny Bartz the Team Manager, and Team Owner Eddie Babbitt; it's awesome to have a crew behind me that wants to win as much as I do!  They do whatever it takes to win, and I just have a ton of respect for those guys!  Gray Davenport and Chad Johnson have both been great teammates and riders, and I learn so much from them every time that we ride together.  This is a winning environment, and it shows. Year in and year out this is the best team in Arenacross.  I also really would like to thank my family, my mom and dad, and my sister Chelsea – they've been behind me throughout everything that I have been through this past year.  Also, I have some great friends back in Alabama that have always stood behind me; in particular Jeremey and Stephanie Schlacher have really helped me out!  The Dickson's out in Taft, California; along with the Little family that I've been living with in Corona have also helped me out a lot - there have been so many people that have been so positive.  Finally, my other sponsors like Moose, Spy, Shoei Helmets, Novik gloves, and Pod knee braces have been awesome to me – thanks everyone!