Privateer Profile: Gavin Gracyk
Gavin Gracyk is most widely known for his incredible run in the 2007 AMA Toyota Motocross Championship as a privateer, where he was consistently in the top ten. Or, maybe he is recognized for the unimaginable string of misfortunes that have hit his personal life over the past few years, including the passing of his father and his fiancé and the life-threatening car accident that his mechanic was in just months ago. Despite the torrent of tragedy that Gavin has fought against, he has always remained upbeat, friendly, and positive. So you can't help but smile when he gets an amazing break like he did this week, signing with the Joe Gibbs Racing team. We caught up with him while the ink was still drying on his contract for the summer.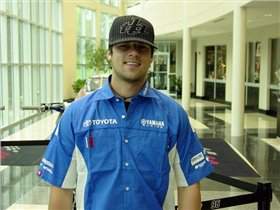 Gavin Gracyk will be riding blue this summer.

photo: Courtesy of JGRMX

Racer X: Congratulations on the new ride, Gavin! How did you end up in North Carolina?
Gavin Gracyk: Thanks, I appreciate it. It's been a long line of doors that have opened to make this possible. Obviously, the chance that Troy Lee and the Red Bull Honda guys gave me this year that was huge. To come into supercross unfamiliar and unknown, you know, and get some decent results, that was big for me. The first year, you have to take it with a grain of salt because it is hard. You can't settle for where you are, though. Next year will be even better. After looking at the outdoor season that I had last year with people like my parents, my mechanic, Dave, and all the other people standing behind me, that is what made it possible to have this opportunity with JGR now.
How is it going to work? You're still contracted with the Troy Lee Designs Red Bull Honda team through Las Vegas, but you will have to start doing some testing with the Gibbs crew.
I'm still under contract with Troy. He's checked with sponsors and they're cool with giving me some room to work here. The Gibbs guys have done the same. You have to balance the two because it's a step back to the 450 on a different brand, but I'm obligated to finish the series with TLD. So, I'm racing the Moto X World Championships on a Honda 450 for Troy, and then I'm back to the 250F for Seattle and Las Vegas. Then, at that point, I'll switch to the Yamaha 450 and really make a push to get the bike figured out before Glen Helen.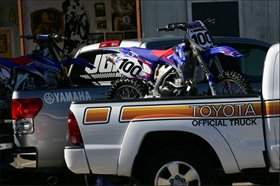 Slap a #273 on there!

You're going to have to move to North Carolina. How do you like it down there?
I like it a lot. It's a lot like Ohio, where I'm from. It's the perfect place for doing the nationals because it's hot and humid and the soil is similar to many of the nationals. And you can get to all the east coast rounds in a really short, direct flight.
Do they have outdoor tracks for you to ride?
Yeah, they have an outdoor facility and some land that they lease to use also. The soil is great, too.
Will you buy a house for the summer?
I'll probably just rent for a while until I figure out what is best for me.
How would you sum up your supercross season so far?
I would say it has been an experience. I had no experience so I didn't know what to expect. It was much larger than what I had pictured in my mind. I thought I would just go out there and adapt and race supercross; no big deal. But, as you know, it's so different from anything else you've ever done. There are a lot of variables. I've learned a lot and I'm excited about next year's Supercross season now that I know what to expect.
You did great on privateer equipment last year in the 450 class. How do you think it will go on the JGR stuff that is presumably much better?
You just have to take it as it comes. I don't want to shoot too high or underestimate myself. It is just great to have some things available to me and make improvements happen at a quicker pace. I never had people to test with me that much. I never had the chance to just use whatever works best, regardless of who makes it. I don't see how it can be anything other than a success.
Is your contract with them just for the summer?
Yes, it is just from April to September.
Have you heard how your mechanic, Dave Derosier, is doing?
Yeah, I was just up visiting him in Boston for a few days before I came here. He is walking on a walker and sometimes without the walker. He is making improvements every day. He doesn't understand quite everything right now but he knows what happened and what he has to do to get better. He has the same laugh and he's doing very well considering the circumstances. Just having him here with us still is a blessing. To see him fight every day to learn how to do the simplest things makes it that much easier for me to work hard and fight to do something that I love to do.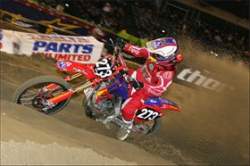 Gracyk is currently tied for 10th in the Western Regional Lites class.

You've got a lot of people behind you supporting your career. Who do you want to thank?
First and foremost, I want to thank the Lord Jesus Christ. Also, my mother and father, my mechanic and his wife, Drew Robertson and his family with Evolve Nutrition, and definitely the guys at the Troy Lee Designs Red Bull Honda team have all been an amazing help. And the Cycra guys have always had my back and I really appreciate that. And definitely the JGR/Toyota/Yamaha team also. I'm looking forward to a great summer with them.
Point of fact: this is the first interview I've ever done where a rider thanks two different manufacturers. Well done, sir.
Ha! Yeah, that's true. Thanks, Ping.
For updated news, results, and videos from the JGRMX/Toyota/Yamaha team, check them out online at www.jgrmx.com.