Bench Racing Ammo: The High Cost of Crashing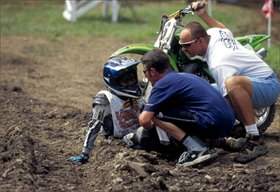 This crash resulted in Stewart's last-moto loss at Loretta Lynn's
photo: Davey Coombs
Most everyone would agree with this statement: When
James Stewart
doesn't crash,
James Stewart
wins. But the problem is, he rides so fast and tries so hard to win that his crashes tend to be bigger, badder, and much more costly than anyone else's.
That's because not only does crashing prevent James from winning races, but it has foiled a few championships for him as well. Crashing isn't necessarily a subject we like, but it plays a major role in our sport and we have to cover it.
In Stewart's case, we're talking about the man with the highest winning percentage in the history of the sport who doesn't really crash that often, but when he does, it's often a doozy—look no further than the OLN coverage of last weekend's spectacular
High Point
endo. So for this week's Motosport Outlet Bench Racing Ammo, I wanted to take a look at some championships James may have lost due to crashes.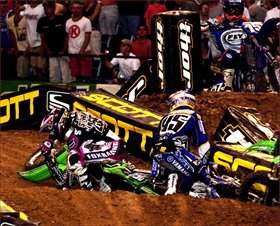 This was one of James' many crashes at the 2002 Dallas SX
photo: Steve Bruhn
While it's tough to investigate, James lost several championships as an amateur due to crashing, but the last major one we recall was in 1998 at Loretta Lynn's when he took a digger on his KX80 in the 85cc (12-13) Stock class.
Fox Racing
's Todd Hicks was the first one to his side (Hicks treats his Fox amateur team like family). After that first moto, Stewart didn't lose again—not only for the rest of the week, but for the rest of his Loretta Lynn's career! As a result, he set a record of 23 moto wins in a row from 1998 to 2001 that stands today.
The first professional championship Stewart lost from crashing was actually in his rookie year. It was the 2002 West Region 125cc class. After going 2-1-2-1 in the first four races, James held a comfortable 21-point lead going in to Anaheim 3. But after finishing 11th and then 10th in Houston, he held only a 10-point margin over
Travis Preston
going into the second-to-last round. But then a nightmarish, crash-filled evening in Dallas resulted in a 16th-place finish. Preston won that race and left with a 10-point advantage over Stewart going into the final round in Salt Lake City. James won that race but lost the championship to Preston by seven points.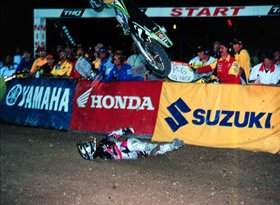 Simon Cudby caught some of Stewart's 2003 Las Vegas endo
photo: Simon Cudby
Next up was the 2003 AMA 125 outdoor nationals. At this point, James was on a roll. He was the defending 125 National MX champion and had put together a dominating performance in the '03 West Region SX Series to win that series, too. There was one supercross race left, though: the Dave Coombs Sr. East-West Shootout in Las Vegas. Unfortunately, a wicked endo resulted in a broken collarbone, forcing James to miss the first eight motos of the motocross series, giving him a points deficit too great to make up. He went out and won all 14 motos he entered, but Red Bull KTM rider
Grant Langston
still beat him for the title.
In 2004, James dominated both 125cc supercross and motocross like no one ever had before, and he was ready to move up to the premier class to create the "perfect storm." After a fifth-place at the mud-infested Anaheim 1—his 250cc-class debut—James went to Phoenix and crashed his KX250 hard in practice, breaking his arm and ending his hopes for a 250cc SX championship. He came back and grabbed some wins, but again, the damage was done.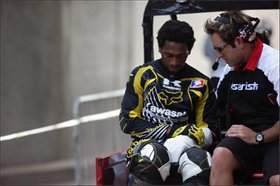 Stewart in Phoenix, 2005
photo: Simon Cudby
And finally, you're all probably quite familiar with how Stewart's 2006 Amp'd Mobile Supercross season went. Crashes at Anaheim 3, St. Louis, Daytona, Indianapolis, and Dallas all contributed in him narrowly missing the AMA crown by two points. But he did win more races than anyone, as well as the Amp'd Mobile World SXGP crown.
Going in to the 2006 Toyota AMA Motocross Nationals, we all knew that James had the speed to win races, but the question was if he could put together 24 consistent motos. His first-moto crash at
High Point
while leading
Ricky Carmichael
may have put him in a hole too deep to dig out of, but if anyone can do it, it's #7.
Stewart epitomizes the saying "Win or crash trying." He is all heart and all talent; and for whatever reason, the timing of his crashes seems to cost him dearly. He goes so fast that when he does crash, it's often like nothing we've ever seen before. When he figures this out, look out.