The 11th day of the 11th month is a somber one in much of the world. It's Veteran's Day in America, Remembrance Day in Canada, Armistice Day in France, and recognized by many countries as the day to honor those who served their countries as soldiers, sailors, marines, and more. They picked November 11 because that's the day, the month, and the hour (11 a.m.) when World War I ended with the Treaty of Versailles. It was the "war to end all wars," but of course it did not. In fact, there's been some big ones since November 11, 1918. And there's still some going on, obviously. So take a moment today and think about the soldiers, past and present. If not for them, the world would be a much different place right now.
Well, in what has to be one of the least-surprising announcements in recent memory,
Ricky Carmichael
was named
Racer X
's 2005 Rider of the Year. RC graces the cover of our brand-new January '06 issue, which should be in subscribers' mailboxes (or already in their reading rooms) as you read this. The ROY story, though, really isn't about Ricky, but rather about all of the people around him—the friends and family who have helped him maintain a championship program for nine straight years now.
There's also a behind-the-scenes look at Team USA's victory at the Motocross des Nations, as told by Kevin Windham, Ivan Tedesco and RC, along with Roger DeCoster, Jean-Michel Bayle, Steve Whitelock, Robert Rasor and everyone else involved with the effort. Rodney Webb covered the U.S. Open for us, and David Pingree wrote a tale called "Chinese Takeout" that might be one of funniest motocross stories ever written. It's all in the January issue of Racer X Illustrated, which weighs in at well over 300 pages (and that's without the Racer X Canada parts!)
And speaking of Canada, the gang up there is getting ready for Amp'd World Supercross to come to town in a few weeks. Over on www.racerxcanada.com, they are counting down the days with cool facts about World Supercross. Check it out.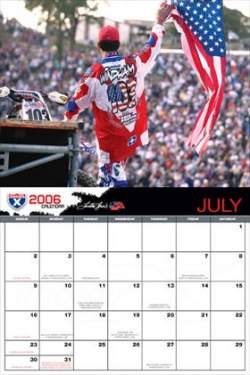 The 2006 Racer X Calendar is a red-white-and -blue affair
Finally, if you don't subscribe to
Racer X
, now might be a great time, because every new subscriber (as well as anyone who re-ups their existing subscription) will get a free 2006 Racer X Calendar, featuring Team USA at the Motocross des Nations. The photos all belong to
Simon Cudby
, so you can probably just imagine the quality. This is a piece of motocross history
you don't want to miss
!
Just got the lap times in on the first practices over at Bercy Stadium in Europe, where TFS, Jason Weigandt, Matt Allard and Steve Jackson are representing for us.
1. Short 43.384
2. Laninovich 43.654
3. Reardon 43.725
4. Boniface 43.816
5. Mike Alessi 43.980
6. Sorby 44.015
7. Rouis 44.034
8. Brown 44.037
9. Tortelli 44.060
10. Gosselaar 44.347
If you're looking for live Bercy updates over the weekend, check out: http://www.motorcrosslive.com.
Now, let me turn this over to TFS, with more from the annual Paris-Bercy Supercross…
Andrew Short, last year's "King of Bercy," was the fastest in the first practice at Bercy today. Factory Connection Honda rider Billy Laninovich was second. Both will be favorites in this three-night event.
Short, Laninovich, Mike and Jeff Alessi, plus Mike Brown, Jeff Gibson, Sean Hamblin, and Chris Gosselaar make up Team USA for this event, which has a team format: USA vs. France vs. Rest of World.
Rumors that Mike Alessi broke his arm in practice are false. He pulled out his shoulder in the whoops without even crashing and walked off the track holding his arm, but he is back in for tonight. His brother, Jeff, is here too, on a KTM250F. He had to ride a KTM 125 two-stroke here last year and had trouble keeping up.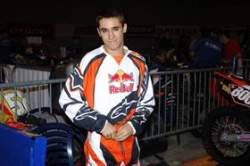 Mike Alessi does not have a broken arm, as you can see here. He's back and ready for another Bercy Supercross, along with his brother Jeff.
photo: TFS
France is very strong, with
Sebastien Tortelli
using the #1 on his KTM, and he is sure to be a fan favorite. That means lots of loud cheers for this partisan crowd.
Stephane Roncada
is making his debut for Motoworld Yamaha here too.
Eric Sorby
,
Steve Boniface
, and
Sebastien Pourcel
are also racing for France and look good.
Benjamin Coisy
hurt his shoulder and is out for a while—like two months. Hopefully his injury today won't affect his plans to race supercross in the U.S. in 2006, starting at Anaheim.
The "Rest of World" team's top rider in practice was Daniel Rearden. The rest of the team includes David Philippaerts, Ryan Marmont, Marco Dube, Antonio Balbi, Neville Bradshaw, Alexandre Rouis, Gilles De Jongh, Sylvain DeJuster, and Mickael Musquin.
The track has a new design for Bercy. It has a road race-style "chicane" in the infield, a wide, high-bermed right-hander that almost makes a loop, then suddenly turns left and goes under the over-under bridge. It's been about 10 years since Bercy used the bridge.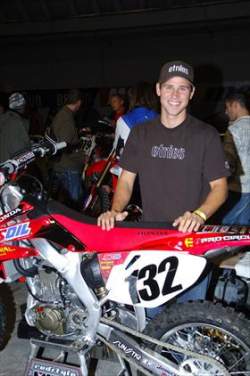 Billy Laninovich has been all over Europe lately. He won one night in Genoa a week ago.
photo: TFS
Most of the participants from the U.S. did stop and think twice about making this trip due to the riots in France, but they checked around and everyone seemed okay enough with going. The only no-show is Team USA's manager for the weekend,
Ricky Johnson
, who has personal reasons to stay home anyway.
This looks like it's going to be one of the most competitive Bercy SX races we have seen. The promoters expect a full house tonight due to the Armistice Day holiday. But "ET," that Spanish freestyle animal properly known as Edgar Torronteras, an annual favorite in the event's famous halftime shows, is out injured. Ronnie Renner is representing America and says he is ready for some backflips and his sickest whips yet, which would make them the sickest whips EVER, in our book!
One interesting note: Bercy has one freestyle exhibition during the program, and one more right after the last main event and podium. These go on for at least 30 minutes, sometimes longer, and the crowd just gets worked louder and louder the whole time. No one seems to be ready to rush out and beat the traffic. Sometimes it's almost midnight and the stands are packed and it just gets louder and louder.
Thanks, TFS. We'll have more from Steve throughout the weekend, and also keep an eye on www.motonews.com for more from France.
Yesterday we popped up one of our Racer X Wear Flash Trivia contests online, which asked the question:
"Who were the last riders to win an AMA 125cc Supercross/SX Lites race on each of the five brands? Name the rider, year and race."
Well, the correct answers are:
Davi Millsaps, Las Vegas 2005, Suz
Andrew Short, Houston 2005, Hon
Nathan Ramsey, Seattle 2005, KTM
Grant Langston, Dallas 2005, Kaw
Josh Hansen, Indy 2004, Yam
Congratulations to the first five readers who submitted correct entries. Your 2006 No Limits motocross calendar is on the way: Brett Sugamele, Derek Egbert, Dennis Kelley, Tim Holas, and Ryan Haines.
Time for
Ping
's news from the West Coast: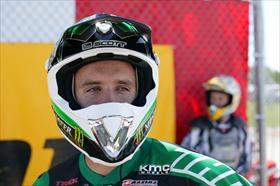 Langston just went under the knife
photo: Simon Cudby
The
Monster Energy/Pro Circuit/Kawasaki team
is having a rough week. Last week,
Grant Langston
underwent
reconstructive surgery
to repair the ankle that he dislocated at the motocross season opener in Sacramento. The surgery went well and Grant is on the road to recovery. Still, any time your star rider has to go under the knife, it's a bummer. Then
Troy Adams
crashed at the test track and broke his femur. Troy was a wildcard going into next year, but the word from the Pro Circuit camp is that he was flying in practice. Troy is a great kid and I know a lot of people were pulling for him. Best wishes to him for a speedy recovery.
The movement to ride 450s in supercross continues to build. Mike LaRocco is the latest convert, following in the footsteps of Chad Reed, James "Bubba" Stewart, Ernesto Fonseca, and Ivan Tedesco (though Reed is using the World Supercross GP rounds to make his final decision in the matter.)
One rider who will be on a two-stroke for sure is seven-time AMA Supercross champion Jeremy McGrath. I bumped into MC at a track this week and asked if he was doing some testing. He replied, "Dude, I'm riding a two-stroke 250. There's not a whole lot more to try. I'm all tested and ready to go!"
What about RC? He seems to be the last guy to commit to one bike or another. Or has he? Is Ricky playing head games, or has he really not decided? This week alone I've heard that he is sticking with the two-stroke and that he is planning on taking both bikes to every round and deciding which bike to ride when he sees the track layout. I don't think we'll really know until the first week of January.
Man, I'm not even racing Anaheim 1 and RC has me psyched out. I don't know whether to use a two-stroke sound or four-stroke sound in my head when I do a mental lap around the track map! But I do know that tomorrow is Carmichael's one day off of "SX Boot Camp"—he's having his Tallahassee championship party for friends and family tomorrow night. Country singer Brad Paisley is even stopping by after his concert near there.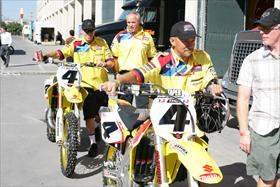 RC hasn't decided which he will ride.... Then again, maybe he knows exactly what he's doing
photo: Simon Cudby
This weekend, the
Elsinore Grand Prix
is blasting off through the beautiful town of Lake Elsinore, California. The campers are already starting to pile up right off Interstate 15, and this year's event promises to be great—
Ryno
says he's going to win.
Another happening in SoCal is the annual Metz Fest. Mike Metzger hosts a freestyle demo, minibike race, live band, and more at the Wooden Nickel Ranch in Menifee, CA. Go to www.podiumproductions.com.
One cool event that actually went off last month but is still worth watching was Red Bull Supermoto A-Go-Go from Reno. Over 25,000 fans saw it live, but now you can see it this weekend on OLN, from 5-6 p.m. EST on Saturday, then again Wednesday, November 16 at 5:30-6:30 pm EST. Check your local cable listings for exact air times: http://www.redbullsupermotoagogo.com/.
That's all from Ping. By the way, the Racer X Tested 2006 250F Shootout went up this week, as did his first ride on the all-new '06 YZ450F. If you missed either, check them out.
This from Paul Buckley: "I keep seeing photos of this track, the Acropolis Rally special stage in the Greek Olympic stadium and I always think, That's how nice a supercross track should look! Add some dirt (ok a lot of dirt), some cool jumps and for the whoop lovers, a small section of those too. Now that a track that I think people would look at and think it would be fun to ride. Wonder if I can talk Rich into throwing this layout into one of the 06 rounds...."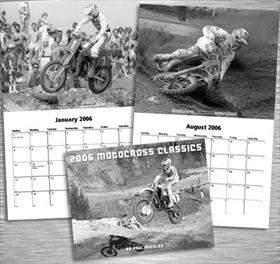 Buckley's best from back in the day
Buckley is also doing one of those excellent old-school motocross calendars, similar to the one that
Charley Morey
showed us last week, but with one difference: While Morey was mostly working the sidelines during the 1970s, when
Marty Smith
,
Bob Hannah
,
Tony D.
and
The Jammer
were in their glory days, Buckley's calendar will looks at the heroes of the 1980s and beyond—guys like
David Bailey
,
Johnny O'Mara
,
Rick
Johnson
and more. Check out Buckley's work
right here
.
My choice? I'm running Charlie's calendar on one wall and Paul's on the other!
Check out the sweet Genoa SX Wallpapers from Mario Marini, featuring Sebastien Tortelli, Billy Laninovich, the Alessi boys, Nate Adams, Kenny Bartram and more.
WBR Suzuki's David Bailey—yes, THE David Bailey—recently took a trip to Kauai, Hawaii, with riders Ryan Sipes and Ryan Morais for a motocross school. Afterward, they raffled both of their bikes off to local kids with As and Bs on their first-quarter report cards. "They helped me with the school and put on a great show in the local race and then gave away their equipment," says Bailey. "Watching people win those bikes was like watching people see their new house on Extreme Home Makeover."


Speaking of Sipes and Morais, the
Racer X Canada
gang got their hands on the
pre-entry list
for the SX Lites class at the Toronto SX, and there's a LOT more talent going up there to race the Canadians than last year—including Sipes and Morais and their WBR teammate
Michael LaPaglia
.
Andrew Short
,
Josh Hansen
,
Davi Millsaps
, and last year's winner,
Nathan Ramsey
, are also in already, and we hear that a few more U.S.-based 250F riders may end up there yet.
Two names that jumped right out at the guys in the Racer X office were Logan Martin and Dwayne Evans, a pair of fast local pros who will be making their WSX debuts at Toronto. Good luck, guys!
A note from my friend Simon Cragg of the UK: "I just read last week's Racerhead about the sad demise of Coconut and had an idea. Now that Ryno and Jennifer are dog minus one, why don't you get Ping to hook them up with one of his Costa Rican puppies? He said he was looking for homes for them and they all live in SoCal don't they?"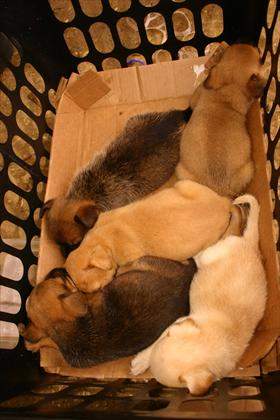 Maybe Ping has a spare pup for Ryno
photo: Matt Ware
This from the European theater: "
Paced
an introspective look at the sport of motocross through the thoughts and musings of seven of the best riders in the world and conveyed by the action and images of the World Championship and Motocross of Nations will be on sale this week. The seventy-five minute documentary examines this intense and spectacular off-road motorcycle racing discipline by focussing on the highlights and low points of the 2005 Grand Prix series and the run up to the Motocross of Nations at Ernee; the most prestigious off-road event in the world and the only team-based Motorsport competition. Exclusive interviews with Multi AMA MX and Supercross Champion Ricky Carmichael, nine times World Champion Stefan Everts and fellow GP protagonists Ben Townley, Josh Coppins, Antonio Cairoli,
Tyla Rattray
and Billy Mackenzie form the basis of the film as they relay their recollections and opinions of their profession involving themes such as fear, the exhilaration of jumping, the sensation of crashing and the physical demands of the sport as well as their expectations approaching the Nations in France where they would go on to represent their countries in front of 60,000 spectators."
Want to get a copy of Paced? www.pacedmx.com
Check out this photo of Ricky, er, Steve Boniface that Mario Marini clicked off at Genoa last weekend. For a second there, he does look like RC!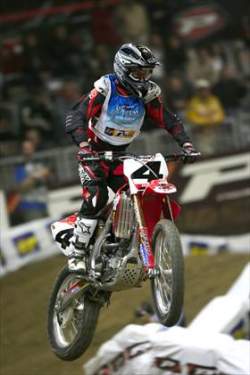 Check out this photo of Ricky, er, Steve Boniface that Mario Marini clicked off at Genoa last weekend. For a second there, he does look like RC!
photo: Mario Marini

Michael Holigan hooked me up with this note: World Supercross from Toronto will air on Speed TV the very next day at 6 p.m. and then again on Thursday at 10 p.m. And then SX Lites from Toronto on Saturday will air seven days later (on the 10th) at 10 p.m.
For the whole Speed TV Amp'D World Supercross schedule, check out:
speedtv.com/schedule
.
Okay, here's the first heat results from Bercy, courtesy of Regis Harrington:
1. Sorby
2. M. Alessi
3. Short
4. Reardon
5. Bossiere.
The BooKoo Arenacross Series is in Missouri this week while the AMA/Toyota Series is on a one-weekend hiatus. If you want to watch live times or listen to the webcast from St. Charles, check out: www.racearenacross.com.
On our Racer X Bench Racing Ammo, we had some confusion over when exactly the first Anaheim SX was held. I wrote about the AMA ending its fledgling supercross series there beginning in December, 1977, but Racer X reader Jim Myerson pointed out that they actually held a non-sanctioned "stadium motocross race" there in 1975 that was won by Tony DiStefano. What else is cool about that is the fact that Marty Smith apparently raced a factory RC125 Honda in the main! Myerson added, "The second Anaheim race was 1 year later (Dec. 4, 1976 I believe) and Marty won that time on a 250. The biggest jump on the track that year was named the 'King Kong Jump,' a tabletop-type jump made mostly of wood. Gotta love the old school!"
A note from Miki Keller: "Natalie King, who hails from Ireland, is coming the WMA Cup in Texas to race and to meet some people and get set up for qualifying for Loretta Lynn's. She is 13 and is said to be comparable to Ashley Fiolek in speed – that means really, really fast! Also, Larissa Papenmeier is racing the pro class. She runs up front with Steffi Laier in Germany, so she's going to be a contender too."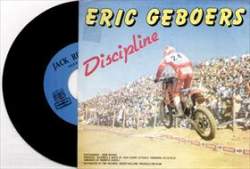 Where was Geboers' racing when this was shot?
From a reader in Brazil: "My name is
Bernardo Magalhaes
, and I am and a former professional racer. My biggest acomplishment was a gold medal in 2001 ISDE in France. Last year (my last as a professional) one of my sponsors was
Ludovic Boinnard
from One Industries. But Iam writing for you just for a detail: The picture on the cover of
Eric Geboers's
record was shot in Brazil in 1987. And that was the race that
Rodney Smith
won, which then sent him to the world championship. The place is Campos do Jordão, on Sobre as Nuvens Circuit (which translates to something like 'Over The Sky Circuit'). It is 400 km far from Rio de Janeiro. It's possible to discover that because the main sponsor of this GP was Hollywood Cigarettes, a Brazilian cigarette factory!"
Like I said, I love the old school! Thanks, Bernardo.
Congrats to Racer X contributor Chris Tedesco on this cover.
And a late note from Ping: "I just got back from KTM and found out that Jay Marmont is recovering quickly from his broken femur. (His foot peg fell off when he landed from a jump and his foot stomped the ground so hard it broke his leg…. Ouch!) He is planning on being back on the bike in January and still making the East Coast Lites series opener.
And now the second heat from Bercy:

1. Tortelli (start to finish)
2. J. Alessi
3. Brown
4. Boniface
5. Laninovich
Finally, a note about a very important cause: Many in the motocross and mountain bike industry know that OMS agent Mark Reynolds was tragically killed by a mountain lion less than two years ago while riding his mountain bike in Orange, California. What you may not know was that Mark, an avid bicyclist, always took time before Christmas to purchase new bicycles and helmets for underprivileged children, anonymously donating them to local churches. In his career as an agent, and in his life, Mark always put others before him.
After Mark's tragic death, his parents, Gary and Dona Reynolds, established the Mark Reynolds Memorial Bike Fund Inc. to support and carry on Mark's dreams of delivering bikes to those children less fortunate. This fund is a 501 (3) charity and all donations are deductible, with all proceeds going to the purchase of bikes. To aid in this benefit, the Mark Reynolds Memorial Bike Fund Inc. is having an Ebay auction of many of today's top motocross stars' riding gear. The auction will start at 6:00 PM CST on Sunday, November 13. Included in the auction are items from such riders as Ernesto Fonseca, Kevin Windham, Mike and Jeff Alessi, Andrew Short, James Stewart—and a rare Ricky Carmichael jersey from the Motocross des Nations!
The Mark Reynolds Fund has received a tremendous amount of support and community partners to arrange for these bikes being delivered to the children. Dona Reynolds is a "Mother on a Mission" to keep the legacy of Mark, and his passion for biking and giving, to continue through this fund. Special thanks again to all the riders, team managers, and apparel companies that donated items for this benefit auction – without their help this would not be possible. For further information, please contact Dona Reynolds at: donareynolds@markreynoldsfund.org and visit the website at: www.markreynoldsfund.com in honor of Mark.
And with props to cpsmith58 on Mototalk, here's the
eBay sale of the week
.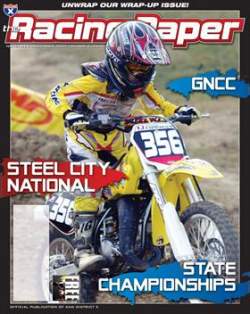 The Nov/Dec 2005 issue of TRP
And good news to the riders of District 5: The newest issue of
The Racing Paper
is out, so look for it in your mailbox any day now!
Finally, check out the 5 Minutes with Travis Pastrana that "DJKC" did from Pastrana's hot tub before last night's world premier of Nitro Circus 3.
That's all I got. Thanks for reading Racerhead. See you at the races.