5 Minutes with … Travis Pastrana
Last night was the world premiere of Travis Pastrana's Nitro Circus 3 movie. Yesterday afternoon I tracked down Travis at his home in Davidsonville, Maryland, for a quick interview before the premiere to ask a few questions about the movie and his upcoming all-star car-racing event, in which he will be teamed with NASCAR champion Jeff Gordon. I caught him just after he just came in from a ride at his place and hitting the hot tub to relax and hang out with friends.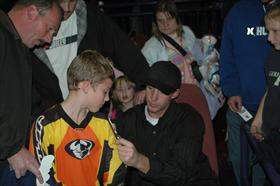 Travis signs for his hometown fans

Racer X: Travis, how are you doing? Fill us in on the movie.


Travis Pastrana: Doing great. Last year we did a lot of advertising around the schools here. This year we posted it at racerxill.com and there was a mob at the bike shop of people yelling, "Where's my tickets?!"

Who are the producers of your new film and the main characters?
Gregg Godfrey and myself produced the film. Characters [laughs]? That's a good way to describe it. "Street Bike Tommy" is back, bigger and better than ever. Ronnie Renner is in the film a lot and just a bunch of crazy people doing some great stuff.

How will this film differ from the first two Nitro Circus films—which are still among my most favorite stuff to watch?
Thanks. There was a lot of great footage that didn't make to the film. We had an hour and 45 minutes of footage that we cut down to 45 minutes to keep from being long and drawn-out. There is less racing footage in this one.

Not to give the movie away, but what would you say was the most crazy stunt in the movie?
Wow, there were a lot of them! The double backflip is in there, lots of crazy foam-pit jumping, the slip-n-slide is real crazy, Ronnie Renner doing a double backflip on a rocking horse off a ramp into the water…. It just goes on and on, just a lot great stuff you'll see. Also, I have myself in the video flipping my rally car over, like, eight times in a spectator area, which was great. No, it actually sucked! But it's great on film.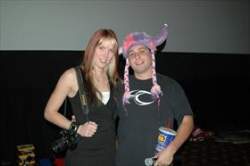 Jolene Van Vugt and Street Bike Tommy

Next you will be doing the Automobile Race Of Champions in Paris, France. Fill us in on this.
Yeah, I'm going to be team with Jeff Gordon. We'll be racing against other great racing stars from all over the world. Michael Schumacher, Sebastian Loeb, Colin McRae, and Valentino Rossi are supposed to show up also. Since Rossi and I are the only two motorcycle guys out there, I would love for us to be paired up together to race. I would really love to race him. Everyone there is an amazing, amazing driver. I really hope I can hold my own during this—for Jeff Gordon's sake, and for the USA team. Just look at Jimmie Johnson last year: He's a great driver, and he lost every one of his heat races! The rally-car guys are going to be hard to beat. It's going to be tough. Plus, Porsche is building the cars for a lot of it, along with the off-road buggies. My best chance to really beat any of those guys will be in that event. The pavement just has never been my forte.
It's really great to see motorcycle guy make it in rally-car racing. See you tonight at the premiere, and good luck with the film.
Thanks, any time.
Later that night at the showing, and me being a film critic….
Packed house at the Crown Mall Theaters, Travis running around, taking care of things with his crew. "Street Bike Tommy" was there, along with WMA racer and fellow backflipper Jolene Van Vugt and "The Professor" Gary Bailey. Before the show got started, Travis did a contest, drew names, and gave out prizes. To my surprise, my daughter was the first name pulled, and she got a Pastrana lunchbox. Then he drew three names for a contest to see who could eat a slice of bread the fastest. Very funny watching this, because you couldn't drink anything either. You had to be there.
Then we got to the movie. I have seen a lot of these extreme-stunt flicks, along with Nitro Circus 1 & 2. This one was over the top. Everything from rally cars, downhill mountain-bike races, foam-pit jumping, snowmobiles, yard boxing, fireworks fights—the list goes on. It has the footage of Jolene becoming the first female to stick the landing on a backflip on a full-size motocross bike, and Street Bike Tommy will have you in laughing tears—he is just too funny.
If you love watching crazy, insane stuff, this is the video for you. A must-have in your motorcycle-video collection. Oh, and if you ever get the chance to do the foam pit at Travis's place, DON'T TURN RIGHT! Watch the video—you'll see what I mean.