When top amateur prospect Haiden Deegan signed with the Monster Energy/Star Yamaha Racing team, it got the whole sport talking. Deegan of course is the son of Brian Deegan, the former pro racer and action sports icon who has seen and done a lot in this sport. He's also his son and daughter Hailie's co-star on their You Tube channel "The Deegans" along with mom Marissa and little brother Huckson. I recently had the chance to catch up with Brian about how it's going, especially with Star Yamaha, as the biggest team in professional SX/MX is now expanding its amateur foot print ever more, and giving their riders assets and opportunities that few other teams can do.
Racer X: Over the years we've seen Kawasaki Team Green, and Yamaha Blue Cru, KTM's Orange Brigade, Factory Connection Honda, and all of these other different factory-supported amateur programs. Now we have this Monster Energy/Star Yamaha Racing team that is already starting to really pay dividends. Started with Jeremy Martin and Cooper Webb, then guys like Aaron Plessinger and Justin Cooper have already come through it, and now it's got four more riders coming through in Levi Kitchen [who will be racing pro full-time when the 250 SX East Region starts], Nick Romano, Matt LeBlanc, and your son, Haiden Deegan. You've been through all of this before, having raced for Team Green growing up and turning pro and all. What would you say is so special about this new Star Racing program and what led you and your family to pick it for Haiden?
Brian Deegan: We really struggled with the decision, with Haiden being with KTM's Orange Brigade, which is another great amateur program, for so long. My biggest concern was how does Haiden make the transition from amateur to pro, because that is the toughest transition that any racer will have, and what team is going to help most him make that transition the best? I did my homework and it got to the point where it was really Star Racing's commitment to the riders at a young age, and developing them and putting them with their current pros, training them as if they are pros, to an extent, and putting them with their best guys and grooming them to get ready for that eventual gate drop at Anaheim or Hangtown. Star basically understands what it takes to make a young rider be prepared for that last big step, their pro debut. Add in the facility they now have in Florida [previously Ricky Carmichael's farm], the race shop they have there now, the tuners—but trust me, it was a very tough decision.
You already seem very comfortable with your decision already, and so does Haiden.
After a few weeks with Star, it made me really rest easy, going "Okay, this was the right decision." Every time Haiden and the other boys are on the track they've got engine technicians, suspensions techs, they are riding with [Eli] Tomac and [Dylan] Ferrandis and all of the 250 class contenders they have now. I mean, you couldn't pay for a better set-up than what they have down there right now!
And there's also the added bonus of Jeannie Carmichael, Ricky's mother and riding coach, popping up here and there to help out. She's probably crafted more championships than anyone with her son, the GOAT.
Her coming out of the woodwork at the farm and working with Haiden and all of the other guys is just amazing. I also love how she's really, really to the point. She takes no crap, and she does it in a nice way, but the way she comes across the riders respect her. You can't doubt her resume. And they truly love motocross. The Carmichaels all have a true love motocross. I mean, she doesn't need to be out there but she just loves it, and her and Haiden click really well. It's a massive bonus to this whole deal for sure.
I recently watched your "The Deegans Go to Anaheim 1" on You Tube where the pro team basically let you guys under the tent to hang out and watch and listen and just be part of the whole race-day experience and atmosphere at a really big and important supercross event. It's like you're already part of the program. Getting to simply be there so close to it all, Haiden is not going to go into the pro ranks in a year or two with really big question marks—he's going to know exactly what to expect.
Yes, and as a parent the most important thing for me is safety, and one of my biggest concerns is how do I get Haiden prepared for supercross and pro motocross the safest way possible? And I think that is exposing it him early, for a year or two, and the team feels that way as well. They put them out there on the track walk with them, they let them hang under the tent in the paddock and inside the hauler, they get to see how qualifying goes, the pressures of the lap times, the competition, breaking down videos, how to adjust the engine and the suspension—there's just so much to it, and that all just gets overwhelming. And just racing every weekend—that's another big step. Imagine throwing a kid into all that and going, "Okay, you get two years to sink or swim," and yet it's your first being in a rig or under the tent, that it's a lot of pressure.
Your family's journey went from California back across the country to North Carolina because that's the best place right now for your daughter Hailie and her trajectory in auto racing. With Star Yamaha Racing now in Tallahassee, are you now half-and-half between Florida/North Carolina and also California?
Yeah, kind of. We still have our house in California, and we also ended up buying a house in the Charlotte area—Mooresville, actually—to be closer to Hailie with her NASCAR program. The next two years are critical for Hailie, as to whether she's going to make it or not. And I feel like it's important for the family to be around to support here. Now Haiden is going to be in Florida training soon—he just turned 16 so he's still got a year or two—but I don't want him to be training full-time already. I want to make sure he has time to be a kid a little bit. I feel like there is a formula there, right? But yes, we're going to be in Florida a ton, as well as North Carolina. And hey, who knows, Haiden may want to go back to California to race West Coast as soon as next year, so we'll see.
The March 2021 Issue of Racer X Illustrated
Recruitment Center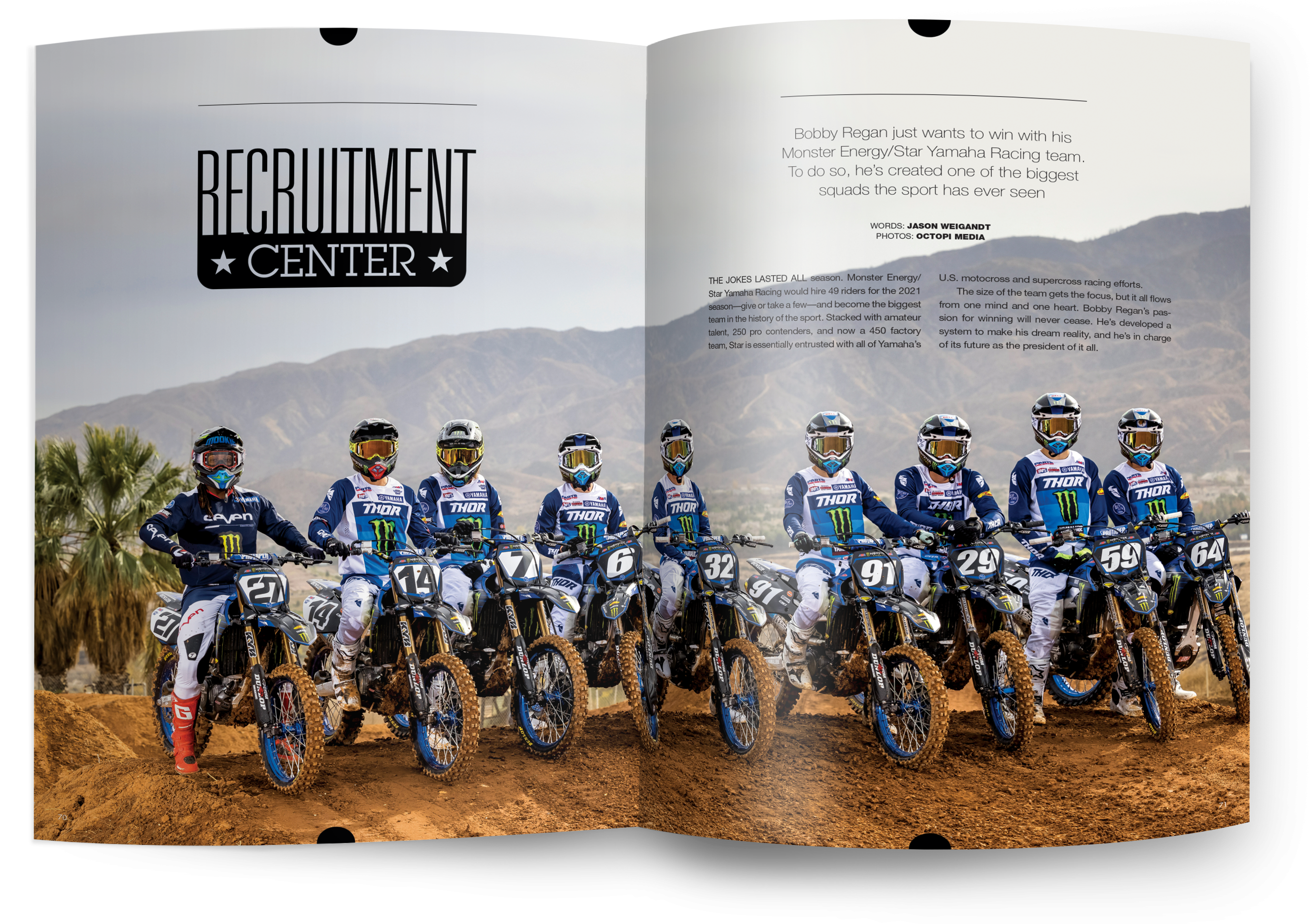 Bobby Regan just wants to win with his Monster Energy/Star Yamaha Racing team. To do so, he's created one of the biggest squads the sport has ever seen. (Read or listen)
Read Now
Preview Now
Skipping back over to Hailie for a second, what program or team is she with now?
Well, Hailie was with Toyota when she first got in to stock cars because they had a program at the time, but then once Ford created their development program, we switched Hailie over. I've pretty much always been with Ford through rally racing, and have always had a good relationship with them. She's now with DGR [David Gillan Racing] because they are the main Ford team for NASCAR trucks. Our goal is to then have her do a few Xfinity races with Stewart Haas. She's built a good relationship with Tony Stewart by racing the SRX Series together. So maybe the goal, or at least a really good fit, would be to get with Stewart Haas Racing.
Okay, back to Haiden. Is he still working and training with Caleb Tennant?
Caleb is a really good trainer for Haiden when are in Southern California, but once we got with the Star team, he trains with Gareth Swanepoel, who works with the team's 250 guys. It's cool because Gareth spends a lot of time with Haiden, and then Haiden gets to cycle and work with all of the guys. Haiden jumped right in to "hell week" with the pros, right when they really start getting ready for the new season, and rode maybe 300 to 400 miles the first week! He had no problem with it, and they said they've never seen a young rider come to their program so well-prepared. They said they've never seen an amateur have this type of cardio and this much preparation, which is good to hear.
Do the other kids, Nick Romano and Matt LeBlanc, get to participate as well?
Yes, but they are a step ahead of Haiden. They are in the A class, getting ready to turn pro soon—probably after Loretta Lynn's—but yes, everyone trains together. That's another thing I really like about the team. It's not all separated. It's a team. Everyone works together, there is no drama. Obviously you have your hierarchies, you have the older guys you have to respect, as they've paid their dues, and everyone understands that. But overall everyone helps everyone else, which is really good.
And where do they live when you're in Florida?
We stay right at the farm in our motorhome. We're full moto! And we love the whole vibe. Carmichael's old posters are still up on some of the walls, and he's got some of his old factory bikes there, his old shop is still there—it's a full moto deal. There couldn't be a cooler place for these kids to know what motocross is. They are really getting it from all sides.
Bobby Regan is of course the owner of Star Yamaha Racing and the architect of this whole concept. He seems almost more like a college football coach with the Alabama Crimson Tide, like Bear Bryant or Nick Saban, than a motocross team owner. It's just such a different approach. It's a bottom-up team approach, which right now also happens to have the guys at the top now too.
Bobby was obviously the main reason we switched over. I've had a relationship with Bobby for almost a decade, ever since the Metal Mulisha was sponsoring Cooper Webb on the Lites bike.
I've always liked how he's a real straight up guy, and he really does care about the riders. It told me a lot about him when Haiden crashed at the Mini O's and suffered a minor concussion, Bobby stepped right in and said, "Haiden's off the bike—he's not racing anymore this week." It kind of caught me off guard because I'm not used to telling me how to do things with him, but I was like, "All right, cool." I could really respect that. He wanted what's best for the rider, not the team, and that was to make sure my kid was healthy and safe. He also wants to win more than anyone else out there, and I love that. That's the way I've always been—do whatever it takes to win. I think it's going to be a great relationship.
I was thinking about the fact that in the last few months Bobby's team signed not only one of top 15-year-old prospects in the country in Haiden, but also Eli Tomac, which adds to the whole program not only for its future, but for right now in 2022 Monster Energy AMA Supercross.
I agree, and I sit back and watch Haiden lining up with Tomac, Ferrandis, and Craig and all of these guys, it's just really cool to see as a parent. And I remember Christian from back in the day, when we [Metal Mulisha] were partnered with the Star Racing/Valli Yamaha team, and he came in one day looking for a ride. I mean, we were interviewing Christian Craig for a job! It's kind of funny now. There's a lot of history there.
As for Tomac, think about how just last year Star took a 450 program that had struggled for years, and they got it turned around in less than a year. That speaks volumes. Eli and I talk, and let me just say he's really happy with the bike, and he's really happy with the program. To hear someone at that level, who's been with a few really good teams, speak so highly of it is really reassuring. They have every piece of the puzzle now. Besides all of the history of the farm, having the shop there now too means that when the riders ride, the engine and suspension departments are right there. So if a guy's like, "Oh, the bike's kicking," or "the engine is not running right," well it's getting fixed right there, right now. It can go on the dyno, the suspension can get done right there, and they get right back out on track. That is such a huge advantage… I asked around, I asked some very top 450 riders, and all of them said, "If you want to win, you have to go to that blue team." It's kind of crazy how much respect they have now, and it just keeps building and building.