Anaheim, CA
Anaheim 2
Monster Energy AMA Supercross Championship
SX Futures is underway now with Saturday racing on the real tracks of Monster Energy AMA Supercross. Kawasaki Team Green's Ryder DiFrancesco has lived up to his billing as one of the nation's top amateurs by winning both events handily. He also won both of the Moto Scouting Combine races in 2021. Ryder will be a full-time pro supercross racer next year, but he's getting the full benefit of these new amateur-to-pro transition events. What's he learning? We asked him this week.
Racer X: Okay you're two-for-two in these 250SX Futures races, but the learning experience is supposed to mean as much as the race result. So how do you look at it? Patting yourself on the back for winning them or just taking away what you learned?
Ryder DiFrancesco: Honestly, I see it both ways. Throughout the day it's a big learning experience and then it's just another gate drop to me, I don't think of it as racing, it's just learning something new and trying to click off the laps. Just getting used to the day program and the tracks, too. It's pretty gnarly.
When you're out there do you feel like you're riding the track or racing the track? Are you trying to just get the obstacles down or are you trying to race your way from obstacle to obstacle?
The first one in Oakland, for sure I was just trying to do the sections. Even at the test track, just went from week to week, first just doing the laps, then pushing through the rhythms, then trying to connect the whole track together. So at A2 I wanted to do that, and I think I achieved my goal.
So, we consider you a factory rider in the amateur ranks, however you want to define that. So I'm sure people assume you ride the supercross test track all the time. Is that the case?
Before I did Monster Energy Cup, I rode the track a few times. This year with Futures coming up I started riding the test track on November 1. I've never learned so much on a motorcycle before!
Yeah, so I know the races are considered a way to learn, but the three months of prep, that's probably going to be the biggest benefit of all! You're a year ahead now.
Yeah. I was working with Ivan Tedesco [trainer] and Seth Hammaker, basically doing whatever Seth did until he got hurt. It was a great way to get my feet wet before next year's off-season prep. It won't be that new to me.
What about the whoops? Is this your first time learning those?
So, we made a plan, which was get the whole track down but go around the whoops. So I worked on seat bouncing and carrying momentum and then connecting the track. Then we started working on whoops. We set a goal to hit the whoops on every lap and every practice session we do. It's a lot harder! You hold your breath through the whole section. It's a lot harder than going around them!
As far as holding your breath, is that a bad habit, or is that just the way it is? Does Ivan tell you not to do that or does he say, "That's the way everyone does it?"
I try not to. Dude, the whoops…sitting in the stands at A2 and watching the pros go through them, knowing I went through them. It's a lot harder than it looks. It really is. When I watched A1 before Oakland I thought, "The whoops don't look too bad." Then I got to Oakland, and I did track walk and realized how easy these guys make it look.
And the whoops have been tough this year!
Yeah, San Diego had some big ones, luckily we didn't have those ones. This weekend [Anaheim 2] was pretty tough.
So, at Oakland we were wondering why you were the only, for lack of better words, big-name amateur racing the SX Futures. Then you explained that the Oakland qualifier took place on the same weekend the Mini Os, so most riders skipped it. So is this the priority for you?
Yeah, I was really focused on supercross, and I was riding supercross before Mini Os. I think doing Oakland [qualifier] was better than Mini Os, in my opinion, at this point in my career, for me. I've loved the Mini O's, I raced them for six years, I think. The Futures is new and exciting and this is the first year, so I might as well do it.
And the qualifier was not at a supercross track right?
Yeah, the qualifier for Oakland was a regular motocross track but they did add some supercross obstacles. The qualifier for A2 was just a regular motocross race! It was Cal Classic. So we were just doing outdoors.
You're going to do as many of these as you can, clearly.
Yeah, Futures and then also Daytona [Ricky Carmichael Amateur Supercross], which isn't called Futures but you're still racing the same track as the pros, so I'll do that. Once supercross is over I'll focus on outdoors. I didn't get to race much last year, but I'll focus on Loretta's and then the last few [Pro Motocross] nationals after that.
You mentioned your injury. You're probably aware that it has not been an easy road for anyone to just keep winning every year as they come through the ranks. Mostly due to injuries. You've seen others get derailed by this. So when you broke your femur, where you worried, or did you just think this was a temporary setback?
Honestly, until now I didn't really think about how much I missed. I got hurt and I worked my butt off to get back for Loretta's, that was the goal, but we ended up not racing Loretta's. So then we decided to focus on the two [Moto Scouting] Combines. I won those, so that felt like it completed my whole year. I missed a bunch, but those races made it feel like I had a good year. Also, I worked so hard with the rehab, it took my mind away from missing stuff. It didn't really bother me too much.
So now we're seeing this pattern, riders like Levi Kitchen and Justin Cooper, guys like that, they come into their own at the last minute as amateurs and go out on top. It hasn't worked out for a lot of riders who were winning before that. So I think we have this idea, now, where the riders who are chasing it, the riders who are trying so hard to get up there, they have so much extra motivation, and that's what leads to success. But I remember you battling so hard in your days on a KX65. The KX65 isn't the most advanced bike…I've seen you fight for moto wins. So explain how hard you have had to work to get here. It probably hasn't been as easy as it seems.
Yeah, I think racing the KX65 made me better. I've always had Jett Reynolds, Stilez Robertson, Max Vohland, you could name 10 other riders I grew up with, to race against. I think racing against each other made us all really good. It's only getting harder over the next few years, you have to recognize that, but these last couple of years of racing, it was hard.
So, you weren't holeshotting every moto and wining every moto by 30 seconds?
For sure no. I had a stacked class every time. Even local races at Bakersfield near my house, you'd have four good guys on the gate, and you'd have to line up on the gate and go for it.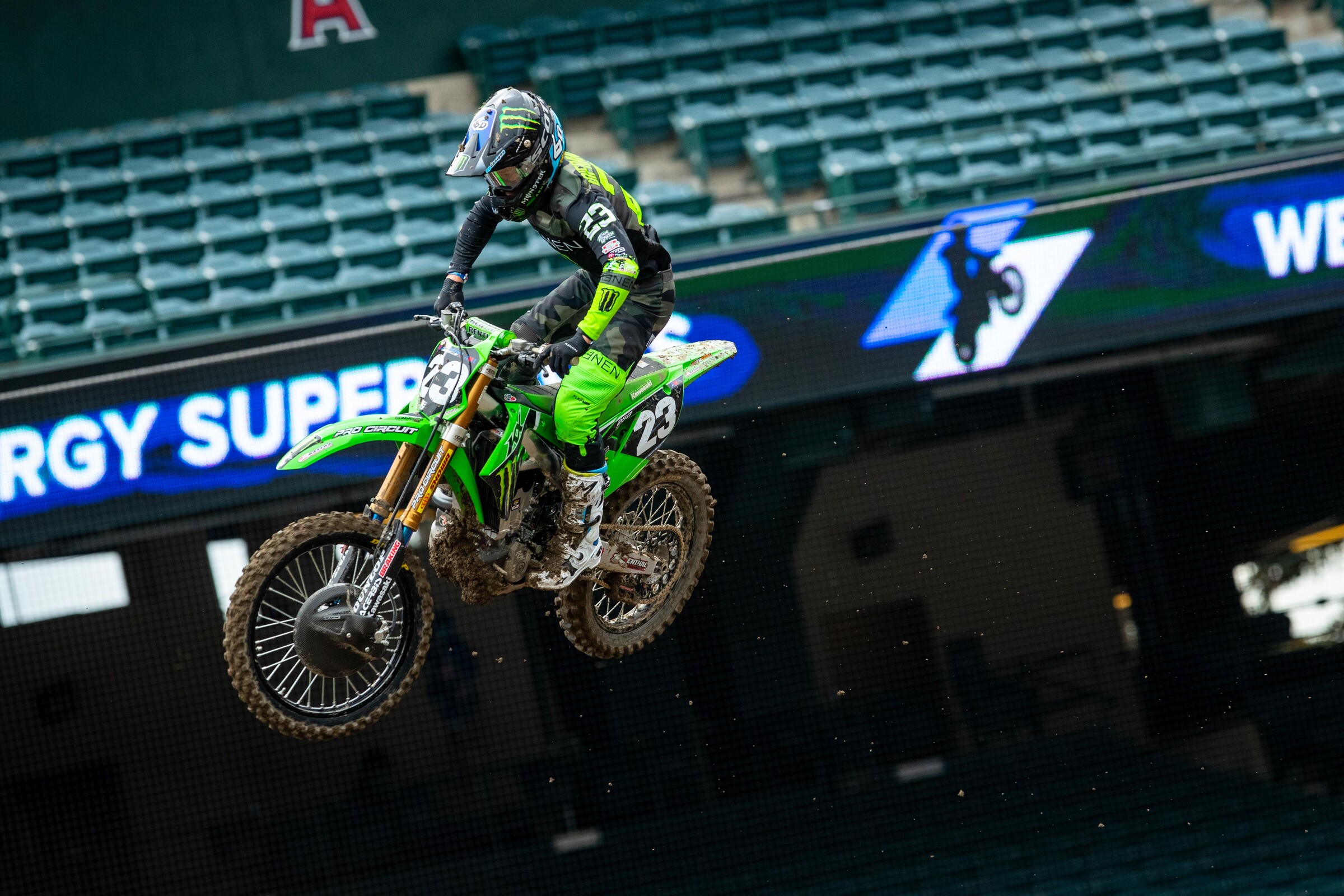 Yeah, so maybe we don't see that because at Loretta's you're not all in the same class. But at local races, you are, and most of these guys are older than you, right?
Yeah, Stilez is three years older than me, Jett is a year older. My age group is Nick Romano, that's who I have battled with my whole career has pretty much been racing him. But when I would race the older classes, it was all the other guys.
We had this whole thing going with the Bakersfield Bunch, with you, Jett Reynolds and Stilez Robertson. Are you guys still tight?
It's cool still. We all keep in touch. Bakersfield, it's small, so it's kind of like a big family. Stilez is actually my cousin….
Wow, I didn't know that!
Yeah! We're all pumped for each other. I'm excited for Jett to make his debut on the 250 East. I'm excited for Stilez, too.
So, were you at the test track with Jett when he was learning supercross, too?
Yeah that really made it fun. Building our base with supercross together, having fun with it and getting good at it at the same time. We've done it together our whole lives. Now to be there with Mitch [Payton] at the same time, it's really cool.
Hey what is it like working with Ivan Tedesco? I've known him for a long time but man, I can't read the guy. He seems nice and all, but that's about all I've got. What's he like as a trainer? I would have no idea?
He's super chill. It's so hard to get a read out of him because he's so mellow and he doesn't really say much.
Even for you!
Yeah. But I enjoy that. I don't really want a guy yelling at me. Obviously, he's strict. He still rides, too, still tests for the PC team.
Have you ridden with him? I heard he still rips.
Some days he's faster than the pro guys!
So, is he faster than you?
Yeah…sadly! He rips the whoops pretty good, that's for sure.
Watch this the full interview below: