While the Daytona Supercross was going off last weekend, you may have noticed Phoenix Honda's Kyle Peters missing from the lineup in the 250SX main event. That's because Peters was instead in Amarillo, Texas, working on completing the perfect sweep of the 2021 Kicker AMA Arenacross Series. After the checkered flag waved, Peters had completed an unthinkable 20-0 season as he coasted to the championship. Now with that feat completed, Peters will turn his focus back to supercross this weekend. Steve Matthes had him on his PulpMX Show this past Monday to talk about the perfect season and his goals moving forward.
Racer X: Nice work, bro. That's cool. Undefeated. Arenacross champion.
Kyle Peters: Thank you. Yeah. As it was going on, I didn't really look into the whole streak and record thing. I was just kind of going out there race by race and trying to win as much as I could. Looking back on it, big accomplishment. I'm proud of that one.
At some point you were like, "Hey, I want to win them all?" Because I heard you were going to skip some and come to supercross, and then I heard, "No, KP wants to win them all, so he's not going to supercross." So, at some rate, this became a goal?
Definitely. The team owner for the Phoenix Racing Honda Team, David Eller, and I after Tampa arenacross the weekend before Daytona we were talking about what we wanted to do. We talked about racing Friday night, locking up the championship and then flying out Saturday to Daytona. Then we were looking into it and saw it could possibly be a mudder at Daytona, so we just kind of decided to stick with arenacross and see if we could win out. So, I'm pumped we did and pumped we got the job done.
That's awesome. I watched some of them on TV. The ones I watched on TV you took off with. I'm like, "Okay, big deal. He's gone." Was there one where you got lucky, one that you had heat on you? What was the closest one to losing?
The closest one was in Guthrie, Oklahoma. I think it was the 250 main. I got off to kind of a rough start, fourth or fifth and [Mike] Alessi holeshotted and was gone. All those tracks are made for the amateur races because they race the whole day, then all night with us. We're just kind of mixed into the program. So, it's really tough to make up time on anyone out there. Alessi was kind of gone out there out front. I was able to catch him I think with three laps to go. I was able to push him into a mistake and get around him. They're super short races, 12 laps. Lap times 20 to 26, 27 seconds. Pretty wild.
Did you just crush it financially? Where are we at with this, KP? How well does this stuff pay? Did you have a Honda contingency? Did you have a Phoenix Racing contingency?
We had bonuses through the team that David had worked on through sponsors and whatnot. So, it definitely helped. Definitely not on the Phil Nicoletti program or anything like that! But it was good. It's a lot of fun for me to go out there and interact with all the guys and the kids and whatnot. So, I think it's really good getting gate drops in before the supercross season as well. So, I think it's a lot of benefit.
Did we make 50K? Are we 50K for this series?
Oh, no.
We were debating this on group text earlier, a bunch of us. I would have said around 50K. But for you, you missed Daytona. You're jumping into the series now though. You're back, I assume?
Yeah, I'm back. Even with Orlando, I didn't feel super myself coming into that, which even in the main event I think I started 15th or 16th and came up to seventh. The confidence that I kind of get through arenacross along with off-season training and whatnot, I think my program is a lot better than what it has been in the past. So, I don't see any reason why I can't be fighting for podium spots every weekend, even with how stacked and gnarly the West Coast is.
I was going to ask you if there was anything from arenacross that helps you in supercross, but it doesn't sound like there is.
For sure.
Oh, there is?
Yeah, I think so. I think gate drops obviously help. It's obviously different. They're not grates, they're dirt. It's hard to kind of go back and forth with them. But with arenacross, everyone is kind of doing the same rhythms. The whoops aren't very big, so you have to be really good at the little things like fast feet, corner speed, making sure you get the power to the ground. That's where you make up time and where you can pass people. I definitely think it helps transitioning into supercross with remembering with supercross there's big rhythms, there's big whoops. The track can be super gnarly, but you can't forget to do the small things.
What does fast feet mean?
That's a good old Bud Man [Buddy Antunez] thing I learned from him when he was over at JGR. It's just kind of getting your feet back on the pegs as quickly as you can coming out of corners, or sometimes even leaving your feet on the pegs in corners. Helps your intensity and also getting power to the ground.
Do you foresee yourself going back to arenacross? Is that what Phoenix wants to do? Do you want to do this next year?
Yeah, definitely. I would love to keep going. It's something that the Phoenix Racing Honda team and I are in talks about. The team over there has been great. They've really stepped up the program even from last year when I was on it. Mitchell Key and Dean Baker came on board from the JGR team, so our motors are getting a lot better, and they've come a long way. So, stoked to have them on board. Then we have Johnny Oler doing our suspension with Art of War. That's a lot of JGR guys. Our bike is solid. I think it's definitely competitive. I'm pumped to get back racing in supercross and show what I got.
When you think about it, Kyle, your Star Yamaha ride was a long time ago now.
For sure.
I had your back on that. I thought they should have kept you. I'm like, I can't believe they dropped Peters after was it one year or just two?
It was one year.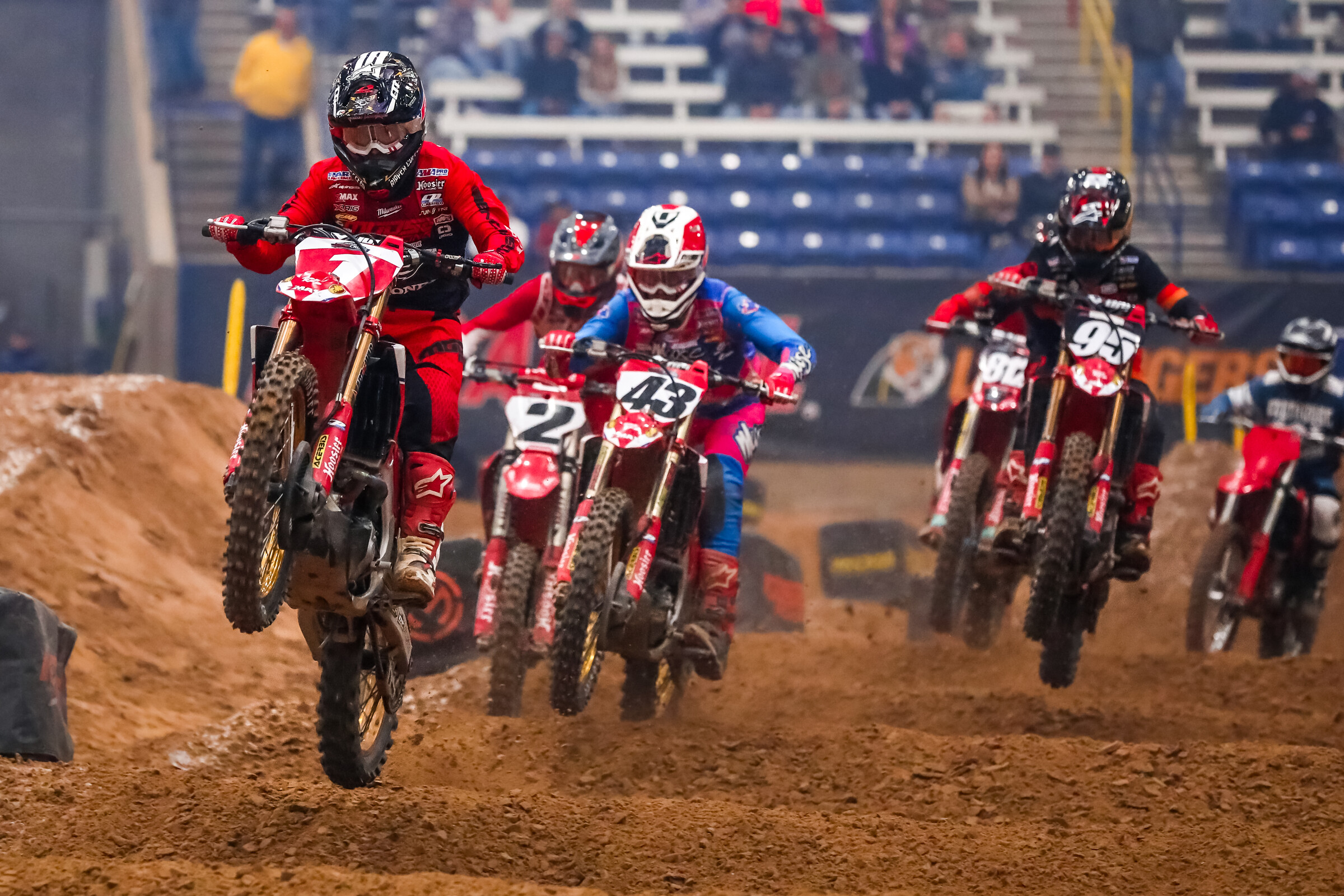 One year. Bobby [Regan, team owner] is a pretty harsh guy with the riders. I remember writing, Peters got hurt. He missed some time, but he's legit. He's a good starter. Give him another chance, and just clippy-clippy and that was it.
Yeah. I hurt my shoulder two days before my first supercross. He let me have two rounds off with a stage-four AC separation and then he was like, "You have to go back racing." Obviously, you know how well that is, being injured and a rookie. It doesn't work out very well.
But then that summer you started coming around, I feel like.
Yup. We started coming around in outdoors and then I ended up having another shoulder injury. It is what it is. I think it helped me in the long run a little bit just become who I am and whatnot. There was a lot of years where I struggled with believing in myself and didn't have the confidence and was just scared of getting hurt multiple years, but now with getting older I think I kind of understand the sport a bit more. Mentally I'm a lot better than what I have been in the past. I believe in myself a lot more.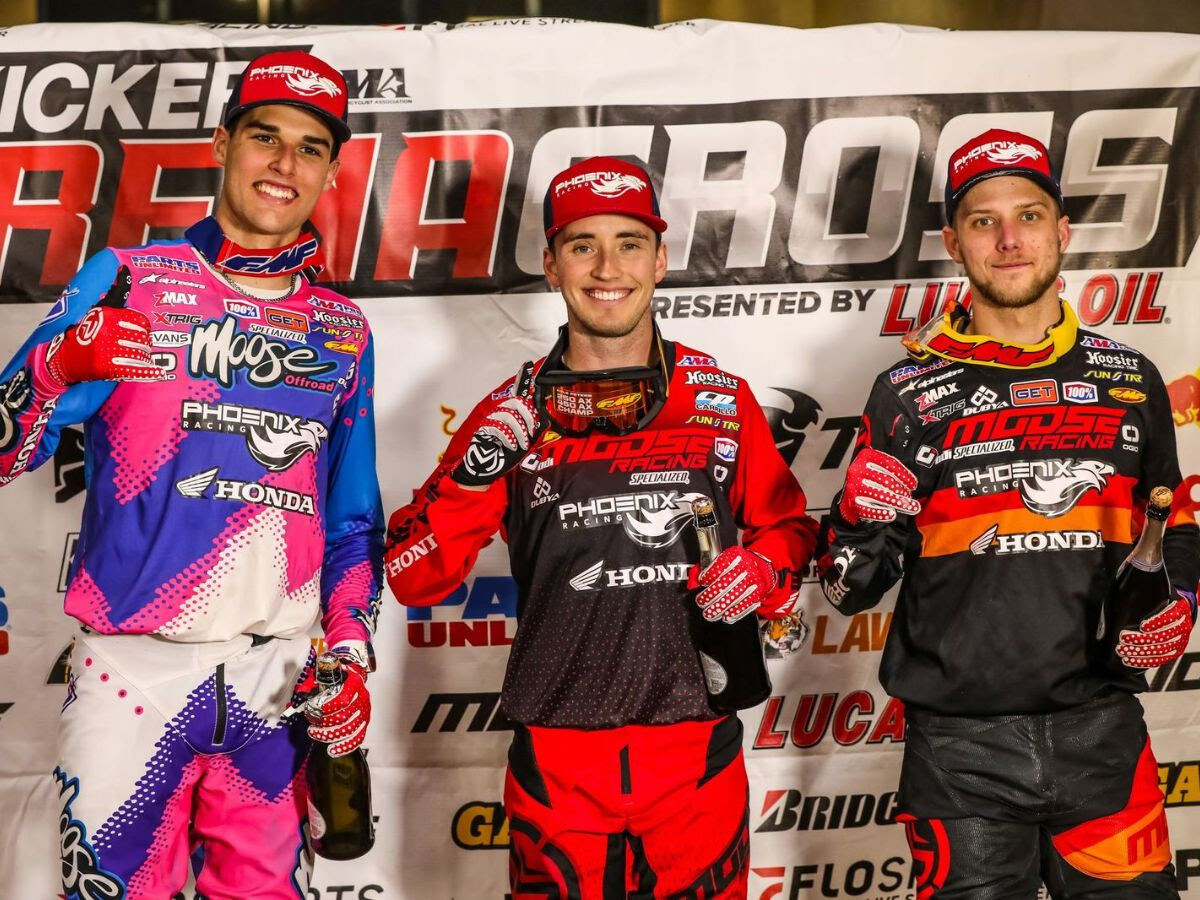 If you could take what you know now and put it back to when you were younger, you'd be so mentally stronger, right?
It would be insane. Even fitness-wise, I thought I was fit and ready back in the day but obviously I wasn't. Knowing how hard I work now, everyone told me, "You need to do this, you need to do that," and I just wish I would have done it.
When you say you work harder, is it something like I'm riding more laps? Is it off-the-bike stuff?
It's everything. It's putting in more time on the bike, more time off the bike. I did a good bit of training with Justin Brayton over the off-season, bike rides and whatnot. Brayton is a beast on a bicycle. So that kind of opened my eyes to that whole deal. My trainer, Corey, he's another one that really kind of puts it to me in the gym. The past couple years I've been doing a lot more than what I did previously.
So the 800 [Mike Alessi] raced arenacross. You may not want to answer this. What did the 800 do that was weird? Was he normal? Did something happen with Mike? I like Mike, but he'll lose his shit once in a while.
Through the whole arenacross season, I was kind of skeptical. I was like, Man, what Mike is going to show up? Mike can show up and be the gnarliest dude out there, and then sometimes he's just a little bit off, which we all have off-weekends. I totally understand that. So I was kind of like, what are we going to get coming into the season? Mike had a run-in with Stank Dog [Gared Steinke]. That was the only run in that we had with Mike. Mike never hit me. I never hit Mike. It was pretty wild.
Sometimes Mike can lose it out there and do some questionable things on a dirt bike track.
We never got that, and it was awesome. It was always super clean racing. It was fun. I was pumped to have Mike out there.
Speaking of Brayton, he told me a couple of years ago he was at Club and there was a couple of kids there that were kind of up-and-coming guys. They were telling him about what they do off the bike. JB is like, "I do triple what you do, and then I ride motos that morning," or whatever. It's not like he was being a dick. You're only working as hard as you think you're working. You mentioned that. JB is like, "No, this is actually how hard you have to work."
Yeah. It's funny, growing up at a training facility and knowing how hard I work now. Then you see some kids and you're just like, "Holy smokes, you have no clue what's coming."
You look at [Jarrett] Frye or [Nate] Thrasher, it's only two races so we're not going to freak out. But they're struggling. They're on factory bikes. Can you imagine what's going on in their heads right now? They're Kyle Peters seven years ago.
Yeah. It's funny. My dad was not a hard moto parent. He never really yelled at me. So, going on Star, I got hurt, then at my first supercross, I think after the first or second practice, Bobby comes up to me. Looking back, I knew he was just trying to motivate me to go faster and be better. He goes, "You know, Kyle, you probably need to get in the car business now because you ain't going to last very long in this sport." As an 18-year-old kid I was mind-blown. I was like, what?
How many five to 10s do you think you have in your life, KP?
I feel like it's a lot.
I feel like it's a ton, dude. I feel like you have a ton. You made a podium before, right?
Yup, two.
Okay. Two podiums.
My goal is to be on the podium again.
Check out the full interview with Peters in episode #457 of the PulpMX Show below, starting at the 1:07:21 mark.
---
Main Image by Jack Jaxson