Hurricane Mills, TN
Loretta Lynn's (National)
AMA Pro Motocross Championship
All data points in the direction of Monster Energy/Star Racing Yamaha's Dylan Ferrandis. He took second in 2019's 250 Pro Motocross standings, and the champion, Adam Cianciarulo, is now in the 450 class. Ferrandis won the 250SX West Region Championship in Monster Energy AMA Supercross (for the second-straight year) but the other 250SX Champion, Chase Sexton, has also jumped to the 450 class. Still, Ferrandis has to do his part and show up ready to win. At Loretta's over the weekend, he did that, dominating the proceedings with the fastest qualifying time and total control of both motos.
"For me it was a really good day," said Ferrandis in Monday night's press conference. "I felt great on the track, and I think it was because we really focused on the last week to work on a difficult track. We rode late in the day when the track was really rough. At Loretta Lynn's the track was similar to what we get in training at the end of the day. I just worked really hard since the end of supercross, worked on the bike, physically and on my technique. Just the perfect day for me."
That's bad news for everyone else. Consider that Ferrandis is one of the few riders without previous experience racing Loretta's as an amateur. He's one of the few that doesn't base himself on the East, which is more similar to Loretta's rutted, soft, sticky dirt. No problem, he was fastest in qualifying.
"I was not surprised," he said. "I felt good because I had a good set up on the bike, and that was more important than knowing the track layout. I've ridden new tracks in the past and I know how to deal with that."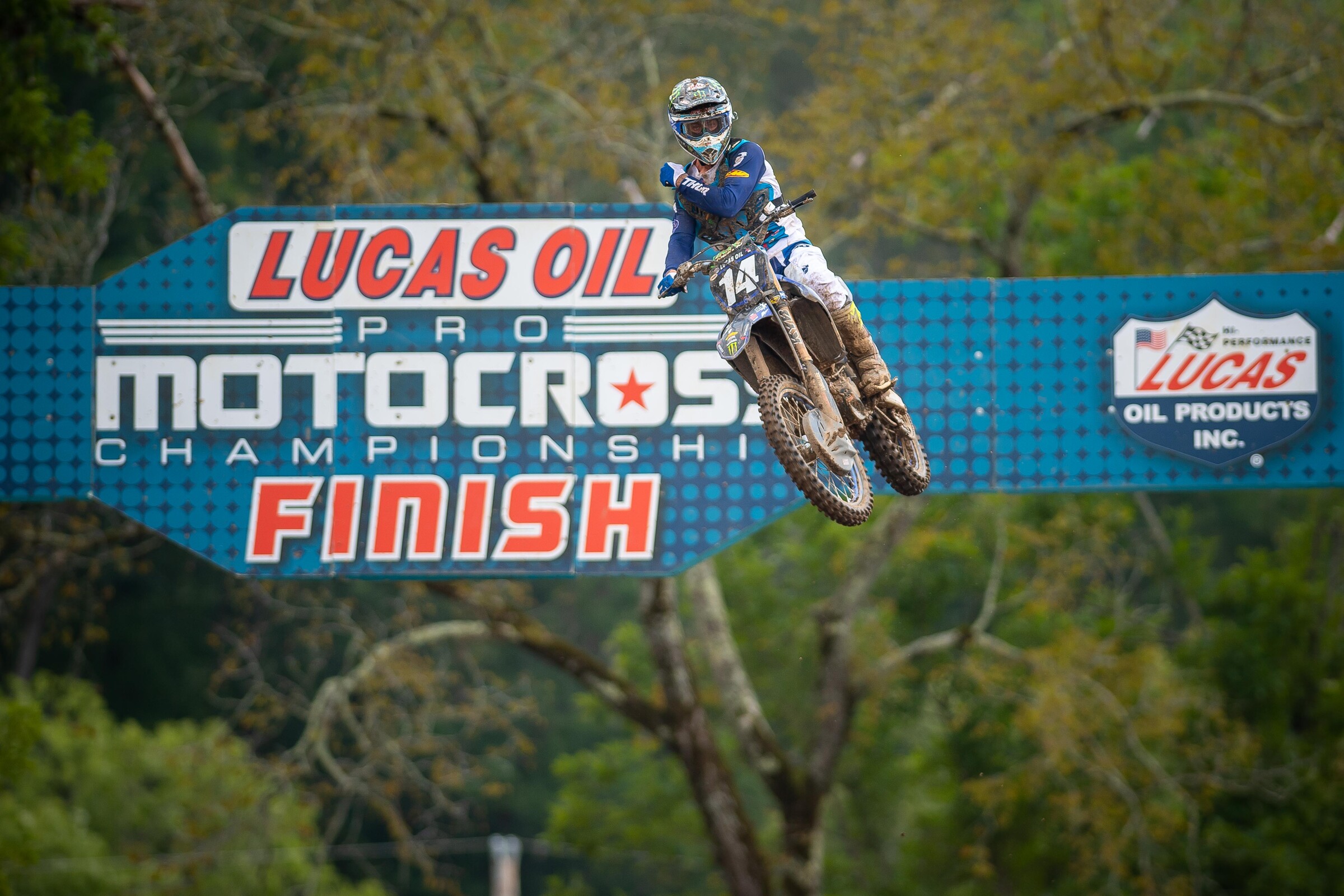 Consider that Ferrandis usually struggles with starts. No problem, he was at the front of the moto one start, and had a good jump in moto two before having to slow down and dodge another rider.
"We're always working to improve on the starts, the last supercross races were good for me on the starts, and we repeated what I did in supercross and it worked great," he explained. "We improved a lot on that, and the confidence always helps. I'm going to try to get the holeshot every moto now!"
Consider that Ferrandis struggled last year with the emotional transition from winning a supercross title (which he said was a goal of his for years prior) and then gearing back up for a motocross run. No problem this time.
"For sure last year, I was so happy about that I kind of couldn't regroup enough soon enough to get ready for outdoors," he explained. "This year we had more time, and I had more experience, now I know what to not do! Having more time to get ready was a big help for me. More time to be ready helped a lot compared to last year."
Yes, it was, literally, a perfect weekend for him. Speaking of that, he dropped the phrase "perfect season" during his television interview with NBC Sports. He clarified what he meant in Monday night's media session.
"I figured after saying that that it might be confusing a little bit," he said. "Yeah, winning the supercross and motocross title would be the perfect season for me. After that, yeah to win all 18 motos would be more perfect, but the goal is to be smart and focus on the championship."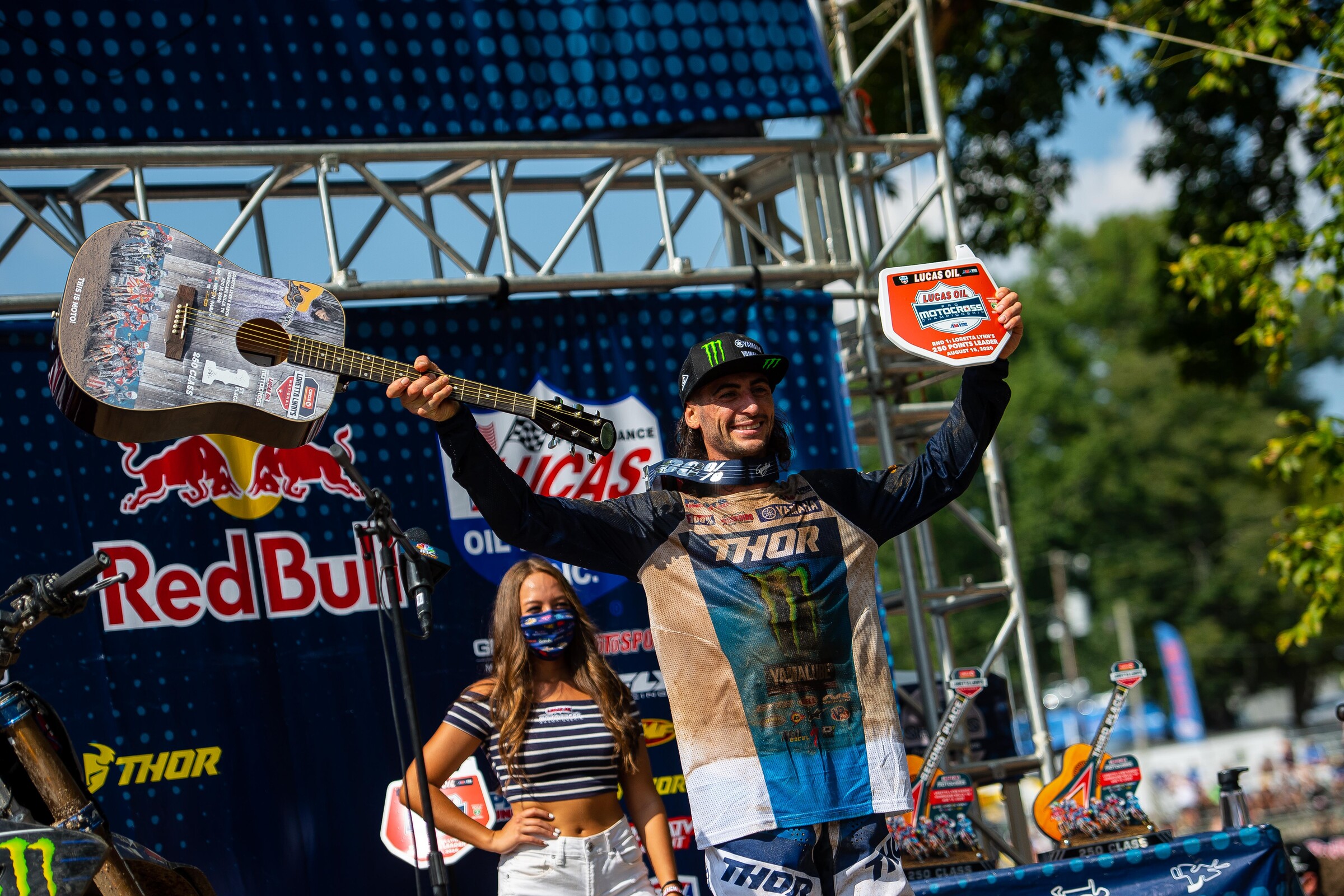 Not only was it a good weekend for Ferrandis, it was a bad one for some of the riders expected to challenge him for the championship. It starts with his teammate Justin Cooper, who had suffered a boxer's fracture (hand) injury during motocross prep.
"I actually got hurt the first week after the last supercross at Salt Lake out at Glen Helen," said Cooper in an interview last week. "I went down there and hit a rock and it kind of upset the bike and it threw me down. I learned from that and we're pretty much ready to go now. We have less than a week left and I'm just getting some last-minute riding in and getting ready to go do battle."
Cooper might have downplayed the injury, but he was not the usual podium-level guy at Loretta's. Despite two good starts, he went 10-8 for eighth overall. Last year, he won the first moto of the season at Hangtown.
"It was an up and down day for me," said Cooper in a team statement. "I had a bunch of crashes in the first moto that made me use up a lot of energy, and I was pretty fatigued for the second moto. All in all, I'm just happy to be back racing and to leave in one piece. There are only a few days on the bike before we race here again. We will be better for the next one."
GEICO Honda's Hunter Lawrence, winner of two motos last year, had a disaster of a day at Loretta's. A first turn crash in moto one ripped the kill switch off of his bike, resulting in a DNF, and then a bad gate pick in moto two, where he finished 14th.
"First moto really just wrecked our day with the DNF," said Hunter in a GEICO Honda team statement. "Being gate pick 40 for the second moto, I was going okay in the second moto until [Mitchell] Harrison took me out. I then just pushed too hard for what the track conditions were and crashed again. Then it was survival mode, the track was really weird and just so funny, like, you couldn't push too hard on it and slower was almost faster! Looking to redeem myself big time this weekend."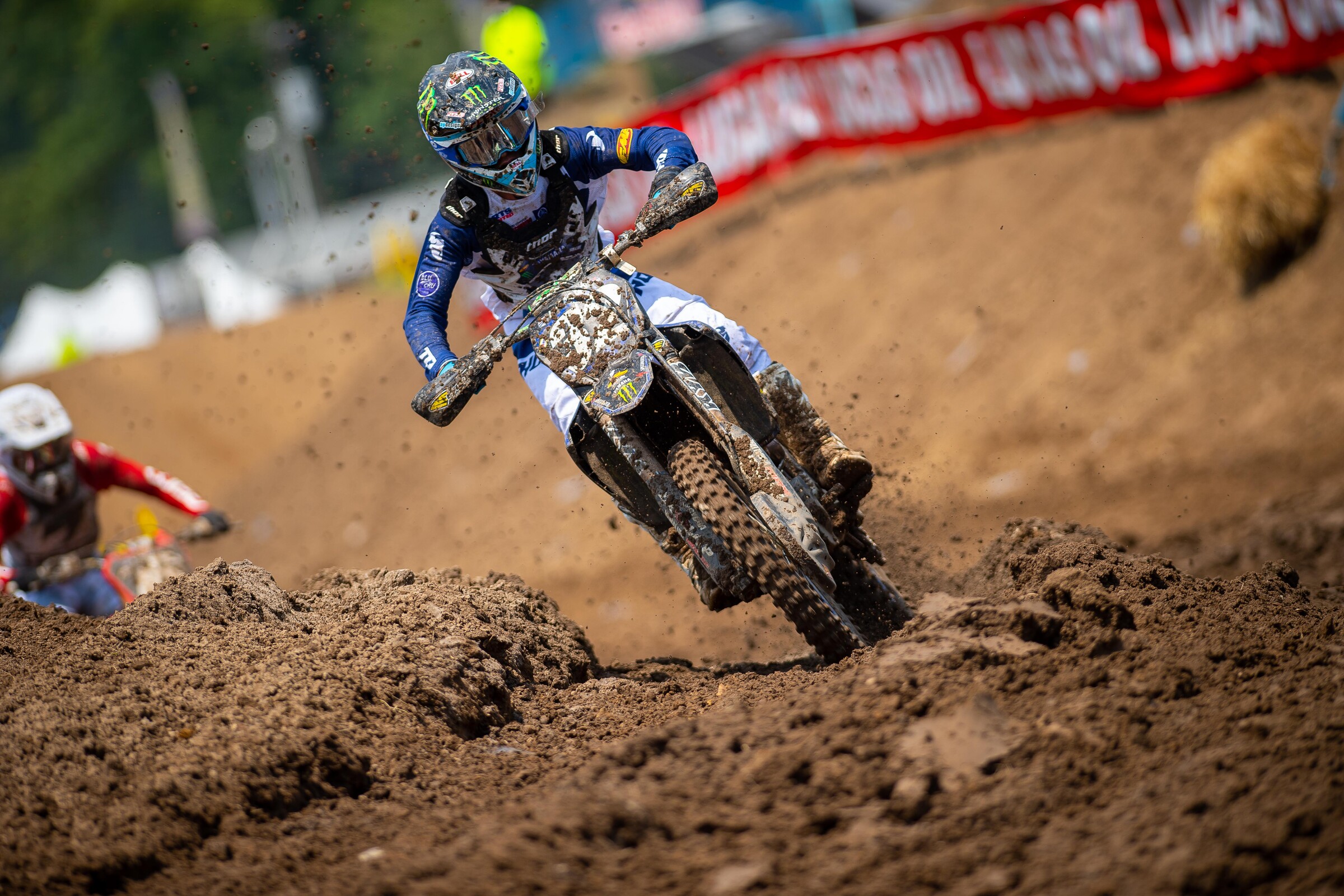 There's time for Cooper and Lawrence to recover, although slightly less than usual in a shorter season. Podium riders like Jeremy Martin and RJ Hampshire are ready to apply pressure on Ferrandis already. Hampshire isn't resting on his runner-up ride at the opener, admitting he hasn't been a weekly podium guy in the past, and is focused on being up there each weekend in 2020, instead of fighting through the ups and downs. Martin will try to wear down Ferrandis, and he knows from personal experience that things can change in the blink of an eye.
Yes, the 250 class is always filled with heavies and the usual racing drama, but right now Ferrandis is punching above his weight class. He feels no pressure being the favorite, carrying the points lead, or being the target.
"I don't know, it didn't feel different than usual," Ferrandis said. "The supercross season was more difficult to manage the expectation, because I was riding with the number one plate, everyone was expecting me to win, there was more pressure. The outdoors, I came to Loretta's to do the best I can, not with the goal of having to be number one, or the guy that everyone looks at."
One race down, and it's advantage Ferrandis. In a shorter season, the field will need to flip the momentum quickly, because the championship favorite certainly lived up to his billing at the opener, full of strengths, free of weaknesses.