Hurricane Mills, TN
Loretta Lynn's (National)
Lucas Oil AMA Pro Motocross Championship
Things were looking pretty grim for Mitchell Harrison just a few short months ago. The then BUD Racing Kawasaki rider, who'd been racing the GPs, was back in America due to the COVID-19 outbreak, and because of travel restrictions, learned he wasn't going to be permitted to return to Europe to pick up where he and the French team had left off. The unfortunate setback turned fortunate, however, when he was called in as reinforcement for the battered Monster Energy/Pro Circuit Kawasaki squad. Things were going well at the opener for him too before he stalled late in the first moto while battling for fifth. He crossed the finish line in 23rd but he followed it up with a solid ninth in moto two, giving credence to the decision to name him to the Pro Circuit team. We caught up with Harrison to talk to him about last weekend, being back in America, and his expectations for the rest of the summer.
Racer X: First of all, take us through Saturday. You were going good in that first moto for a while.
Mitchell Harrison: I was feeling pretty good, I probably could have felt better though. We actually determined the way I was eating wasn't right. I was eating healthy, but I wasn't eating enough. I should have more energy this weekend. But I was trying to stay in front of Alex [Martin] and got whiskey throttle, which led to stalling it. It took a whole lap trying to get it going again. The second moto was good, but I ended up feeling worn out. But I'm confident I can do much better, and the results should be a lot better this weekend. We'll have a few more things right.
So you just weren't eating enough and that was leading to fatigue?
Yeah, I think I was just fatigued. I need fuel, it's a race day. Sometimes I don't want to eat, but I need to be downing some food. I think that'll help a lot at the upcoming races.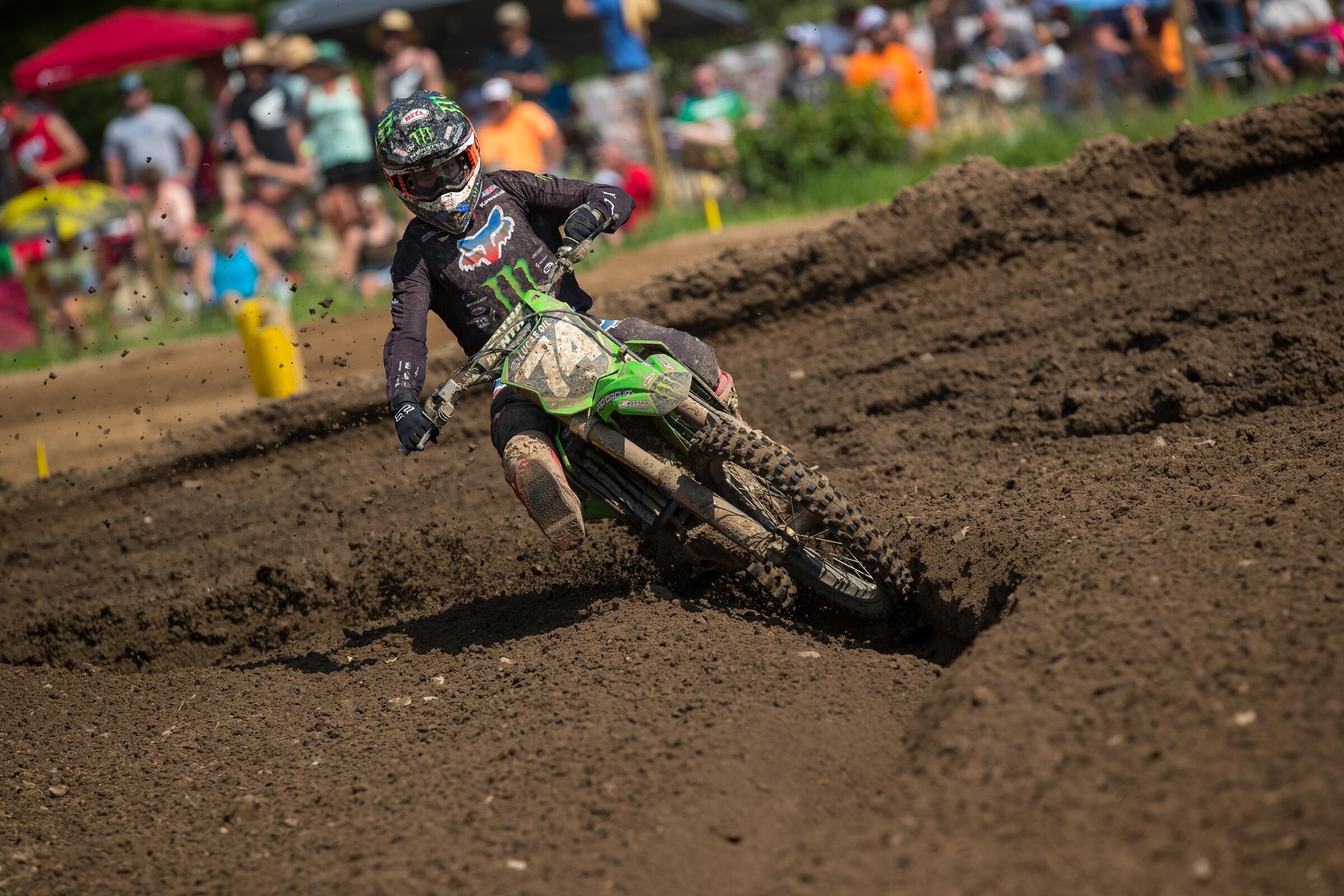 Well that said you can't be too mad at the results from last week. You were on your way to what, at least a seventh-ish, and a ninth in the second, not bad for your first U.S. race in a while.
Yeah, the first one should have been a fifth or a sixth. I could have kept battling with Alex [Martin]. I love battling with him, he's one of my favorite people to battle with out there. Ninth, the second moto could have been better. Kicking the bike, and the heat, could have gotten to me a little bit. The day was shaping up to be a good day and some things happened, it's racing. But at least I know my speed is there and I can do a lot of damage. The first race was kind of like a tester, now it's full throttle.
What was going through your mind when you couldn't get it restarted?
"This is awful. Please start. Please start. Oh my god it's hot!" When you're on the track it's fine, the air is moving over you, but when you stop the heat hits you. So then, after that battle and sitting there, the heat really hit me. It's so hot there with the humidity and I was just praying, "Please start this time. Please start this time." It was rough, but I was happy with how I was riding so it didn't really get to me.
How different was the track for the national than the times you raced it as an amateur?
Much gnarlier. I think the rain had a lot to do with it. I've been there when it rains, and it could just be how the track shapes with amateurs, the smaller bikes, but it was much rougher and there were way more ruts. They did a really good job of opening the track more. It was insane. It was so rutty it was almost like a Unadilla day. I loved it, I love when tracks get super beat up and super gnarly. I hope it's like that this weekend, maybe we'll get some more rain. Loretta's was always rough as it was, but on pro day it was another level.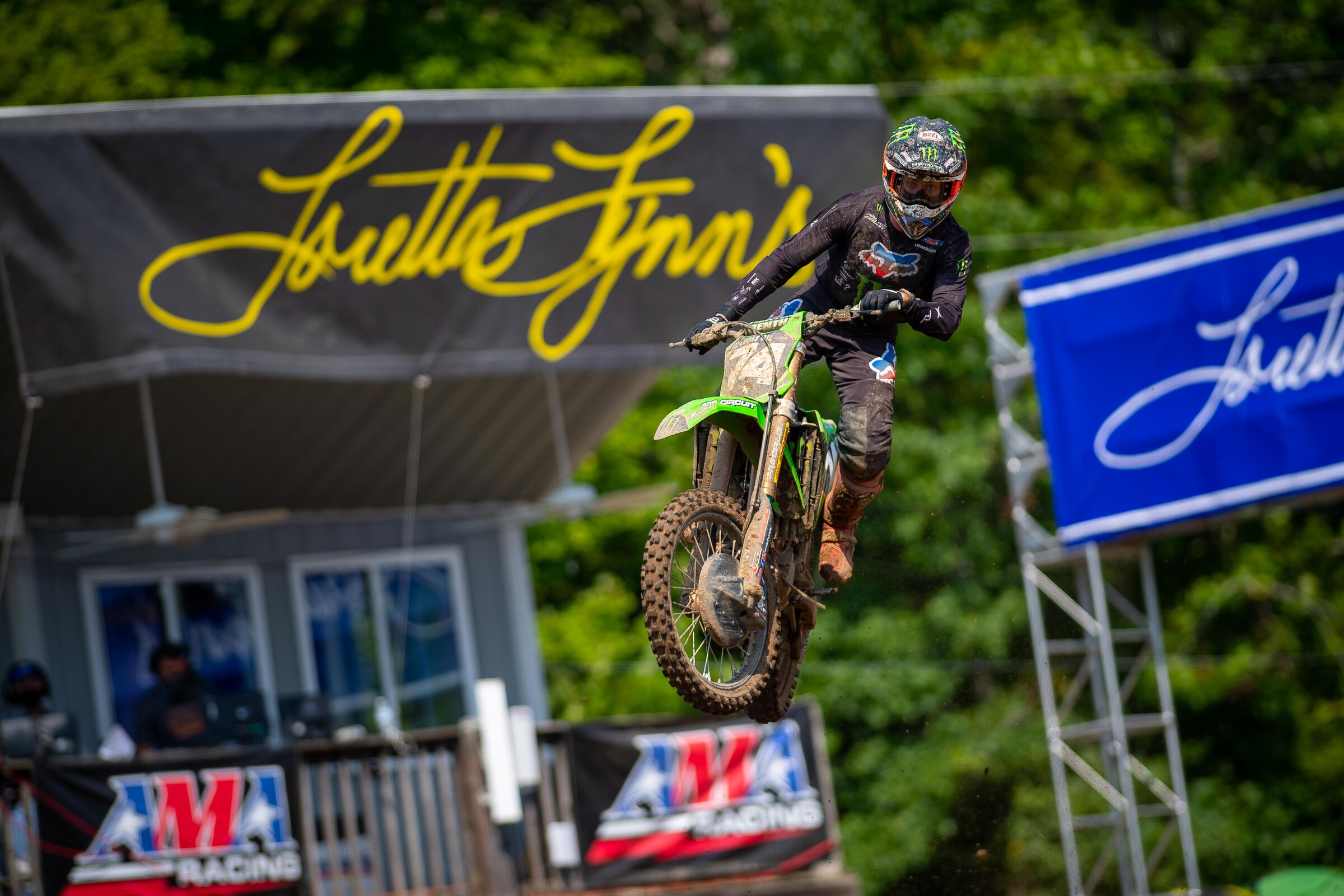 How long have you been on the Monster Energy/Pro Circuit Kawasaki bike?
I think maybe three-and-a-half weeks, maybe a month.
What's your comfort level right now?
Well I was coming from a Kawasaki already, completely stock, and it was a lot different, but getting on the PC bike it was like, "Wow." I was really comfortable immediately. We've been doing a ton of testing too, we just put in a really long day yesterday [Tuesday]. I want to get even more comfortable. The bike is unreal, they've really put in the work. People have said it was a good ride, but I think I could have done much better. I expect much more out of me and I know Mitch [Payton] expects more too. The bike belongs on the top step of the podium, that's what Mitch expects.
Coming back from racing in Europe to racing in America again, now with Monster Energy/Pro Circuit Kawasaki, it has to be a bit of a shock, from the weather, to the races, to the team.
The first few races in Europe this year were a downer. I felt I should have done much better. Over there, it's a much different style of racing, and yeah, those guys are insanely fast. It's all about the start, and I never got the start. The start is really uneven there. You have to have such a good bike to get you out of the gate, and I'm not saying I didn't, but it was just different. When I came back here after COVID, I couldn't ride much because we didn't have the parts, and we had to ship everything from France. I really just took a step back and starting getting away from motocross and going golfing. I think that helped my mindset. Then I started riding more again, and hitting the gym a lot, and trying to get extra strength. Then it turned out the European Union wasn't going to let us back in, so we were just waiting every two weeks, just hoping. Finally it was like, "Okay, we need to have a plan B." Zach Osborne was like, "Hey, give Mitch a call." I was like, "Maybe I will, maybe I won't." But I called him right after I talked to Zach and he called me back. Broc Tickle helped me out with all that. We had a test day, and I put all my focus on that. The day we went out there to test the bike, to try to get the ride, it was like a national for me. I gave it all I had. To be on this bike, I've wanted to be on it since amateurs. It's Pro Circuit! It's the team to be on. When he called me and told me I was one of the guys he wanted I was like, "No way this is happening." It was unbelievable, and now I'm just trying to make the most out of it and put in all of my effort. I want to be on this bike, this is the team I want to be on. I'm going to give it all I have.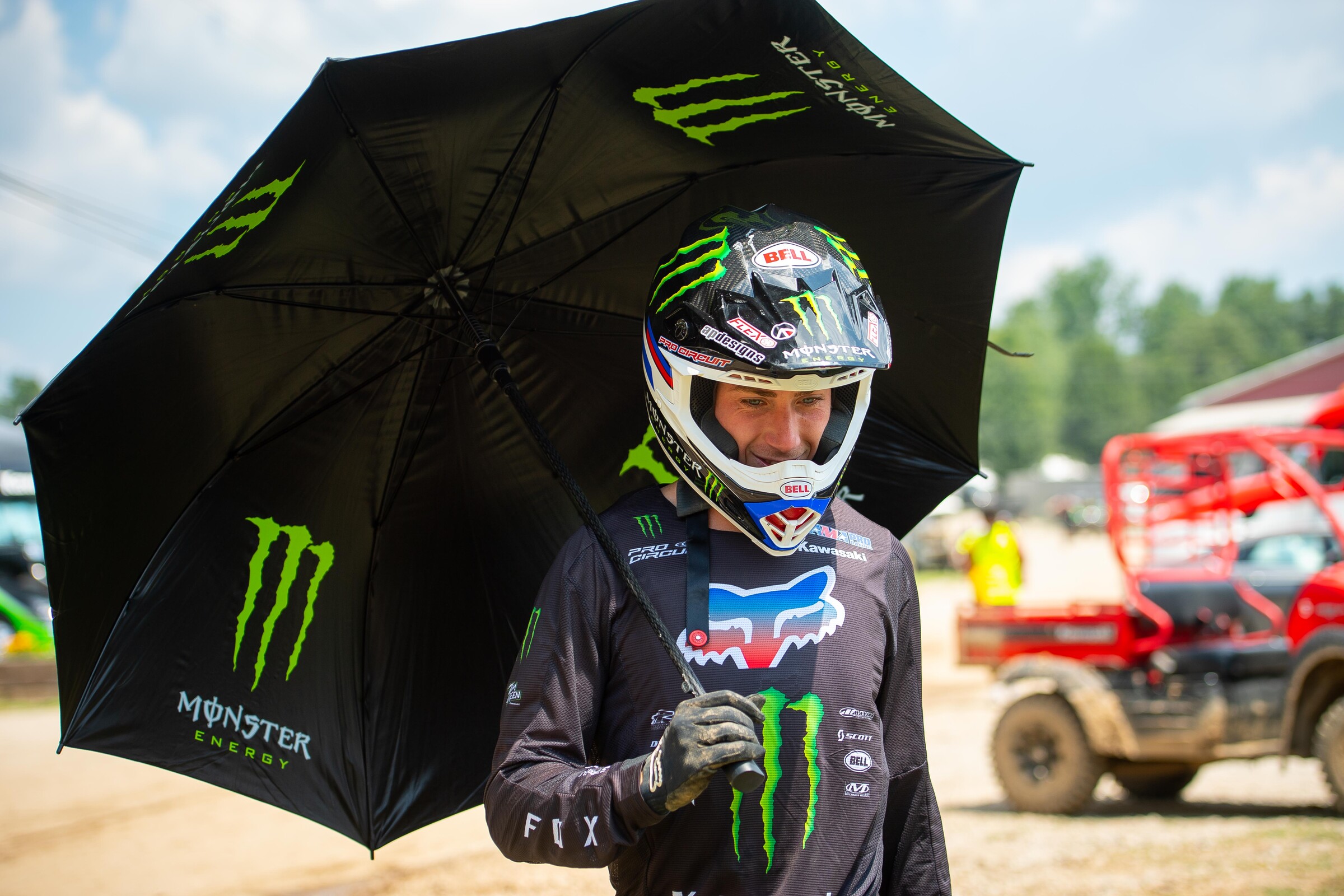 So then what are your goals for the summer?
Winning. Yeah, it'd be nice to say fifth is okay, third is okay, but it's just not. The level we're at, this bike, we're capable of it. Winning is the only thing is important to me and what I think I should do. A podium would be cool, fifth place would be cool, but I don't think I'll be truly happy until I win. I haven't done it yet, and that's what I want to do.
That's awesome man you sound super determined.
Yeah, super determined. I feel like I got a second shot in America and a second shot with my career. What's the harm in putting in everything I have?
Nothing.
Exactly. I have nothing to lose, and that's how I'm treating it right now.