Jacob Hayes Clinches 2018 Amsoil Arenacross Championshilp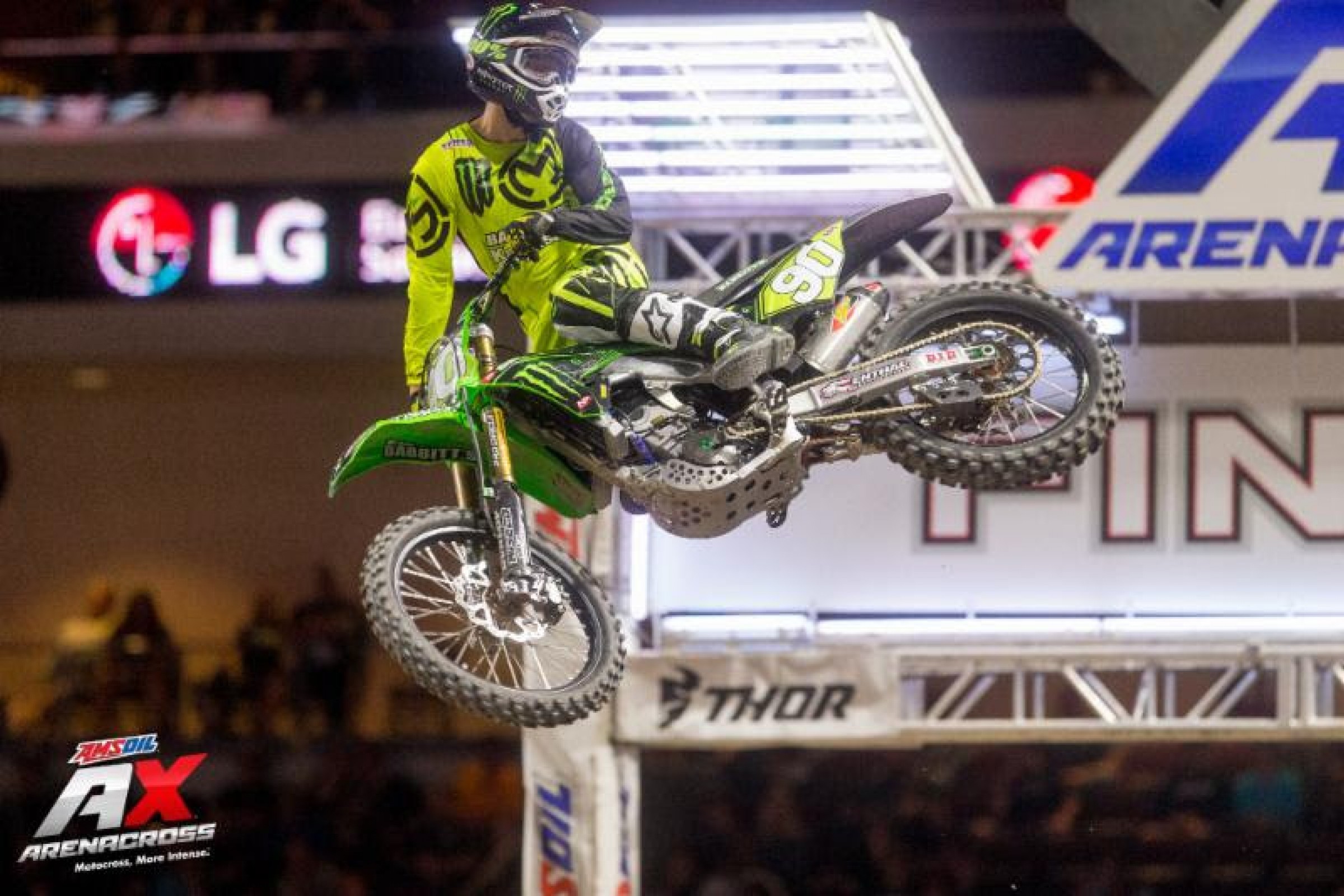 LAS VEGAS, Nev., - AMSOIL Arenacross hosted the final round of the 2018 season inside Las Vegas' Orleans Arena. Babbitt's Online Monster Energy Kawasaki's Jacob Hayes was crowned a first-time 2018 AMSOIL Arenacross Champion. Rockford Fosgate TiLube Honda's Heath Harrison was crowned the Arenacross Lites East Coast Champion, and Babbitt's Online GPF rider Ryan Breece became a two-time defending Arenacross Lites West Coast Champion.
The night's action escalated quickly before the Main Event with Rockford Fosgate TiLube Honda's Chris Blose going down in the rhythm section, sidelining him for the remainder of the evening and ultimately out of the championship chase.
The first Main Event saw Hayes get out to an early lead with Rockford Fosgate TiLube Honda's Jacob Williamson close behind in second. Williamson was able to make the move stick just past the halfway point and secured the win. Hayes finished second, and Woodstock TZR KTM's Daniel Herrlein rounded out the podium.
The second Main Event saw Hayes take the jump off the start and led all 15 laps while Williamson worked up from a fourth-place start to finish out the night with a second, and Sportland 2 TZR's Travis Sewell finished off the night with a third.
The Arenacross Lites East-West Showdown saw the West points leader, Breece, jump out of the gate with the holeshot and ended up leading all 15 laps. Fast house R-One Yamaha rider Robbie Wagemen worked his way up from a mid-pack start to a second-place finish, and Isaac Teasdale, eager to gain as many points over Harrison as he could, finished third. Harrison rounded out the night with a fourth-place finish, and the 2018 AMSOIL Arenacross Lites East Coast Championship. Breece captured his second-consecutive AMSOIL Arenacross Lites West Coast Championship.
250AX Class Main Event Results
Jacob Hayes, Greensboro, N.C., Kawasaki (2-1)
Jacob Williamson, Swartz Creek, Mich., Kawasaki (1-2)
Travis Sewell, Westville, Ind., Kawasaki (4-3)
Daniel Herrlein, Bethesda, Ohio, KTM (3-4)
Kyle Bitterman, West Pelzer, S.C., Kawasaki (5-5)
Robbie Wageman, Newhall, Calif., Yamaha (8-7)
Steven Mages, Sardinia, Ohio, Kawasaki (10-6)
Preston Taylor, Hastings, Neb., Kawasaki (7-9)
Gared Steinke, Woodland, Calif., Kawasaki (6-13)
Ryan Breece, Athol, Idaho, Kawasaki (9-10)
250AX Class Championship Standings
Jacob Hayes, Greensboro, N.C., Kawasaki (167)
Chris Blose, Phoenix, Ariz., Honda (135)
Travis Sewell, Westville, Ind., Kawasaki (127)
Daniel Herrlein, Bethesda, Ohio, KTM (125)
Gared Steinke, Woodland, Calif., Kawasaki (112)
Kyle Bitterman, West Pelzer, S.C., Kawasaki (89)
Heath Harrison, Silverhill, Ala., Honda (85)
Jacob Williamson, Swartz Creek, Mich., Kawasaki (35)
Gavin Faith, Duncombe, Iowa, Kawasaki (10)
Shane Sewell, Westville, Ind., Kawasaki (4)
AX Lites Main Event Results
Ryan Breece, Athol, Idaho, Kawasaki
Robbie Wageman, Newhall, Calif., Yamaha
Issac Teasdale, Robbinsville, N.C., Kawasaki
Heath Harrison, Silverhill, Ala., Honda
Carson Brown, Ravensdale, Wash., Honda
Mason Kerr, Altoona, Iowa, Kawasaki
Renton Minuto, Avalon, Calif., Yamaha
Devin Harriman, Brush Prairie, Wash., KTM
Hunter Hilton, Youngsville, La.,
Dawson Newby, Eaton, Co., KTM
AX Lites West Class Championship Standings
Ryan Breece, Athol, Idaho, Kawasaki (94)
Carson Brown, Ravensdale, Wash., Honda (76)
Kevin Moranz, Topeka, Kan., KTM (68)
Devin Harriman, Brush Prairie, Wash., KTM (50)
Mason Kerr, Altoona, Iowa, Kawasaki (38)
Johnny Garcia, Moriarty, N.M., Honda (32)
Hunter Hilton, Youngsville, La., (31)
Renton Minuto, Avalon, Calif., Yamaha (30)
Robbie Wageman, Newhall, Calif., Yamaha (29)
Preston Taylor, Hastings, Neb., Kawasaki (27)
AX Lites East Class Championship Standings
Heath Harrison, Silverhill, Ala., Honda (99)
Isaac Teasdale, Robbinsville, N.C., Kawasaki (96)
Garrett Marchbanks, Coalville, Utah, Kawasaki (47)
Tanner Basso, Alpine, Calif., Yamaha (33)
Tanner Ward, Woodstock, Ontario, KTM (33)
Tanner Stack, Shawnee, Kan., Yamaha (32)
Carter Halpain, Lubbock, Texas, Yamaha (29)
Josh Mosiman, Menifee, Calif., Husqvarna (28)
Jake McKinney, HAmersville, Ohio, Kawasaki (27)
TJ Albright, Mount Marion, N.Y., KTM (26)