Ryan Sipes' ISDE Updates: Pre-Race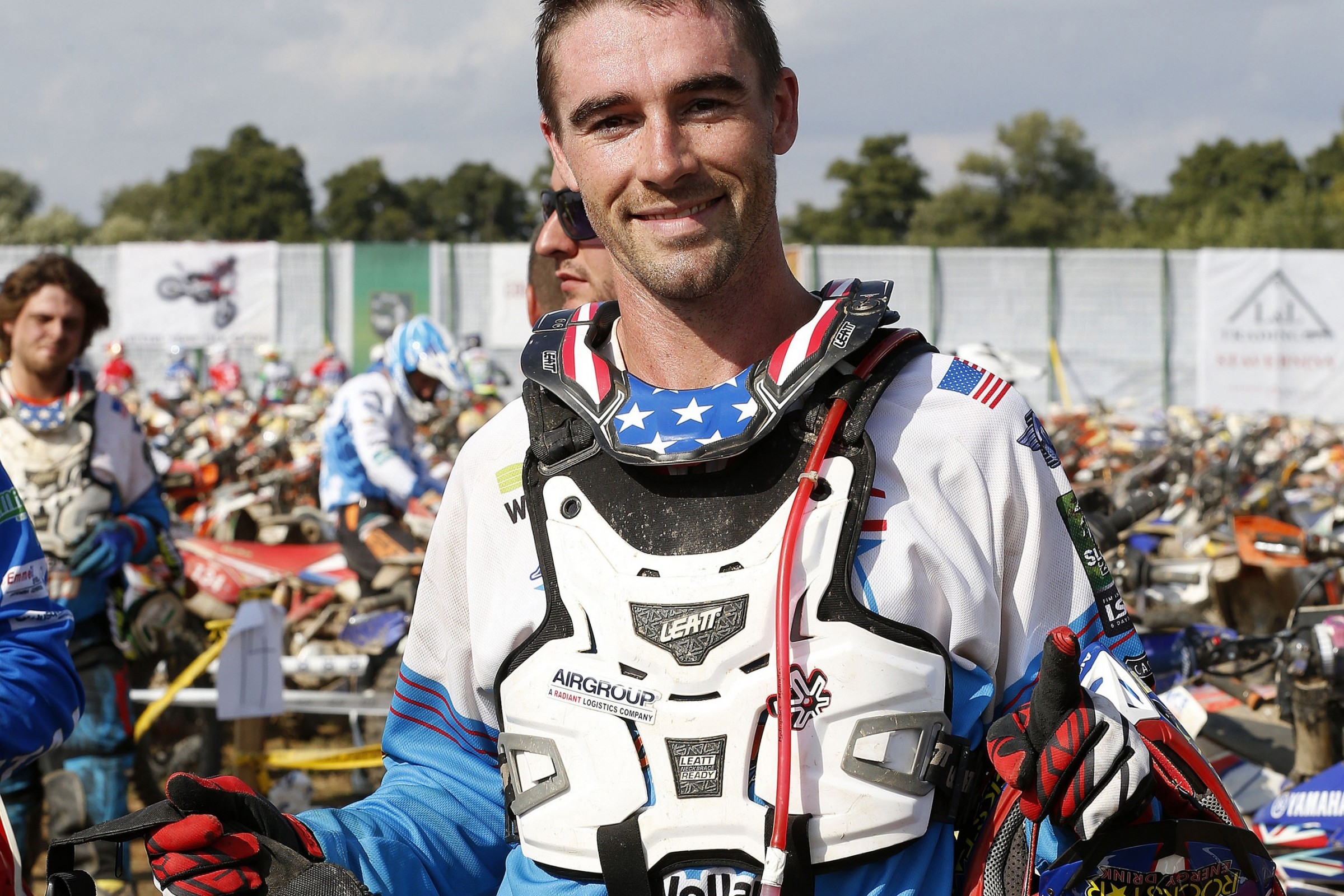 Last year Ryan Sipes became the first American to ever win the International Six-Days Enduro overall. That's impressive when you consider the event started in … wait for it … 1913!
But Sipes is out of this year's event with a broken arm. Layne Michael, his teammate at Coastal Racing Husqvarna, has been sent to Europe as his replacement on the four-rider U.S. World Trophy Team in Spain (the rest of the team consists of Kailub Russell, Taylor Robert, and Thad DuVall).
It's tough losing Sipes from the race, but Team USA's loss is a gain for us, as Ryan will check in all week with updates from the race. The actual six days of racing starts Tuesday morning. Sipes sent us this pre-race report on Monday morning:
By Ryan Sipes
Really bummed I'm missing the race but at least I can contribute in some way by sending these reports. I've been talking with four riders—Thad DuVall, Layne Michael, Taylor Robert, and Steward Baylor of the Junior Team (a team for riders under age 23)—all last week. Here's what they had to say, and then my thoughts are below each point.
- Conditions are really dry, hard packed, and dusty.
2013 was really dry and hard packed, and the team did really well, finishing second in Trophy division. Last year was dry and hard packed at times as well, and before injuries and mechanicals took us out of it, we led the Trophy division as a team. I think dry suits us well.
- The Special Tests are really fast, sometimes to the point of being sketchy. Fastest ISDE they've ever been to.
I'm my opinion, faster is better for Team USA. We thrive in faster situations where you can let it hang out some. But some of the comments about it being sketchy worry me, since one mistake by one guy can cost the whole team a win. I think the guys will be fine though. They have enough experience to know when they can take their chances and when to hold back.
- Changes had to be made to the bikes because of conditions.
This is somewhat normal, because as I said before, the terrain is so different from what they normally race on. I got the impression that more changes had to be made this year than in years past, and I have a feeling it has to do with the higher speeds of the tests. I'm not overly concerned, because these guys have the experience to know what they want and confidence to make changes and feel good about it.
- The guys have walked more of the tracks this year than any years in the past.
This is the same every year, dating back to Kurt Caselli's time on the team. He believed that the more we walked, the better we would be, and it has been 100 percent true. It seems obvious, but you have to understand how it is over there. Last year we were walking close to 20 miles of tests per day the whole week before the race. The terrain isn't flat, so this can be tough, and honestly, who wants to walk through fields and up mountainsides all week in a foreign country when you could be checking out the sights and enjoying yourself? You have to check your priorities and put in the miles, for your team and your country. In my personal experience, the tests I walked three times last year were the tests I won, compared to the tests I walked twice and would finish third or fourth in. That can be the difference at the end of the week.
Racing starts tomorrow, so I'll have the next update tomorrow afternoon.