Pomona, CA
Red Bull Straight Rhythm
Red Bull Straight Rhythm
In his very own outrageous way, Josh Hansen, now 31 years of age, has led something of a nine lives-sort of career in this sport. It's been a large part of his charm. A polarizing figure, there is no denying the fact that Hansen generates fan interest–good, bad and ugly. Our beloved sport can always use characters that throw a wrench in the works of normalcy. Off a somewhat successful 2015 supercross adventure, in which he owned and operated his own Team 100 enterprise, Hansen didn't quite set the planet on fire with results, but he was consistent, professional and determined in his resolve to do things his own way and to go racing on his own terms. Which brings us to the October of 2015. Coming off a lengthy summer break after placing tenth in the 250 SX West Region, #100 is back at it and ready to do some racing. On Friday afternoon as he prepared for the opening practice session at the Red Bull Straight Rhythm, we bench-raced with the journeyman pro.
Racer X: Josh, what's going on?
Josh Hansen: [Red Bull] Straight Rhythm starts today and race tomorrow. It's always a good event. Then next Saturday is the Monster [Energy] Cup, so two weeks of racing.
Straight Rhythm was a good event for you last year—you performed well.
I don't know what the actual result was, but I got bounced out by James Stewart. Me and Stewart went head-to-head and I didn't have my whoop speed that day. It was still a rad race. It was pretty cool to have battles with Travis Pastrana as well as James Stewart. Those two guys are pretty much the dudes that Red Bull pushes for that event and it was pretty rad to go head-to-head against them. Hopefully, this year—and I'm not just coming off the couch this time—I can do something.
Have you been able to put much time on the new Kawasaki?
Yeah, actually the 2016 Kawasaki came out and that thing has been a really rad bike, but we're just kind of struggling with trying to get parts and stuff right off the bat because it just got released. This bike has changed everything so a lot of the 2015 stuff doesn't work with the '16. It's been constantly making phone calls trying to get parts and this and that to fit for the '16. There has been a little bit of testing. After this, I'll keep testing because I want to race some 450 East Coast next year and I want to get this bike a lot better.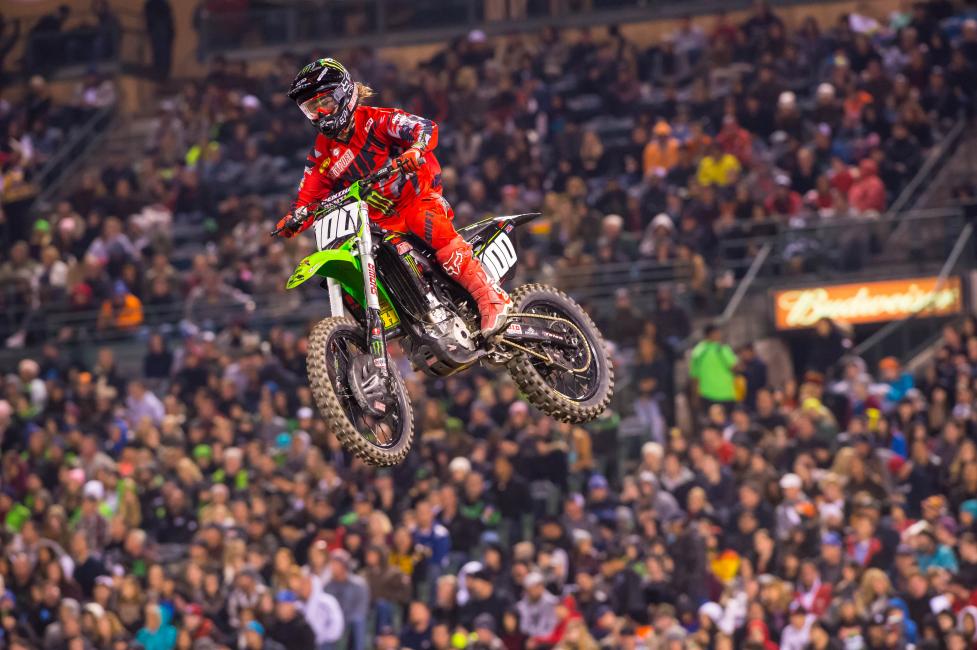 What are you hoping to achieve at this?
It's a fun race. It's definitely something different. It's right up my ally with all kinds of jumps and stuff. I think it's all about having gun and just letting it just all hang out and seeing what happens. It's a drag race so it'll last about 40 seconds. It'll be like suicide bomb missions!

I thought you did well in your race against James last year.
Yeah, we'll see. Last year I had him right to the very end and he got me in the last 50 feet of whoops, you know. That was my struggle all last year. I don't know…. We'll see. I've been working on it. I just have to grow some balls like 'ol Pastrana and James and let it ride.
How about Monster Cup next Saturday? Will you be competing in both the race as well as the Dirt Shark Biggest Whip contest?
It depends on some things. Yeah, I have the whip deal that I'm supposed to do. That's in my contract so I plan on doing that. I'm a little iffy on racing. It just kind of depends because that's a full day of its own. I'm trying to figure it all out, how I can do both. Right now I'm just focusing on Straight Rhythm and after that we'll just click days off before Monster Cup and see where we're I'm at. I'll definitely be there doing something.
Those three little 10-lap finals always make for close racing. A lot of people have a good chance of doing well so it would be a great opportunity to take advantage of. We'll just have to see when the time comes. I hope to be out there.
Any plans of lining up at any of the big international SX races coming up?
I actually got the Bulgaria Supercross and I'm also talking to some people about going to Switzerland. I'm looking forward to that. I'll do the Bulgaria race on a 450. I'm thinking that if I go to Switzerland I'll do it on a 450, as well. In between that time I'll start testing that 250 and getting it ready for Anaheim.
"I'm playing agent guy/being a racer/being a dad at home. I'm juggling."
Speaking of Anaheim, what you are looking at as far as 2016. Do you have a plan yet?
As far as my program and sponsors, I'm still working out the details right now. I have a pretty good idea. I do know that I'm going to be on a Kawasaki and still be a part of Monster. It looks like MotoSport is going to be back, so that's super-important. There's kind of been some changes over there, so that was kind of up in the air. It looks like everything should be the same, and other contracts are out right now. I'm playing agent guy/being a racer/being a dad at home. I'm juggling.
So you will do your own team again in 2016?
Yeah, I would like to do my own team again. I think it's cool and I think I've got some good people around me and I've got awesome sponsors that can make my team a really cool situation as well, you know? There is a stress level in trying to do it, but at the end of the day it's super-cool and it fulfills my feelings of what I want to do out there. I just need my results to be a little bit better and I think it will be that much sweeter. But it's a full-time job, man. It's a lot more than I thought it would be at the beginning, but it's been good for me and it's definitely made me kind of grow up a little quicker. Well, actually not quick, I'm a little late on that side! Yeah, it made me grow up and kind of see the other side of things instead of just being a motocross racer just throwing a leg over his bike.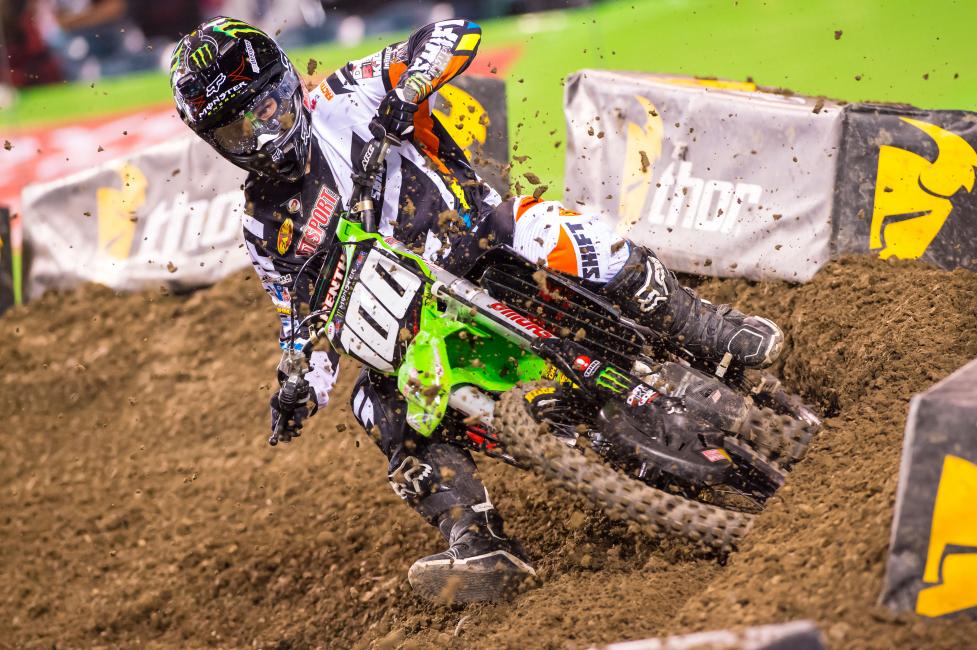 There were some doubts about you doing your own race effort in '15, but you went after it, pulled all the pieces together and pulled it off.
Yeah, it went cool. I think everybody was stoked, including myself. I think that was the main thing–I wanted to make myself happy. It went down well, but I want to take all the negatives things from this year and try to make it that much better for next year. I want to make a good pit presence and get some good results and I think it'll make it look a little better than last year.
What do you want to improve upon for 2016?
I would say my results and my intensity. I tip-toed around a little bit in the beginning. I didn't really know where I stood. I would like to get a little bit more aggressive and I'd like to throw it up there on the podium, if not win races. I was a little shy of that last year. It's like a game out there—things change so much day to day. As far as everybody that's helped me in the past, they've done such a great job for me and I don't see why I shouldn't go forward with it. I'm just clicking away and I should be there.
What's with your number 100 next year? Did they put that up on the shelf or do you get to keep it?
That's been a bum deal. So, basically, 100 has really been my number, but with the rule changes or whatever, I guess I earned a certain amount of points in supercross, which put me at number 57. There was talk that they were possibly going to let me keep that number but it didn't really work out. So they're telling me now that they're not going to let anybody take my number and they're going to hold onto it. So I've got to run #57 next Saturday night, but I'm still number 100. My rig will always stay 100; my posters and everything is 100. For 2017 they're claiming that they're maybe going to give me back my number. I'll be curious to see if that goes forward or not.
So you're number 57, but number 100 in our hearts, huh?
Yeah, something like that. I guess I'm just a hot dog guy out there now!