Decotis, Moss Win Australian Supercross Opener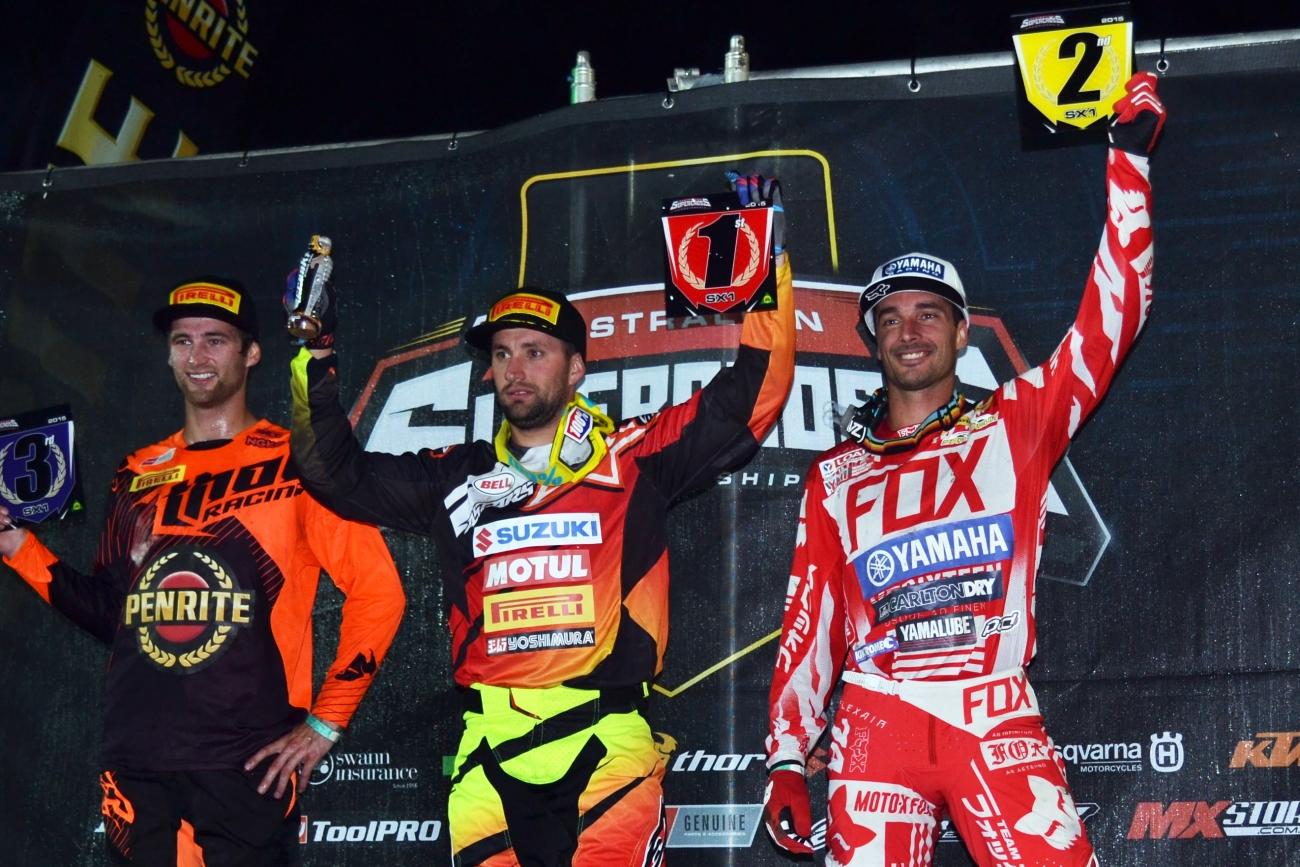 American Jimmy Decotis is off to a fast start in the Australian Supercross Championship. Last night at Round1 at Bathurst Showgrounds, Decotis won the SX2 main event over Luke Clout and Luke Arbon.
"Yeah, that bad start in the Final really made it tough," Decotis explained after the race. "But I just settled down and rode strong and worked my way through and then when I caught up to Luke, we were both riding really good and we had a good race until I could finally get the edge. The track tonight was tough after the rain this afternoon and the track crew did a great job. I'm really happy to win first time out in Australia, it feels great. I can't wait to head to Queensland and the next round next weekend!"
In SX1, Matt Moss started his title defense on the right foot, winning the opening round over Dan Reardon and American Gavin Faith.
"I knew what I had to do tonight, and that's exactly how it went down, so I am rapt to get the win," said Moss. "I've been working so hard coming into this event and all that work is paying off. I felt great at the end of the 20 laps.
"And it feels great to get another win for the Motul Suzuki team again. Jay and Jess and all the team have put such a huge effort in and it feels great to kick off the Australian Championship in this way for them."
Round two of the 2015 Australian Supercross Championship heads to Jimboomba X Stadium in south-east Queensland next Saturday, October 17.
SX1 Results
Matt Moss
Dan Reardon
Gavin Faith
Kirk Gibbs
Kade Mosig
Sam Martin
Luke Styke
Lawson Bopping
Daniel McCoy
Adam Monea
Chris Camilleri
Brodie Hartin
Kale Makeham
Joel Newton
Danny Ham
Anthony Rodriguez
Daniel McEntee
Dylan Long
SX2 Results
Jimmy Decotis
Luke Clout
Luke Arbon
Jackson Richardson
Geran Stapleton
Lewis Woods
Wade Hunter
Kyle Webster
Caleb Ward
Dylan Wills
Nathan Crawford
Jessie Madden
Taylor Potter
Joel Wightman
Jed Beaton
Thomas Ravenhorst
Time Vare
Jack Simpson
Jamie Harvey
Boyd Hocking
Jake Williams