Welcome to Racerhead, finally back home after two long, wonderful weeks at Loretta Lynn Ranch. Lucas Oil Pro Motocross begins heating up again for its three-week sprint to the finish line with tomorrow's Red Bull Unadilla National, which will begin airing live at 1 p.m. ET on MAVTV and www.promotocross.com, and then the 450 second moto will air live on NBC at 3:00 p.m. with the second 250 moto on NBC Sports Network beginning at 4 p.m. (validated cable subscribers can also watch on the NBC Sports Extra App).
There's been a lot of news in the fortnight since we last raced a pro national. Ken Roczen will soon be on the move to RCH Suzuki, and Davi Millsaps is already riding a Monster Energy Kawasaki. Yoshimura Suzuki's James Stewart continues to battle the adversity that's come his way in this long, strange summer. Unfortunately, Stewart will not be racing at Unadilla. In a press release, team manager Mike Webb said, "We're just not ready for Unadilla. It's been a tough road lately and James hasn't felt well enough to put in the time on the bike that's necessary to compete safely. He's only now getting back into his normal training regimen on the Yoshimura Suzuki RM-Z450. Obviously, this isn't how we'd hoped to finish the 2014 season, especially after starting strong by sweeping the High Point National. But right now, we're trying to support James so he can be ready for Indiana."
And JGR Yamaha's Josh Grant is also on the sidelines for the week after sustaining a concussion during practice two weeks ago at Washougal. He is expected back for the inaugural Indiana National next weekend at Crawfordsville, Indiana.
What we will see at Unadilla is the return of the Ken Roczen-vs.-Ryan Dungey battle for the 450 Class championship, not to mention the steady red hands of Eli Tomac and Trey Canard as they try to get in the middle of things. We will also see Yamalube/Star Racing Yamaha's Jeremy Martin keep trying to inch closer to the title—he could put himself in position to clinch it at Indiana next week with a solid ride, though Cooper Webb and Blake Baggett won't go down without a fight. And keep an eye on Marvin Musquin, who is always fast at Unadilla and is coming off a Washougal win. And the veteran Michael Byrne will be out there for the first time this season—he will be riding under Chad Reed's TwoTwo Motorsports/Discount Tire Kawasaki team.
And then there will be the announcement of Team USA for 2014. I am pretty sure I know who's going, and I definitely know who's not going! With other top guys out (Roczen will be taking a rest and switching teams, Jeffrey Herlings is hurt, most of the defending Belgian champions are injured) we should have a decent chance no matter who we send out of our top-tier guys.
Beyond that, stay tuned to @racerxonline all day long for news, results, photos, etc. And don't forget to tune into practice and the preshow on www.promotocross.com I am sitting this one out to get Indiana ready, so I plan on being in front of a lap top to see 'Dilla!
Here's the rest of Racerhead.
WELCOME IN THE GRADS (Jason Weigandt)
Somehow slotted into ongoing RV rumors, James Stewart not racing Unadilla (which, once again, created a bomb in the comments section under the article), and the resuming Roczen/Dungey title battle, the recent grads from Loretta Lynn's managed to get some hype this week too. Mostly, we're getting a lot of "So, how fast is this RJ Hampshire kid, really?" Well, I can tell you he's pretty fast. He's been riding and training at Chad Reed's place for the last few months, and I hear he can keep up with Dean Wilson for a while during their daily motos. Wilson might not be having an awesome year by his standards, but he's still showing top-five speed—and he's a recent champion, which is impressive stuff if Hampshire can match it. Plus, Hampshire is a great starter and seems especially strong in the opening-lap sprint of a moto, which is so critical. How many times have we seen these rookies get all fired up and holeshot one of their opening motos? A lot. I think he's going to be good. However, Unadilla's hard and slippery soil is far removed from Hampshire's Florida roots, so we'll see how quickly he can adapt.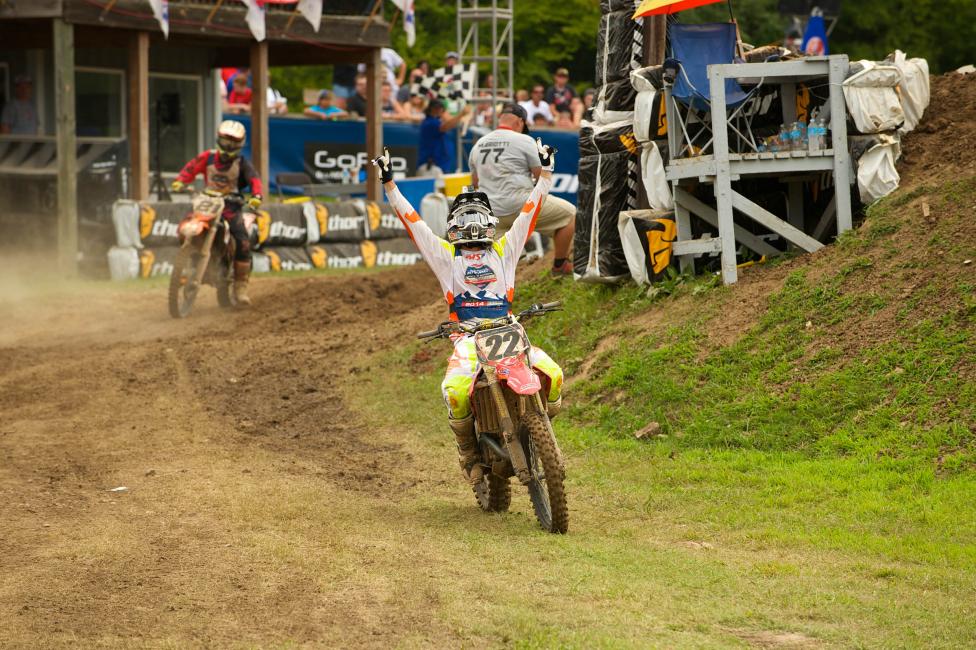 And Hampshire (who will wear #631 at Unadilla) has already had his "welcome to the pros" moment. After his Monday Conversation interview with Chase Stallo, where he said he thought he could potentially win this weekend and expects to at least get a podium during these final three nationals, the comments section (as usual) lit up. Personally, I think Hampshire is brimming with confidence and expects to do well, but I also think some of the stuff he said about winning this weekend got misunderstood. Certainly some of the amateurs aren't expecting to see such a microscope on every single word they say, but that's the way it goes as a pro—and unfortunately, it's also why we see riders with a lot of personality eventually water it down to cliché talk, because anything you say at this level can and will be used against you. Even looking at the landscape of the pro pits, there's a lot more personality in the 250 Class than the 450 Class, because that microscope just keeps focusing harder and harder the higher up the ranks you climb.
Another rookie out there will be #188 Chris Alldredge, who was signed by Monster Energy/Pro Circuit Kawasaki for the last three nationals. Alldredge did not have a great week at Loretta's, but he's proven time and again over the past couple of years that he's one of the fastest young riders in the land.
In the 250 Class will be #343 Luke Renzland, who earned a CycleTrader.com/Rock River Yamaha deal at Loretta Lynn's by winning the 450 A class for the second straight year. Good luck to all of these guys as they dive into the deepest end of the talent pool. Beware of the sharks!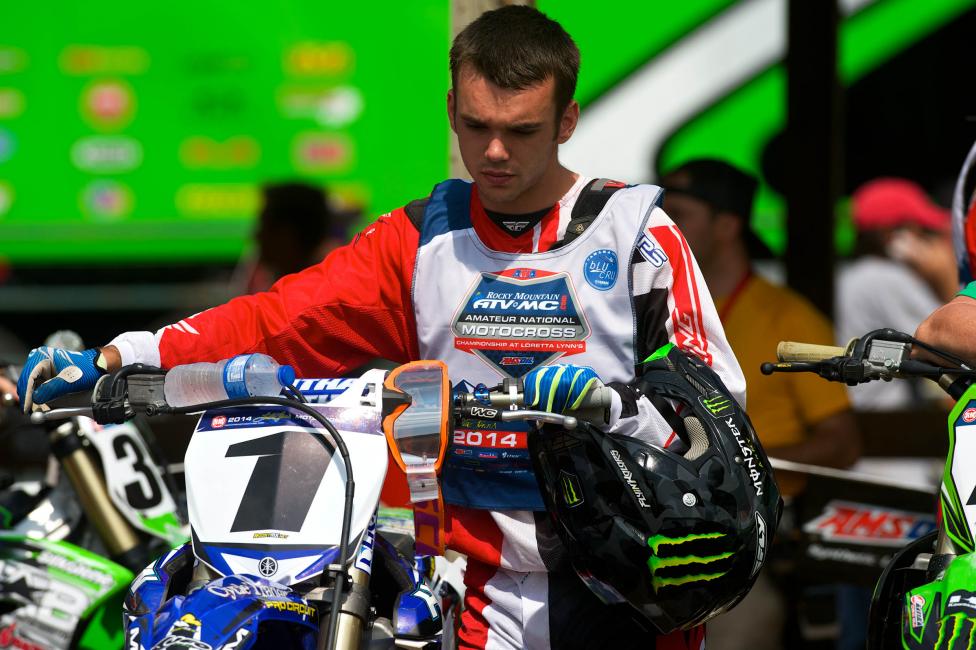 THE RETURN OF TWO-SIX (Steve Matthes)
Former Suzuki and Kawasaki factory rider Michael Byrne is making his 2014 debut this weekend at Unadilla, riding a Kawasaki for his buddy Chad Reed under the Discount Tire tent. Yes, Reed's racing as well. Byrner hasn't been seen at a starting gate since the nationals wrapped up last year when he rode for the BTO KTM guys. Last season he was a shell of his former self, and it was this very track two years ago that began the destruction of Michael Byrne.
Leading the 450 Class moto with about ten minutes to go, Byrner got his leg clipped in a sweeper and broke his tib and fib. And just like that, ten minutes from perhaps his biggest career win, it was all over for the friendly Aussie. After a long time out, Byrner tried to come back last season, but his leg was never fully healed. He struggled to score points in the motos last year and at times it looked like a different guy. Yet another surgery awaited and the bones were realigned properly, but it was too late for Byrner to get a ride for this year—and truthfully, he wasn't ready anyway. It wasn't until the start of outdoors this year that he finally started feeling right again.
In the meantime, Bryner worked with Mike Alessi in supercross, the BTO KTM guys outdoors, and during the week he tested Ohlins suspension for the Swedish brand. Now, back at the track that robbed him of a win, Byner's lining up again to see what he's got. Is it for fun? Is this the beginning of something more serious? Who knows? Right now Byrne's on a week-to-week basis while he sees how he feels and if he wants to keep racing. If you're looking for someone to cheer for, he's the one.
GONE GREEN (DC)
As Monster Energy Kawasaki's Ryan Villopoto rehabs his knee and contemplates his future—we're hoping he's ready for Anaheim 1, but his surgery was complicated and will require some time to heal—his team has added Davi Millsaps to the ranks. Although that's not official, The Duke posted his own news about leaving Rockstar Energy KTM on Monday, adding that he has been released to start riding as well. He then did a TWMX interview and showed off his new Kawasaki.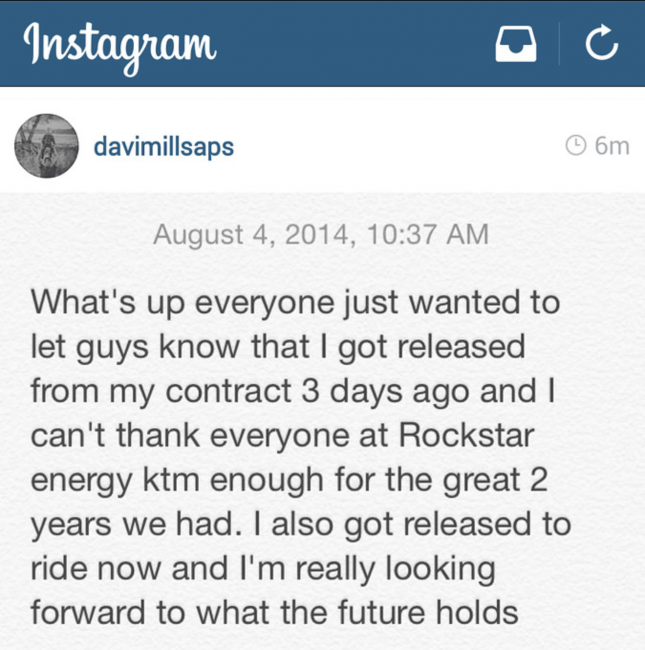 We were thinking that whenever he finally lines up again, this would be the first time Millsaps ever raced a Kawasaki—but then we spotted this in the Loretta Lynn's Vault: Loretta Lynn Ranch - 65 (7-9) Stock.
A lot of fast kids and recognizable names in that class! Ironically, Millsaps never raced a KTM, making his deal with the brand—one year, no races—the shortest we can remember for a factory-level deal. But he did get a Racer X Illustrated cover out of it, thanks to Simon Cudby showing up at their SX testing last fall before Millsaps went in for surgery.
SECOND-RIDER OPTIONS (DC)
Some of the breathless (and mindless) reports we're seeing about Ryan Villopoto-to-Europe being a "done deal" should be taken with a grain of salt. We've been down this road before with RV, as well as some of the more partisan websites over there—like the one that posted his comments from six weeks ago as Breaking News ("Ryan Villopoto Comments!!!"). When Villopoto is ready to let the world in on his plans, he will do so.
If Villopoto does go abroad, it's a good thing in some regards—it means he's not retiring completely, and we will have someone to pull for in the GPs. RV's admittedly burned out here on with of his work and responsibilities, not to mention the cutthroat pace of racing and training practically year-round. He's already parted ways with trainer Aldon Baker; sold his Florida property, track, and home; and has the chance to make a clean break from SX/MX. His team really thought he was going to retire back in May, but now he has the option to take a paid tour of the motocross world (underwritten by Monster Energy for a Monster Energy-backed series) and race MXGP for a season. Not a bad way to see the rest of the world.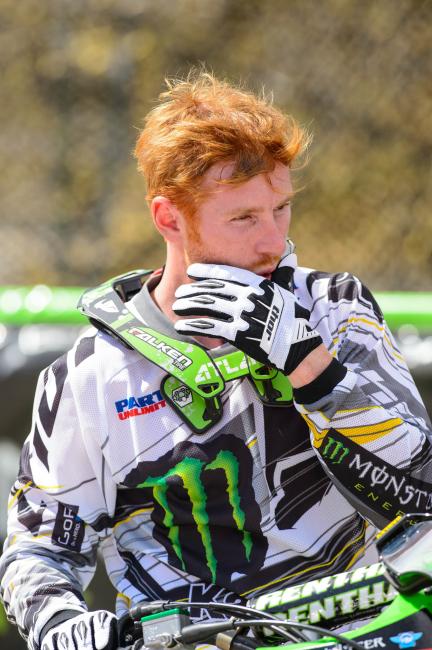 However, if he goes, he needs to take it seriously: crossing the ocean either way makes for a tough new world of racing, as everyone from Greg Albertyn and Sebastien Tortelli to Christophe Pourcel and Marvin Musquin can tell you (not to mention Ryan Hughes and Mike Brown). And waiting for him in Europe will be some serious competition. It would be the crowning achievement in Tony Cairoli's storied career if he could take on a rider of Villopoto's stature, especially in his own element.
RV leaving puts his longtime Monster Energy Kawasaki team in a bind. They were planning on having him for a few more years, so they missed the boat on young rising stars like Ken Roczen and Eli Tomac. As mentioned above, they have Davi Millsaps lined up, but who else? Who would you plug in as a second rider? There are a lot of options, like retaining either Jake Weimer (if he hasn't already signed elsewhere) or Brett Metcalfe, or even grabbing one of the other guys who are in between rides.
And then there's this possibility: Christophe Pourcel. Think about it. He gets excellent starts (twice the holeshots of anyone else in the series), he can lay down blitzing single-lap sprints (he's won eight of nine Oakley Bomb awards so far), and his issues with fatigue would not be a problem in a twenty-lap SX main event. He's certainly one of the best 250 supercross riders of the last decade and could probably come aboard for the right price…. Just an idea, in case this really happens—which is no guarantee.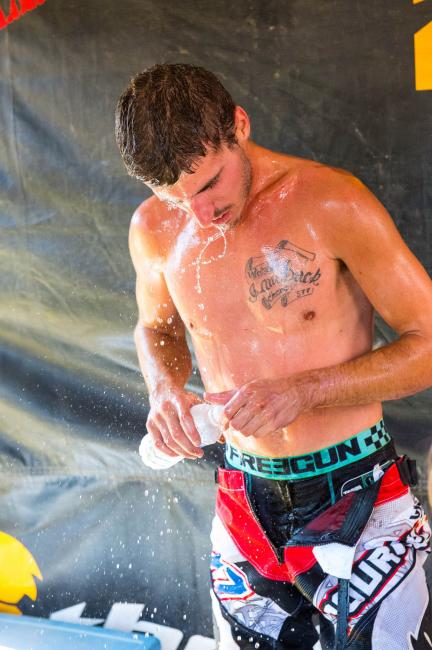 FAMILY AFFAIR (Andras Hegyi)
Very few father-son duos have won races at the highest level. When Max Anstie won at Lommel, Belgium, last Sunday, one more set joined the club.
The Nicolls
England's Nicoll family was the first in this category. Dave Nicoll was a factory rider in the sixties. He raced in the world championship from 1964 to '69 and got his one GP win at the 500cc Luxemburg Grand Prix in 1999. His son Kurt had more success. He raced the GPs from 1983 to '97 and scored thirteen GP wins. He also finished as the runner-up four times in the 500cc World Championships. Kurt was also on the British Motocross des Nations team that upset the Americans in 1994. Dave was also the Trans-AMA Motocross Champion in 1970, while Kurt was a two-time AMA Supermoto Champion, and later KTM team manager. He now works with Travis Pastrana's Nitro Circus as chief operations officer, while his father is the Grand Prix race director for the FIM.
The Evertses
The most famous motocross family in the world. Father Harry was a four-time world champion, with twenty-four Grand Prix wins between 1971 and '86. His son Stefan, of course, is the all-time King of Motocross in Europe, with ten world titles and 101 Grand Prix wins between 1989 and '06. Stefan is now managing KTM's racing efforts in Europe, while also raising a fast young man of his own: his son Liam is carrying on the family tradition.
The Ansties
Twenty-one-year-old Max Anstie won his maiden victory in his fourth GP season (and on his sixty-third try). He is the twenty-eighth British winner on the GP circuit. Max won twenty years after his father Mervyn's one and only GP win, which came in 1994 in the Slovakian 500cc GP. Mervyn raced in the 500cc World Championships from 1985 to '95.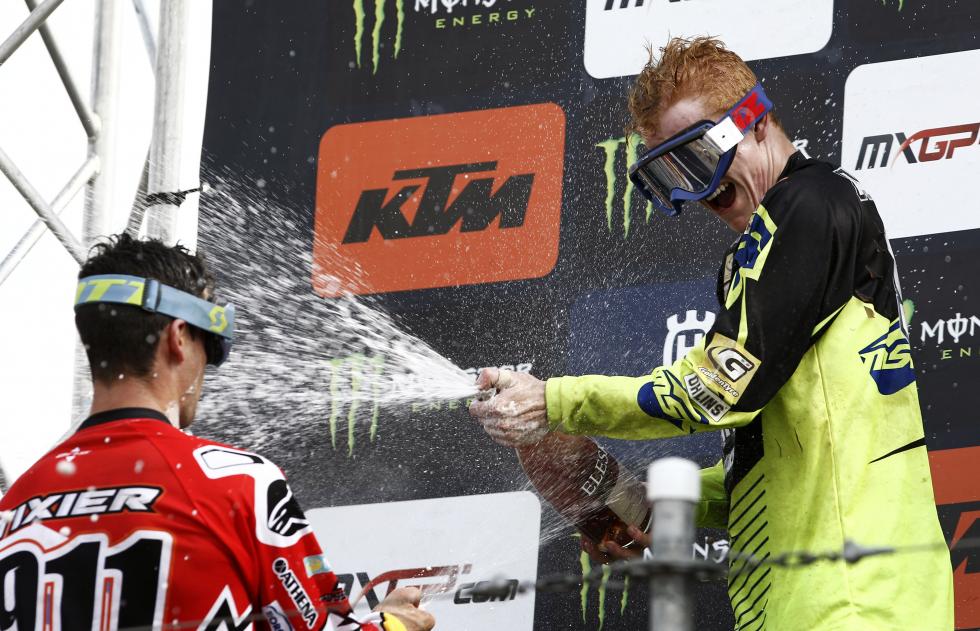 The Hansens
Donnie Hansen was a superstar early in the eighties and was arguably the fastest man on the planet in 1982, the year he won both the AMA Supercross and AMA 250 Motocross Championships (and a 250 GP round for good measure). He was also on the game-changing Team USA of 1981, which won both the Motocross and Trophee des Nations. His career ended in September 1982 when he crashed while preparing to race again for Team USA and suffered a heavy concussion. His son Josh earned eight 250 SX wins during his career but no titles. The younger Hansen is planning to make a racing comeback in 2015.
The Baileys
The Bailey family is probably the best-known in American motocross. Gary was a pioneer in many ways, winning nationals as well as Inter-Am races against the Europeans and also building the first supercross tracks. He's also famously "The Professor" of the Gary Bailey MX Schools. His stepson David reached even great heights, winning championships in AMA Supercross and both the 250 and 500 National Championships. He represented Team USA several times, including the legendary 1986 squad that dominated in Maggiora, Italy. David's career ended after a tragic crash in January of 1987, but he has enjoyed a long and popular post-racing career as a broadcaster, an Ironman Champion, a designer, and more.
SIX HOURS, ELEVEN MINUTES (Matthes)
Right after he finishes the second 450 Class moto, privateer Yamaha rider Kyle Chisholm will load up his #11 YZF and hit the road. And you can't blame him for missing the action of the final 250 moto—he's got somewhere to be! You see, Kyle's pulling double duty this weekend: Unadilla on Saturday and Ulverton, Quebec, for round nine of the CMRC Canadian Nationals on Sunday. The distance is 358 miles with a border crossing, which should put Kyle there around midnight tomorrow.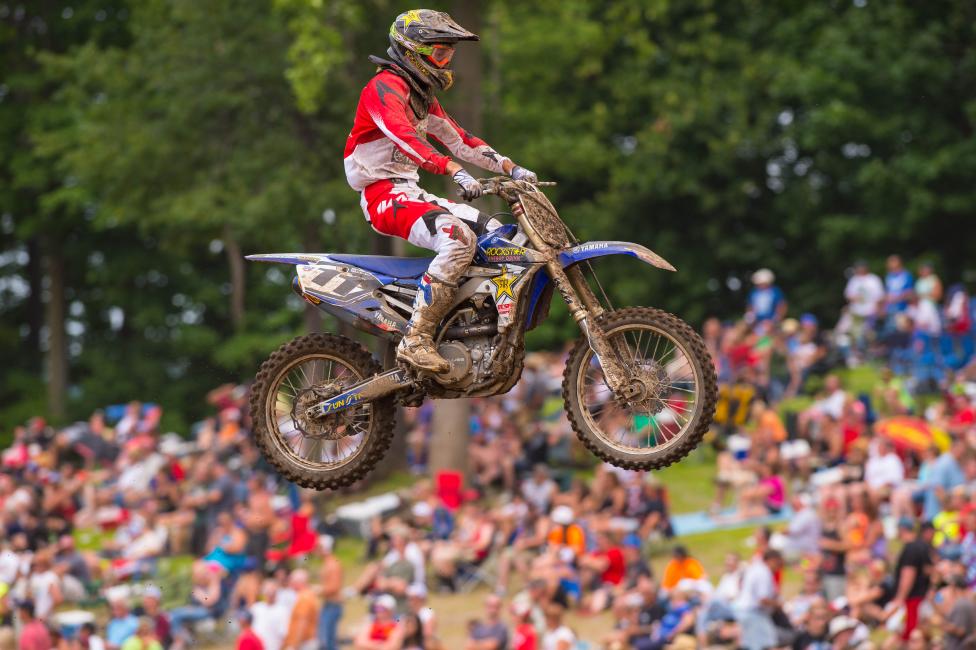 Racing two nationals in two countries in two days is gnarly. I have a bit of experience with this, as I tailed Bobby Kiniry a couple of years ago when he did the same thing and I did a Racer X Illustrated feature. It was tiring to me, and all I did was spectate! Chisholm's put in some good results this year at the U.S. nationals he's raced, and he's hoping to catch the eye of someone down here for a full-time ride next year. As it is now, he's riding for OTSFF Yamaha in Canada and is a consistent top-five rider.
TEAM USA JUNIOR (DC)
Check out this cool Vurbmoto video of Team USA Junior as they head straight from the ranch to Bastogne, Belgium, and this weekend's FIM Junior World Championships. Jeff Cernic will be tweeting us info and photos all week long, and so will the Vurbmoto.com gang. MXGP-tv.com will also have race and video highlights throughout the weekend. Look for more online via @teamusajrmx and #jwcmx The weather looks kind of nasty, so it should be an interesting weekend for all of our kids—who just left a perfect beautiful week of no rain or heat at Loretta Lynn's!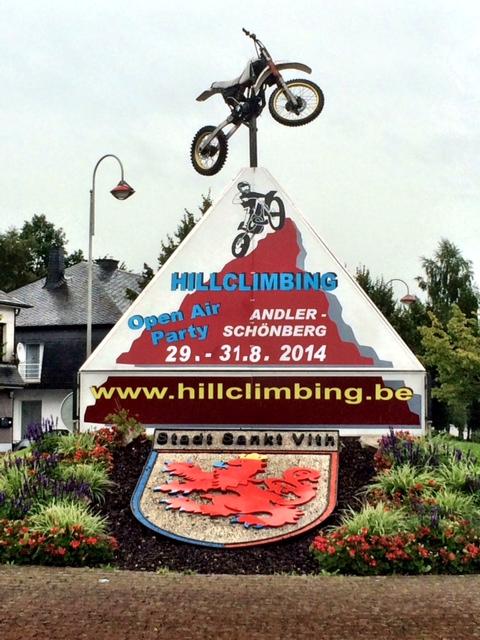 THREE AMIGOS (Matthes)
It was WAY easier than I thought it would be to get Chad Reed, Tim Ferry, and David Vuillemin all on the phone at once for a Racer X Podcast about their time at factory Yamaha (I was also there as Ferry's mechanic). It was pretty funny to hear these guys talk about their fights (Reed turning the sprinklers on DV one day is a classic story), and also Reed admitted that when tensions were high with him and Ferry in '03, he understands now, as a veteran guy with his own track, what was irking Ferry back then. It's all good stuff! Take a listen and you'll be impressed at how you can tell all three guys truly respect each other to this day.
MORE SHAMELESS MATTHES PLUGS (Matthes)
The word of the day may be going away on the TV shows as Weege explains in this week's Fly Racing Moto:60 Show here. Also, David Vuillemin explains to us why he never did that well at 'Dilla.
Hope you folks enjoyed the Dean Ferris era here in America because it's over. In this interview Dean talks about going to ride Huskys for the GPs this year and why he's staying there next year.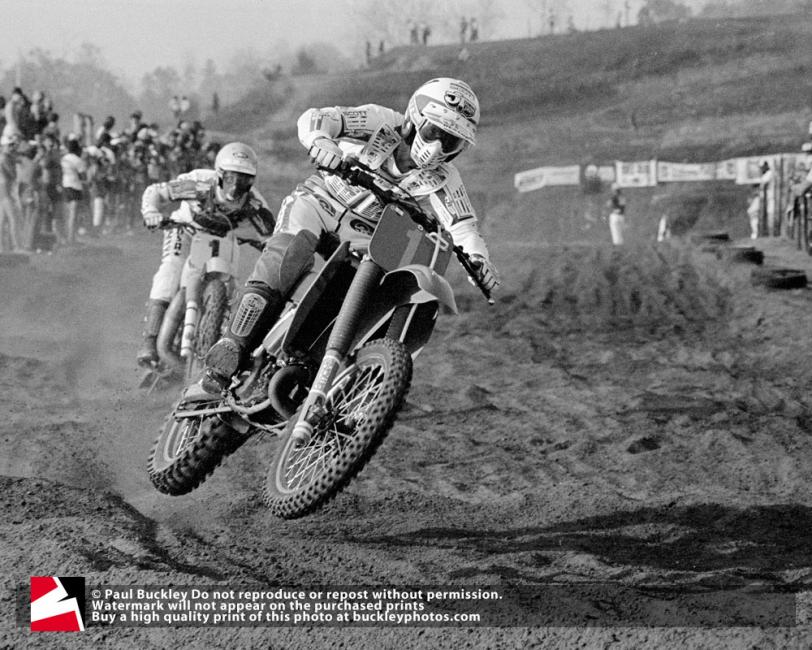 The great Paul Buckley talks about an iconic photo he took of David Bailey and Broc Glover at Gainesville '84 here.
Swizcore revisited the late, great Bottom Line Show, which is a little show I did for a couple of years (DC named it by the way) at the nationals and wish there was still time in the day to bring it back. Anyways, watch some of them here.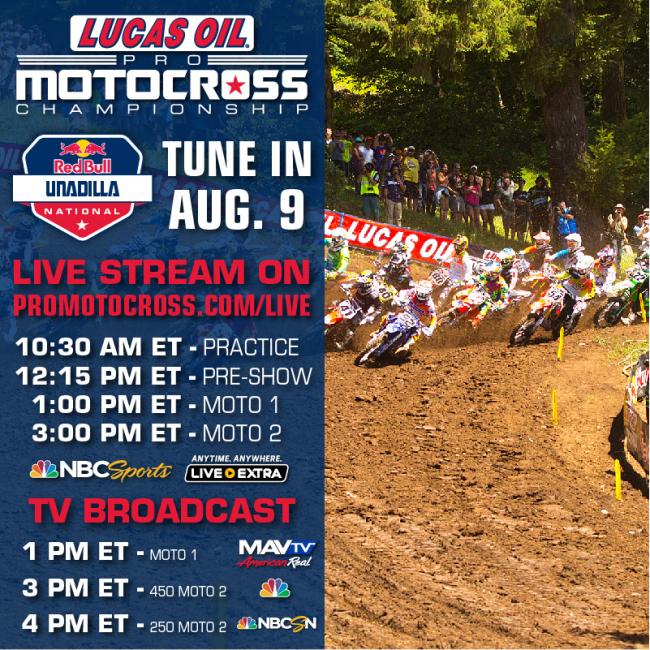 PRO PERSPECTIVE (David Pingree and Jason Thomas)
JT: The final three-week push. The end is near. After eight and a half long months of racing, everyone can see light at the end of the tunnel. For some, they are counting down the days. For others, this is their final opportunity to raise both eyebrows and interest in hiring them for 2015. One thing is certain, though: everyone enjoyed that weekend off we just had. The American season is a grueling one, and it takes its toll on even the most seasoned of racers. For riders like Ryan Dungey and Ken Roczen, there is no time to show fatigue. This title is anyone's to claim with six motos remaining. Years from now, they won't remember how tired and beat down they were, but they will absolutely remember if they took this championship home. There truly is no rest for the weary, and the 2014 Lucas Oil Pro Motocross Champion will know this very well.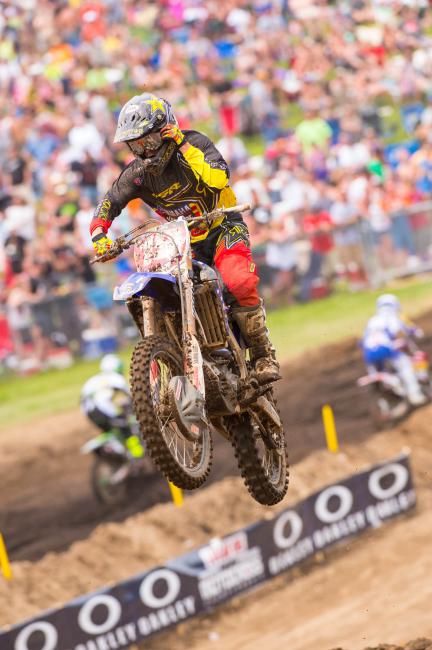 PING (On racing Unadilla): I used to see Unadilla in magazines when I was a kid, and I always wanted to race there. The fresh grass in the morning, the deep, loamy berms, and massive bumps made it look like a GP track in the New York countryside. I got the chance for the first time in 1994. It didn't go that great, and if you've ever seen the movie Terra Firma, you can see why. I got a decent start, but as we drifted through the second right-hand turn Ryno cleaned me out. I went in face-first and the back of my heels made an effort to touch my ears. It was not awesome. I popped up to my hands and knees in an effort to begin crawling off the track when another rider came by and hit me in the head with his handlebars, knocking me flat once again. It would have been an Internet sensation if there were such a thing as the Internet back then. I'm glad Al Gore postponed his genius for a while. I raced there just about every year from '94 up through 2003, and I can't recall one good moto from Unadilla. As much as I loved the idea of it as a kid, the reality was that I sucked at that place. Traction was scarce during those years between the rocks; add in the hardening track surface and a little mud, and it was the perfect recipe for a bad finish for me. Still, I like the idea of the track. It is rough, brutal, and high speed, and there is a high price to pay for mistakes. Pastrana, Stewart, and many other still have highlight reel crashes from there. I guess I do to if you count Terra Firma. As the gate drops in New Berlin tomorrow we'll see who can brave the rocks, mud, and bumps of 'Dilla, and who gets scorpioned into the ground. Good luck.
HEADLINE-SCRATCHING HEADLINES
Pirelli is mathematically the World Champion in MXGP and MX2 classes of the FIM Motocross World Championship, and has also won the European titles in 125, 250 and 300 classes
—(PR from Pirelli)
HEY, WATCH IT!
2014 Racer X Amateur Film Festival
BEST OF: Loretta Lynn's Battles presented by Nihilo Concepts (MXPTV)
BEST OF: Loretta Lynn's - 2014 Edition (MXPTV)
One Lap: Fredrik Noren on Unadilla
RANDOM NOTES
Road 2 Recovery is proud to announce our Go-Kart Challenge presented by Lucas Oil. Join us at 5 PM on Friday, August 22, 2014 at Miller Motorsports Park, in Tooele, UT to participate in competitive kart racing for a cause! Teams of 4 will race to the championship in four, 15-minute races. Race go-karts with some of the world's top Action Sports athletes while supporting Road2Recovery and the Asterisk Mobile Medical Center. Fifty percent of all proceeds will benefit Asterisk and their efforts to provide on-the-spot/emergency medical attention right on the track to our beloved riders.
This event is the first of its kind for Road 2 Recovery as the outdoor series is newly hosted by Miller Motorsports Park as part of the 2014 Lucas Oil Pro Motocross Championship. We're banking on the competitive spirit of those in the industry, those who love the industry and you, to show up, put their race-face on, climb aboard the karts and race for the championship to help out two HUGE supporters of Supercross/Motocross!! Are you up to the challenge? Will you strap yourself in and race for a cause? Register today at https://r2r.webconnex.com/Go-KartChallenge2014
There are many opportunities to be involved:
Entry Fee 4 person Team $1,000
Kart Sponsorship $2,000 includes 1 team
Dinner Sponsorship $2,500 includes 1 team
Raffle tickets $5 each or $5 for $20
Spectators Free
For more information check out our website at www.road2recovery.com or contact Anita Button 602-578-5339 anita@road2recovery.com We'd appreciate the support.
Jeff Cernic is over in Europe and he's been keeping his eyes open for some randomly cool moto stuff, including these two gems:
Bruce Barnes—former racer, longtime volunteer, and brother of Washougal MX announcer Brian—was severely injured while volunteering at Washougal Motocross Park on July 26 when he was struck by a motorcycle that came off the track. He was life-flighted to OHSU and will remain in the ICU for the foreseeable future. During this difficult time, Bruce and his family are accepting donations to help with the growing medical bills. To learn more, click here.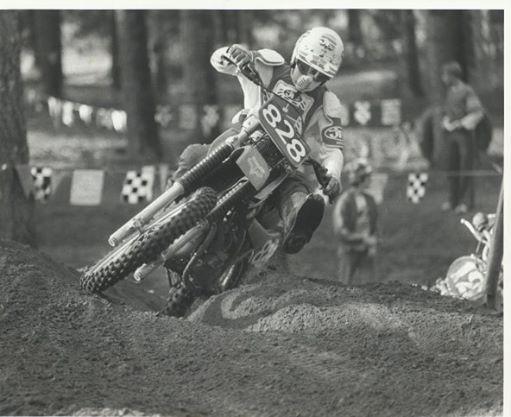 Former 125 supercross champ and 250 world champ Mickael Pichon is visiting in the States with his son, who may one day end up racing Loretta Lynn's and more. MXA has an interesting interview online with Pichon, who followed Jean-Michel Bayle to America, followed by Stephane Roncada, David Vuillemin, Christophe Pourcel, Marvin Musquin, and more.
Are you going to the Unadilla National this weekend? Stop by the Racer X booth to subscribe or renew and get thirteen issues of Racer X Illustrated plus a six-pack cooler sleeve for just $20! Would you rather spend all day in the pro pits? For $50 you get a Racer X All-Day Pit Pass plus thirteen issues of Racer X Illustrated. If you're buying more than one pass you can get a multi-year subscription, or you can give the subscription as a gift. This offer is good for both new and renewing subscribers.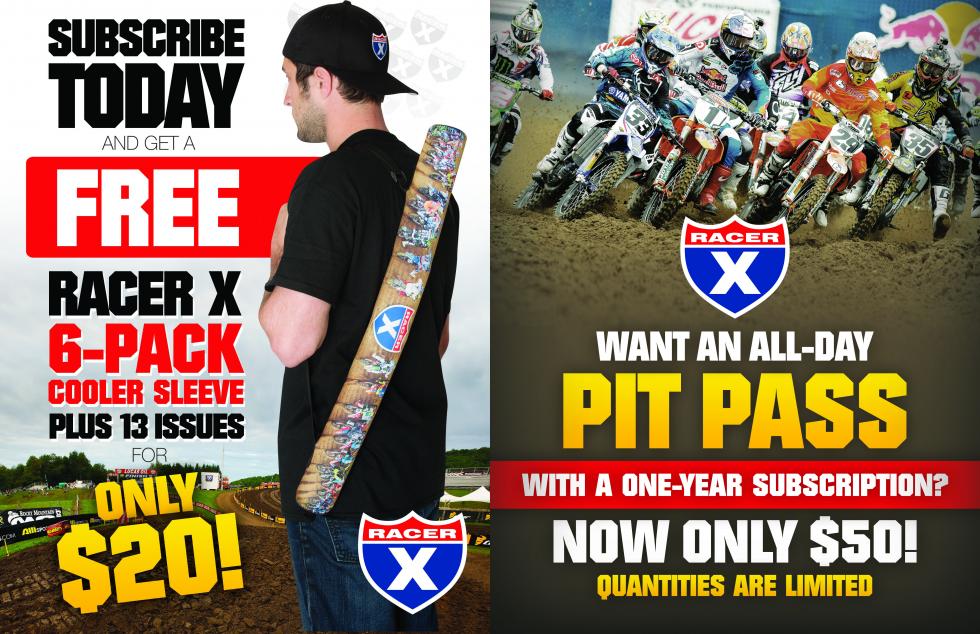 Don't forget, stickers are always free at Racer X! Be sure to stop by and get your 2014 Unadilla event sticker.
That's it for Racerhead—thanks for checking us out. See you at the races!